You may recall from Part 1 that we had to rearrange our trip to the Falkirk Wheel due to getting stuck in traffic leaving Edinburgh and after our aborted trip we headed to our next hotel, the Mar Hall in Bishopton (West of Glasgow).
The Mar Hall is one of my all-time favourite hotels.  Designed by Sir Robert Smirke (who previously worked on the British Museum) and commissioned by Major General Robert Walter Stuart, the 11th Lord Blantyre, a military man who served in the army with great distinction during the Egyptian and Peninsular wars throughout the 1810s.  Construction started in 1828 and was completed in 1845.  Sadly, Major General Stuart never saw his home completed as he died during the Brussels revolutionary insurrections of 1830, two years after construction started.  A local quarry provided much of the stone and oak was imported from Canada.  The building is designed in a manorial, domestic gothic style, which was popular during Queen Elizabeth the First's reign. It cost £50,000, which equates to over half a million in today's money.  The house fell into disrepair in the 20th century and in 2004 was restored to its former glory at a cost of £15m.  Mar Hall overlooks the River Clyde and the Old Kilpatrick Hills and has its own 18 hold golf course and spa facilities on site.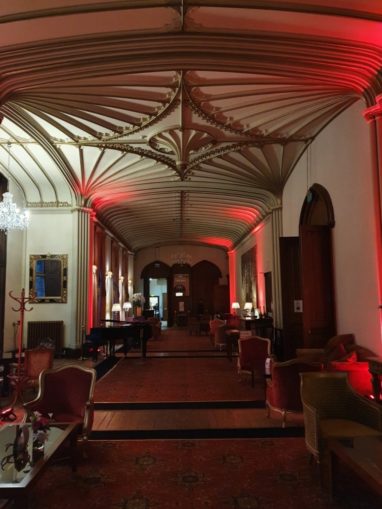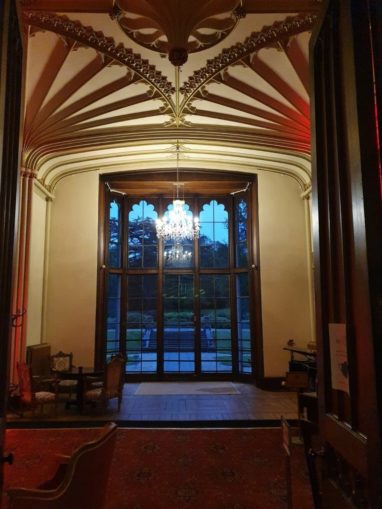 My own pictures do not do any justice and I recommend you look at their website – https://www.marhall.com/
We checked in, showered, changed and after a short rest we headed to the No 19 restaurant in the grounds of the Mar Hall, where we enjoyed a nice meal followed by a few drinks in the bar before heading to bed.  Later that evening Miss Reggie's BF had to cut his stay with us short due to a work commitment.  Originally, he was due to leave us the following evening but instructions were issued and he had to make the trip back to Wiltshire, leaving the hotel at 10pm (one of the joys of a career in the armed forces – you don't get to say "no").
Breakfast at Mar Hall is always a treat.  The room where breakfast is served is bright, airy and has a fantastic view towards the River Clyde.  The choice of breakfast options is extensive and the service top notch.  What made it even more special was a guest who was staying at the hotel.  As I entered the room, I heard him on another table, laughing.  I thought to myself "That sounds like Ricky Gervais" – Miss Reggie plays his old podcasts almost daily and his laugh is instantly recognisable.  I looked across at the table where the laughter was coming from and noticed the guy even looked like him.  It suddenly dawned on me that it actually was him.  Later on, we established he had been in Glasgow the previous night as part of a UK tour.  I wasn't that surprised he had chosen the Mar Hall.  Miss Reggie's BF saw someone else in the hotel that he thought was Noel Gallagher and Premiership Footballers are known to have frequented there in the past too.
Breakfast complete we headed to the car park and set off to the Falkirk Wheel, a rotating boat lift which connects the Forth & Clyde and Union Canals.  Originally these were linked via a series of 11 locks but they were dismantled in 1933.  In 1994 the concept of a wheel as a boat lift was first considered as a solution.  Work started on the wheel in 1998 and was completed in 2002.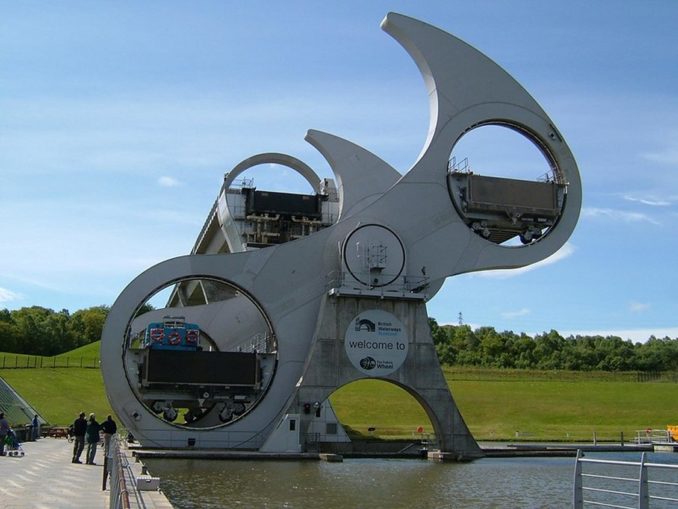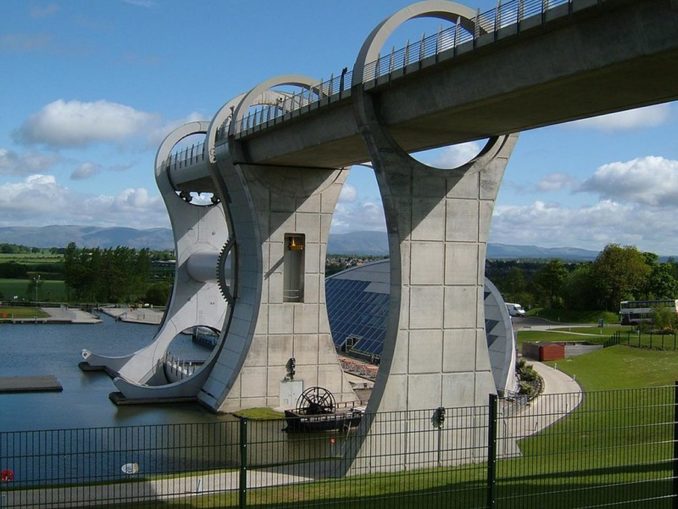 Comprising of two 600 tonne gondolas, holding 500,000 litres of water each, that counterbalance each other precisely.  As a canal boat enters the Falkirk Wheel it displaces the same amount of water as it weighs, always ensuring both arms are perfectly balanced.  Our boat trip lasted 40 minutes, comprising of a journey to the top of the wheel and back down again.  It's an impressive bit of engineering and well worth a visit.
Our next stop, a short distance away, was to The Kelpies; 30-meter-high metal sculptures depicting shape shifting water spirits.  They were designed by sculptor Andy Scott and were completed in 2013 and opened to the public the following year.  They stand at the eastern entrance to the Forth & Clyde canal.  The Kelpies name reflects the nature of mythological transforming beasts, possessing the strength and endurance of ten horses.  As well as the 30-meter-high version, two sets of 1:10 scale models have been built.  These models have travelled nationally and internationally, appearing in New York, Chicago and towns and cities across the UK.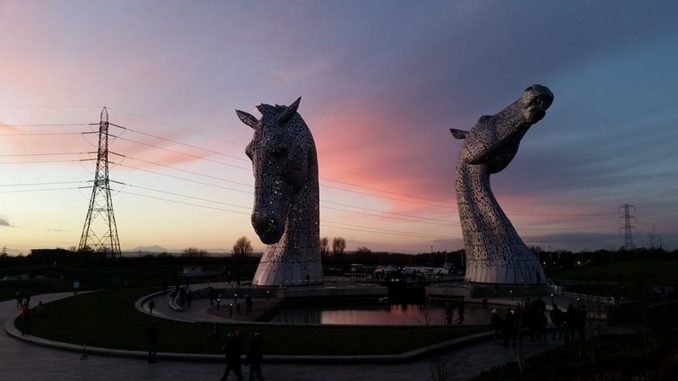 Leaving The Kelpies we headed back towards Glasgow and our next stop, Loch Lomond, for a quick lunch stop at Balloch.  Lunch taken our next stop was a tour of Glengoyne Distillery in Killean (north of Glasgow and west of Loch Lomond).  Our visit consisted of a guided tour of the distillery, explaining all the processes and steps to create whisky, finishing with a tasting session, before heading to the shop to purchase some full-size bottles to enjoy at home.  I've visited a number of distilleries over the years and the basic process is the same for all of them.  Even so it was an enjoyable experience and if you've never visited a distillery before I would recommend this one.  We were informed that Glengoyne is one of the last remaining independently owned distilleries, rather than being part of a global enterprise.
Loading the car up with our purchases, we drove back to the hotel and had a leisurely couple of hours lounging about.  As we had eaten lunch quite late, we didn't feel hungry until about 8pm.  Rather than a full-blown meal in the restaurant we opted for items from the bar menu, which were more than sufficient and it avoided the need for us to head back out in the car again, meaning I could have a few beers that evening (yay!) before heading off to bed.
We awoke the next morning to a grey rainy start to the day (the only day we saw rain on our 6 days away.  Otherwise, the weather was a mix of sunny days and patchy clouds).  Another excellent breakfast was consumed and we checked out.   We had arranged to break the journey back to Reggie Towers with an overnight stay in York, where we would meet up with my sister, brother-in-law and their son and his wife and children for an evening meal.  Before this we had a boat trip on Loch Lomond to enjoy.
Arriving once again at Balloch we parked in the car park next to the company running the boat trip (Sweeney's Cruises) and waited a few minutes for the boat to arrive before we boarded it.  I've visited Loch Lomond quite a few times but never been on it, so was looking forward to this new experience.  The rain by this time was nothing more than a light drizzle so we opted for the top deck which was open to the elements but still provided cover from what little rain there was.
The trip we booked lasted an hour and took in various sights along the shore on both sides of the Loch.  On the port side of the Loch (as we headed up it) you could see the Paddle Steam "Maid of the Loch", raised out of the water.  She was the last paddle steamer built in the UK and was taken out of service in 1981 after 29 years' service.  She is currently undergoing restoration with a view to get her back sailing on Loch Lomond once again.
Further up the Loch we passed Cameron House Hotel.  Built in the mid-1700s, it's a modern Baronial stone castle and it now operates as a spa hotel with two golf courses.  I was lucky enough to stay here for a couple of nights a few years ago.  It's even more swanky than the Mar Hall, but considerably more expensive at over £400 a night for the cheapest room.  Winston Churchill, Anthony Eden and Princess Margaret are all previous guests.  It even has its own seaplane which can be hired for trips over the local area.
Arriving back at Balloch we grabbed a quick sandwich for lunch from one of the local shops and set the satnav for York, some 233 miles and 4 hours away.
To be continued….

© text and images unless otherwise indicated Reggie 2021