In their 1963 hit single, the Beach Boys sang that if everybody had an ocean (across the USA) then they'd all be surfing, like in Cal-if-orn-i-a. In the first line of the chorus, they went on to observe that you might catch folks in the surf at Del Mar. Which reminds me…..
You can't do a six-hour daily commute. Yes you can, if the destination is Hollywood and you are only twenty-eight. Why not lodge in Watts, a half-hour bus ride away from the studios? Because in that neighbourhood, not only would this rather shy white Anglo-Saxon English gentleman stand out in a crowd but he'd also have to be exceptionally good at making new friends.
Instead, breakfast in San Diego, brunch in expensive Burbank and supper back in cheap old SD. Better still, take a different thirty-minute ride, by tram to the Mexican border, and dine in even more reasonably priced Tijuana. Throw into the mix the long-stay corporate rate at a naval base Motel Seven (with its vibrating bed and pay-TV). The only other ingredient required is five hours sleep a night before doing it all again the next day.
Incidentally, when this author was that twenty-eight year-old star-struck commuter, a mere three decades ago, pay-TV meant putting a quarter into a slot on the top of the television set. Vibrating beds were coin-op too. Expenses soon put paid to, by an English travelling gentleman's lock picking kit. Life couldn't get any better but then, all of a sudden, it did.
I couldn't help but notice, as the train followed the coast to LA, that not only did it skirt the cliffs but, at times, the beach. One stop was only yards away from the sands. The station sign read "Del Mar". Note to self, break your commute, add California surf and a daily Pacific Ocean swim to your routine. If you've ever wondered what on earth possessed King George to give those colonies away then frankly old bean, at that point, so did I. And, if a pair of US Navy F-14 Tomcats do a flypast for you every evening while you're swimming on your back, gazing towards the snow-capped Sierra Nevada mountains, so much the better.
Harry Hamilton, a mouthy Californian staying in a Torquay hotel (suffering an interminable wait for a Waldorf salad), happened to boast that back home he could sunbathe in the mornings and ski in the afternoons. Mr Fawlty replied dismissively, "Must be rather tiring."
Don't knock it till you've tried it, Basil.
* * *
Del Mar lies on the Southern California Pacific coast, 24 miles north of San Diego and 105 miles south of Los Angeles. Oh, I hear you say, six hours commuting a week? No, a day, the trains were not fast. The 5am service from San Diego arrived in LA at 8am, an average speed of 43 mph, assuming it was on time.
Message to anybody who ever complains about anything, "Get out of bed at 4am. Turn your attitude dial to 'can do' and seize the day." Message ends.
That early start puts you among the late stragglers returning to the San Diego naval base after a night out on the tiles. Neither Matelots nor Jack Tars they are more likely to be Seebees or even Squids. Don't be tempted point and laugh at the US navy guards who patrol the trams to Union Station. Do they look ridiculous in their bell-bottoms? No, they don't. Keep in mind that they are all seven foot tall and that that silly uniform includes a four-foot long baton.
Joshing apart, California never was the concern of King George, as it never was a colony. The Golden State didn't become part of the United States of America until the conclusion of the Mexican-American War in 1849. At that time, the population was only about 150,000, less than that of Cumberland, England. All of that was to change with the rapid economic development of the times, aided by a gold rush. Today the population of California is touching forty million.
Part of the astonishing change was the arrival of the railroads. On August 14th 1882, the California Southern Rail Road opened a route from Los Angeles to San Diego. Railroad magnate and property developer Theodore Loop noted that one of the railroad construction worker's settlements was a tent city on a beach. Realising the potential, he purchased 338 acres of land thereabouts. Taking his wife's advice, he named it "Del Mar", meaning "of the sea". Mrs Loop was quoting from a popular poem of the time, "The Fight for Paso Del Mar."
In association with a business partner, New Mexico rancher Mr Jacob Shell Taylor, a new resort town was built. The first railroad station was made of wood. It was replaced in 1910 by a long, low building of red brick, topped with a pitched roof of clay tiles, which survives to this day. It was modelled after the Red Car stations built in the Los Angeles area by the Pacific Electric Railway Company, the then operators of a 1000 mile network of LA streetcars.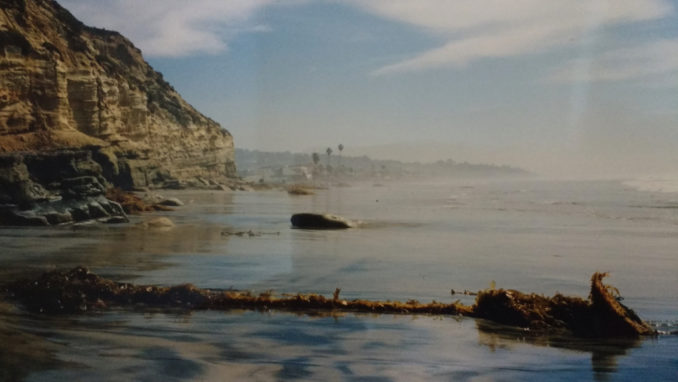 For many decades Del Mar has had a population of about 4,000. According to the 2010 census (converse to Watts) there are only 10 African American residents. That's ten people, not ten percent. Likewise, only 8 Native Americans live there.
Despite its village population, Del Mar is incorporated as a city and covers about 2 square miles. The city boundary starts at the Penasquitos Lagoon, just north of the Torrey Pines State Reserve, home of the Torrey pine, the rarest pine in North America. At that point, the beach is fringed by 100 foot high sandy buffs, encroached part way up by the single-track railway line.
A dip in the cliffs, where the railroad separates Seagrove and Powerhouse Parks, sees that line swing inland towards the 1910 railway station, after which it follows the old interstate highway Route 101. This change in the landscape allows for a row of exclusive properties, built directly beside the ocean at sea level.
The area is known as the Beach Colony and extends for a little over a mile until it reaches the San Dieguito River creek whereupon the cliffs return. On the other side of the creek, lies Del Mar racecourse and the neighbouring San Diego county showground. After that, you enter Solano Beach. Another nice place but not Del Mar, in the same way that Poole is a nice place but it isn't Sandbanks.
The actual beachside is called "Ocean Front" and contains 81 properties, somewhat jammed in, with outside space for small sun patios rather than big gardens. The beach is public, walk along and see how the other half live. You might be a little bit disappointed. Universally not much to look at, the rich and famous have managed to make their street look like a row of self-built suburban extensions. Famous residents have, and do, include Dezi Arnez, Burt Bacharach, Martin Cooper (inventor of the mobile phone), Jimmy Durante, jockey Willy Shoemaker and our own Zandra Rhodes.
If they're your kind of neighbours, 2318 Ocean Front is currently up for sale. The offer price? $16 million. If that's a bit much, 2306 is for sale as well. At 1600 sq ft, it's not much bigger than a council house, appears to be made of wood and felt tiles, and will set you back a cool $7.5 million. Up until 2000, the record price paid for a property was $25 million but by 2007 that had crept up to $35 million. At the moment, the most expensive property on the strip is number 2808, a $45 million home to Melinda and Bill Gates.
From behind, the Gates property looks like the back of a row of garages. From the beachfront, it looks like a big wall. Presumably, behind that wall the property is raised, allowing Bill and Melinda to plot their nefarious plans over a nice view of the ocean.
A more pleasant building is the "Del Mar Motel on the Beach". It is the first property at the southern end of the Colony. Designed in the "Bates Motel" style, it is two stories high with balcony access to the upper rooms. It is long and low, nicely presented, painted sky blue and white. Given the cost of seafront real estate, it is built at a right angle to the ocean and is numbered 1702 Coast Boulevard. Therefore, none of the rooms has much of a view, they face the car parks. Thirty years ago the proprietor was a grumpy Fawltyesque individual who turned away an excellent potential long-term paying resident by refusing to match a San Diego Motel Seven's monthly corporate rate. His loss.
At the other end of Del Mar, lie the racetrack and showgrounds. The racetrack was opened in 1936 by Hollywood legend Bing Crosby and is from where Del Mar gets its "Surf Meets the Turf" nickname. "Oval Dirt Track next to the Creek" would be a more accurate description but might sell fewer tickets and fill fewer motel rooms.
Besides its permanent exhibition halls, the showground plays host to the annual San Diego county fair. In normal times this runs from the end of May until the 4th of July weekend, attracting well over a million visitors. Previous winners of the "Fairest of the Fair Pageant" beauty contest have included local La Jolla High School student, a young Raquel Welch. After the fair ends, the racing season begins, with meetings five days a week, every week until early September. When the racing finishes, the Summer season is extended further by music and arts festivals.
In case you want to follow in my footsteps, take care. They've moved the railway station. Two miles away but no longer in Del Mar, it is now in Solano Beach.
Speaking of myself, in "Surfing USA" the Beach Boys went on to describe "baggies", "huarache sandals" and "bushy, bushy blonde hairdos". How wrong they were. Substitute football shorts, bare feet and a squirt of Hairglo. Get changed in a railroad station restroom. Jam all of your stuff into a locker and sprint to the beach for an hour. If the friendly locals want to sing you a song or try to sell you a mobile phone or a computer, make them feel important. Ask them to take your photo.
References.
San Diego: Discover Del Mar
The San Diego Union-Tribune
Trainweb
Visit Del Mar Village
Wiki

The Goodnight Vienna Audio file