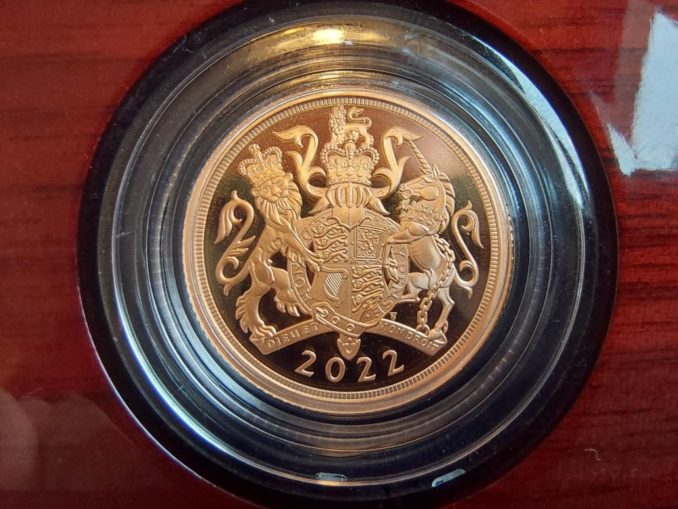 Eagerly anticipated by coin collectors across the world, the 2022 Proof Sovereign range was launched by the Royal Mint on 15th November and sold out within the first hour.
Dropping the usual Pistrucci designed George & Dragon reverse used on almost every sovereign produced, the 2022 version adopted a one-off design created by Timothy Noad, to celebrate the Queen's Platinum Jubilee, an event none of us will witness again in our lifetimes.  The design is an interpretation of the Royal Coat of Arms, a quintessential emblem of the British monarch that has represented royalty for centuries.  Personally, I think it's a stunning and very effective design which enhances the appeal of the sovereign.
As with most proof sovereign releases, numbers are strictly limited across the range:-
| | | |
| --- | --- | --- |
| Denomination | Number Minted | Notes |
| Quintuple Sovereign | 810 | Only available in 5 coin set |
| Double Sovereign | 1310 | Only available in 5 and 4 coin sets |
| Sovereign | 13040 | Available in 5, 4 and 3 coin sets and as a standalone version |
| Half Sovereign | 4310 | Available in 5, 4, and 3 coin sets and as a standalone version |
| Quarter Sovereign | 2310 | Available in 5, 4 and 3 coin sets |
Demand for these sovereigns (particularly the 3, 4 and 5 coin sets) outstripped supply and many sets appeared on Ebay shortly after the release date with prices fetching 50% or more than the original selling price.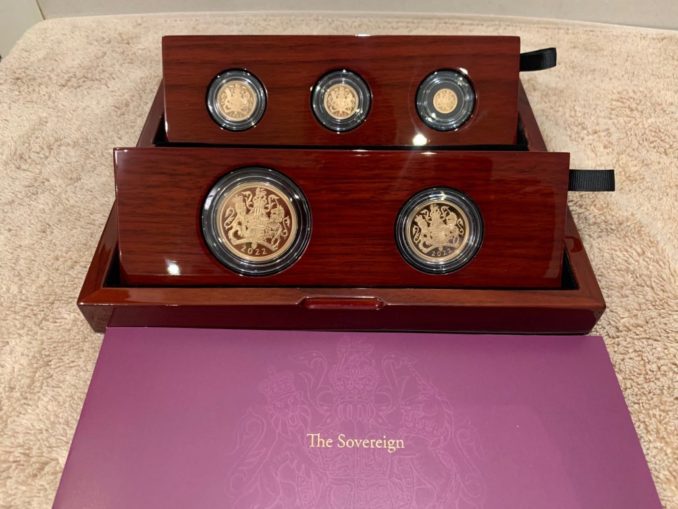 This is definitely a sovereign to collect and keep.  Previous one-off releases (such as the 1989 version) now fetch 4 or 5 times their original selling price and I predict the same will apply to the 2022 proof sovereign range.
2022 Bullion Sovereign
If you are considering buying gold in 2022 you could do worse than buy yourself a few bullion versions of the 2022 sovereign.  These will be highly sought-after examples but the numbers minted will be considerably higher, meaning anyone wanting to buy them should not have too much trouble getting one.
These sovereigns will cost no more than a standard bullion version sovereign but will always attract a premium.  Buy and hold for at least 5 years and you should see a handsome return.
Bullion versions of the 2022 sovereign (I believe these will be available as a double sovereign, single sovereign and a half sovereign) are being released by the Royal Mint in early January 2022.  As always, make sure you buy from a reputable dealer.
Once again, I hope you found this article interesting.

© text & images Reggie 2021