Following on from my article on pocket knives, here is one on my pocket torch collection. As with the knife article, I will focus on form and function rather than a lot of technical information. Note: for American readers, torch is English for 'flashlight'.
Everybody needs a decent pocket torch
Most people today don't think torches are useful because they have one built into their smartphone. Although convenient, this is wrong on many levels. You're not going to survive a zombie apocalypse with just a smartphone. A decent pocket torch is essential if you are out at night in the countryside, for camping, or for home emergencies.  Where people do have actual torches tucked away at the backs of drawers, they are likely to be basic ones powered by regular household batteries. For some reason, most shops only sell such basic torches. Torch technology has come a long way though in the last few years, so there are much better options available for a few pounds more. The following torches are available online only, as far as I am aware. All of these torches are truly pocket size. Much bigger models are available of course, but these are more than powerful enough for nearly all uses.
(Note: After checking for this article, I found out that all of my torches were made in China. This wasn't something I was focused on when I bought them and reflects the dominance the Chinese now have in such markets and technologies. Surefire is a good alternative brand if you want to buy USA made.)
Standard Features
Features on my pocket torches include:
lithium-ion (li-ion) rechargeable batteries (using usb cables directly to the torch)
variable brightness levels (measured in lumens)
turbo settings
battery level indicators
waterproof bodies
magnetic ends
powerful leds
tactical features
As with all pocket tools, there is always a compromise between form and function. But even the smaller ones here can hold their own. They include turbo settings where the torch will throw out it's maximum output for a few minutes but then quickly step down to avoid overheating and draining the battery. Magnetic end caps allow you to attach the torch to a metal object for hands free use and storage.  Different brands tend to have slightly different user interfaces – holding down the button, single clicks, double or triple clicks puts the torch into different output modes and features. It can be a bit frustrating picking up a different torch with a different operating system, which is why a lot of buyers stick to a single brand. Tactical torches also feature some self defence capabilities, which we will discuss as they are available in some of these pocket models.
My collection
We will start with a couple of keychain torches, both from Olight. Olight regularly runs sale events, which you should wait for before buying.  I got these torches free with other purchases.
The first one is just to provide a comparison with a AAA battery option. The i3E eos  is just on and off with a twist. It puts out 90 lumens for 45 minutes. The i1R2 eos is step up as it has a built-in li-ion rechargeable battery. It puts out 5 lumens for 6 hours or a turbo of 150 lumens for 15 minutes. Both of these are great options to have on your keychain all the time.
Moving up to my larger torches, we start with the Wurkkos FC11. This torch is amazing for the price – currently £27 on Amazon. You get a decent sized li-ion 18650 battery with a maximum output of 1300 lumens. This one also has the option of stepless brightness levels – just hold the button to go up and back down in brightness. It also includes a strobe setting.
An important point of comparison for these torches is the spread of different output steps. You want to compare the medium and high outputs across different models. The Wurkkos puts out a high setting of 700 lumens for 2 hours 45 minutes or a mid of 300 lumens for 9 hours.  That's two very good options as 300 lumens will be good for most things and 700 is a very good brightness. These torches also feature lower settings and eco modes of just a few lumens – perfect in a tent or reading a map – which can last for many days of continuous use.
The Wurkkos torch competes extremely well with the equivalent Olight models which are over twice the price. The Olights have a better fit and feel but the Wurkkos has very good brightness and runtime. If you want to get started on these types of torches I'd recommend the Wurkkos.
The Olight Warrior mini borrows features from the bigger tactical Olight warrior range and the pocket S2R baton range. The torch has several tactical features. It has a tail cap button which means you can hold it up like American police officers do. It has a strike bezel which makes it more aggressive if you need to use it for self-defence. The tail cap button can also be set to operate the strobe. The idea of a strobe setting is that 1500 lumens strobing directly into an attacker's eyes will sufficiently blind and disorientate them to enable evasive action.  There is an ongoing debate about how effective this would really be. It's not something I've field tested myself. Still, it's nice to have the option. The warrior mini puts out in its high and mid ranges 500 lumens for around 2 hours and 120 lumens for 18 hours. Olights have a lot of fans, and you can see why as they are designed and built very satisfyingly. A nice feature of Olights is the magnetic recharging base, although you've got to be careful not to lose it if you've only got one.
Next up, we have the Fenix LD15R. This uses a smaller 16340 li-ion battery and can also take CR123 non rechargeable lithium batteries, which is handy for carrying spares. Compared to the bigger batteries we saw in the two previous torches, you really lose a lot of output with these shorter batteries. The LD15R puts out 500 lumens for 1 hour 20 minutes or 150 lumens for 2 hours 50 minutes. The reason to go for this less powerful platform is that it is just so small and convenient. This particular model demonstrates a right-angled torch. These are not as comfortable to hold for long periods but you can clip them onto your clothes to go hands free.  The reason I bought this torch is that it has a red light setting. If your eyes have adjusted to the dark a red light won't disrupt this as a white light would. It also won't wake sleeping partners and is good for camping to avoid attracting insects. I have this torch next to my bed and it's very useful if I need to get out of bed at night. This torch also has a nice SOS morse code red flash feature.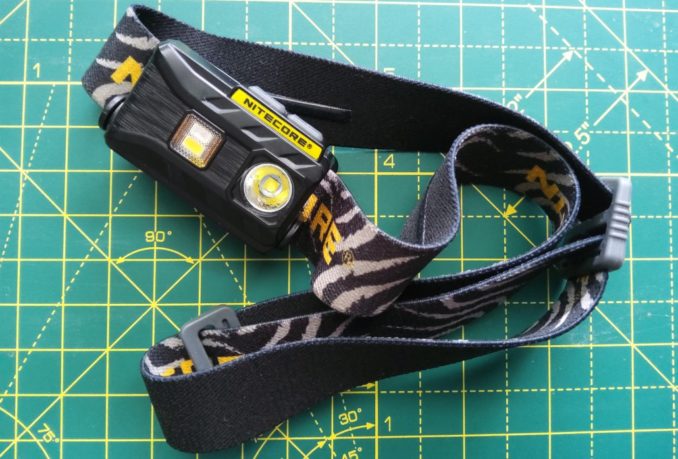 Finally we have a head torch. Anyone who has owned a head torch will know just how useful they are. My wife gets angry when I wear this one to take out the bins, but I'm sure the neighbours appreciate the practicality of a headtorch. I did a lot of research and the Nitecore NU25 seems a cut above the competition. I can't work out how they can fit so much into such a small package. It weighs just 1 ounce and has a built in li-ion polymer battery.  At the high range, you get 150 lumens for 5 hours, with a turbo of 360 lumens for 30 minutes. You can also plug it into a power bank as you're using it. It has several red light modes which operate from a separate button. There is also a more mellow auxiliary light meant for sitting around camp. Very impressive all round.
In conclusion, I think everyone should own at least a couple of these types of torches. Strategically place them around your home and have one when you go out, and you'd be surprised how handy they are.

© JimmySP 2021

The Goodnight Vienna Audio file