Our village is situated in Vas County, the far west of Hungary close to the Austrian border and is surrounded by forest and agricultural land. Although we can see the Alps in the distance this area of Hungary is mainly flat, the only punctuation in the landscape being the many volcanoes. Two hours away by car to the north is Bratislava, a similar distance to Vienna westward and Budapest a slightly longer journey to the east. Forty minutes' drive southwards we have the western edge of Lake Balaton, known as the Hungarian Sea and the largest natural lake in Europe. Budapest and Balaton are of course the two most well known places in Hungary and some on GP will probably have visited at least the capital, but with this article I wanted to give a little insight into life in rural Hungary.
The village has a population of around 300 and has a surprising amount of amenities comprising a general store, post office, doctor's surgery, church, library equipped with computers, pub, bowling alley, hairdressers and village hall/culture house. These are mostly of a high quality, well maintained and well frequented by the villagers. We have some employment in the village comprising staff for the various local council facilities, forestry work, farming and a bakery that supplies bread and pastries to hotels etc. as far afield as Balaton. Most villages in Hungary seem to be built on a similar model, one that would have been viable a hundred years ago. Comprising mainly single storey houses on a plot of land big enough to be self-sufficient with typically one cow, two pigs, chickens and a large veg plot. Apart from the chickens the animals have all gone but most Hungarians of all ages still maintain a vegetable plot. With the abundance of forest most heating is by wood, acacia being the most popular. Apart from the Hungarians there are a few German and Austrian owned houses, but these are mostly kept as holiday homes. I think we were the first English to be seen in the village. Most families run only one car, typically 7 – 10 years old, the average monthly salary is around £400. Life here is slower in pace, quieter and much more traditional and conservative in outlook. Family and culture are what matter most.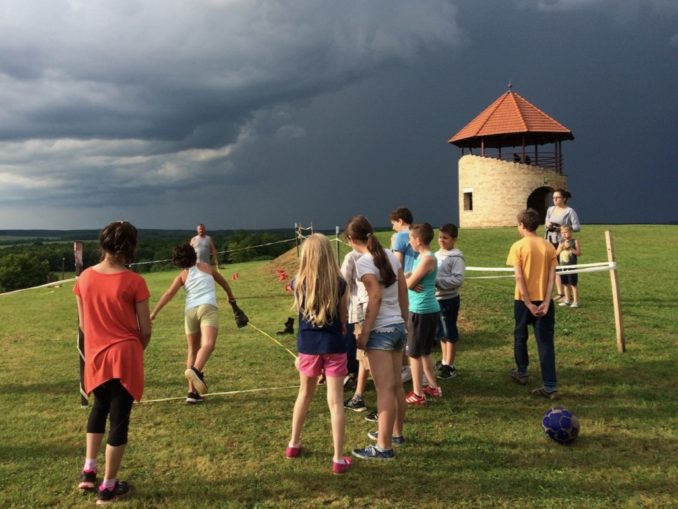 On one of the highest points in the village, St. Stephens Mount (named after the first king of Hungary), we have a viewpoint from which the panorama at the top of the article was taken. This is the view looking north, our village nestling among the trees to the left of the picture. With vineyards to one side, a covered seating area and toilet facilities this is a popular picnic spot and village funded amenity which is used for fetes, barbecues and suchlike. The photo depicts local children competing in the boot throwing contest.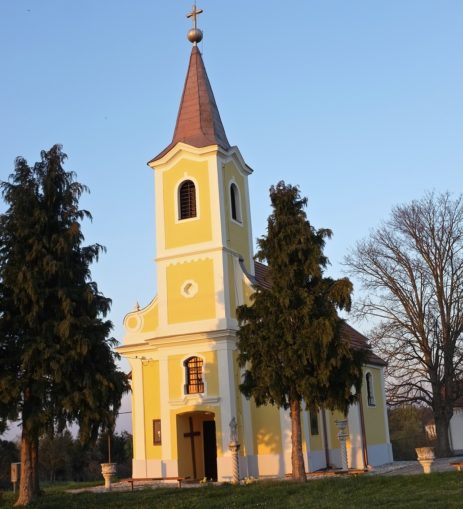 On the opposite side of the village to the viewpoint and also situated on high ground is the Roman Catholic church, built in 1757 and very typical in style to what is found throughout Hungary. This looks south across arable land and forest, often herds of deer can be seen grazing the growing crops before fleeing to the sanctuary of the woodland. The forest is also home to a large population of wild boar, hunting is a popular sport throughout Hungary and pork the favourite meat.
The recently renovated doctors surgery, open two afternoons a week with the "flying" doctor providing coverage to a number of adjacent villages. I had occasion to use this recently, no appointment necessary just turn up and wait your turn. Interestingly there is no receptionist acting as gatekeeper and nor are the interior walls adorned with nanny state propaganda in thirteen different languages. One takes a seat, the first in line being notified when the current incumbent exits and all those seated turn to look and nod, it works very well with the minimum of fuss being reliant on fairness and common decency. The doctor spoke near perfect English, was thorough and prompt in his examination, dictating his findings as he worked to a female assistant who entered it all in to her laptop. At the end of the consultation a paper was printed for my appointment for an ultrasound the following day at a hospital in Sárvár (our nearest large town). All in all very impressive, and the doctor refused all offer of payment.
On the edge of the village, just below St. Stephens Mount sits a large estate featuring a palace which was built in 1875 by local inhabitant, Miklós Horváth. It is now Austrian owned, used as a corporate HQ along with stabling of horses, although rarely visited by the owner it is maintained and currently up for sale. It makes for an impressive welcome to the village.
Cycling is my exercise of choice and with the roads being lightly trafficked it makes for safe and relaxed riding. I have the choice of road riding or taking trails through the forest. The bicycle is still a very popular means of local transport over here, many use it for shopping and getting around the settlement or visiting the next village a couple of kilometres away. The picture depicts a stop I made on a very hot July day, south of our village in the adjoining county of Zala.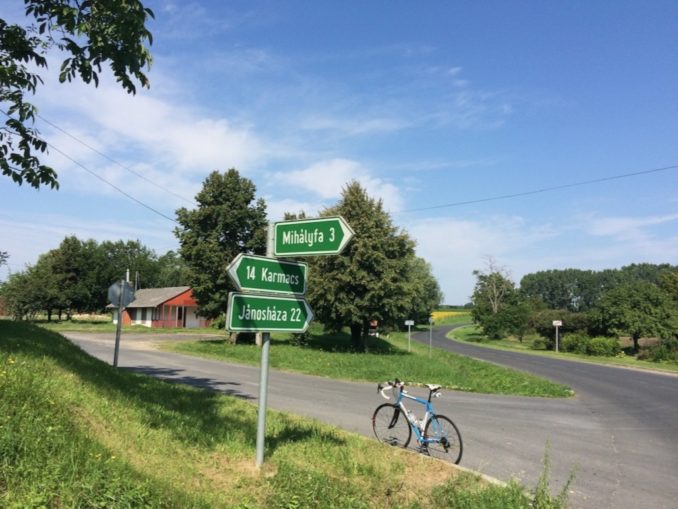 Less than ten minutes' drive from the village and in amongst the forest we have a large lake recently improved with the addition of a beach, changing facilities and showers. This is adjacent to a small holiday complex of wooden cabins and a campsite. A great place to cool off in the summer heat.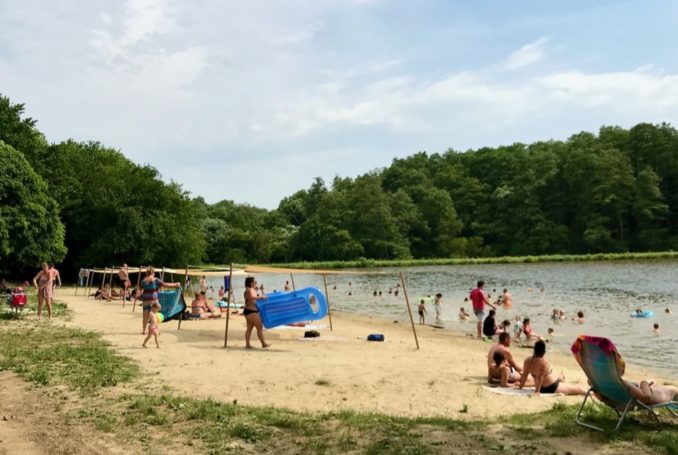 Of course we are also surrounded by many natural thermal spas, something Hungary is famous for. We particularly enjoy bathing in the winter, often relaxing in the outdoor pool with a water temperature of circa 35 degrees and an air temperature around zero. The mineral waters are renowned for providing relief for many ailments. So you can see, we are not in want of distractions in this small corner of the world. It has a calmness, even in towns and cities, that is not easily found in the UK, a much sunnier climate with properly defined seasons and, not least, very welcoming people. For us it has gone from an initial culture shock to somewhere we feel very much at home in. We have many friends in the village, lots to explore further afield and plenty of space and time to develop our interests.
For those who may be thinking of dipping a toe in to the Hungarian experience it goes without saying that Budapest makes for a fantastic weekend break. But there is so much more to see, perhaps Balaton and some of the shoreside towns and surrounding wine country. Should you need any further convincing I leave you with a photo of the lake taken from the Tihány peninsular, roughly mid way along the lake, with Balatonfüred and the volcanoes of the north shore in the background.
© thewestisfinished 2020

The Goodnight Vienna Audio file