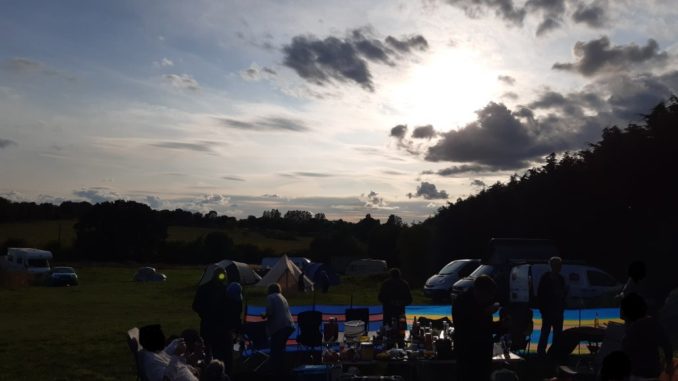 Firstly, a big thank you to Molly, DJM, MEB and Miss Anon for their contributions to the Bash entertainment and provisions fund, plus everyone who helped erect tents, bring them down, cooked food and made drinks.
Friday you can see was fine and warm. Saturday somewhat biblical if you were in a tent, followed by a nice sunny afternoon Sunday. All in all we were pretty lucky given the forecast. Hats off to those who stayed Sunday and apologies for bailing but I didn't fancy taking the tent down in the belting rain Monday and you were left what the remains of the drinks fund so the fewer of you the better!
The bell tent was a success, although my idea of renting spare space failed miserably, bloody free loaders. I still might invest in an even bigger one next year and I promise that one will be fireproof! I might even buy the porch. With the Lidl ceramic heater on max all the time it must have been 35C in there, every time I went in there Saturday I had to strip off, so no danger of being cold and Gil and Chronic had proper airbeds and bedding. Warm as toast, though possibly a little wet Saturday once the poly-cotton started wicking. I'll buy some cans of silicon spray.
The pub was great so hats of to the landlord, his wife and Windy. Food prices were very reasonable, I think Sunday lunch was up £3 to £15 and given a leg of lamb has gone from £15 last year to £40 this I think that's very good. Drinks, blow me I know why pubs are closing £5 a pint and apparently that's cheap compared to some places.
I can't say I was really looking forward to the bash given the forecast but I really enjoyed seeing everyone again and I think most people there had a good time so I think it was a success despite the rain on Saturday and anyway the pub made more money and they need it. Sadly the landlord will be changing again soon. Taxes, taxes, regulation and more bloody taxes.
Next year will be bigger, longer and better, probably. I have picked a weekend out but need to book all the rooms in the pub before I announce the dates. Now you can all plan your 2024 holidays.

© Swiss Bob 2023