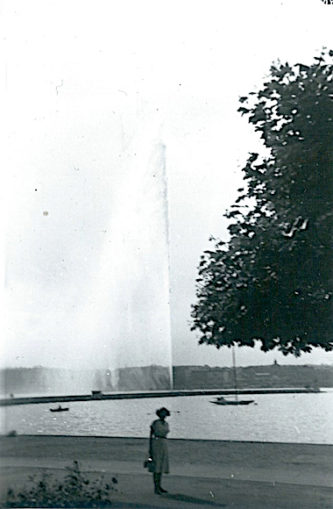 Last time our 1955 Ford Prefect road trip found my grandmother photographed standing on the Jet d'Eau side of Lake Geneva. An interesting crown-topped cupola lay squatted in silhouette on the other side of the lake.
If, via the modern-day miracle that is Street View, we stand on the same spot we can see she was close to a Quai Gustav-Ador jetty. In the next photograph, the travellers are alighting at the Paquis ferry terminal, a crescent-shaped addition to the grand hotel festooned Quai du Mont-Blanc on th opposite side of Lake Geneva. The ornamental lamppost on the right is still in place. Below, a woman rushes across the gangplank as if an Austro-Hungarian aristocrat fleeing an attempted watch snatch.
On a corner in the background sits the Grand Hôtel de la Paix, nowadays a Ritz Carlton. Built in 1865, those who know about such things inform us that despite the Calvinistic times, architect John-Marie Gignoux's design was of a flamboyant Italianate. The hotel lobby is of faux marble brocatelle columns forming a square atrium.
According to French Wikipedia,
The hotel owes its name to a period when peace was a recurring collective concern: Victor Hugo and Alphonse de Lamartine joined the Peace Society in 1830 and, in 1863, the International Committee of the Red Cross was created in Geneva. It is also iconic for hosting the Geneva Canton Government's grand banquet marking the end of the United States Civil War.
More recently, in 1954 the year prior to my grandparent's visit, a Vietnamese delegation somewhat prematurely held a cocktail party to celebrate the end of the Indochina War.
As for other notable clientele, an October 1892 edition of Home News For India, China And The Colonies reported the Maharajah and Maharanee Gaikwar of Baroda with suite had been staying at the Hotel de la Paix, Geneva. His highness having arrived in London from Paris on October 12.
To the right of the Paix lies the Jardin des Alpes which contains the Brunswick Monument, a noted Geneva landmark not captured in my old family album. Not to worry. It being only 400 yards along the Rue des Alpes from Genève-Cornavin railway station (with its attendant parade of independent hotels full of Arabs), I had the opportunity to photograph the gardens myself three decades later.
The 1879 monument is the mausoleum of Charles II, Duke of Brunswick (1804-1873). Born into an aristocratic German family, Charles' peripatetic life saw him bogged down in Mittleuropean politics having inherited the Duchy of Brunswick aged only eleven. At the outbreak of the Franco-Prussian War, the duke adjourned to Geneva where he died in 1873 after bequeathing his entire estate to the city. The Grand Théâtre de Genève, mentioned in last week's episode was funded from his estate as was this mausoleum. The statues held within the surrounding Gothic spires include one of his father, William of Brunswick, who laid the foundation stone for Vauxhall Bridge.
The Jardin des Alpes is contained within a three-sided square (so to speak) described by the Rue des Alpes, Quai du Mont-Blanc and Rue Adhemar-Fabri. Behind the Brunswick Monument can be seen partly obscured signage revealing 'Riche…' This belongs to the Hotel Richemond which, in a further sign of changed times, nowadays flies an Alergian flag beside the Swiss, American and Union Jack. Originally a family pension established by Adolphe-Rodolphe Armleder in 1875, after the Second War grandson Jean Armeder transformed the establishment into a seven-floor, 78-room and 22 suite luxury hotel. One such suite, The Royal Armleder is reported by Wealth Bulletin to be the 9th most expensive suite in the world.
To the right of the Richemonde we can see another interrupted roof-top sign, this one reading 'Union'. In the modern day, the sign announces 'Generali' as the Geneva headquarters of Banca Generali S.P.A., a private bank providing bespoke individually managed financial services for high-net-worth individuals. I.e those with more than seven figures in liquid assets to invest. In 2020 the bank's income was a cool €79,000,000,000 – every thirteen weeks.
Pictured below on the corner of the Jardin des Alps and opposite the Hotel de la Paix stands another iconic grand hotel of Geneva, the Beau-Rivage, literally the beautiful waterfront.
According to the guff;
An extraordinary place, your timeless retreat. With its exceptional location facing Geneva's Jet d'Eau and firmly anchored both in the past and present, Beau-Rivage Genève is one of Geneva's landmark luxury hotels, and its 52 rooms and 43 suites with their remarkable style ensure that you have a unique experience in the heart of this global city. Welcome to the elegance and sophistication of a period building, its yesteryear charm passionately preserved, for over 150 years.
Beyond the Beau-Rivage we can see a modern building, in the 1980s the Noga Grand Casino Hilton, nowadays the Fairmont Grand Hotel Geneva, built in place of the demolished Kursaal casino and performance hall which was the interesting domed building silhouetted behind my grandmother nearly seven decades ago.
Leafing through old editions of The Illustrated London News looking for background on the Paix, Brunswich and Beau-Rivage, I fell across yet another fascinating tale that weaves its way into our family photo album and demands to be told.
Following what happened on previous pages at the Hotel Posta in Spondigna (Mme. De Tourville pushed over a precipice for her inheritance) and at the lakeside memorial at Kussnacht (Her Majesty Queen Astrid of Belgium killed in a car crash) I'm beginning to wonder if my grandparents were fascinated by grisly murders and tragedies befalling well-heeled Continentals in the same way their grandson plans his excursions around Wendyball and trains.
On Saturday the 17th of September 1898 The Illustrated London News ran a pictorial feature which still catches the eye over a century later. The images were captioned, 'Grand hotel, Geneva where the Empress was staying', 'The Emperor of Austria', 'The Empress hunting with the Meath hounds, April 1879', 'View of the Quai and bridge, Geneva', and finally, to my concern, 'The Brunswick Monument, near to where the Empress was assassinated'.
The empress in question was Elisabeth in Bavaria, Elisabeth Amalie Eugenie, also known as Sisi. From her marriage to Emperor Franz Joseph I in 1854 until her assassination in 1898 Sisi was Empress of Austria and Queen of Hungary. Born into the royal Bavarian House of Wittelsbach, having married at sixteen she was thrust into a Habsburg court life the tension and intrigue of which were so complex that they are worthy of a Netflix box set entitled 'The Empress'.
Further investigation revealed a syndicated account, via The Northwich Guardian, of how the Empress met her end.
"One of the foulest crimes of the century was committed in Geneva on Saturday. The empress of Austria being slain in the streets by an anarchist."
The Empress had been staying at nearby Caux for some weeks for the good of her health and had been on a brief visit to Geneva by ferry. About mid-day, she was returning to the steamer when a man rushed up and dealt her a violent blow, apparently with a fist. The Empress insisted she would return to her hotel at Caux, assuming the assault to be an attempt to steal her watch and not realising that the assailant had plunged a shoemaker's awl into her chest, near to the heart.
While aboard the steamer she fainted. With no doctor aboard, the captain decided to return to Geneva. En route, when cutting her clothes open blood stains revealed that she'd been stabbed. Heavily corsetted, it was later suspected that had her clothing been kept in place she may have lived, however, about two hours after the assault, she died from internal bleeding.
Meanwhile, back on land, two coachmen had apprehended the assailant, identified as Luigi Lucchini an Italian shoemaker and anarchist of about 25 years of age. While questioned, an unapologetic Lucchini revealed he had intended to murder Prince Henry of Orleans who had been staying in Geneva the previous week. Having read newspaper reports of the Empress's presence nearby, he had remained in the city, turned his attention to the Beau-Rivage and seized his opportunity that fateful Saturday as the Empress and her companion Countess Szartay passed the Brunswick Monument. The Empress, thinking she was travelling incognito, had no police guard.
Lucchini wanted to die a martyr. Upon hearing the death sentence has been abolished in Geneva, he demanded to be tried in a different canton. His request was refused. Following the inevitable guilty verdict he was sentenced to a full-life term in prison.
In October 1910, it was reported that after 12 years in jail, the Italian anarchist had gone mad. Becoming so violent, it took six wardens to restrain him and place him in an underground padded cell. Previous to which, he'd broken every scrap of furniture within his reach and thrown the fragments out of a window.
Just over a week later, he was found dead having hanged himself with a belt. Parts of his body were kept for scientific purposes. His head was preserved in formaldehyde and kept under lock and key at Geneva's Institute of Forensic Science. In 1985 it was sent to the Federal Museum of Pathology and Anatomy in Vienna. The caveat being it would not be publicly displayed. Fifteen years later, the remains were laid to rest in Vienna's Central Cemetery, interred in an area reserved for human anatomical remains.
As a young man, Luigi Lucchini had been a valet to Count Roberto del Balzo, a cavalry officer and noted viveur impoverished by the gaming tables of Monte Carlo. The Count was shot dead by an angry father, a late Inspector of Finances and Commissary of the Naples Douane no less, after refusing to make an 'amende honorable' regarding the young Lucia delli Franci.
This being Southern Italy in the early 20th century one assumes gun-totting Signori Franci, unlike his valet, avoided such inconveniences as arrest, questioning, a court case and jail.
Having dealt with my family album's regularly recurring grisly death, we come to the Grand Casino Noga Hilton. Built between 1978 and 1980 by the interesting Nessim David Goan, a Sudan-born Swiss financier of Turkish-Jewish heritage, the Hilton filled the gap created by the demolition of the crouching, silhouetted Kursaal in 1970.
Now the Fairmont Geneva, this Grand-Hôtel boasts 412 rooms and suites, three exclusive gourmet restaurants, a cosy lounge and a bar, all of them with breathtaking views. Abundant event and meeting spaces, upscale shops and boutiques, an elite spa and fitness centre, and a private indoor heated swimming pool are also on-site.
The original proprietor, Mr Goan, was a remarkable chap. Originally a trader in burlap bags, crocodile and snake skins in Angle-Egyptian Sudan, he graduated to dealing in peanut and edible oils. During the war, as a captain in the British Army he served in Italy, Iran and Iraq. In 1957, while British influence in the Sudan waned, Mr Goan and many of his fellow Jews felt obliged to leave their previously thriving Khartoum community. Emigrating to Switzerland, he became a Swiss national six years later. While dabbling in tourism and property, in addition to commodities and import-export, his Hilton was commissioned.
Nessim reached his hundredth year and passed away as recently as May 2022. A devoted Zionist, his daughter married Israeli president Isaac Herzog's brother. A close friend of Anwar Sadat, Goan provided a conduit between the Egyptian president and Israeli prime minister Menachem Begin during 1977's historic rapprochement between the two countries.
Back in my day (or should I say 'our day', *taps nose*) as well as the suites, rooms and spas, the Noga enjoyed a casino tasteful furnished with high-class clientele around exclusive tables. One night in the salon privé, I fell across a fellow ex-pat, barely visible behind a Mont-Blanc-sized Alp of winning chips. We shall call him 'Bob'. An even more interesting and accomplished fellow than Mr Goan, indecently quickly I inadvertently found myself becoming his assistant deputy number two. A life of derring-do, high excitement, political intrigue, high finance, glamorous women, fast cars and exotic locations followed. Every second of which I now feel obliged to reveal in Prince Harry Spare levels of detail to scandal-thirsty Puffins.
What? Two thousand words and six photographs already? I'm boring everybody again?
Oh well, I suppose the world need never know…

© Always Worth Saying 2023