Following a long drive from Jaipur, through small towns and vast open countryside, complete with a break at one of the roadside "Hotels", we arrived at Bhanwar Vilas Palace which is now, in part a "Heritage Hotel", owned and operated by the descendants of the original rulers of the area. The Yaduvanshi, led by Raja Arjun Deoji came to Karauli in around 1348 and began construction of the City Palace (more of which later) that same year. It's said that the Royal family can trace its lineage back to The Lord Krishna, the current (and 43rd) Maharaja, Shri Krishnan Chander Pal Deo Bahadur Yadakul Chandra Bhal (also a direct descendant, the 181st generation, of Lord Krishna), is the custodian and owner of Bhanwar Vilas, which is as much a museum, working agricultural estate and home to his family as it is an excellent welcoming hotel. I was lucky enough to meet the Maharaja, who spent an hour or so with us in the central quadrangle garden, politely answering our questions on a variety of topics. Earlier in the day I'd been talking to one of my travelling companions in the small weaponry museum of this intriguing 1930's colonial style building, discussing the perceived plight of many indigenous Indians in the small towns we'd passed through, and also in Delhi. The daughter in law of The Maharaja was passing by and on hearing the conversation stopped to chat. "What you have to understand" she said "Is that these people you see are simply living their lives". This statement may appear grandiose, coming from an obviously "high caste" privileged young woman, but she has a point, they get on with their day to day, making their living how best they can and raising their families, just like thee and me, to be fair.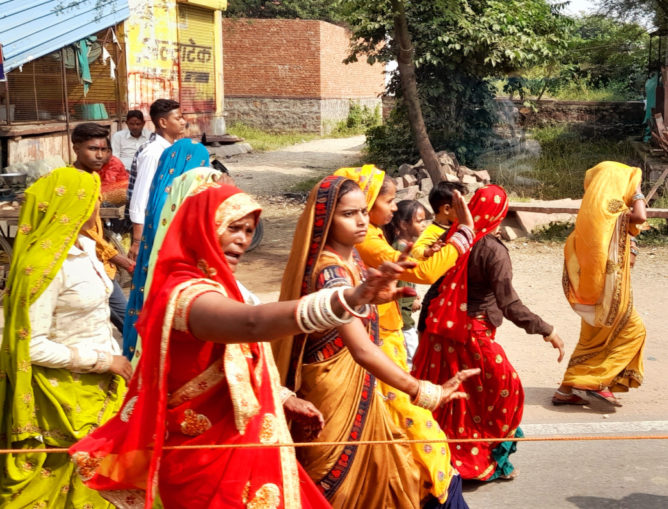 As we'd travelled to Karauli our Minibus had slowed on several occasions, for a number of reasons; cows in the road, mopeds riding two and three abreast, queues at toll plazas and, most annoyingly of all, the ubiquitous (though very necessary, given the quality of Indian driving) speed bumps. Not long after we'd left the roadside "hotel" we'd come to yet another halt, before beginning to creep slowly forward. Looking ahead we could see a procession of people, both adults and children, following a flatbed truck on which was mounted a depiction of Lord Krishna, hung with many flower garlands. As we got closer we could hear music and it was clear the people were all dancing and chanting as they followed the slow moving vehicle. Our guide, as it should be expected explained they were making a pilgrimage to a temple. I assumed it would be somewhere in the area and wondered if it might be possible to visit. He told me these colourfully clad pilgrims, some in bare feet, would be walking around 40 kilometers in total (one way) to reach their holy destination. We overtook the procession and carried on with our journey, albeit impressed at the devotion and piety of these rural people.
Mid afternoon we left the walled Bhanwar Vilas, refused the optional ride in a camel cart and set off to walk through the old city to the Palace. It wasn't long before we were being followed by a small group of teenage girls and younger boys, obviously fascinated by the "white people". No begging, but lots of giggling, with the boys teasing the older girls and the girls "coquettishly" covering their smiles with their sari's. The streets are steep, narrow and cobbled, a bit like Haworth, but without the "specialised" gifts, but what shops there are offer yet another insight into the lives of the people. There are food shops, food stalls and small bakeries, "wax"bangle makers and sellers (I wish I'd found out more about this particular skill), the odd incongruous mobile phone and computer business, small mechanical repair shops, clothiers and, in the midst of it all, a one man furniture factory! I'm guessing it may well have, at one time, been a two man operation, but the advent of electricity has made the need for a "Wallah" of some kind redundant. Crude but effective use of the toes here, surprisingly, all ten still intact, skillz.
The City Palace, located within the ancient walls of Karauli is yet another startling and magnificent building, now a "tourist attraction" in its own right.The place is huge, it'd take a couple of days to properly explore and a hundred photographs wouldn't do it justice. The featured image is a detail from one of the hundreds of rooms, many of which have been added over time since being founded by Maharaja Bijaipal in the 14th century, although his family had ruled over the region since around 995AD. The architecture offers an eclectic mix of styles, Mughal, Islamic and Hindu being the foremost, but there are also influences from Persia and further afield. The wider "old" city was fully fortified by Maharaja Gopal SinghJi in the 1700's and was considered at the time to be impregnable. This is a link to the Rajasthan government website which has 100's of images of the palace https://karauli.com/karauli-city-palace-oldest-city-palace-in-rajasthan/ should you be further interested. I found it fascinating, not least because as night fell we visited the Madan MohanJi Temple, within the grounds, where I recognised some of the pilgrims we'd seen on the road, hours before. Photography is strictly prohibited inside the temple, but witnessing the devotions I was again struck by the devotion of these ordinary, obviously deeply spiritual people. I think India's like that, the 21st century has arrived, but, for many millions of ordinary Indian people, the celebration of beauty, their collective history, aesthetics and colour, along with religious devotion, remain an abiding priority.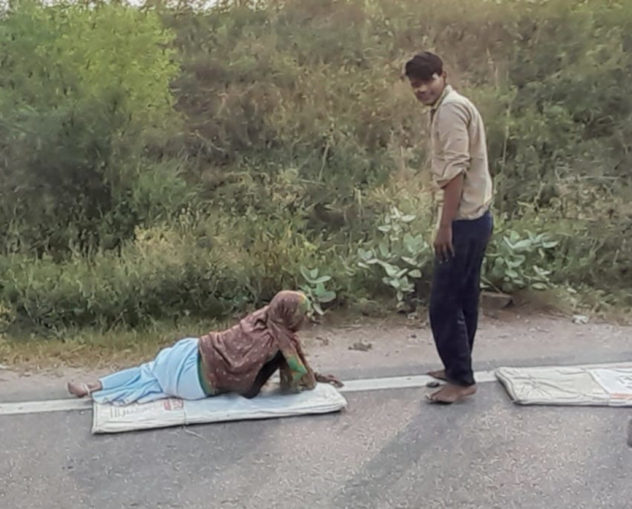 On leaving the City Palace, where at the gates our group of young followers were still gathered, we took tuk-tuks back down the dark but still busy cobbled streets to Bhanwar Vilas, where we spent a pleasant enough evening in the grounds, eating, drinking beer and chatting, before having a reasonably early night. Given I took over 600 photographs during the trip, I regret not capturing some of these simpler moments, spent talking with the others about our experiences. We took an early simple breakfast (Masala omelette and chai for me) before setting off on a somewhat circuitous route to Agra via Fatehpur Sikri and Bharatpur. We were becoming used to the sights along the way, the small towns and wide open spaces of mostly agricultural land but nothing quite prepares you for the pilgrims. The driver slowed the bus as we approached a line of people coming from the opposite direction. Some carried simple mattresses, others carried nothing and all were barefoot. They were going to a temple in their own "devout" way. They'd lay down on the mattress, stand and place it before themselves, before laying down again. In this way they'd travel in single file to their destination, which could be miles away. A real test of Religious commitment, but the faces of the people taking part showed no signs of regretting their undertaking.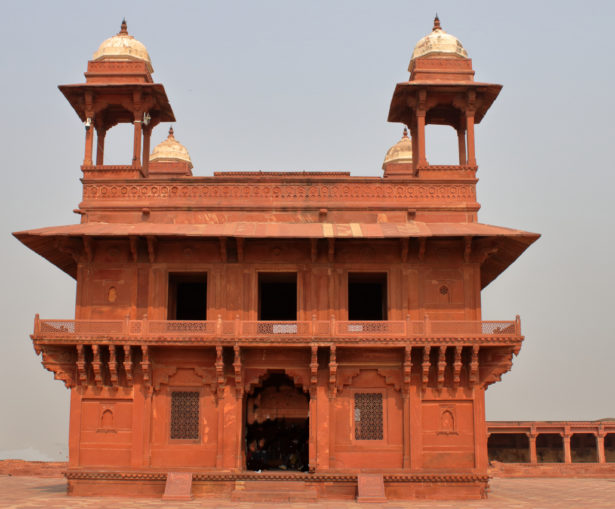 Fatehpur Sikri was founded as the capital of the Maghul Empire by Akbar in 1571, when he also commissioned the construction of The Jama Masjid (Mosque). The main entrance (Buland Darwaza) stands over 170 feet high and leads into a remarkable space of sandstone galleries, temples and other outbuildings, many of which have been faithfully restored to their original glory. When it came to building Palaces, Temples, Mosques and Forts no expense, or so it seems, was spared. Much of the architecture is of Persian/Iranian style although there are elements of Hindu and Jain influence. Many of the walls were originally decorated with precious metals and jewels, but when the city was finally abandoned in 1610 much of this was lost to looting. Akbar was keen on retaining Islam as the dominant faith, but at that time, no one was excluded from the building and he himself held open prayers and devotions, whatever his motivations for doing this (theories include his desire to be seen as both a spiritual, "divine" sovereign as well as an Emperor War Lord) he appeared to follow the belief that all spirituality came from within and each man should worship as he saw fit. Having said that, he was also pretty ruthless and thought nothing of disposing of those who displeased him, often in gruesome and ingenious ways.
This was to be our busiest day so far, leaving Jama Masjid we took the reasonably short drive to Bharatpur, where we briefly stopped at one of the family homes (also a Home stay) of our tour guide for a quick lunch of paneer pakora and masala chai. This is a place I'd willingly visit again, not least because it's the site of Keolodao National Park, one of the largest bird sanctuaries in India, with more than 370 species being recorded there. Bharatpur, in common with most Indian cities, also has a wealth of palaces, temples and forts either within the city itself, or close by. Should I ever return to India, this is on my "must see" list. We arrived in Agra around 3pm, with just enough time to drop off the bags and freshen up before setting off to view The Taj Mahal at sunset. Without wanting to resort to hyperbole, nothing quite prepares you for the sight of this magnificent marble mausoleum (try saying that after 3 Kingfisher Ultra). It was commissioned by Emperor Shah Jahan as a memorial to his favourite wife, Mumtaz Mahal, in 1631. It took another 24 years to finally complete, the main building houses the tombs of both the emperor and his beloved queen. People, mostly Indian with a smattering of tourists, were there in their thousands, but the whole place, probably due to all the practice the custodians have had, ran smoothly, the best example of organised chaos I've ever witnessed. Again I missed a decent photo opportunity, when one of the hawkers, who's legs were badly deformed, politely asked me if I'd like to buy a key ring with a 40 year calendar? I bought three, without haggling, for 200/- and was glad to do so. Again, outside of Delhi, the hawkers and street vendors aren't pushy or intrusive. A lesson those in Delhi could well learn from.
Dinner and beer before bedtime, then a visit to the imposing Agra Fort (not to be confused with The Red Fort in Delhi, although it is quite red) on the morning of our last day on the tour. Completed in 1573, this was where Akbar decamped when he left Fatehpur Sikri. The history of this magnificent fort (more a walled city) is long and complex, it having changed hands several times as different warring factions, including The Chauhan Rajputs, The Jats of Bharatpur and The Maratha Empire, which lost and won back the fort on more than one occasion, fought over this desired area. The British, as was their wont, saw off The Maratha in 1803, but even then this place remained much sought after. As always, I could go on, one of the problems with a tour such as this is you don't always get to spend the time you'd like or give the amount of attention required to individual places. Having said that, India's a big place. For more info on Agra Fort and the wider area this link may well be of use https://agra.nic.in/tourist-place/agra-fort/  to those interested.
Inside what was part of the armoury, within the fort, there's a small room with original artwork, added to over many years, depicting some of the warriors who fought over and defended it. This colourful depiction of members of the Sikh warrior class caught my eye, it's starting to show some signs of wear, but it's (to my mind) a great insight into the times. I'm imagining these guys were part of (maybe) The Palace or Emperors own guard, given the splendour of their uniforms and turbans, they reminded me of the Sikh warrior pilgrims I'd seen in Delhi, who looked little different to these fierce looking chaps.
One last "cultural" visit in Agra saw us visit Kalra's Cottage Industries, a traditional hand knotted carpet maker which specialises in creating handmade carpets in a range of Indo-Persian and Maghul designs. Much of the work is contracted out to local families, many of whom have been making carpets for generations and who pass on the intricate skills to their children and grandchildren. Working alone, or occasionally in pairs, these artisans, male and female, can take as long as 18 months to finish a carpet, but more often it'll take 3 t0 6 months and earn the maker in the region of 30,000 rupees (£300 or so). The showroom is worth the visit alone, but watching the workers follow the patterns with skill and speed is quite something. The young couple travelling with us bought a traditionally styled hall runner, for shipment to Chicago, for 75,000 rupees (IRO $1,000). Not cheap, but can a price really be put on quality and skills of such a high standard?
Next Time; The pace slows as we head for Kerala; a "different" kind of adventure.

© Colin Cross 2022