Monday
Morning all and what a horrible one, snow in the garden and it's cold out there. I shall be only venturing out when forced to by my bladder or bowels and then for as short a time as possible.
Yesterday's Observer (aka the Sunday Guardian) had a story about how Brexit was a disaster as trade through Dover had dropped by 68%. However today I hear that the pro-EU paper was surprisingly only telling half the story. What it had said was true in that for a time traffic at Dover did drop off badly, but the reasons where far from just Brexit. The paper forgot to mention coronavirus, companies stockpiling in case of no-deal and the obstructions put in the way by the EU. They carefully didn't tell readers that trade through Dover has now got back 90% of the trade at the same time last year when we didn't have the coronavirus lockdown to contend with. You would expect nothing less than such a biased tale from the lefty wing of the MSM.
The Government has been running what is called the "Union Connectivity Review", trying to get ideas presented to them on what is needed to better connect the countries of the United Kingdom, be it roads, bridges, tunnels, air or railways. An interim report is expected soon with the full report expected in the Summer, but your cat reporter has been hearing a few leaks. I hear that HS2 has proposed a rail tunnel to Northern Ireland linking into HS2 line near Carlisle through a new tunnel to run trains to Belfast. They also want to press on with the Yorkshire leg of the current design to Edinburgh and to extend it to include a leg to Cardiff. Another group also wants to see an Irish Sea tunnel but they want a road tunnel and a motorway linking Edinburgh, Glasgow, Belfast and Dublin. While some else want to turn the East Anglia mainline into a 4 track railway. Nice ideas but I have yet to hear any costs.
I hear that the Drax Group, who own Drax Power Station are spending £436 million on buying Canadian wood chip producer. It currently buys the wood chips it burns from the deep south of the USA at $161 per tonne, while the Canadian company Pinnacle Renewable Energy cost is $124 per tonne. Pinnacle owns 11 wood pellet factories and four deepwater ports. Drax say they think this purchase can push the operating costs down and help make their generating business profitable without subsidies.
Lockheed Martin is progressing fast with its vertical launch space site on the Scottishland island of Unst with the aim of an inaugural launch in 2022. They intend to put up a number of small satellites from this site. To this end, Lockheed has chosen to use a new rocket RS1, which will be provided by ABL Space Systems of El Segundo, California. The RS1 is yet to fly but it is 27 metre tall two-stage rocket designed to be capable of putting a 1-tonne payload into a 500 km high orbit. The rocket sections, launch equipment, fluids and electrical equipment have been designed to fit within a standard sea shipping container for delivery from California to the Shetlands.
Both BP and Shell are both working to move their businesses away from oil and into renewables. Shell have joined forces with Amazon to build an offshore wind farm off the Netherlands which will supply half the power generated to Amazon to use in its European businesses, BP have teamed up with the German power company EnBW to win the licenses for two offshore wind farm sites in the Irish Sea off the North West of England. The two sites are on 60-year leases and the resulting farms are expected to be able to contribute up to 3 GW to the National Grid. The leases will cost £231 million each a year for 4 years. The Wind Farm is expected to be completed in 7years.
The coronavirus numbers are still looking good those that the Government want to come down are doing just that while the vaccination numbers are still going up, to nearly 12.3 million today. A change of approach today, the Government has been telling all the people in vaccination groups 1 to 4, that's the over 70s to wait to be contacted. Now they have done such a high percentage of the cohort that they are asking for anyone over 70 who has not had a jab to contact the NHS or their doctor's surgery.
I have been reading about a man who could be Britain's oldest apprentice. At 76 Bob Bryce is doing a level 3 Apprenticeship with Govia Thameslink Railway. Before he could start he had to gain GCSEs in Maths and English. GTR say that 60% of its apprentices are over 30. What is happening in Britain? People who should be retired are going to work by choice and the young, who should be working, are more interested in staying home and playing on their X Box.
Tuesday
It's an important day today. It is my 10th anniversary of coming to live at number 10. I was a young four-year-old when that nice David rescued me from Battersea and installed me as Chief Mouser. I am now 14 and some days I feel my age, particularly when it is freezing cold like today. I have seen off that nice David and that horrible old woman and I would like to set a record for living here and beat the saintly Margaret's 11 years. I have heard murmurs around Whitehall suggesting that I should be replaced by a new younger cat. Well, while I can keep catching the occasional rodent I will aim to stay here. Maybe when I beat that record I could retire to a home in the country with lots of new things to do and see. I rather fancy seeing out my old age lazing by a blazing log fire, with a farmyard to patrol. Still, someone here knows it's a special day as I had Felix Chicken for breakfast.
I have been reading that because the rotten EU have been making it difficult to export some seafood, the fishermen in Cornwall have decided to start trying to selling some of the types they mainly export in the UK. But they don't think us Brits will go for the traditional names so they have decided to market spider crab as Cornish crab and megrim sole as Cornish sole. I will tell you that to the best of my knowledge I have never eaten either. I have been given crab and fish flavoured cat food and cat treats but I bet they only contain the cheapest offcuts and leftovers and don't contain good fish like these. Anyway I understand spider crab is very nice and sweet and megrim sole is very like plaice. I hope you will all be able try them in your local fishmongers or supermarket.
There was a lot of excitement in the office this morning. The guys had turned all the TV's on to Channel 4 to watch the live cricket from India where our lads were thrashing the Indians. I haven't seen the office get so excited in ages and I don't think I have ever seen so many TV's tuned into Channel 4. Channel 4 must be celebrating record audiences.
Handoncock was up in Parliament announcing his new quarantine hotels this lunchtime. If people come in from one of the "Red" countries they are going to have to quarantine in one of the Government selected hotels and pay £1750 for the privilege. For their money they will get a room and 3 meals a day delivered to their door. They will also get unlimited tea, coffee and water. I understand that if they want to the can upgrade the meal by selecting from the room service menu. In addition, they will also have to have a Covid test on day 2 and day 8 which they will have to pay for themselves. I can't see a lot of people wanting to avail themselves of this service which you can book for from Thursday.
I have seen pictures on the internet of a Canadian cat who has different coloured eyes. One is green and the other is yellow. But these colours can change, depending on the weather, to yellow and orange. It must be very difficult to have a picture of him on her pets passport! I suppose he could always have two passports with different photos. Despite being the same age as me unlike me this cat has lost nearly all her teeth. She can't have been brushing them before retiring to her cat basket.
Back in the Summer, the far left Enfield Council voted themselves £36,000 in pay increases. Today I read that a new report says that there is a £36,000 blackhole in the London borough's finances. I wonder how on earth that could have occurred?
Wednesday
I popped out briefly this morning, it's still cold but not really snowing, just the odd flake in the air. Then back indoors for my breakfast with Bozzie and Wilf who was in his high chair. He is such a messy eater dropping bits everywhere and Wilf is not too tidy either.
I have seen reports from France that President Macaroon is slipping in the opinion polls for next years presidential election. His numbers have gone down by 10% in recent days with the votes shifting to Madam Marine Le Pen. Because of the way the vote works in France with two rounds where the two candidates with the highest number of votes in the first round run against each other in the second round it will be hard for Le Pen to win. This is because a lot of people will transfer their vote to anyone rather than her.
The EU are, as usual, being very difficult over fish. This time it is bi-valves such as mussels, oysters and the likes which they are effectively banning. It seems that they were perfectly good to eat last year, but this year can only be exported live if they have been flushed in freshwater for 3 weeks before being exported. Now I have heard Ministers suggesting that if the EU don't back down and enforce the withdrawal agreement properly we will start boarding their fishing boats in our waters. I would love to see a few French boats being stopped in our channel waters as they seem to be the main protagonists.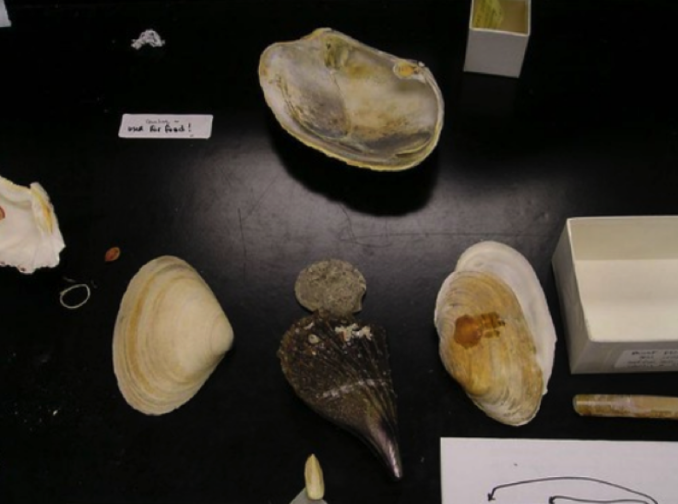 The WHO are a funny lot. First, they send a load of scientists to Wuhan to investigate the roots of the China virus and come back spouting the Chinese Government line which they have swallowed hook line and sinker. Then today they come out with a 7-page document fully backing the Oxford AstraZeneca vaccine. They have basically made it clear that it is an effective vaccine against all variants and should be used for all age groups. This has effectively rubbed Macaroons nose in it by calling him out as just plain wrong. The WHO also back the Government's system of making the gap between jabs up to 12 weeks. Mind they have ordered 600 million doses for use in poor countries.
Talking about vaccinations I hear that Japan has a bit of a problem. They have ordered 144 million doses of the Pfizer vaccine based on getting 6 doses per vial. This should have been enough to vaccinate 72 million adults. However the syringes they are using mean that they are only getting 5 doses per vial effectively throwing away millions of doses. In Britain, we ordered the Pfizer vaccine on the basis of getting 5 shots per vial and quickly found we could actually get 6 so we are effectively getting millions of extra free shots. I wonder if we could sell some of our syringes to the Japanese.
We are going to spend another £3.5 billions on removing flammable cladding from buildings over 18 Metres high. I don't know if this will be enough money to sort the problem out. Mind I do find the Labour Party hypocritical in all their moaning. When you look back at the history of what happened who is to blame? Well, not the people who bought the flats how would they know? Not the builders they only put up the building. How about the designers/architects, well they have to follow the building regulations on materials. So who produced the building regulations? The answer to that is the Government, but not this one, the building regulations all these buildings were constructed under were the work of John Prescott's Office of the Deputy Prime minister when Labour was in power.
There has been a bit of fun happening on Twitter today. First Weetabix tweeted the suggested that people should try the new breakfast combination of Weetabix with baked beans instead of milk and sugar. But it appeared to upset a lot of people, it was reported to the Manchester Police who tweeted that they were looking for a cereal killer. Tinder Tweeted that it was not a match. Northampton Police said unfortunately there is no Crime Against Breakfasts Act. GCHQ say "We find no intelligence." The Guinness Book of Records said the combination had set a new recorded for breakfast randomness.
Thursday
No snow this morning but really cold so once again I only nipped out for a few moments this morning. Bozzie was already surrounded by a pile of discarded newspapers when I got back. So I wolfed my food and when and sat on them so I could read them before they were tidied away. Unfortunately eating in a rush gave me indigestion, I must remember not to eat so quickly in future.
I hear that the formal go-ahead for the next stage of HS2 is going to be announced this morning. This is the bit that is known as Phase 2A and extends the line from Birmingham to Crewe. Bozzie was listening to the radio while eating when a representative of "HS2 Rebellion" came on. He was saying he was delighted that their actions were costing the project lots of money and that HS2 was going to be cancelled in days. Bozzie nearly fell off his chair laughing and was muttering "we'll see about that a bit later". So I put two and two together and guessed an announcement was coming, then I heard Bozzie on the phone to Grunt Shatts checking all was ready for his announcement this morning.
I see the benefits of the new trade agreement that LizTruss signed with India at the weekend are already about to come into action. The Indian industrial giant TATA has announced that it is setting up a technology research department in the UK. It will initially employ some 1500 people. New jobs are very welcome in these Covid times, where ever they come from.
I have been reading that four pigs have been taught to play a video game, a simple old fashioned version of Pong on a converted Arcade machine. The pigs use their snouts to operate the game's joystick and are rewarded with treats for each level they complete. Like with people, some pigs were better at it than others, with one of the porkers clearly being a lot better than the other three. I don't really know what this experiment proved, apart from proving pigs are among the brighter of animals, but they can't write a diary like yours truly.
Another arthritis drug has been found to be effective in fighting coronavirus. The Roche drug tocilizumab was found to cut the risk of death among patients hospitalised with severe COVID-19, also shortening the time to recovery and reducing the need for mechanical ventilation in randomised trials. Taken on its own it cut deaths by about 4%, but it did far better when taken in combination with dexamethasone it cut deaths of people on oxygen by between 30% and 50%. Now it's only a few months ago that British doctors were doubting that dexamethasone had any effect on Covid patients now it is in common use.
Nearly another 500,000 people vaccinated yesterday. That takes the total up to over 13,500,000. It getting very close to the Government target of the 15,000,000 over 70s by the middle of the month.
Friday
Despite being sunny it's still too cold for your favourite cat reporter to stay outside for long. Thank goodness the forecast for the weekend is that it should be getting warmer.
I hear that the Australian state of Victoria is to go back into lockdown due to another coronavirus outbreak. It's a little embarrassing for the state as it is currently hosting the Australian Open Tennis and it is going to have to proceed without an audience. The outbreak is said to have started in a quarantine hotel. A family staying there who tested positive had a child who was using a nebuliser and it is thought that it was the cause of the spread to staff.
Being Friday the latest ONS coronavirus numbers are published today. They show they are all moving in the right direction and at an accelerating pace. The main thing is that the R number is down again this time to between 0.7 and 0.9 which is good really news as anything below one shows the number of infections is shrinking.
The huge drop in the number of passengers using Gatwick Airport must be hitting them in the pocket very hard as they have started charging anyone dropping off or picking up passengers at the terminals £5 for the first 10 minutes and an extra £1 per minute after that. The maximum charge will be £25 and you could have your car impounded if you stay more than 30 minutes. As if it wasn't bad enough currently to be limited to only a few minutes when dropping off or picking up before being pounced on by one of their officious wardens they are now going to charge for the privilege. I wonder if they will be trying to wring the extra money out of anyone who gets there on the bus from nearby Crawley.
I have been looking at pictures of the River Thames where it has frozen at Teddington upstream of the lock. This section of the river is quite wide so flows slowly, and above the lock it is no longer tidal. It is quite a rare occurrence, I think the last time was 1963. Back in Dicken's day even the tidal section down in the city froze and the held ice fairs on it and people ice skated on it. I don't think the ice was thick enough for that this time, but the ducks were skating on it when they landed.
The number vaccinated went up by 503,116 today to over 14,000,000. It is getting very close to the 15 million that is the target by 15th of the month. As only 1,000,000 need to still be done in England in three days it beginning to look like it is a done deal. In fact, I hear that in many places they are running out of people to vaccinate. One centre in London was complaining that they could do 1000 a day but only had 100 bookings yesterday. Officially they can't move on to the next cohort until next week but I keep hearing that some places have jumped the gun and moved on to them already.
I was looking at Bozzie just now thinking how much he needed a haircut. Then I realised that he has shut them all down as non-essential businesses. I have heard the Little Otter offer to give him a trim but he doesn't fancy her attacking his thinning locks. I wonder if he will be tempted to allow them to open soon when he sets out his coronavirus timetable next week.
Saturday
Morning folks, still no warmer. I'm beginning to look forward to global warming, or whatever it is called to today. I much prefer being able to snooze on a window sill or under one of the bushes in the garden to being stuck indoors.
Bozzie was rushing around at breakfast trying to organise ministers spreading out all over the place trying to get the last lost of reluctant vaccines to book appointments. Over 30 ministers were due to go out visiting vaccination centres and appearing on local radio to try to rope in those last few of the over 70's. The numbers who have taken up the offer is already quite remarkable, but it does seem to be mainly older black people who are vaccine-hesitant. It certainly looks like he is going to hit his target 15 million by the 15th but I wonder how many will be from the next cohort.
I also hear that there may be a bit of a slow down in the pace of vaccinations for the next couple of weeks as there is likely to be a temporary lull in the delivery of the Pfizer vaccine. However, it is only while they sort out the expansion Belgium factory, after that they will be shipping more vaccine than ever. Of course, we should also start to get the 17 million orders of the Moderna vaccine in a month or so.
At the moment all the vaccines are only licensed to be given to the over 18's as they weren't tested on anyone younger than 18. I see that Oxford-AstraZeneca are about to start blind testing on a cohort aged 6 to 18. Half will get the vaccine and the other half a Placebo. I always thought that humans had to agree to take part in medical trials, do 6-year-olds have to volunteer or do their parents volunteer them?
I see that the number vaccinated got up to over 14,556,000 with over 544,000 people getting a jab on Friday. Well over 90% of people over 70 have now had the first Jab and over 530,000 have had a second jab. As the number of vaccinations administered on a Saturday are nearly always the largest number of the week, it is almost a certainty that the 15 million target will be reached tomorrow, a day early. The success of the vaccination program is already being reflected in the opinion polls with Bozzie's lot moving away from Stoma's lot and a lot more people saying Stoma wouldn't make a good PM. That's good as I don't like him I think he looks smarmy.
Just as I was thinking about retiring for the evening the news came through that President Trump had, as expected, been acquitted. What an utter waste of time and money the impeachment trial was. The Democrats never had any chance of getting a guilty verdict and they knew it. The whole thing was a political event and was a vendetta against Trump and was always going to happen having been planned by the Democrats from the day he was elected.
Finally for this week, I have been reading about a Border Collie in Nashville Tennessee that has been left $5 million in its owners will. The 8-year-old dog has been taken in by a friend of the original owner who knew the dog well as she used to look after him when the owner was travelling. However, the owner didn't want his friend to be lumbered with lots of costs so in his will he specified that a $5 million trust be set up to keep the dog in food, toys and to pays vets bills. I wonder if anyone out there would like to leave me money in their will.
I'm off to see if my supper is in my bowl yet. It's supposed to be warmer in London tomorrow, so I may not have to spend all day in my basket like last Sunday. I shall be with you all on Monday.

The Goodnight Vienna Audio file