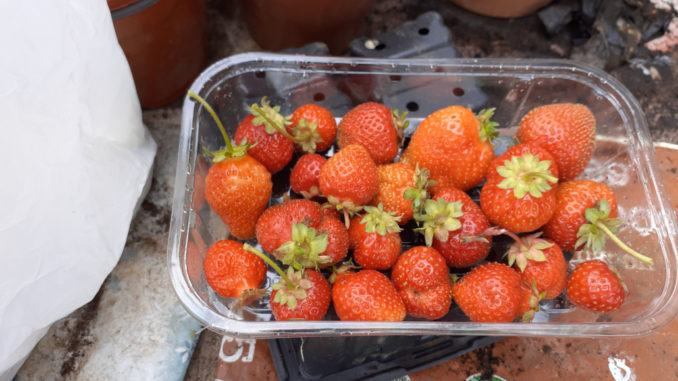 After an extended hiatus, caused by any number of inconsequential (and not so inconsequential things), I'm back. Hussar, I hear you all cry.
There's a wonderful saying, originating, I think, from the USA; "When life brings you lemons, make lemonade". I've adapted it for my own use; "When life brings you tomatoes make soup, bruschetta & tomato sauce". When you've done the trench digging, the manure barrowing, the incessant weeding, dealt with the rabbits and the cabbage whites', replaced the broken glass, killed all the slugs (on going), raged at the non-germinating seeds and the sterile plants, stood up to the occasionally insufferable heat and pruned the triffid like butternut squash an thousand of times, you finally arrive at the best time of the year for any vegetable grower, rough or otherwise. It's the start of harvest time and many things are proving extremely successful, not least the St. Pierre and the unknown Greek tomato variety, which are both producing fruits of great colour size and real "old fashioned" flavour.
Although my runner beans fell, early on, to rabbits, the Borlotti have proved to be a more than adequate substitute. They've cropped really well and the young pods can be used in just the same way as a traditional runner. Great steamed and served cold in a salad or as a side with roast meat. Any left over can be incorporated into  frittata, curry or indeed whatever other culinary use comes to mind. I'm going to try planting them outside next year, but that's another story, I'm not sure they'll aclimatise that well but nothing ventured, nothing gained.
For every pod I pick young I leave a couple on the vine to fill out and ripen. Once they're ready I'll harvest about half the crop, pod and then freeze them. They do well in casseroles, etc. and freezing them means they don't need soaking before use. The rest I'll leave on the vine to dry out naturally, in their pods. Although frozen are more convenient, it's always nice to have some dried to hand.
Over the years I've had mixed success with both chili's and peppers. Very often the pepper plants haven't taken on any real growth, leading to small thick skinned and bitter tasting fruit. Chili's, for some unknown reason simply remain sterile, producing no fruit at all. I've changed tack a little, starting them off later and leaving them in pots a little longer so as to better take advantage of the really hot days. This has to be balanced with humidity, which can bring its own problems, but the results are there for all to see. My hope is that, by the middle of September these peppers will have ripened to a nice deep red, making them sweet, with just a hint of heat.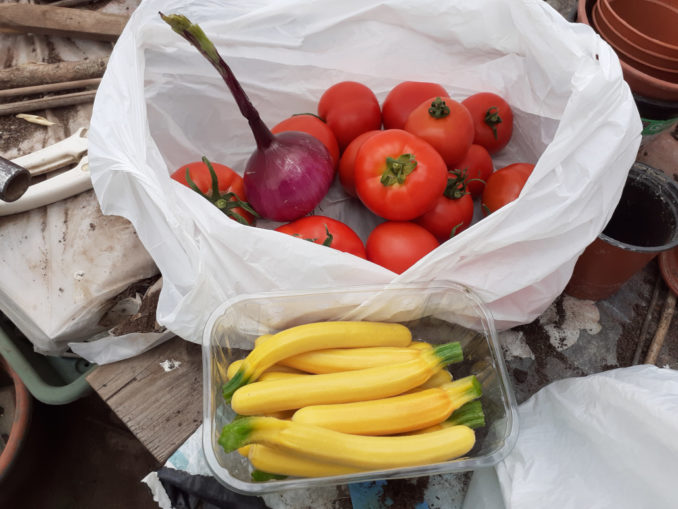 I make inordinate amounts of soup at this time of year. Often I use the last of the potatoes and the early leeks to good effect but I've had a poor go with leeks this time around. I do have a small patch but they're far from ready, having had to be replanted. I'll have to make concessions this year, and use bought potatoes, but, as always, for every down there's an up. The quality and amount of tomatoes, along with a couple of very productive yellow courgette plants means I currently have around 30 portions of this particular soup in the fridge, as well as a dozen or so portions of tomato and courgette pasta sauce;
Tomato & Courgette Soup
To make around 6-8 pints of soup (dependent on desired consistency) you'll need;
2 sticks of celery diced
2 onions diced
I large carrot diced
3lbs of very ripe prepared tomatoes, de-seeded and any hard cores removed
Ilb chopped courgettes
2.5 ozs tomato paste
3 pints of veg stock
2-3 pints of water
A handful of basil leaves
I season each batch differently, I always add sea salt and white pepper (to taste) which I adjust at the end of the cooking process but other seasonings I've used include paprika, dried (or fresh) oregano, chili flakes (or tabasco) and ras al hanout, which my daughter brought me back from Morocco a couple of years ago. It's always good to experiment, but I'd advise against overdoing it, the dominant flavour should always be of tomato.
Method
Soften the base vegetables in a couple of tablespoons of olive oil then add the courgette and cook for about 5 minutes. Stir in the tomato paste (I use Cirio) and cook out for a minute or two, making sure it doesn't catch. Add the tomatoes and stir through, making sure it doesn't catch on the bottom of the pan. Add the stock and water and a little seasoning (dried herbs at this point if using) & a dessert spoon of sugar , bring to the boil, turn down to a simmer, put a lid on the pan and leave to bubble away for 30-40 minutes, or until the courgettes break easily with the edge of a spoon. Allow to cool, taste for seasoning, add the basil and oregano if using and blend. If it's too thick for your taste add water, if not, you're good to go. Have a bowl for your tea, with a cheese scone if you like, and freeze the rest for a warming taste of summer on a cold winters evening.
Bruschetta is simple, I chop up ripe tomatoes add salt, pepper, a little sugar, extra virgin olive oil, a dash of white wine vinegar and leave at room temperature to develop the flavour for a couple of hours. When ready to serve I toast some decent white bread in the oven, drizzled in a little oil, and rub a clove of garlic on it when it comes out of the oven.
Sunday morning is generally reserved for a bit of me time. On occasion I'm a little worse for wear, so, with the rest of the household having a lie in I spoil myself with a decent breakfast, eaten "al fresco" when possible. Tomatoes, smoked streaky bacon and "Chorizo Piquante" slowly cooked in the bacon fat, a glass of juice and a decent cup of coffee really hits the spot after a night of mild excess.
The potatoes have been particularly good this year, I've held the water back and, once the flowers had died off I stopped watering altogether, harvesting a top at a time. It's worked out fine, the skins have been mostly unblemished and all that's been required, pre-cooking, is a run under a tap and a gentle scrub. Another "best ever", proof that when it comes to growing the best tips are to learn from past mistakes and always accept that no two years are going to be the same.
I can let you have the recipe for this pleasing chutney, but it is a little involved. It goes so well with cold meats, strong cheeses and salads and it makes sure that any beetroot that survives rabbit attack doesn't get wasted by it becoming woody and inedible. I make some quite spicy but also always do a batch without chili. The horseradish offers a different kind of heat, I don't use fresh either, I buy a good quality jar and just stir it through at the end of the cooking process.
While I've been carrying on with my life in my own merry but convoluted way I'm not unaware that we are in the grip of a kind of national insanity. I won't say too much here, I need to gather my thoughts and maybe try and make sense of it through writing, but something isn't right, I don't think. All the usual suspects, tropes and historical touch points are out in force, trying to convince us that if we're white, ordinary, working or middle class folk then we owe the world a living. I know we don't but the onslaught is relentless, it's no wonder we sometimes take it to heart. I have a mask, emblazoned with Puffins, which I wear when requested, out of courtesy. I could easily be deemed exempt, with my history of chest problems and it's something I'm considering doing. I go for my pints on Tuesday nights and I feel no worse for it. Living rurally makes life easier of course but I can't escape the feeling that it's about so much more than the unlucky escape of a virus from China (bat soup, fuck off).  Maybe a rousing chorus of "Land Of Hope And Glory" will shake me out of my torpor.
By the time you guys (and girls) read this I'll be in The Cairngorms, walking with my camera and trying to get a feel for just how rabidly nationalist the ordinary Scots are. It could be interesting, I might even write about it.

© Colin Cross 2020

The Goodnight Vienna Audio file