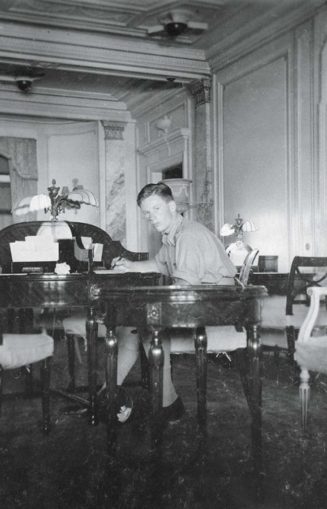 When Allied forces surrendered Singapore 75 years ago, 80,000 troops became Japanese prisoners of war. For Tony Lucas, thus begun an ordeal that almost broke his body, but could not bow his spirit.
It is difficult to envisage Tony Lucas as an arsonist – either now, at home in Suffolk, aged 98, his benevolent face capped with hair of an almost celestial white; or 75 years ago, when, on February 15, 1942, as a clean-cut pipe-smoking Territorial lieutenant in the Royal Artillery, he, like 80,000 other Allied troops in Singapore, became a prisoner of the Japanese.
'A terrible moment,' he remembers, speaking in the enunciated English of his generation. 'They lined us up with their guns and bayonets, [and removed] all our watches and fountain pens, and any money they could find.' But they left Lucas in possession of a car key. It was then that he decided on arson.
He had been given the car, a blue Buick, shortly after his voyage to Singapore, 18 months earlier, during which he and a fellow officer had taken two young sisters under their wing. The girls' father, Sir Newnham Worley, Singapore's former acting attorney general, appreciated the officers' chivalry. 'They asked us to parties and drinks and dances,' Lucas says.
Full story by Marcus Scriven on the Telegraph
Radio 4, Sue MacGregor's guests (including Tony) remember their time as Far East POWs during the Second World War. – Far East prisoners of War
LetEnglandShake's father died 4th July aged 98. His funeral will take place at 10.00 am today. RIP Tony.