Previously, in "The Sore Seated Safari", we followed one Charles Henry Freeman and some compatriots, on a 1929 road trip from the town of Iringa, in Tanganyika, to Nairobi in Kenya.
But what were they doing in Iringa in the first place?
I don't have all the answers, nothing concrete at all, but delving into the old photo albums again does fill in a few missing jigsaw pieces. The main obstacle I had to face was that any photos with captions underneath were done in an almost illegible scrawl.
Prior to this I had known that Freeman, and his wife (my great aunt) had lived for a bit in East Africa. There was a small African table carved out of a tree trunk that we had inherited, along with a faded, moth-eaten and dog-chewed leopard skin rug, with the head still on it, that my mother had banished to the attic as soon as it arrived.
"They managed a farm, but it wasn't a success" was all my father had said on the subject.
Not much to go on.
So I'd presumed that the trip in my previous articles was Freeman scouting about in Tanganyika for a farm, perhaps at the behest of Arthur Tannahill, who had worked as a "land agent".
Seeing the name of a ship, and then looking up that vessel, put paid to that theory, and did give me a date.
We're outward bound from Liverpool on the SS Medic (pronounced Mee-dic), and the ship is heading for Sydney, with a stop off in Cape Town.
The SS Medic was built in Belfast by Harland & Wolff for the White Star line, and her maiden voyage was in 1899. She had four sister ships, Afric, Persic, Runic and Suevic, all built for the Liverpool to Sydney route.
She made her last voyage as a passenger ship in December 1927, and was then sold to a Norwegian company who converted her into a whaling ship.
I do have a photo of Mr. Freeman in France and it's clearly dated 1927, so we're on one of the last voyages of the Medic.
It was a six-week trip all the way to Sydney, but the first stop was Tenerife. Not the bustling tourist island of today, but a fairly sleepy-looking backwater.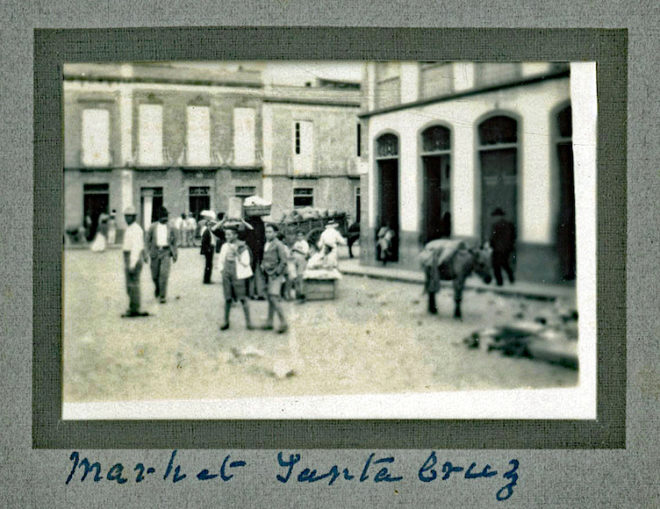 Camels were being used for transport, not for hauling tourists around.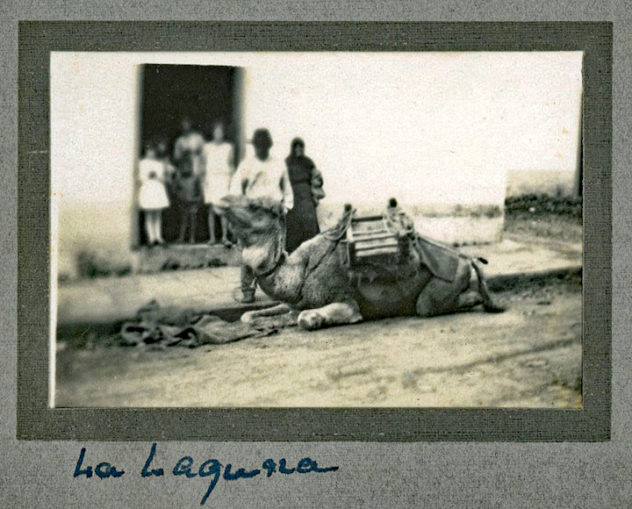 It is hard to pinpoint any of the locations here, but I did manage to find one of them, helped by the distinctive church tower of the Iglesia de Nuestra Senora de la Concepcion.
Sadly there was a bit of construction work going on when the Google car went by, but it is the same location.
Back on board and off on a long leg of the journey down the west coast of Africa.
The weather must have been agreeable, as everyone is up on deck, but still quite smartly dressed. We've a broad cast of characters, a bit like something from an Eric Ambler book, but sadly we know nothing else about these ghosts.
Miss Jones looks like a real flapper, while Miss Buckley seems a bit of a goer. She's certainly got designs on Leon.
What is Dr. Appleyard up to with the mysterious Sharmar in the stern?
Mr. Hamilton and Dr. Colman look like upstanding citizens, but are they really what they seem?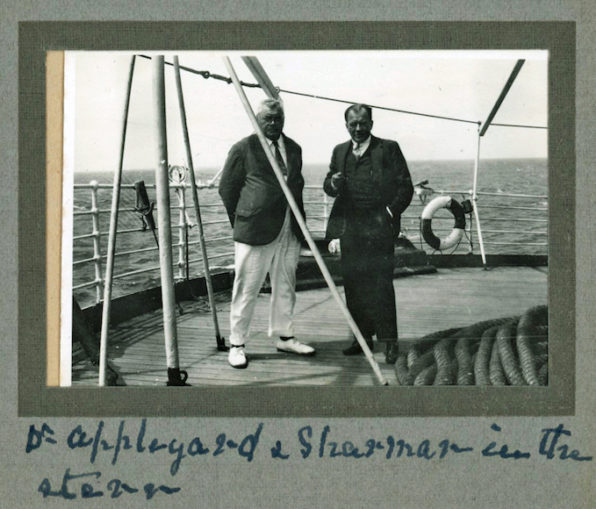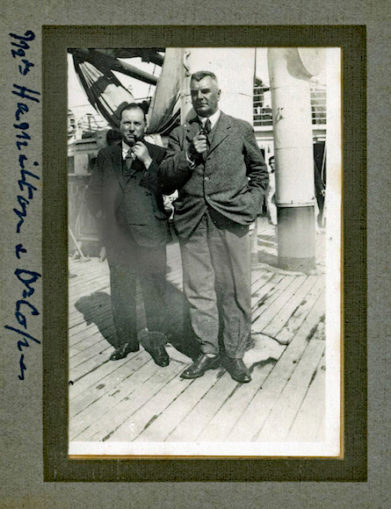 5,200 nautical miles from Tenerife to Cape Town, at an average speed of 15 knots, meant about three weeks sailing. The boredom must have been immense. I hope they all brought a few good books, for there was little to do apart from sitting around chatting and games of quoits on deck.
They did have a "sports day" but the only photographic evidence is two men trying to knock each other off a pole with half-filled pillowcases. The padding on the deck beneath them doesn't really look up to the job.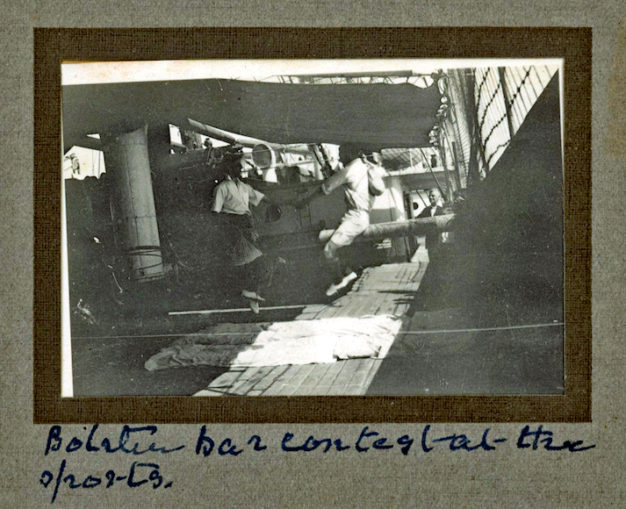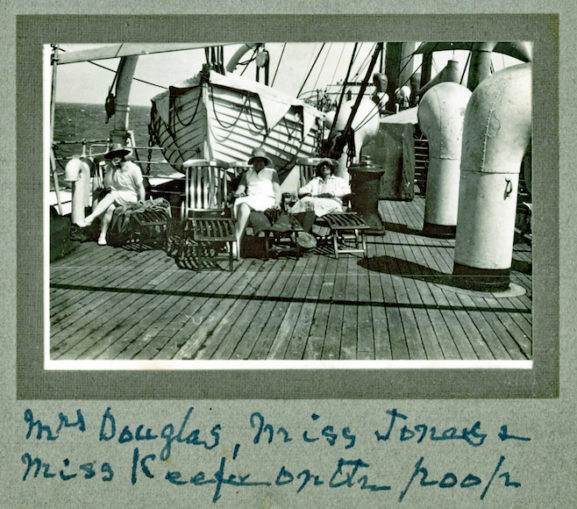 Charles Henry Freeman looking a little the worse for wear here, while Miss Jones, as ever, is beaming. But enough of all that, the ship arrived in Cape Town, and there's a blurry photo of Table Mountain to prove it.
Freeman will leave the ship here, while it continues on for another few weeks to Sydney.
A nice view of the mountain from his hotel is a far better picture, but try as I might, I couldn't track down the location. A curved road with tram tracks, and a church steeple behind the buildings on the left, should have been enough clues, but perhaps the area has been redeveloped.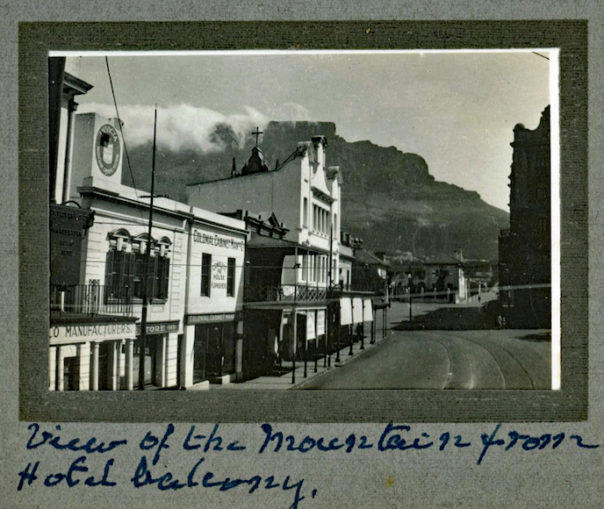 The hotel could have been in the Sea Point area of Cape Town, as there are a few photos from there.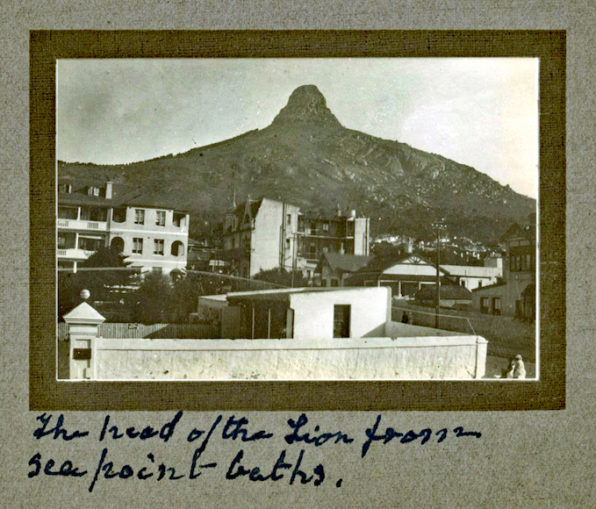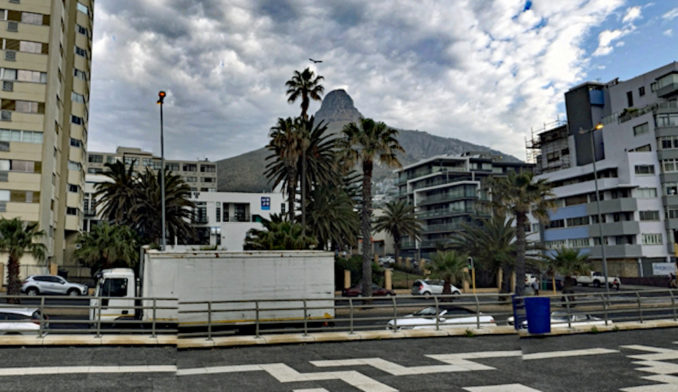 I've no idea how long he spent in Cape Town before boarding his next ship, but there was some time for seeing the sights, and there are definitely some travellers from the SS Medic in this clifftop photo.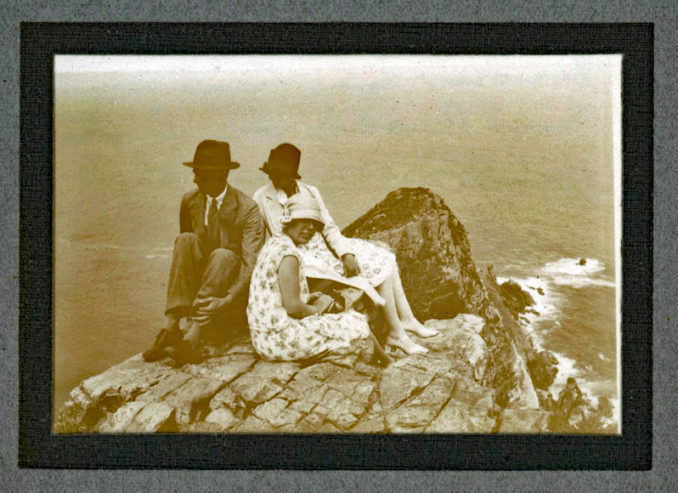 Those shoes don't look the most sensible for clambering along the rocks.
I have identified the spot however. Just above the Cape Point Lighthouse.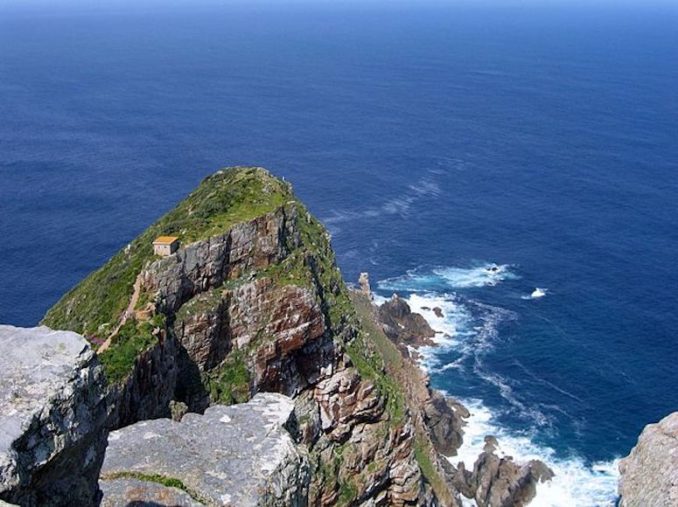 To be continued…

© Maximum Overdrive 2023