On Christmas Morning 2021 I was taken by ambulance to hospital suffering from a clot on the lung brought on by Covid (Covid Pneumonitis). It was to be the beginning of ten days there, most of which I now have no recollection of.
I do, however, have one clear memory from all those days I spent with an arctic gale being blown up my nose 24 hours per day, and it is one that will stay with me for a long time.
As the fog inside my brain started to clear, I began to recognise my surroundings and was shaken to realise that I was in the same bed, in the same ward, that my best friend had been in back in the Summer of 2018 when I and a few others had been summoned to the hospital to say a final farewell as his solicitor visited to note down his last will and testament.
Realising that I could possibly be in a similar situation, but had nothing to put in a will I decided to write a final note to my friends and family.
But how to do it? My only writing implements were an iPhone and two sets of chunky, arthritic fingers, and it soon became obvious that I was going to have to rely heavily on autocomplete and autocorrection. After a few hilarious false starts which had me giggling in a manner most unseemly for a hospital ward and put me in mind of the many memes I had seen on the subject –
"The man who invented autocorrect has died. His funfair is next Monkey"
"I hope the guy who invented autocorrect burns in Hello"
"The man who invented auto correct has died. Restaurant in pieces"
I soon abandoned the project, deciding that my time would be better spent getting well and I concentrated instead on marshalling my recollections about my friend who had preceded me in the bed I was currently occupying.
It turned out that many of my recollections were too trivial to be of interest to anyone else, but nevertheless our shared love of the Lake District and the photos of it that he left will, I hope, spark some interest here.
I first met Stuart in early 1978 when, as a computer programmer of some years standing, I was posted to the MoD computer centre at which he worked. Neither of us being the type who lived and breathed computer programming, we quickly exhausted that topic of conversation and moved on to the much more fruitful topic of beer and spent several lunchtimes and evenings investigating the pubs of Wiltshire.
Stuart was widowed shortly after I met him and he was left to bring up two small children alone – a job he carried out admirably, and they are both a credit to him to this day as they themselves approach early middle age.
For the next couple of years he and I had a weekly pub-based night out – Folk Club, Skittles Night, or at times just sitting with a pint of Whitbread Trophy in one of North Wiltshire's many pubs enjoying "companionable silence", until one day my wife generously suggested that she look after the kids while Stuart and I had a beer-themed weekend away.
And so he and I headed north to Birmingham where we enjoyed the delights of The Old Swan Inn in Netherton (excellent Ma Pardoe's Bitter), the Leopard Inn, Kingswinford (great beers from the much-missed J P Simpkiss & Son), the Bull & Bladder, Brierley Hill – aka The Vine Inn – (classic Bathams Best Bitter) and the Old Courthouse, Kingswinford (memorable beers from the also-now-defunct Ansells).
We repeated this formula several times over the next few months, taking in The Railway Hotel, Whaley Bridge (Boddingtons Best Bitter), Ye Olde Cheshire Cheese Inn, Castleton (probably also Boddies) and many other towns and pubs before finally settling on the Lake District as our destination of choice.
Stuart holidayed in the Lakes almost every one of the seventy-two years of his life, starting in the early 1950s with holidays with his parents, later reliving many of those experiences with his own children, and finally organising spring and autumn breaks for himself, me and a few selected work colleagues.
I had never been, although I had always been enthralled by his tales of mountains climbed, sights seen, storms weathered and beers sampled. So when we were discussing our next outing in the bar of Ye Olde Cheshire Cheese, we simultaneously hit on Stuart giving me a guided tour of the area that was so close to his heart and that I was soon to come to love.
For our first trip we stayed at the Bank Tavern, Keswick (Jennings beers from Cockermouth) and, over the course of a couple of days, took in most of what there is to be seen of the Lakes from a car.
After a day of sight-seeing by car, I decided that I couldn't go home without climbing at least one of the fells and asked Stuart what would be a good one for me to cut my teeth on and he, displaying a hitherto unsuspected sadistic streak, suggested we do Great Gable from the Honister Slate Mine.
I now know that Great Gable is, at 2,949 feet, the seventh-highest fell in the Lake District and its ascent is regarded as "challenging", but I am sure that even had I known that then it would not have deterred me. We did it in rather more than the "generally accepted" four hours and I'm tempted to say that was because of frequent stops to take in the breathtaking views, but in truth there were as many stops for me to get my breathing back to an acceptable rate as there were to take in the scenery.
And the scenery was indeed stunning. I must have had one of the best introductions to fell-walking – perfect weather, unparalleled views of most the Western Fells and in excellent company.
That evening, the several pints of Theakston's Best Bitter we had in The Dog and Gun in Keswick (now, sadly, a run-of-the-mill Greene King pub) were among the best I have ever had and we agreed that it had been a fantastic day.
I have climbed Great Gable several times since, and have conquered most of the 214 fells that make up the Lake District over the intervening years, but nothing has made such an impression on me as that first trip. I am forever grateful to Stuart for introducing me to the magical Lake District.
Not long before he died, he gave me some of his photos of family holidays in the Lakes back in the 1950s, perhaps with a view to us revisiting them. That will not now happen, but I post them here as a tribute to the son of a Scottish farmer from Cambridgeshire, a Physics schoolmaster turned computer programmer, who adopted the Lake District as his spiritual home.
The captions to the following pictures are Stuart's own. I have added some explanation where necessary.

The Ratty at Dalegarth
August 1956
At the back are my grandparents; I am the smartly dressed little boy standing next to them. Seated in front of them are my cousins Janne and Marion. In the front is Aunt Daisy.
1. The Ravenglass and Eskdale Railway is a 15in-gauge heritage railway in Cumbria. The 7-mile line runs from Ravenglass to Dalegarth Station near Boot in the valley of Eskdale. It is known locally as La'al Ratty (Wikipedia)
2. La'al Ratty means "little railway" in olde Cumbrian dialect.

Millican's Cave
August 1957
1. I can say with confidence that Stuart would be the first to concede that "Millicans" in his caption needs an apostrophe.
2. Millican Dalton (20 April 1867 – 5 February 1947) was a British self-styled "Professor of Adventure". (Wikipedia)
3. Millican Dalton's Cave is on the eastern flank of Castle Crag and consists of two inter-connected split-level caves formed by the slate quarrying process. This cave was inhabited for nigh-on fifty years by Dalton. To this day, evidence of Dalton's existence can be seen in the upper chamber of the cave, where a carving on the cavern's wall warns visitors "Don't Waste Worrds (sic), Jump to Conclusions". (Wikipedia)

Grange, 1957
August 1957
We had a saying in those days – 'All roads lead to Grange'. And indeed they did! We would have beans on toast in the cafe (where we stop for a cup of tea now) and then play in the river (which we don't) until it was time to catch the bus back to Keswick. Does anyone remember the little great bus which went up and down Borrowdale all day? Its driver would proudly boast that he had never left anyone behind, and it would frequently arrive in the marketplace with people literally hanging from it.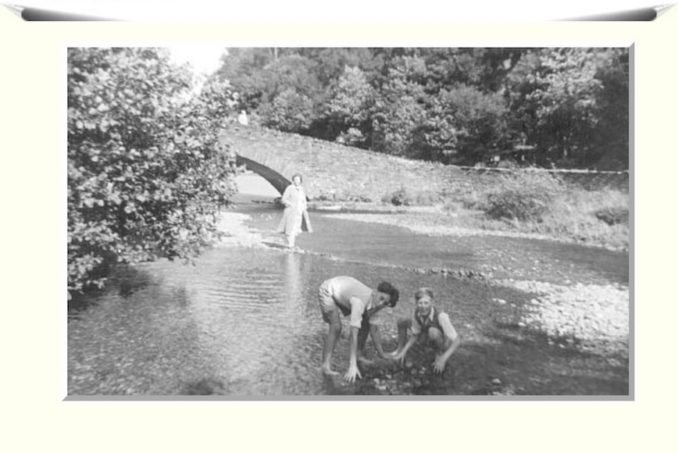 1. Grange, often called Grange in Borrowdale, is a village in Borrowdale in the English Lake District. It lies just off the B5289 road to the south of Derwent Water and 4 miles south of Keswick, in the county of Cumbria, historically part of Cumberland (Wikipedia)
2. This view of the bridge is pretty much unchanged to this day. There is (or was?) an excellent walker's cafe just out of this shot.
Styhead
August 1958
One of our favourite walks was Styhead. We didn't use it as a route to anything higher and it always seemed to be raining, but it felt marvellous to be surrounded by the highest mountains in England. We would point out Scafell Pike and Great Gable to each other and wonder what sort of people climbed these forbidding crags.
1. Sty Head is a mountain pass in the English Lake District, in the county of Cumbria. It is at an altitude of 1,600 feet and there is a small tarn (Styhead Tarn) near its summit. (Wikipedia)
2. I must have stood on that very rock on at least one of our trips.

Honister Pass
August 1958
From left to right – my father, myself and my friend Ian on the Buttermere side of Honister Hause. You can just make out a motorbike and sidecar parked a little way down the pass. Also noticeable is the road surface, which was much rougher than the present tarmac.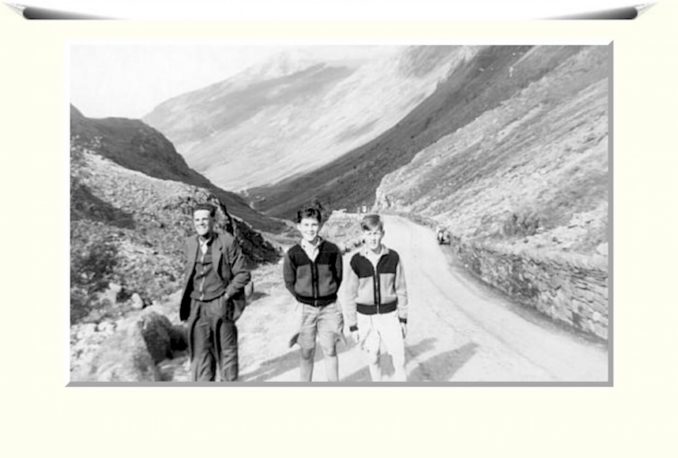 1. Honister Pass is a mountain pass in the English Lake District. It is located on the B5289 road, linking Seatoller to Gatesgarth at the southern end of Buttermere. The pass reaches an altitude of 1,167 feet, making it one of the highest in the region, and also one of the steepest, with gradients of up to 1-in-4 (25%). (Wikipedia)

Thirlmere from above Wythburn
August 1958
Here we are, climbing Helvellyn from Wythburn. Notice our school macs, which offered sketchy protection against rain, but did keep the wind out.
1. In the 19th century Manchester Corporation constructed a dam at the northern end, raising the water level, flooding the valley bottom, and creating a reservoir to provide the growing industrial city of Manchester with water supplies via the 96 mile-long Thirlmere Aqueduct. The reservoir and the aqueduct still provide water to the Manchester area. (Wikipedia)

Borrowdale from Stockley Bridge
August 1958
The view hasn't changed at all, but the clothing has. When it rained hard, we supplemented our school macs with plastic pac-a-macs, which folded up to the size of a packet of cigarettes when not in use.
Salmon in the Greta
August 1958
In those days there was a weir in the river just downstream from Station Road. On one occasion we were lucky enough to see salmon leaping it. Not a bad photo, considering it was taken on an old box brownie.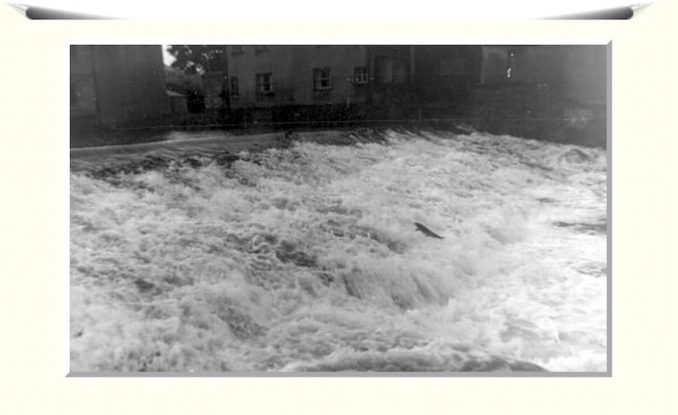 The Road to the Lake
August 1958
This view hasn't changed in over forty years; even the fence is still the same, although I doubt if many people these days would wear a suit for a walk to the lake!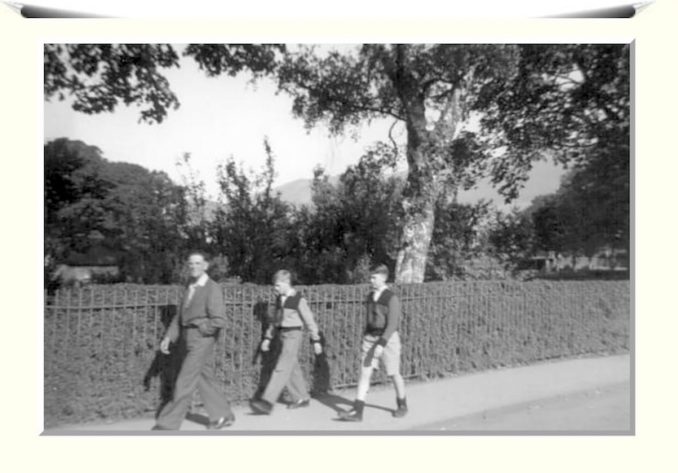 1. Almost everyone who has been to Keswick must have walked past that fence. The view is still unchanged 62 years later.

The Weir on the Greta
August 1958
The weir was quite substantial, and particularly exciting after heavy rain. When I visited Keswick in the late sixties it had disappeared. This picture was taken from the park, looking upstream towards Station road.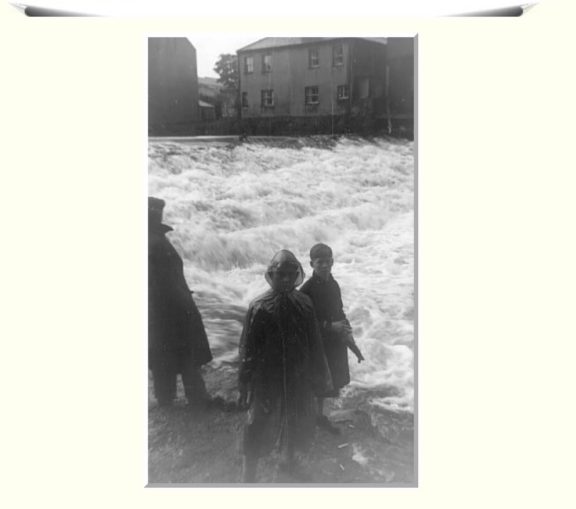 Waiting for the bus at Wythburn
August 1959
We had climbed Helvellyn from Thirlspot and come back down to Wythburn. In those days there was a much more frequent bus service, and it wasn't necessary to use the car at all. You don't see many people wearing summer dresses on the fells these days!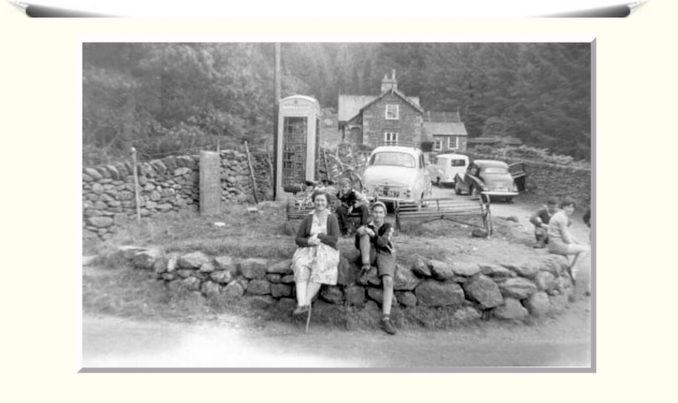 1. Wythburn is located on the banks of Thirlmere.
2. I have tried to identify the location of this photo on Google Maps but without success.
So, farewell, Stuart old friend. Thanks for introducing me to the most enchanting place I know. I shall be up there next month and will raise a glass to you in the Dog and Gun, Keswick. Until then, "Restaurant in Pieces".

Stuart, 1946 – 2018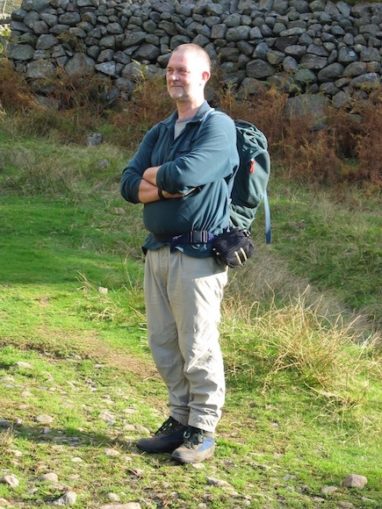 Jerry F 2022