Lans
A sign to the right of the crucified Christ announces that we are arriving at the Tyrolean hamlet of Orfsende Von Lans. That's certainly what I thought. Further investigation shows we're leaving, and not leaving picturesque Orfsende which might lie on the River Lans. Far from it. Orfsende means town end, the town in this case being Lans. Although the Austrians are more relaxed than their privacy-obsessed German neighbours, not all of Lans is on Street View. However, I was able to locate the pictured wayside shrine.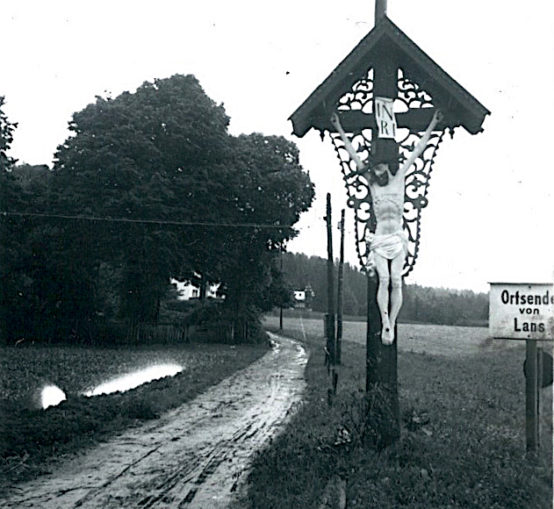 Built around an old salt road near the modest tarn of Lanser See, 6 km from Innsbruck and 2 km from Igls, Lans had a population of 646 in the mid-1950s when my father and grandparents visited and just over 1,000 in the modern day. The roadside shrine now sits wedged between the Walzl Hotel and its car park. Not only has the shrine survived but it now has its own bench and a few shrubs about it in a modest garden.
The muddy track has become the properly paved Kochholzweg and boasts an avenue of immodest villas. One suspects that if one is a gentleman Innsbrukker of a certain age whose cement mixing business has done rather well, a daily commute is enjoyed to an industrial estate where overall-clad sullen Romanian drivers await motivation.
Such gentlemen are worldly types. Although never admitted, they place their success largely upon happenstance. As a giant pitch-black E-Class estate passes the shrine, a prayer of thanks is whispered to the Almighty. Arrangements are made to varnish the bench every six months. Shrubs are trimmed regularly. The Lord gets a lick of paint well in advance of any end-of-the-year bad weather. Another thin line lies between true faith and self-interested insurance.
Starting at the shrine, Lans can be explored Lans this link. Note, the locals have taken the precaution of replacing the confusing Orfsende sign with 'LANS' in block capitals behind a red diagonal line.
Igls
Our next small town in Austria is Igls, suggesting my father and grandparents had lodged in eastern Innsbruck and were now striking out along Insbruckstasse and into the mountains hoping to rendezvous with road number 182.
Reassuringly Igls is as it was nearly 70 years ago. Have a look around here.
The building with the naive representations of rural plenty is now the tourist office on Hilberstrasse. Although appearing deserted there are resorts around about, for walking in the summer and for skiing and winter sports in the winter. Sitting at an elevation of 870 m on a low mountain range terrace at the foot of Patscherkofel, the township of 500 buildings housing 2,000 inhabitants was a sleepy country hamlet until the 19th century when it became a resort for wealthy Innsbrukers who built their properties there.
The 1964 and 1976 Winter Olympics were held in Innsbruck with the ski jump still hovering over the suburb of Bersigel. Igls hosted the bobsleigh and toboggan events. The runs are still there and are still used for competitions. An interesting former resident was Archduke Eugen of Austria who is buried nearby next to fellow archduke Maximillian III in St Jacob's Cathedral in Innsbruck. As the empire and the order that he headed crumbled between the wars, Eugen led a peripatetic existence which saw him (according to The Catholic Gentleman website) living well in Vienna under the hospitality of Hermann Goring following the Anschluss with Nazi Germany in 1938.
With eastern Austria being occupied by the Soviets at the end of the war, Archduke Eugen, not keen on Communism, escaped to the French-controlled Tyrol and pitched camp at Igls. That order of which he was grand master was the chivalric Order of Brothers of the German House of Saint Mary in Jerusalem, commonly known as the Teutonic Knights. Abolished by the Nazis, it set off again more recently and is currently headed by Grand Master and abbot Father Frank Bayard who, to be blunt, doesn't look type to be keen on Communism either.
Natters
Nearby sits Natters, with a population of 850 or so in 1954 and now with a population of 2,020. The prominent parish church of St Michael was first documented in 1376. With its 150 ft high onion dome spire it is a popular place of pilgrimage for gout sufferers. The photograph looks as though it was taken from Mutterstrasse, a view still possible but spoilt, or enhanced, by recent expansion.
As well as roads, unlikely as it may seem, these places are part of the Innsbruck metro via the Stubaitalbahn (Stubai Valley railway). Eleven miles of narrow gauge electrified line switchbacks its way through the gradients to serve nine stations. Since 1983, trains have been routed into Innsbruck Hauptbahnhof proper rather than terminating at the original 1903 station pictured here.
In the foreground, you can see the original rail lines sunk into the road. The old Stubaitalbahnhof terminus building is in the background with the newer lines in the road to the left leading to Hauptbahnhof. At the top of the hill, you can see the Olympic ski jump with its viewing platform and cafe. Behind the bus station to the right is a brilliant piece of a circular track with a radius of about 20 meters. Not sure why, as the trams have a cab at each end. Tacked onto the side of the old station building is a transport museum housing a wonderful array of old wooden Stubaitalbahnhof rolling stock, including little wooden freight wagons.
Are Puffins beginning to agree with me that Innsbruck is the best place ever? Speaking of which, the Puffin is a well-travelled and well-informed bird. Readers will have realised by now that we're not heading across the southern Tyrol for the good of our health or to observe quaint railways and picturesque hamlets, but to address the Brenner Pass. I thought I'd never been there and, not for the first time, my father and grandparents might claim English travelling bragging rights over me. Not so.
In 1954, a windy twisty road, now known as road 182, alongside the mainline rail route and the River Sill, made its way up the valley towards the 4,495 ft summit on the Austria / Italy border. Since then a more modern road, much of it up on stilts, has been added. Known as the A13 or the E45 Euroroute it crosses the valley near Patsch over the impressive 620 ft high and 850 yds long Europa Bridge, or Europabrücke. It was this that I recognised when recceing the route on Street View. Although familiar with the Bavarian Alps, in previous episodes I was a bit baffled by Lake Constance and Nesselwang as I am more at home in Munich and Rosenheim further along the mountain range.
Looking through my railway box suggests a mad dash from Granny Soros's guestzimmer in a dilapidated rental palace in Budapest VII (via Subotica and Belgarde rather than the much too obvious Hegyeshalom and Vienna) to hit Munich via Trieste, Verona the Brenner Pass and Innsbruck. There, according to another sepia Zugbegleiter, I appear to have rendezvoused, halfway along its journey, with the down D216 Austria Express, arriving in Rotterdam at 10:28 the next morning. If a friend tells you, back in the day, an up-and-coming Leningrad KGB officer had an Anglophile daughter (susceptible to blue eyes and questionable tall tales of derring-do) who had been spotted living in disguise and under a false name in a little dot on the map near Leiden, and she was conveniently talkative and as lonely as lonely Paul Pelosi, then I couldn't possibly comment.
Steinach am Brenner
About 10 miles into the pass, and about 7 miles from the summit, lies Steinach am Brenner the birthplace of George Lugar, arms manufacturer and inventor of the Luger pistol. The building pictured, where presumably my father and grandparents broke their journey, is the Wilder Mann Sports Hotel. It has survived and prospered albeit in a ghastly red incarnation with less decorative windows. Opposite is the Post Hotel. To the right, the distinctive arched windows of the Aktiv Hotel zur Rose have also survived. You can have a look along the main street here.
Steinach sits on the Brenner railway line and, as we head further up the pass, we come to two interesting pieces of iron road engineering.
Sankt Jodok
As the grade threatens to overwhelm it, the Brenner railway takes a 180-degree turn around the village of Jodok while, in part, climbing through spiral tunnels. This is only one of the significant pieces of local railway architecture. For the other, we must call at the home of a Mr Hanns Jenewien who has built this in his cellar.
They say a photograph is worth a thousand words. Insufficient here. Let me tell you this, on Hanns' miniature railway, 96 trains are controlled by 266 LED signals. There are over 7 kilometres of wiring and three-quarters of a kilometre of model railway tracks. Hanns has invested 20,000 hours in the build, spread over 20 years. His brewery belches real smoke. The longest train is over 20 feet long, one suspects a 30-wagon-long 'rolling road' carrying Eddie Stobart trucks. Furthermore, also omitted in the photograph, Hanns dug under his foundations and into the hillside behind his house not stopping until he encountered rock so hard that it would require blasting. What Mrs Jenewien thinks of this remains unrecorded but at least she always knows where he is.
Puffins, last time I told you I loved Austria back in the day. Earlier in this very piece, I suggested Innsbruck the best place ever. It has just got better. If these articles ever come to an end I have not flounced, nor have I died. I will be enjoying the Alpine air (when not in the cellar). There will be no television. The phone will be off the hook. You know what myself and my new friends will be doing, an innocent pursuit compared with what some middle-aged Austrian fathers of a daughter have been known to do under their houses.
To be continued…