Wednesday June 14th – At Sea
I woke at about five to seven having slept soundly, I must say the bed is extremely comfortable. A little grey outside but the sun is only just coming up. I am on the starboard side of the ship so as we are heading due south, I won't see any sun on the balcony until this afternoon. I like to try to get down to breakfast around about 8 o'clock, it tends to get busy after nine, so I have plenty of time to wash, dress and potter.
The usual questions at the restaurant reception desk, but this time the man says, "I have just opened a new sharing table and you will be on your own to begin with." For once the guide knew where table 500 was and took me straight there. A pretty little Philippino waitress was over with a breakfast menu and the coffee. I asked for a glass of water to take my Metformin with, and it appeared very quickly, at that time I was the only one on her section of five tables, so she stopped to chat asking what my pills were. She told me that her dad was diabetic, and the doctor had told him that if he kept on eating so much rice it would kill him! But the conversation didn't go any future as first one man and then three couples arrived to fill up the table.
As you might have guessed I started off breakfast with a bowl of Rice Krispies, but today I followed it with two fried eggs on toast for a change. The waitress was one of the better ones and seeing seven of the eight on the table had ordered cereal, delivered two extra jugs of milk before it was asked for. A very pleasant chat over breakfast, I wouldn't mind eating with any of those people again.
Back up to the cabin to pick up my Kindle. As the sky has broken and the sun is out, I think I will go and find a sheltered spot out of the breeze over the open deck. When the ship is doing 18 knots it is important to get out of the wind. I read until lunch then found the outlet that serves hot dogs, pizza, burgers and rotisserie chicken. All the burgers come as standard as cheeseburgers, but cheese gives me migraine, so I have to ask for one without cheese. The beauty of this is that they have to make it especially, so it is always freshly cooked and piping hot, rather than having sat around under the heat lamps.
Back to the cabin as the sun should be on the balcony for my afternoon read. Despite several people dying, Jack Reacher still hasn't killed anyone and has only hit one person! It's 'Celebration Night' tonight, a 'black tie' event so I must get my monkey suit on.
It was nice to see so many people in formal dress at dinner, of course there was the occasional man in a business suit, but they were few and far between. On a table for six, this evening, we were all seasoned cruisers who were not enamoured with freedom dining and said how we would be returning to fixed dining for future cruises. It was an excellent dinner this evening, an amuse-bouche to start and then I had crab and scallop ceviche for my starter, which was delicious, this was followed a bowl of cream of artichoke soup. I am not wildly keen on artichokes, but the soup was pretty good. For my main course I had a prawn and lobster concoction between two sheets of puff pastry and in a lobster sauce, it was served with green beans, asparagus and creamed potato and was fantastic.
I was so full I thought about skipping dessert, but I did manage to force down a scoop of vanilla and a scoop of coffee ice cream before enjoying a cup of coffee. A lovely meal and delightful company. We decide to decamp en masse to the Crows Nest for a nightcap which we all agreed is the nicest bar on the ship with its lovely views, comfortable chairs and a pianist playing gently. I guess it is more suitable for the sophisticated cruiser, and not the some of the younger crowd on board. Intriguingly the dress code for the Crows Nest this evening was formal attire only. You might get away with being dressed in jeans and a tee shirt if you were eating in the buffet or drinking in some of the bars but not in the Crows Nest this evening. I saw one man in jeans turned away and another who had taken his dress suit jacket off told he had to wear it to go in. Standards must be maintained, and I reckon 98% were happy to do so.
Thursday June 15th – At Sea
Something woke me just after six this morning, it was still dark, but I could see a coastline and lights, as I am on the starboard side of the ship it could only be the coast of North Africa. I quickly put the TV on and tuned to the Navigation Channel and it showed us bang off Gibraltar. I thought great and went back to sleep for another hour!
I breakfasted in the main dining room and was put on a table for four with a couple who came in at the same time as me and I had breakfasted with before. They are 'just friends' and have separate cabins. I am not at all surprised that the man didn't want to share a cabin with her, she could talk for England. Anyway, it was my usual Rice Krispies, but I had a mushroom omelette and a couple of rashers of back bacon today. Then my square toast and butter. I discovered that they have diabetic marmalade on offer, but I will probably avoid it as the sweetener is inclined to give me the runs if consumed in anything other than very small amounts.
The sun is on my balcony this morning as we are now in the Mediterranean proper and on a heading just north of easterly before heading properly northeast to Majorca where we arrive at 8:00 am tomorrow. I'm off to sit on the balcony, I think it's time to finish my Jack Reacher book, it is building to a nice blood fest. I have a Harry Bosch lined up to follow.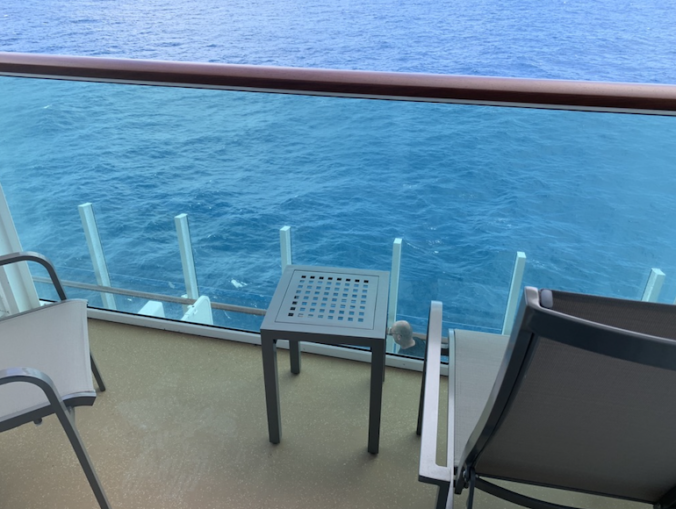 It was very warm in the sun, and I soon polished off my book. As I predicted to myself, Reach managed to bump off or cripple 24 of 26 baddies all on his own at the end. I sometimes wonder how many people he has killed or crippled in the twenty-odd books he has starred in? Next up is Harry Bosch, at least in his books he has aged and officially retired from the LAPD.
I so enjoyed my burger yesterday that I am off for another. The same approach as yesterday, ask for one without cheese and it is freshly made for you. Today I got a huge mound of fries to go with it, fresh out of the fryer. They were good but would have served two people or more at home. I sat at a sunny table by the Sky Dome Pool and washed my food down with a nice cold beer. The Dome was open today as the weather is lovely and it does keep the noise down. What is noticeable is the very low number of children on board this cruise. Those that are, and I would guess maybe 30 or 40, are mostly under school age. I hear from one crewman I was chatting to that the last cruise, over half term, there were around 1,000 kids on board and the noise around the pool with the Sky Dome closed was deafening.
The other interesting thing is that, despite P&O's TV advertisements with a couple of fat black girls holidaying, there are not a lot of black faces on board. Mind they are demographic on this cruise, compared to my last this is much lower. Many more young couples, I suppose that two weeks in the Med is easier for someone who works, where five weeks to the Caribbean and back attracts the retired. Also, this ship is aimed much more at the younger passengers with high-level rope walks and an escape room. But if I had one complaint it is that on this ship and its sister Iona, there is no fixed dining. All the old cruising hands I have spoken to, don't like it while the first-time cruisers seem happy to accept these arrangements.
And so, to dinner this evening. I was placed on a table for eight where I had dined with five of the others before, and the company was good. But we were positioned bang outside the waiter's entrance to the kitchen, so there was always a short queue of waiters waiting to get in. It seems they operate a one-way system through the kitchen and limit the numbers picking up food any one time by controlling the queue. However, I enjoyed my meal, chicken noodle soup, a pork collar steak, and for dessert treacle tart and custard, which of course I had vanilla ice cream with. The tart was good, but not as good as I remember my old mum used to make. Then it was coffee and back to the cabin to get a bit of pork out from between my teeth before it was time for a nightcap!
Friday 17th June – Palma, Majorca
I woke up early again this morning, just after six as the sky was getting light and we were heading into Palma harbour. As the sun came up it turned into the most beautiful morning with little wispy clouds and hardly any breeze, it is going to be a hot one. I have a trip booked this morning that departs at nine so I shall be downstairs waiting for the MDR doors to open for breakfast at 07:30.
When I reached the MDR there were about 10 people already there. They opened bang on time, and I decided that I didn't want to hang around waiting for a sharing table to fill up, so I asked to be seated on my own. I got a table for two next to the window where I could watch as the ship was tied up and the gangways rigged. I had finished my Rice Krispies and mushroom omelette and was enjoying my third cup of coffee and second slice of buttered toast when the captain came on the Tannoy to say we were secure alongside the cruise terminal and passengers were free to go ashore.
The captain explained that despite being docked in the nearest mooring to the town the main shops are about a mile and a half away. Passengers were welcome to walk it along the promenade, but it was going to be 32°C by mid-morning. He went on to say P&O have arranged a fleet of 20 shuttle buses they would be running a continual service into the centre of town, dropping off and picking up at the steps to the cathedral. Not that it bothered me as my trip picks up shipside.
I was on my coach about ten to nine, but we hung around for late arrivals and finally departed at 09:05. The coach crawled along the promenade in the morning rush hour traffic, and it wasn't until we were well past the cathedral that we pick up speed. This morning's trip is to Valldermossa, and then on to a 15th-century house and garden. Valldermossa is a quaint town in the mountains to the west of the island. It is said to be the highest town on the island at 400 metres above sea level. It was originally famous for Fredrick Chopin and George Sands taking up residence there. Apparently, the locals didn't like the fact that they lived together as man and wife without being married!
I wander around the ancient monastery which is no longer consecrated but it is kept in as good order as a 17th-century building can be by charging visitors to go in. It is rather nice inside if very old. Then across the cobbled square for a short piano recital of Chopin compositions. I recognised the music even if I had no idea what it was called, and the pianist played very well. We then walked down to the main shopping street (probably the only shopping street) for a 30-minute refreshment break. There are loads of cafes and bars ready to rip you off. Then back to the coach and on to the 15th-century house and garden. Not worth the stop, to put it bluntly it was crap. The only redeeming feature was a decent place to take a photo of the coastline.
Then back on the coach and back to the ship, this time avoiding the town centre and coming in from the opposite side of the port, where several Spanish and an Italian warships were tied up. Back on board about 01:30 so it's another burger and fries for lunch. The Sky Dome pool area is very quiet, I suppose most people are still ashore. We don't have to be back on board until 18:30 this evening.
A relaxing afternoon in the sun and shade reading and dozing. Then a shower and a shave before dinner. I couldn't get a booking in my usual restaurant, the Meridian, this evening so I am booked into the Zenith instead. This is the same as the Meridian and serves the same food. The only difference is the Meridian is on Deck 6 and the Zenith is on Deck 7. So, I have been placed on a table for eight and it looks like decent enough company. Tonight, I have a treat for you, photos of tonight's menu so you can all tell me what you would have chosen.
I went with the tomato soup, the smoked pork loin from the chef's recommendations section (anywhere else it would have been called gammon). For dessert it was the warm chocolate praline fondant with salted caramel ice cream. The recommended wines are in my view overpriced; I tend to go for the house white. Next stop is the Crows Nest. I really must take a picture of it to show you what a pleasant bar it is.
Saturday, June 18th – At Sea
It was fully light when I woke this morning, so I knew I had slept later than yesterday, a quick glance at my travel clock showed 06:42. No panic to get up as it's a sea day. I think a short lie-in is the order of the day then down for breakfast about 08:00. I have a huge number of activities to choose from today, but I suspect I shan't bother. I could go to the cinema and watch 'Ant-Man and the Wasp: Quantumania', or attend one of the many quizzes in various bars. Then there is a footprint clinic, where I can learn about my feet or a talk by ex-Southampton footballer Francis Benali, who I always thought of as one of the lesser lights in the Premier League. There is of course, a special Wallace and Gromit stage show in the Sky Dome this afternoon and a showing of 'Black Panther – Wakanda Forever' in the Dome this evening.
There are numerous talks on handbags, jewellery, skincare and gin which are just sales pitches from the various on-board shops and the ship's spa, which I am told is hugely expensive. After a facial or a hot stone treatment they will try to sell you the latest serum at £90 a bottle! No, not for me the sun is on my balcony so it is sit down and read book number three after breakfast. That should see me through to lunch.
A sharing table for six for breakfast right by a window on the sunny side of the ship this morning. I am the second person to be seated, a very pleasant single lady I have sat with before was already there. She is a recent widow and decided to go on a cruise which she had always wanted to do, and her late husband hadn't. She was in the middle of telling me how much she was enjoying the trip when the pretty girl whose sole job is to deliver toast to breakfasters slid a rack of square toast in front of me and said, "I saw you come in and I went to get this for you as I know you always ask for it." I thanked her and she wandered off smiling. The widow asked, "Do you know her?" And I had to explain that I always have a few friendly words with her and thank her. Waiters always remember people who are polite and those who are rude. Those who are polite get good service those who aren't don't and those who moan get a thumb or worse in their soup!
We were quickly joined by two couples and breakfast was soon under way. I tucked into Rice Krispies and two poached eggs on toast. You must have two as the eggs are so small, as is the toast it comes on. It looks like they have sliced up a French stick and toasted it! I must say the poached eggs are always perfect, solid whites and runny yolks, I wish I could always cook mine the same way. One of the men on the table asked for Frosties but the ship has apparently run out of them! I find it strange that there should be a rush on Frosties with so few children on this cruise. At least there seems to be an ample supply of Rice Krispies!
Back in the cabin the first thing I see is a one Euro coin sitting forlornly in the middle of my bed. I dropped it when changing from shorts into a decent pair of trousers for dinner last night and it rolled away. I had a quick look, but it was nowhere to be seen so I gave up, it might have been different if it had been a £20 note, but I couldn't be bothered to get down on my hands and knees for a big search. The cabin steward must have found it when he made up my cabin while I was at breakfast. He could have easily pocketed the coin, which I suspect was worth more to a lowly paid steward than to me, but the fact that he didn't proves that he is honest.
I must say that tipping the steward at the beginning of the cruise is paying off. My cabin is done every morning when I return from breakfast, mind it is probably one of the easier ones to do as I put things away unlike other cabins I have walked past and seen into when the door has been open. I bet he is in and out in a few minutes, make the bed, clean towels, and a whiz around with the Hoover.
On my walk back from breakfast I walk through the art gallery where I saw the following picture which made me think of you lot.
Hot dog, a pile of fried onions and French fries for lunch by the Sky Dome pool today. A little boy, about three or four, on the next table wanted to chat, and he told me how great the pool was, and he was going in again soon! I asked him if he had seen the Wallace and Gromit show this morning and he nodded enthusiastically and told me, "It was good," and "Mummy says I can see it again this afternoon." He also said he had been to the 'Shaun the Sheep' tea party, and it had been, "Good." I think 'Good' must have been his favourite word, his burger and chips were 'Good' and so was his ice cream. He wanted to know if I was going in the pool this afternoon and I told him I was too old. He said his daddy, "Was going in and he is old," which made his mummy and me laugh.
A lazy afternoon alternately in the sun and the shade reading and snoozing. Then a quick shave and a shower to get rid of the suntan cream. I have booked an early dinner this evening as I want to go and see the show which features music from the 60s and 70s, my era! A sharing table for eight this evening and all new people I hadn't dined with before. I started with vegetable soup and very good it was too. I pondered over fish or meat for my main and finally settled for roast loin of Lamb and it was wonderfully tasty and tender, it came with mushroom-flavoured puy lentils, broccoli, carrots and fried potatoes and onions. For dessert it was lemon-flavoured panna cotta and ice cream. An excellent meal.
In Chapter 4 – La Spezia, Marseille and Barcelona

© WorthingGooner 2023