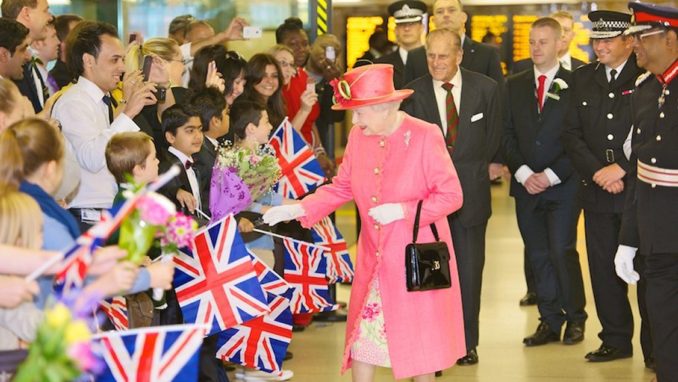 I have a little anecdote on meeting The Queen.
My late father was born in Lewisham, London and was brought up by working class parents in a council estate.  After he got demobbed from the army he worked for a printing company.  Being the sort that has the devil of entrepreneurialism running through his veins, he went to college in the evenings and got his printing accreditations, all from his own pocket.
After a few years, he left the printing company and started his own security printing business with some other partners.
Over time, he made several sacrifices and endured many financial risks, including putting his family house up for collateral in order to buy a Heidelberg offset printing press, and soon his company was becoming one of the most successful quality security printing businesses in the UK.
He printed posters for some high-end brands such as Smirnoff, but his real expertise and passion was focused on the production of printed stamps for UK Royal Mail and Commonwealth countries.
He spent many years travelling the world to do business.  One of my favorite memoirs recounted by him was when he was in Saudi Arabia negotiating a deal.  The client took off his jewel-encrusted Rolex watch and offered it to my dad to secure the business.  My dad refused of course and wanted to discuss the contract purely on the legal framework of business.  He often said to me, "Son, never trust an Arab".  Words I've held dear to this day.
Fast forward many years and there's a big stamp exhibition held in Earl's Court, London.  All the major printing businesses will be represented here and it's an important one for everyone as The Queen will be visiting.
The cloying stench of stress and nerves within my father's business stand is palpable.  My mother has a firm grip on my sister and I and lecturing us to be quiet, remain still and not to muck about.  Even as a young 12 year old I can see she is very nervous.  My mum had a small bouquet of flowers that she had bought earlier from the local florist to give to my sister just in case The Queen happened to walk past the stand.
As readers may have gathered, The Queen's security detail will outline a strict route that she must take and sadly for my old man, he was a little off that beaten path as he couldn't get a premier slot in the Earl's Court exhibition.  Anyway, he barked an order to me: "Go out and see if you can see The Queen and let me know if she is coming our way!"
"Yes, dad", I replied and leapt off the stand and ran to one of the main corridors.  My brain started to work, and doubts formed in my mind.  Confused and worried, I ran back to the stand.
"Dad, dad, how will I recognize her?", I wailed, my voice trembling.
He shouted, "Oh, for f***'s sake Geeks, here, take a look", and threw me a presentation block of his own printed stamps with The Queen's head on them.
Duly and deservedly reprimanded for my crass stupidity and insensitivity in such a stressful situation, I ventured forth once again and did report back to my dad that The Queen was close.  Ties were straightened, buttons and flies were checked, and clothes adjusted.  Everyone held their collective breaths as Her Majesty drew near.
The Queen, unbeknown to my dad, was an avid fan of his company and his stamps of the Commonwealth and deviated from her proscribed path and beelined straight to his stand.  My sister curtsied and offered her a posy which The Queen accepted with grace and a smile and handed it to her lady-in-waiting.  As she walked through the stand we all bowed and then she faced my dad and spoke to him.
From what I remember she was well informed about my dad's stamps, a personal interest and not some pre-written script from a minion.  She was smaller than I imagined but impeccably dressed and her makeup was perfect, she had lovely blue eyes.  My dad must have spent several minutes talking to her about his journey, his extensive production of UK and Commonwealth stamps and his very loyal employees.
As quickly as she arrived, she left with her entourage and I can remember, even to this day, seeing the tears roll down my father's cheeks.  It was the ultimate reward for all the hard work he had put in to creating one of the UK's most successful security printing businesses, and the support and love from all the employees and family was a wonder to behold.
Just before his recent demise, he finally knew that I loved and respected him, and in my own way, running my own business, I strived to replicate his passion and success that had driven him throughout his life.  Underneath that tough, entrepreneurial shell was a very generous, family-loving and smiling man.
God bless him.

© Beware of Geeks Bearing Gifs 2022