This can be cooked with fresh ingredients or cupboard staples.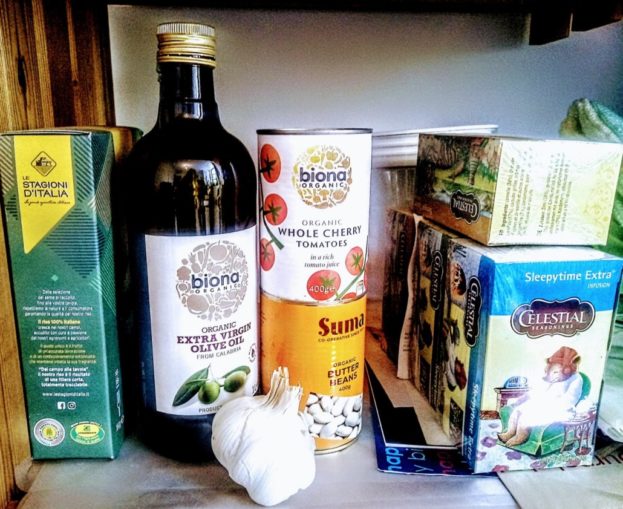 You need:
Some butter beans (a tin or dried beans previously soaked overnight and then cooked)
Tomatoes (fresh ones or a tin)
Garlic: 2 cloves (although I have never used them I suppose you can use some dried garlic or garlic granules..)
Olive oil. I don't use the organic one for cooking in the pan
Sea salt and pepper to taste
Parsley
You may add a bay leaf as well, but it is optional
A wooden spoon
Pour the non-organic olive oil in a saucepan suitable for stewing things, at the very least enough to cover the bottom of the pan.
When hot, add your peeled and chopped garlic cloves
Wait a bit until the garlic has softened. Do not allow the garlic to burn, so adjust the heat accordingly
Add your butter beans
Put the lid on, turn down the heat, leave the kitchen to either brood, stare at the walls, read some Kierkegaard, post some grammar titbits on GP or watch some funny cat antics on the interwebz.
Re-enter the kitchen, lift the lid and if the garlic looks cooked, add the tin of tomatoes or your fresh tomatoes (for you fussy eaters, you may parboil the tomatoes before-hand and peel off the skin).
Stir from time to time with a wooden spoon
Leave it to simmer on a low heat until the tomatoes have melted and the excess liquid has evaporated (I suppose it might take up to 45 minutes).
You may squeeze some tomato paste in the gloop if you so wish.
Add some sea salt and some pepper. Leave it to simmer for another 5 minutes. Turn off the heat, add a swirl of the light-tasting, good quality olive oil and some chopped parsley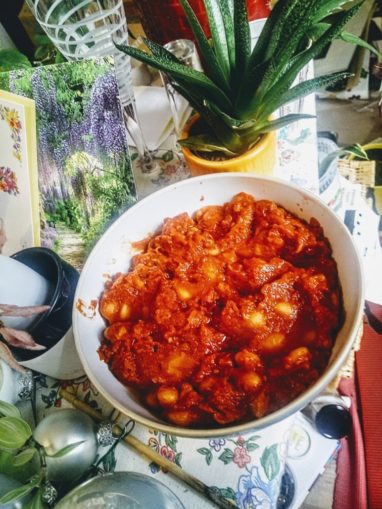 You may have it with a slice of ham or some nice snorkers.
And a salad.
You may cook a larger portion of this for more people and it can be reheated in ramekins in the oven..
This is from an old French recipe book I've had since my early twenties.
There is no parsley on the last photo as I have run out…

© text & images Aisotrcbifst 2022