Following on from my Postcard from Monmouth we decided our next 'big day out' would be to Abergavenny.  A place I've probably travelled through in the past but never visited.
We crossed the Bristol Channel once again on the original Severn Bridge and headed West along the M4, exiting at the Newport junction, close to the Celtic Manor Resort (well worth a trip for a coffee / afternoon tea if you're passing by).  We headed North East along the A449 towards Monmouth, taking the Usk exit and towards Abergavenny. Journey time just over an hour from Reggie Towers.
We parked in the Bus Station carpark which is at the South end of the high street, paying a not unreasonable £1.90 for 3 hours.  Heading towards the high street we were greeted by no less than 6 takeaways (Turkish, Greek, Italian, Chinese, Indian and others I forget now) along with a Turkish barber.  Initial impressions were not great.  Clearly this is the rough end of Abergavenny.
At the point where the high street becomes pedestrianised things started to improve considerably. There were hotels and restaurants offering an alfresco eating experience, with some nice-looking menus.  Heading further up the high street we noted a number of independent shops, mingling in with the usual national chains, charity shops and betting shops. As we had set off later than planned, we decided a bite to eat was in order and I was pleased to find the Portico Lounge. There are many 'Lounges' in and around the Bristol area and the company behind the 'Lounge' format has clearly rolled this out across the UK.  If you've never tried a Lounge before, give it a go.  They have a great blend of a place to drink, with an emphasis on good food and family friendly atmospheres.  https://thelounges.co.uk/  for more information.
We both had the Lounge Eggs (two poached eggs on English muffins, with a Hollandaise sauce).  Mine came with salmon and Mrs Reggie had bacon and mushrooms on hers.  Delicious as usual and washed down with a couple of coffees.
Exiting the Portico Lounge, suitably nourished, we turn right and continued our journey along the pedestrianised high street, entering the "Frogmore Street Independent Quarter" which offered a range of mainly independent shops selling a variety of items and wares.  At the end of the pedestrianised area we were greeted with a splendid view of Abergavenny Baptist Church, a magnificent building, with a prominent hill behind it.
We retraced our steps and headed back the way we came, stopping at places we missed previously.  Mrs Reggie wanted to investigate some shoes in a shop she had spotted earlier so I left her to it and walked around the nearby "Cibi Shopping Centre".  A ghastly affair built sometime in the 1980s, with almost every shop selling cheap Chinese tat. I found the experience completely depressing and it's easy to see why the high street is failing.  I made a hasty retreat and waited for Mrs Reggie to finish trying on every shoe in the shop (she did actually end up choosing a pair).
Our final stop was a nose around Abergavenny Market, a covered building with a mix of stalls offering fruit & veg, cakes, clothes, toys and various handmade / arty items.  We stopped at a stall manned by a local artist, Suzanne Parry, who works with lino to create limited edition prints, gaining inspiration from the Welsh countryside etc.  We purchased 3 framed prints (details will be provided in a forthcoming article from the Artwork in my home series).  I did spot this rather lovely looking print on her stall which I'm sure you'll agree is a bargain at £20 for a limited edition run.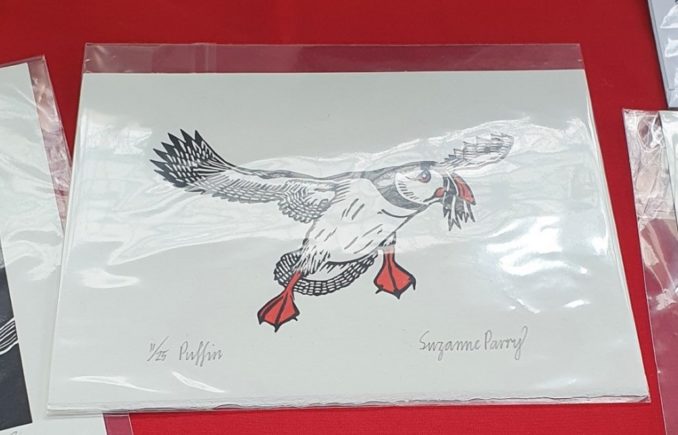 We also bought some Welsh Cakes from a stall nearby.  They had been cut in half and jam smeared on the inside and didn't contain raisins.  A first for me – think I prefer the traditional recipe myself.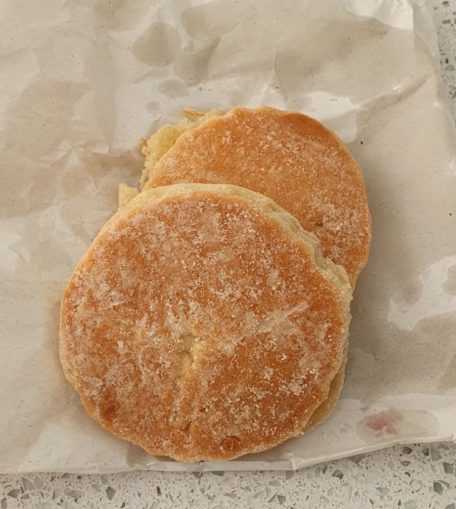 Due to time constraints we had to cut our visit to the Market short but we will be returning as we spotted some rather nice items which warrant further inspection.   I think the Market is well worth a visit if you're going to Abergavenny.
Back to the car and a leisurely drive back home.   All in all we enjoyed our trip to Abergavenny.  Personally, I think it could be improved by closing down at least half of the charity shops (a magnet for the weak-willed and gullible) and limiting shops selling Chinese rubbish to single figures.
I wonder where our next 'day out' will take us?

© text & images unless otherwise indicated Reggie 2021

The Goodnight Vienna Audio file