Mask Wars Part Deux
Like many other people (no doubt) I looked forward, with mounting anticipation, to walking up to the bar in my local, being greeted by a smiling serving wench and taking my first mouthful of ale. Over the years, I've come to know and fully appreciate this simple act, for the societal cornerstone it is and should forever remain. I didn't go out on Monday night (19/07/2021) as Tuesday has long been my weekly night out, dominoes or no dominoes. Consequently, by 8pm, cricket or no cricket I wasn't for holding back. Sadly, it didn't quite turn out as I'd expected it to. Many of the authoritarian, brewery provided signs were still in evidence, as was the screen which diverts customers past the "sanitising area" (a barrel with a bottle of gunk on the top) and signing in station. I ignored these impediments to progress and went straight to the bar. Both members of staff were masked; in answer to my question as to why they said it was "habit". I let it slide, at this point my needs for my first pint took precedence over such trivialities. As I'd entered the pub I'd noticed a group of four guys sat at what we normally consider "our" table. They were clearly enjoying themselves, having eaten and the drinks were obviously flowing. As my pint settled one of the men got up and went to the toilet, donning his mask as he did so. Almost immediately a second man from the party approached the bar, also putting on his mask, and asked if he could order drinks. I said nothing, but it got me to thinking. Why put on the masks at all? They obviously weren't ill and they certainly didn't look vulnerable, I didn't need protecting from them and they certainly didn't need protecting from me, I may be getting on a bit, but I'm not poorly.
Anyways, personal choice being what it is I didn't think too much more of it and went outside for a bit of crack with the chaps. The four guys came out, removing their masks, which they must have put on for the six foot walk from the table to the door, to keep their mate company who was having a fag. I remained nonplussed. My drinking pals arrived, one by one, sans mask and joined me at an outside table. We repaired to the barroom after about an hour and the four guys carried on with their routine for the rest of the evening. It doesn't seem much, it's clear that some people are so convinced by the relentless, pernicious propaganda that they would be unlikely to change their habits unless specifically ordered to, and maybe not even then. It did concern me on one level though, and it's this; Government will be monitoring closely the reaction to what the media has laughingly dubbed "Freedom Day" and the more reluctant the nation seems to be in divesting itself of mask slavery, the more likely the Government will be, given the rising numbers of "cases", to reintroduce compulsory mask wearing. We already have the scenario where power crazed ersatz Town Councillors have taken it upon themselves to further interfere with our liberties, which, although hard won, can soon be eroded, as we are witnessing.
I mentioned all this to my daughter. She'd worn her mask and broadly complied with the "rules" but had been more than happy to see the back of it. She'd visited Sainsbury's on the Monday morning and had been heartened to see many of the staff mask-less, less pleasing was the (in her estimation) 70% of customers still masked up. She soldiered on, although did admit to feeling a little nervous. I think she'd thought, as I did, that apart from the vocal minority, many more would have at least attempted a return to the semblance of normality. She went out to eat on Wednesday evening at a popular Ullswater area diner and, when she returned, she put forward a theory which makes a great deal of sense, at least to me. None of the staff were wearing either masks or shields and there was no instruction for customers to do so, but many were, both prior to sitting and when walking between tables. She noticed, she said, that the vast majority of people seemed to be indulging in some kind of herd mentality, wearing face coverings because others were doing so, but looking around, as they did so, for some kind of tacit approval from their fellow diners. She was at a table of ten, eight of her companions continued with the mask charade throughout the evening. I can only conclude that alongside the paranoid, irrational fear of Covid which drives some to continue wearing face coverings, there are parallel fears of being "told off" by over zealous, power crazed petty officials along with a fear of being "different" from the rest. It makes absolutely no sense. Wherever you stand on the why's and wherefore's of Covid, it's clear the "vaccine" doesn't negate catching the virus. People are claiming to have contracted it when "vaccinated" and having previously been infected. This actually destroys the Government argument and also makes the whole idea of lock-down, domestic "passports" & other restrictions pointless. The disease is now endemic and poses no real threat to us as a nation. Herd immunity, beyond a bit of a sniffle, is long achieved. We must get back to our lives, for, if we aren't "allowed" to then more and more of us will, rightly, begin to think the previously unthinkable. Ditch the masks, ditch the app, if you haven't already (though I doubt many readers will have ever installed it) and, maybe more importantly, stand firm against any form of medical apartheid.
My initial fear about the lack of cucumbers was unfounded. Apart from the tomatoes & beans (which have proved both prolific and tasty) this one cucumber plant is now producing enough fruit to allow for both eating fresh and pickling. As is usual with me, I chucked the seed packet without taking note of the variety, but this is one of the tastiest little cucumbers I've ever eaten. It has a slightly off sweet flavour (if that makes sense) and doesn't have the same moisture levels as a standard English long variety. I hope to harvest some of the seed, something I've never tried before with cucumber, but it can't be that difficult, can it?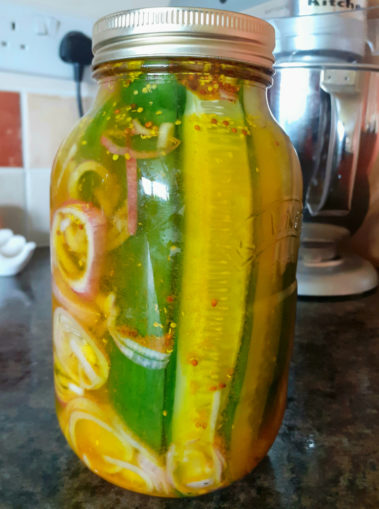 The pickling process couldn't be easier, although it's worth salting the quartered fruit down for an hour or so to draw out the excess moisture. I used sea salt, but I'm sure table salt would do as good a job. I salted the shallot down at the same time. To make the pickling brine I dissolve 2.5 ounces of caster sugar in a good 1/4 pint of cider vinegar with a teaspoon of turmeric and a teaspoon of mustard seeds. Once I'd rinsed off the shallots and cucumbers I tightly packed them into a sterilised Kilner and poured the hot liquid over, making sure all the vegetables were covered. This is the second attempt, I'm guessing an unopened jar will keep for a while, but once opened I'd keep it in the fridge and eat within a couple of weeks. Interesting and different on a salad.
It's that time of year when the tomatoes begin to pay the dividend of all the care and attention that's been afforded them over the last few months. One of the problems with the Greek variety is the size of some of the fruit. I had noticed it last year, but hadn't had occasion to do anything about it. One of the trusses I featured last time had touched ground level, due to the wight of fruit. This is of particular concern as excess moisture can cause mould and rot if tomatoes stay in contact too long. I'm guessing also that particularly laden trusses can either bend so far as to be perpendicular to the stem, cutting off water and food, or even snap. I don't like removing green fruits, they won't always ripen and it seems a waste, but early last week I felt I had no option. Rather than take off a couple I removed just one, which is now nearing edible ripeness. An excellent looking and hopefully tasty beef style tomato. Sad news on the purple climbing bean front, one of the two plants developed either a fungus or a mould at its base, leading to it dying back before it produced even one bean. I blame myself, although I could be wrong, I'm guessing that water had pooled on the ground, more care required. The second plant is thriving, I should be harvesting edible beans anytime now.
Tomatoes on toast is one of my favourite things. Some people call it bruschetta, especially Italians, but I wouldn't make so bold. Saturday (17/7) saw me make the first of what will be many such plates of food. Chopped mixed small tomatoes, salt to taste, just a pinch of sugar, decent oil and basil marinated for no more than 30 minutes, served on oven toasted crusty white bread, rubbed with the cut end of a clove of garlic whilst still warm from the oven. A decent chilled Pinot rosé to wash it down, bringing a little taste of "Italia" without leaving the back garden.
Nature, just occasionally, needs no help to deliver its bounty. Along Crag Lonin' there are several gooseberry bushes. Over the years they've fruited intermittently and one of the larger ones hasn't had any fruit worth the name for several years now. Several of them are competing (and losing) against both nettles and Hawthorn, making harvesting an often painful experience and one to be avoided if there are easier targets for a forage.  This is my second haul from a previously low yielding bush, which this year is pretty well fruited. I'm guessing it's a naturally wild variety, the fruits are slightly smaller than cultivated, they have a pinkish tinge and are edible straight from the bush. I've already made four jars of Gooseberry and Elder flower jam and a delicious crumble. This latest bag is going to be transformed into a spicy chutney, I've made this before, but it was a couple of years ago, no doubt I'll have the recipe somewhere.
One final short paragraph for an article that's been long on Covid (see what I did there) and short on the growing aspect of normal focus. Flowers are beginning to appear on the pepper & chilli plants and small fruit are forming. I'm taking what I feel is a calculated gamble and feeding them twice weekly with Vitax organic tomato feed, which I'm happy to report seems to be doing a job. Much of my time, come the autumn, will hopefully be taken up with preserving, soup making, freezing produce and hopefully developing some winter crops, other than leeks.
Next time; More of the same, ranting, weeding, eating and germinating……

© Colin Cross 2021

The Goodnight Vienna Audio file