If I said to you the word 'mummies', archaeologically speaking what comes to mind? (As an aside, that reminds me of one of my favourite British Library catalogue subheadings describing a book – 'Mummies. For children').  Egypt, perhaps? Peru? Well, hold on to your hats – there are mummies dating from the time of Tutankhamen … in Scotland. Yes, damp northern old Scotland.
Cladh Hallan (say it 'Clay Hal'un') is a prehistoric site on the island of South Uist in the Hebrides. It has been excavated by the University of Sheffield, under Mike Parker Pearson, for many years. In 2001, skeletons of a man and woman were found dating to c. 1600 and 1300 BC: subsequent  testing showed that they had been preserved in a peat bog for a relatively short time post-death (probably somewhere in the order of six to eighteen months), taken out and set up in a separate building within the Cladh Hallan complex, and then finally buried, but centuries later. The male was buried six hundred years later, the female about three hundred. The female had had two teeth removed, and placed in her hand. No-one knows why. But, if they had been preserved as bones for hundreds of years, a pile of bones should have been all that was found. These, however, were flexed, like Peruvian mummies, indicating that the skin and sinews must have been preserved in some way, although at the time of discovery, all the soft tissues were long gone.
As always with archaeological remains, theories began to be formed. Maybe the bodies had been smoked or air-dried: both of these are traditional methods of preservation that had demonstrably been used in other contexts in the Hebrides. However, a third possibility – that of tanning via immersion in a peat bog – finally proved to be the correct assumption, when forensic testing revealed characteristic demineralisation of the bone, exactly as would be expected with peat preservation. Another piece of the jigsaw fell into place following mercury porosimetry tests – where mercury under pressure is applied to holes in the bones caused by bacterial decomposition of stomach contents, which attack the bones after death. The holes can be measured, as they form in a known and steady way, and that will give the time after death that occurred before the process was halted. This showed that the bodies were probably immersed in peaty water one or two days after death.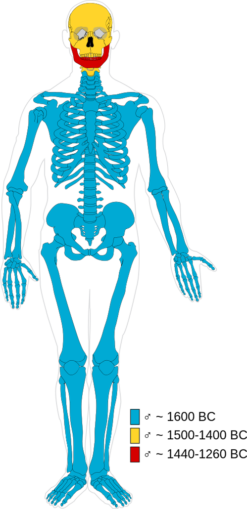 OK. Right. This is where it gets seriously weird. It turned out that one of these two skeletons was made up from body parts belonging not to one, but three different people. It was a kind of  identikit assembly of separate individuals, reconstituted to look like the remains of one coherent person. The male had the torso and limbs of one man, the skull of another, and the jawbone of a  third. Media reports actually vary – some say both skeletons accounted for up to six different people.
Why anyone would do such a bizarre thing is difficult for us, at this distance, to understand. But current speculation is that, because of the known reverence for ancestors in the ancient world, it may have something to do with preserving the elders so that they could continue to play a part in tribal life. This is something known to have happened with mummies in Latin America – they were brought out at feasts, honoured as if they were actual guests. There is no saying whether such a thing happened in Bronze Age Scotland, of course.
Only three of the seven Bronze Age roundhouses at Cladh Hallan have been excavated. The site dates from c. 1,000 BC, by which time the mummies would already have been ancient. The structures there are called 'houses' because that's what they look like, although it isn't yet clear if the site is domestic, home to a number of families and individuals, or ritual (used for spiritual purposes), or a mixture of the two. These categories may not have been as clearly distinguished from each other in the Bronze Age as they are today. It seems that daily tasks like cooking and craft activities were largely found on the southern and eastern sides of the roundhouses, while sleeping appears to have taken place in the northern halves of these buildings.  The human and animal burials were also predominantly deposited on their northern sides, as were abandonment deposits. Certainly, what would seem to us very odd practices were carried on there – the two skeletons we have been looking at were found buried under a floor, and other (non mummified) bodies were too, in different houses, including one of a 13 year-old girl and one of a three-month old baby. Cremated bones were buried elsewhere at a later date. Massive amounts of pottery were smashed at the site, and sheep and dogs sacrificed. Antlers and a bracelet were deliberately deposited in one area. In one case, a baby's body was buried under a floor, then the house was dismantled and moved to another, different part of the complex. One house continued in use until 400 BC.
Not sure I would have liked to live back then … but one thing's for sure, the site hasn't given up all its secrets yet.

© foxoles 2021

The Goodnight Vienna Audio file