Monday
It's another week and your Westminster cat correspondent is back with a few tales (I nearly said cat tails). As usual, I sat on the papers after breakfast so that they wouldn't be moved and I could read them. A story in The Mail amused me. They had an interview with a group of Sudanese asylum seekers who made their way to England from France in a flimsy dingy. They were initially housed in a nice hotel at taxpayers expense and thought they hit on a cushy life. But last week they were moved to the first of several asylum seeker camps being set up. The one they were sent to is a refurbished army camp in Folkestone. The interviewees hate it, complaining that they are like animals in a pen and wishing they were back in France. I hope the word gets back to all those still in France.
So the man who shot the policeman in Croydon has been named as 23-year-old Louis De Zoysa who is said to be a middle-class autistic recluse with a fascination for weapons. The police had a busy day yesterday raiding places where De Zoysa was known to hang out, including his home and what was thought to be his ammunition store. They also arrested a man in Norwich who is thought to has supplied the gun. De Zoysa is said to have been in a holding cell when and about to be searched with a metal detector when with his hands still in handcuffs behind his back he pulled the gun out of his trousers and fired five shots one of which went through the policeman's heart and another went into his own neck. He is still in critical condition in hospital.
The new coronavirus rules came in England at midnight. Now the police can call on people who are supposed to be isolating at home to check that they are doing so. They can be fined up to £10,000 for repeat offences, as can employers who force employees to work when they should be isolating. The rule that came in last week that make pubs and restaurants close at ten pm seems to have not got off to a wonderful start. The places seem to have closed as ordered but it has resulted in people pouring out onto the streets at ten, buying booze from off-licences and partying in the street. In Central London it has had the strange effect of creating a new rush hour as people crowd onto the tube to go home.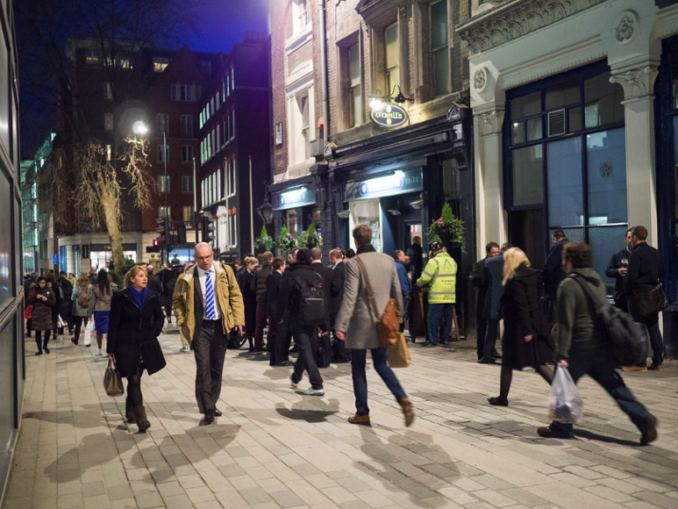 The coronavirus numbers in the North East of England have failed to go down as hoped so Matt Handoncock has announced additional, stronger, restrictions from Wednesday. People in the likes of Newcastle will now not be allowed to meet in other people's homes. This can be enforced by the police and offenders will be liable to fines of up to £3000. Overall the number of positive coronavirus tests in the UK was down again today and is now down over 2000 a day from the recent peak. Deaths were down again too and dropped to 12.
Sad Dick's attempt to close down Uber in London has ended in failure and a victory for Uber. TfL, under Sad Dick, has been trying hard not to renew Uber's private hire licence. Uber appealed to the courts and this morning the Chief Metropolitan Magistrate granted them a new 18-month licence. He said that they were not perfect but over the past few years had worked very hard to improve their standards. He went on to say that not being perfect was not a reason to deny a licence and granted it. If Sad Dick is still Mayor in 18 months time will he be back for yet another go at Uber?
Whinge and Ginge have signed up to make a fly on the wall documentary series for Netflix for which they are to be paid a fortune. It is very odd that they gave one of their main reasons for leaving the UK as the intrusive press. Now the Netflix cameras are going to record their every movement over 3 months. Apparently, Netflix has promised that the series will be very 'tasteful' and they will not be filmed in their home. They seem to have quickly abandoned their lofty ideals for money.
What is it with black midlands Labour women MP's and the laws of the land? Claudia Webbe the MP for Leicester East has been charged with the harassment of another woman.  She has had the whip removed and will appear in the Magistrates Court on 11th November. In the meantime, the CPS has said she deserves a fair trial and asks people not to speculate. Therefore I will be good and not tell you what I have heard unless it becomes common knowledge. However, I will point out that her predecessor in the seat was Keith Vaz.
RWE want to expand the Rampion wind farm off the south coast. They have made the first move by being granted a licence from the Crown Estates to use the seabed. They now have to get planning permission to build the wind turbines and land the generated power. At the moment there are 113 turbines generate 400 MWs and RWE want to build another 116 but this time much larger. The new Rampion 2 turbines would be capable of each generating twice the output of the first farm or another 800 MWs.
Tuesday
Bozzie was up early this morning, from the breakfast conversation I caught he was off to somewhere called Exeter. It must be some distance because I think he was going by train. The Little Otter was warning him about buying a bacon roll. She always does that when he travels by train.
As usual, I had a look at the papers after breakfast and what did I find, someone pretending to write the diary of Dilyn the Mutt in The Guardian. It is a poor attempt by a left-wing intellectual to pretend that the Mutt was the author. It even had made up quotes from me. Anyone reading it would quickly realise that, unlike my diary, this attempt is bunkum. The real giveaway is that the article makes out the Mutt to be intelligent when we all know he is a thick mongrel.
Another set back for Ginge and Whinge this morning as they lost the next stage of their court case against The Daily Mail. The judge ruled The Mail could amend their defence following the recent book about them. The full hearing is not until next year.
I hear the Queen is "not amused". The ancillary staff at Sandringham were asked to support the Queen over Christmas but that meant that they would have to be in a 'royal bubble' and they would miss out on seeing their own families for four weeks. Instead for the first time in 33 years, the Queen is going to have to spend Christmas at Windsor Castle. I understand that the Queen's personal staff were not involved in the revolt, it is the likes of cleaners, laundry workers and maintenance people.
The Finnish company Nokia has won a big order from BT to supply antenna and base stations for their 5G Network. Now that Huawei has been banned from supplying equipment for the UK systems Nokia will also be used to upgrade and replace the 2G and 4G networks. The BT 3G Network is already Nokia. The deal makes Nokia the biggest supplier to BT as there are believed to be supplying equipment for over 13,000 sites.
I read that East Yorkshire Council has introduced "Meat Free Monday's" into its schools much to the annoyance of parents. Most parents have been asking the question why a meat-free day is necessary when there was already a vegetarian/vegan option available every day? The council say that they had introduced the day to reduce the environmental pressure on local farmers and fishermen. The parents say it is a money-saving exercise. One angry mother said they were forcing her daughter into being a vegetarian so she was packing her daughter up with meat sandwiches on a Monday.
A Lincolnshire wildlife park has had to remove a flock of 5 African grey parrots after they started swearing at visitors. The five birds were a gift and were put into quarantine in August. While there one taught the others to swear causing laughter among the keepers. When the birds were put on display they started swearing at the customers and laughing which lead to their removal.
Wednesday
Bozzie had one of his good suits on when he came in for his breakfast this morning reminding me that it was PMQ's day. The Little Otter told him not to drip the yolk of his soft boiled eggs down his tie and of course he did. He had to go and put a different one on. I never have that problem, firstly I don't wear a tie and secondly, I have never eaten a soft boiled egg.
The press this morning is full of comments on Gary Lineker's tweeting. The new boss of the BBC, Tim Davie was appearing before a House of Commons committee and he told them that in the next few weeks he would be publishing a new policy on employees use of social media. He said that he didn't want employees making political comments and he may have to ban them from Twitter. This upset prolific tweeter Lineker, who of course had to tweet a comment. He was as defiant as usual and tweeted that he thought only Twitter could remove someone from Twitter. It's about time that someone took big ears down a few steps.
It's nice to see that the EU has backed down on a couple of its demands in the trade talks. They had said that if we did not withdraw the Internals Markets Bill there would be no more talks. Well, that proved a hollow threat when the next round of talks started yesterday and Parliament vote the unaltered bill through its next stage last night. In addition, I hear that the EU has dropped its demand that they will only accept a total agreement on all points and that a number of individual deals weren't acceptable. With the dropping of that demand, a number of agreements can be drafted on individual areas where both sides have already reached agreement.
A little bit of good news this morning is that the export of British beef to the US is to be resumed today and is expected to go on sale next Wednesday after more than 20 years. The US banned British beef in 1996 at the height of mad cow disease. I am to young to remember it, but I have seen video of John Selwyn Gummer feeding his daughter a beef burger to prove it was OK to eat British beef. I think it won't be an easy job selling our beef to the states, they are too used to poor quality very cheap meat from cattle filled with hormones to make them grow quickly. By comparison, British farmers go for quality over cost. We need an advertising campaign in America based on the snob appeal of buying British.
I read that the first person said to have been cured of HIV, an American living in Berlin, called Timothy Ray Brown, aka the Berlin Patient, has died. In 2007 he was given a bone marrow transplant, from a donor who had a natural immunity to HIV, after he developed leukaemia. An effect of the transplant was that after it tests showed he was free of the virus and he was able to stop taking anti-viral drugs. Unfortunately, although cure of AIDS the leukaemia returned last year and it was its spread to his brain and spine that killed him.
Do you remember that some weeks ago I told you that there was an air leak on the International Space Station? It was first noticed that air pressure was dropping over a year ago and engineers have been isolating various areas trying to isolate the leak but have so far failed miserably. At the weekend a low-pressure alarm went off and the 2 Russians and 1 American on board were told to isolate in the Russian built living section closing off a multitude of airtight doors. The result was that they found the alarm was spurious, caused by a temperature change in one of the labs. However, it was found that the air pressure in the sealed off living section went down. Ground engineers are quoted as saying we were looking for a needle in several haystacks, now we are looking for a needle in a single haystack. Additional air supplies are going up on the next resupply rocket as a safety precaution.
I read that Berlin's new Brandenburg Airport is to open on 31st October. Unlike most major civil engineering project there will be no opening ceremony, no one cutting a red ribbon, not even a party. The reason being that everyone involved in the project is highly embarrassed because it is just 8 years late and has cost double it's original estimate. It has been one disaster after another. The original opening ceremony in 2012 was cancelled when it was found that the fire alarms and smoke extraction system didn't work and 90 kilometres of cables had to be re-wired. Then 4000 doors were wrongly numbered, the escalators were found to be too short, the emergency line to the fire brigade was faulty and the airport roof was twice it's design weight. When it was found that there were not enough check-in desks the builders suggested using tents in the car park! In 2018 some 650 destination screens had to be replaced because they had been switched on in 2012 and being left on the same set of destinations had burned into the screen. Next, the terminal lights couldn't be turned off for six months because of a computer fault. 3000 smoke detectors were stolen and hundreds of trees specially planted around the airport had to be cut down because they were the wrong species. And we think that Crossrail has a problem.
Thursday
The discussion at breakfast this morning was initially about Bozzie's dad being photographed not wearing a mask in a shop. Bozzie was annoyed with him and the Little Otter said Bozzie should control his father. Bozzie replied that she had met him many times and know only to well that he was a loose cannon and would do whatever he wanted to do. Bozzie said he would have a word with him but he would have to be very careful or Stanley would take umbrage and do it all the more. Then Bozzie spotted the picture of Steptoe at an Islington dinner party for nine ignoring the rule of six. He just raised his arms in the air and said, "I just give up".
As more and more people and areas in the UK get put into local lockdown a report from Imperial College in London has indicated that the growth of the virus seems to have slowed. The college did a massive survey of a random 84,000 people since the rule of six was introduced. They found that the rate of increase had slowed since their last survey a month ago. They also said the R number had gone down from 1.7 to 1.1.
The journal Nature says that research by the Max Planck Institute has indicated that a gene inherited from Neanderthal man may lead to a greater tendency to be affected by the Covid-19 virus. According to this research, while anyone may be affected by the virus those with this gene are three times more likely to land up on a ventilator, than those without it. Some 50% of people in Asia have the gene and 16% of people in Europe have but very few in Africa have it. This could explain why less people have been succumbing to the virus in Africa.
I was not really surprised to hear that record numbers dingy people came to the UK in September. In fact, the month's invasion of around 1,950 was on its own more than the 1850 asylum seekers who arrived in the whole of last year. But what to do with all these people while their applications are being processed? It seems to me that putting them in luxury hotel accommodation, feeding them 3 square meals a day and giving them pocket money can't go on forever. I reported on Monday that some of them were being moved to a refurbished army camp and weren't happy. Now I hear the suggestion that other places to house them are under consideration including a remote island and disused cross channel ferries. Of course, the Liberal elite don't like it but I say tough.
The Royal Navy claim that they are on the verge of putting their updated Spearfish torpedo into service. It is a major upgrade from the current version and the RN say it is the most advanced torpedo in the world. Anyone who has watched those old wartime films where a lookout spots a torpedo coming at them from its wake will be disappointed as the new Spearfish can be set to run deep. The other thing in those old films was it often needed two or three hits to sink even a small ship, but the new Spearfish is said to have such a powerful warhead that one hit will be enough to break the back of a warship. I wonder how effective it would be against an asylum seeker's dingy.
A student art project led to 29 tons of raw carrots being dumped outside Goldsmiths College in London today. The Spanish-Welsh artist Rafael Perez Evans called the piece "Grounding" and was delivered by a tipper lorry outside the University of London College in New Cross. The carrots were all misshapen and had been rejected by supermarkets. Students were seen climbing on the pile and taking photographs. Some students even collected some of them to take home to eat. Evans said the artwork explores "the tensions in visibility between the rural and the city". I would fail him on his art course.
Friday
Bozzie was tutting rather a lot at breakfast, it seems he was listening to Nick Motorcar on LBC and learning all about the GKP and his positive test for coronavirus. The GKP gets tested every day and has been clear until yesterday. One of his closest aides, Hope Hicks, who has been with him for many years tested positive and had to isolate on the flight back from the latest rally. Both POTUS and FLOTUS tested positive and are isolating in the White House. I understand that neither have any symptoms. Having read yesterday about the high number of false-positive tests and that it was one of those quick tests that were taken that is reckoned to be less accurate, I wonder if the GKP will be tested with one of the more accurate blood of swab tests just to be certain?
The news of the GKP was too late for the morning papers, instead they are all full of news of SNP MP Margaret Ferrier who has also tested positive. It seems that Ferrier was in her constituency of Rutherglen on Saturday and felt unwell so got a test. On Monday she felt a bit better so set off on the 400 mile train journey to Westminster before the results arrived. On Tuesday she spoke in the HoC and shortly after got the message that she had tested positive. Instead of isolating in her London accommodation, she travelled on the train back to Rutherglen. The news of this only broke yesterday when the SNP suspended the whip. I find this a bit weak, other MP's who have been so careless with the rules have been thrown out of the party. Of course, they can't make her resign as an MP, that is her decision, but his cat thinks she should.
The current round of trade talks with the EU have again got nowhere with the EU refusing a proposed UK compromise on fishing. David Frost offered them a three-year phase-down of on fishing in our waters but they rejected it. However, we have signed a fishing agreement with non-EU Norway, our first agreement as a coastal state in 40 years. Bozzi's going to meet Ursula von der Leyen, the President of the European Commission tomorrow to talk about progress, or lack of. I also her that Barnier has been summonsed to meet Mrs Merkin and will fly to Berlin.
I read that Crossrail (or the Elizabeth Line) is in desperate trouble and is on the verge of work having to stop as it is rapidly running out of money. Crossrail is a Transport for London project and they too are in financial trouble. Crossrail have very nearly spent their total £16 Billion funding and urgently need another £1 Billion to carry on. Of course, TfL don't have it and have gone to the Government with the begging bowl. TfL think that a total of £19 Billion will be needed to finish the project.
The ASDA supermarket business is to return to British ownership. Brothers Zuber and Mohsin Issa are buying it back from the American company Walmart who bought it for £6.7 Billion in 1997. The Issa brothers are self-made billionaires. They bought a single petrol station in Bury in 2001 and now have 5200. Their company, EG, is 25% owned by each brother and the other 50% by TDR Capital who are also involved in the ASDA deal. Many of brothers Petrol Stations have mini-markets attached and will soon be selling ASDA goods.
I read that the astronauts on the International Space Station are to get a treat next week, a new space toilet. NASA have spent millions of Dollars developing a new compact bog for the coming moon mission and an early production item is being sent to the ISS for intensive testing. The titanium unit is to be installed alongside the two existing Russian built loos. The new design has been reduce in size and is about half the size of the existing one and has been modified to better suit female astronauts.
I hear that the grammar police have been out in Worthing, complaining about the name of the local Spoons, The Three Fishes. They have written to Tim Martin pointing out that the last two letters should not be there, in other words it should be called "The Three Fish". Martin pointed out that Fishes is correct if the species are different.
Saturday
There seems to have been a bit of news around after I hit my cat basket last night. The GKP has gone into hospital. He walked to the helicopter which I suppose is better than going in an ambulance. I heard that idiot Ballboy on the radio this morning saying he couldn't understand why when there is a fully equipped hospital in the White House. He didn't like it when he was told it was only a medical room. Bozzie was quite upset with Ballboy this morning, well he is most times he is on. He was very grumpy this morning and it seemed that everything Bozzie has done was wrong, he even had a row with one of his regular guests Susan Mickie the commie.
Then I saw Joe Biden finally got around to wishing POTUS and FLOTUS well. It's not a good look when leaders from all around the world had already wished them well before Sleepy Joe got out of his basement and wished them well from what looked like the middle of a deserted field. Even the Rocket Man beat Sleepy Joe to it. The most disgusting thing was Nancy Pelosi, who showed just how nasty she is by basically saying GKP deserved it. She as nasty as that woman who used to live here.
Bozzie had his Zoom call with that Ursula woman. I tried to get in the camera shot but one of Bozzie's slaves grabbed hold of me. As he sat down with me on his knee and stroked me I let him get away with it. Anyway, I could still hear was being said. Boris told her if she thought threatening to take us to the ECJ was going to make any difference then she was delusional. He said were a sovereign nation who wouldn't be bullied. Then she said that she had written that letter to appease Macaroon. She told Bozzie that Barnier had been summoned to Berlin on Monday to get new orders from Mrs Merkin. She suggested that she should send Barnier over to London for more talks on Tuesday as things might well have changed after he got his new orders. Bozzie said what appeared to be a reluctant OK and said he hoped that the EU would also give up on it "level playing field" as that was equally impossible. She just said "we shall see" and broke the connection.
Today is the first day of the Tory Party Conference. Like the other party conferences, it is virtual. In a much-leaked announcement party co-chairman Amanda Malling confirmed that the Conservatives are to open a second headquarters in Leeds to consolidate on their general election gains in the North. In another speech, Michael Cove said that civil servant jobs should also be relocated to the North. He said if they could work from home they could work from the North of England.
There are reports on the internet that a coronavirus vaccination program could be just months away. The Oxford vaccine is said to have already made or will have enormous doses ready to vaccinate every adult by Easter. This is, of course, dependant on the vaccine being approved later this year and a vaccination program being rolled out immediately. I saw a letter last week telling councils to prepare for a mass vaccination program and that all sorts of people were to be trained to give the vaccination. Not just doctors and nurses, but pharmacists, dentists, health care workers and others are to be trained to give it in what the Government wants to be a 3-month program. NHS workers, the vulnerable and the elderly would be first.
I see that a takeaway in East London has been fined £1000 for serving someone food after the 10 pm curfew. A local authorities "enforcement team" spotted someone in the burger joint shortly after 10 and as he left they demanded to see his receipt. It showed he had placed his order at exactly 10 pm and had been handed the food 4 minutes later. Obviously, there is to be no tolerance.
Right, that's it for the week. I am off to see what's for dinner tonight and then curl up in my basket. Normal service will be resumed on Monday.

The Goodnight Vienna Audio file