Before you all start, no not the RP sort of cruising.
Prior to the brewery bash, I was lucky enough to enjoy our family holiday. Family in this case being myself, Missus, three teenagers (14 year old girl and two 'boys' – 17 & 19), Mother-in-Law and Brother-in-law and his wife. Why on earth would you do that? I asked myself that question prior to agreement more than once.
I'd never been on a cruise before, and to be honest didn't have a particular desire to do so, especially taking the kids, who naturally can moan and groan their way through a vast amount of expense with ease. We'd always assumed we'd get round to it once they'd flown the coop.
In this case the daughter one day just asked 'Dad, can I go on a cruise?' Despite being used to questions out of the blue this was a bit of a biggie – immediate answer naturally being 'no, it's far too expensive'.
Grandma (a sprightly 82) was in earshot and piped up 'well I can't take it with me, I'll pay for her'.
'That's not fair on the boys, they'll miss out'.
'Well I'll pay for them as well!'
Ok on to a roll here, 'how about us?'
'You can both come along, but you have to pay yourselves'. No flies on her.
So we left the choice to the experts – besides if we'd had any input and it was less than perfect, knew the blame would be thrown around. They came back with a TUI/Thomson cruise from Palma for a fortnight. They'd considered lots of factors we'd never have thought about –
All-inclusive on board – including most drinks, all food and tips. Once the initial price is paid, there is nothing else you have to pay for on board. Trips are extra and optional. Those tips and drinks can easily add up to a four figure bill.
Fly to Palma rather than leave from the UK – saving three or so days getting to the warmth meaning more visiting and less travelling.
Balcony cabins as close to the middle of the ship (both laterally and vertically) for best value/comfort.
Avoid inside cabins unless you enjoy wandering the decks like a homeless person during the day and at night be in such a dark hole you can re-create a hostage situation.
We ended up with four cabins in a row – us, 2 boys, Brother & wife, Daughter and Grandma with balconies, with a floor of cabins above and below, 1/3rd down the ship (so away from engines or extremes should it get rough). All good!
Flights were the usual holiday trip – pre-booked extra legroom seats being handy and the 2.5 hours passed easily enough. All transfers taken care of once we'd cleared Palma airport, so getting onto the ship was relatively pain free.
The ship itself was mid-sized, with 2600 passengers and 760 or so staff. That ratio is lower than the more expensive cruises – if you're paying for drinks they want to make sure you're served as soon as you're thirsty and push the maximum sales, on this one it was more relaxed but still freely available.
There are many types of cruise available, for many different budgets – though none of them are truly 'cheap'. You can cruise rivers (where the older more experienced cruisers tend to be), you can do Disney/Carnival cruises with lots of families and kids or you can do adventurous cruises to the Arctic/Antarctic. This one was more bog-standard holiday company fare.
My impression of cruises was naturally a combination of the adverts by that smug Welsh twat and Jane McDonald programmes where she drinks herself into oblivion around the world. In the end, this one was more Weatherspoon's on sea – 100% British, 90% morbidly obese gammons, waddling around in flip-flops with a drink on the go at all times of day. Food was always available and remarkably good quality, with a wide range – indeed it wasn't worth going for the two or three high price 'extra' restaurants as the food in the included places was excellent. My only regret was not finding out what the house red wine was – as it was the most drinkable red I've had in a long time.
The ship itself was claimed to be 'the newest in the fleet' – and in some senses it was, in that they'd only just bought and refurbished it, though the ashtrays built into the corridors and one or two other features betrayed it was around 20 years since construction and probably French. Having said that it was spotless, and amazingly stable and vibration free – you couldn't tell you were moving over the calm summer seas, even at 20+ knots.
The crew were outstanding. Very hard working, with less of them than on other cruise lines, they were always busy, but polite and cheerful. It was an international crew, mostly from the Philippines, but with English Captain, German Engineer, East European hostesses. The Philippinos/ Malaysians who did the cleaning and manned the tenders were extremely industrious and small, the kids liking them to Minions of Despicable Me.
The cruise consisted of two week-long circuits of the Western Mediterranean (northern part you understand), sailing from Palma to Corsica, Italy, then round to France, Spain and back to Palma. The second week visiting different places to week 1. In both cases there was a full day at sea on day 1.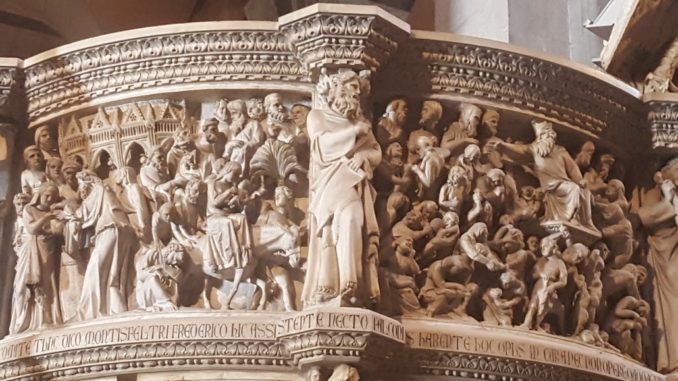 Most fellow travellers were in family groups – of the 2600 passengers, around 700 were under 18. Generally three generations of gammons would stake a place on the sun decks early on – despite a lack of Germans. They'd then spend the day out there, sizzling in the 35C heat, taking beers from passing ice carts. The only move was to the buffet or snack place. We opted to avoid all that, if only due to the heat and try to get off the ship whenever possible. We had booked a number of trips – not cheap – but easy and well organised. They soon add up, with a trip every other day or so coming in at over £1000 between us. Mostly the kids opted not to bother and hung around the ship, which was fine by us. They enjoyed the food, the 17 year old usually managing to get drinks, there even being help yourself draught red/white wine or lager for Hogz. The only elements that you would be charged a premium was Wi-Fi, bottled water, posh coffees or the more expensive branded drinks – either via a package at £100 per person a week or buy as you go along.
The ship didn't stand on ceremony – no dress code was required, though looking at a few of the passengers, might have been a good idea. So no Captain's dinner or tux night, just a 'dress to impress' night for those keen to dress up, which was about 30% of the contingent.
There was nightly entertainment, which was passable, if only to ogle the dancers, who came up with different routines for an hour each night with a guest comic turning up once a week. Other bands and casino were also open. There was a spa (too expensive and empty), cinema and other stuff to keep you busy with 12 decks to explore.
By day 4 I was starting to get tetchy with it all being over-organised, your life being run to schedule. The key to breaking the feeling was a couple of days without trips, docking in smaller places. The headline places such as Rome, Pisa, and Florence were heaving, hot, dusty and full of hawkers – they were trips to endure rather than enjoy. The smaller venues that could only take one smaller ship at a time meant no hawkers as there wasn't the waves of visitors needed to sustain their trade. Just having a wander up and down the main street of such a location, popping into the local church to cool off, was the antidote to the madness. The urge to rush back to the ship for the free lunch was too great for most, so places tended to quieten down at midday (though with afternoon closing there wasn't much point being out anyway).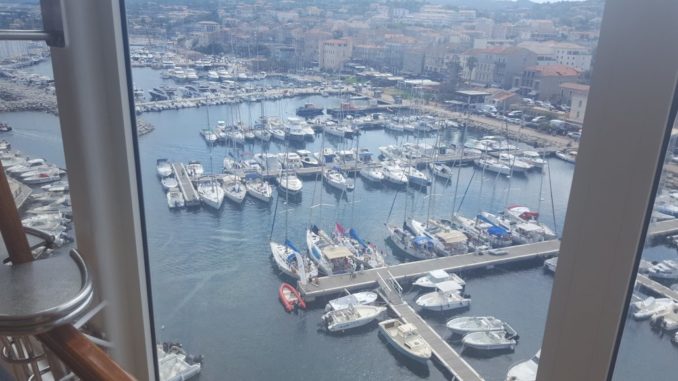 By the end we had opened the doors between cabin balconies, so had our own bit of deck to escape the hubbub and by the second week, slowed down enough to relax – just like any other holiday. The cost for all of this – flights, transfers, board and lodgings was just under £3k per person for the fortnight in August – probably not much more than you would pay to be in an all-inclusive but never go anywhere.
Would I do it again? Probably yes, but not for a year or two, and again probably without the kids or extended family (bless them). Miraculously we survived without any family rows, they all enjoyed it. Yes that might have meant moaning about x, y and z all through the day, but whatever floats your boat.

© Very Sweaty Dave 2018

Audio file