Wednesday – St Maarten (New Years Day)
I woke this morning feeling pretty good, somewhat surprisingly considering the volume of champagne consumed last night. Sensibly the restaurant was open for breakfast an hour later than usual and was very empty.
St Maarten is a curious island, it is half Dutch and half French but there is no physical boarder between the two halves. Residents and tourists are free to wander between either part without restriction. The main road crosses from one part to the other and only the change in shop names gives you a clue as to where you are. Strangely we were warned not to drink the tap water on the French side. I wonder what the French do in it to make it unsafe to drink.
We tied up to one of the cruise terminal piers while I was breakfasting and when I ventured onto deck I discovered that there were already 4 other cruise ships in port ranging from a 300 passenger Windstar ship to the 5600 passenger Harmony of the Seas complete with its water slides, surfing machine, ice skating rink and central mall. We tied up next to another P&O ship, the Azura which is a little smaller than the Britannia.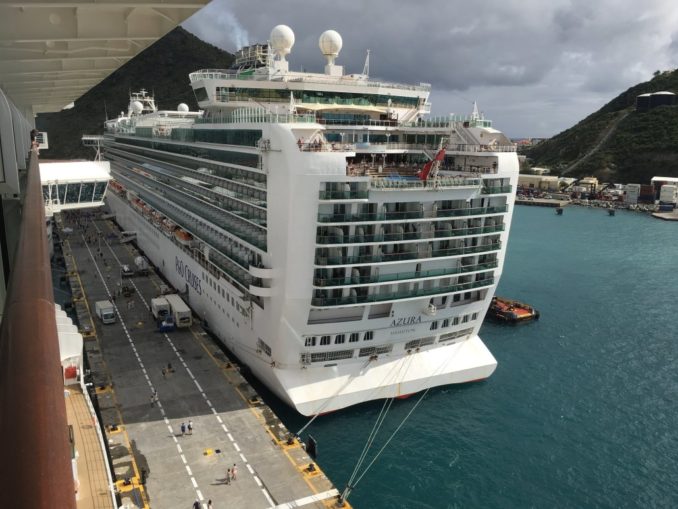 The Sky Princess was tied up next to the Harmony of the Seas. A little later we were joined by the Costa Forovosa. I estimate 18,000 passengers where hitting the shops, restaurants and beaches of St Maarten yesterday. Add in all the crew members who had shore leave and you wonder that an island with a population of 41,000 can cope.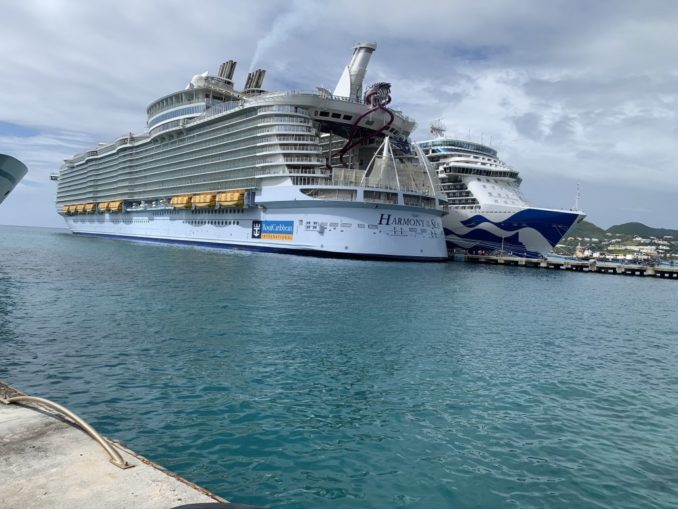 I had a trip ashore but it was unbearably humid without a breath of wind and you could hardly move around the place for Americans shouting "gimme this" and "gimme that" and pushing and shoving. I don't think they teach manners in the States. I was glad to get back on board for lunch. For just about the first time this cruise I visited the self service restaurant as it was virtually empty with loads of people ashore. I made myself a delicious prawn salad and enjoyed it in air conditioned comfort. Then up to the serenity pool where it was nice and quiet to relax and read.
The Azura sailed 30 minutes before us and like every time 2 or more cruise ships from the same fleet meet they had a hooting contest. I think we won, our ships hooter is painfully loud!
One of the women on our table was having her birthday and had gone off to one of the supplementary restaurants to treat herself to a giant steak 🥩 for her dinner. The rest of us enjoyed our meal which was, as usual, most enjoyable.
Thursday – at Sea
For some unknown reason I woke at 06:30. So I lay in bed watching the amazingly calm sea until it was time to get up for breakfast. Leaving the cabin I got a reminder that all good things come to an end for in my drop box were a collection of things, my luggage labels and boarding card for the flight home, together with a landing card and customs declaration for Barbados tomorrow. Immigration officials will be boarding the ship as soon as it docks and checking everyone's papers and passports. About 1700 passengers leave the ship to fly back to the U.K. tomorrow and another 1700, including me, leave on Saturday. That's six Boeing 787-8 return flights each day. We are supposed to be out of our cabins by 08:00 on the day of departure, but on Saturday I have chosen to do a tour of Barbados with Lunch at a Hotel before being dropped of at the Airport. It saves hanging around the ship half the day. Our luggage is collected from outside our cabin doors the night before we disembark, kept in bond, transported to the aircraft and we don't see it again until we grab it from the luggage carousel in the U.K.
I have enjoyed this trip so much that I visited the "Future Cruise" desk to see if I could fix something up for next Christmas 🎄. Holiday time cruises normally sell fast but I didn't want to do this trip again so soon. The young lady suggested I might try the new P&O ship Iona, which is joining the fleet this spring. This is a huge 5200 passenger ship and will be doing a 2 week Christmas and New Year Cruise from Southampton going down to Madeira, The Canaries and Lisbon, then back to Southampton. She checked out the price for a single balcony cabin and I could afford it so I was about to book when she suggested we looked at the price of a twin cabin for single occupancy and strangely it was cheaper and as I was booking on board I got to pay a cheap deposit, free parking at Southampton and additional on board credit! Travelling from Southampton is good for me as it's only a short drive and there is no limit to the luggage you can take. We should be leaving the E.U while this cruise takes place, so I wonder what the duty free situation will be like.
A farewell dinner this evening as 5 out of the 8 at our table are flying back to the U.K. tomorrow. We remaining three have another day on board. It was a British pub theme night and several on our table opted to have breaded plaice, chips and peas for their main course, I went for the gammon steak, pineapple, fried egg, chips and peas. I have been called a gammon enough times so I thought I should live up to the name. One of the fish eaters said it was lovely but too small a portion, so he asked the waiter if he could have the same again instead of his dessert. The waiter brought him another double portion which he preceded to demolish and followed that with a creme brûlée, cheese and biscuits and coffee. Obviously he intended to go home with a full belly.
Friday – Barbados
The last full real day of my holiday as I will be travelling tomorrow. I awoke just as we were entering the harbour at Barbados, a tricky manoeuvre for a ship as big as this as the channel to it is narrow and it has to make a sharp 90 degree turn at the entry. The sun was just coming up over the sea as we docked.
I didn't have to get my immigration clearance until 08:50 so I went for breakfast first. A special on the menu this morning, devilled kidneys, they were lovely. While in the dining room another cruise ship docked opposite us. It was the Carnival Fascination and looked very old with only a few balcony cabins at the Stern. Not one for me to sail on!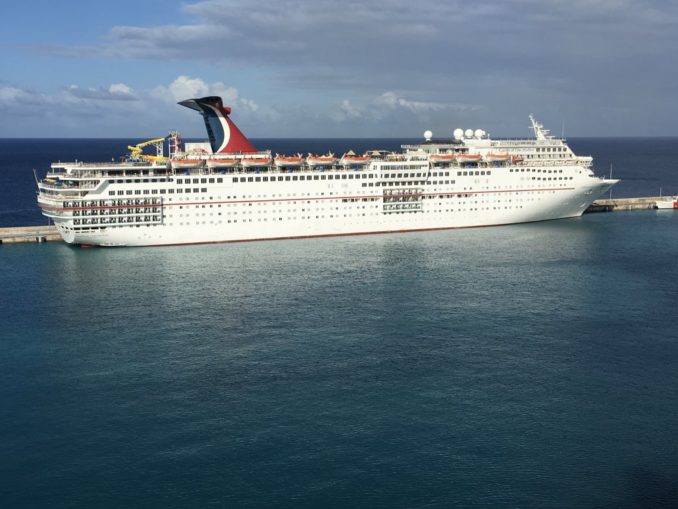 Then off to see immigration, there was a long queue but it moved really quickly and a very smiley Bajan official, one of about 20, processed my paperwork and stamped my passport a procedure that took around 30 seconds! I was then given a pass to allow me to go ashore so off I toddled. It was too depressing to see so many people hanging around the ship with bags and coats, waiting their turn for the airport bus to stay on board.
Another scorching hot day so after an enforced walk through the tourist shops to exit the port area I shared a taxi 🚖 into town rather than suffer a 20 min. walk in the sun. I stroll around, a stop for a cold beer and then a taxi back to the ship for a light lunch and my packing!
Although for 3 of us on our table it was our last night, for two newbies it was their first evening with 3 empty seats. As usual a most enjoyable meal, then off for a farewell drink with my fellow leavers and an early night as we had to get our suitcases out for collection and to be out of the cabin early the following morning.
Saturday – Barbados to Home
The trouble with going to bed early is you are inclined to wake early and at six o'clock I was sitting on my balcony sipping a cup of tea and watching one of the Seabourn ships docking.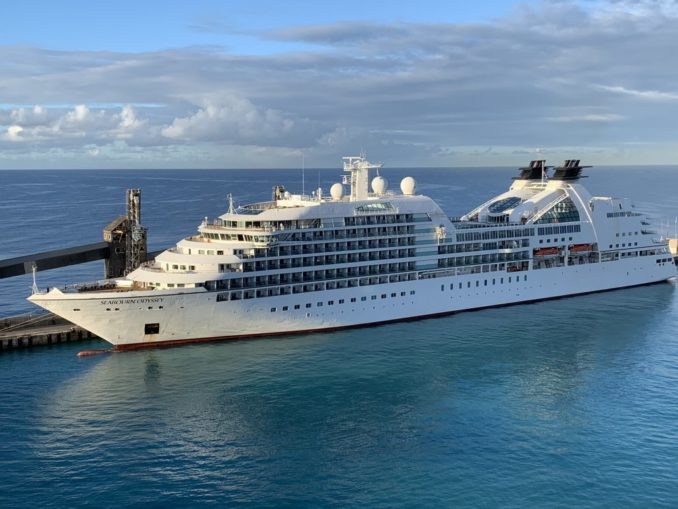 After a last check to ensure I had left nothing in the cabin and I went down for breakfast carting my hand luggage. Unsurprisingly, with six 287 seat Boeing 787 Dreamliner loads leaving, the self service restaurant was very busy but as mentioned before I always use the restaurant for waiter service and it was very empty. Cereal and a full English breakfast was called for, fried egg, bacon, sausage, black pudding, fried bread, button mushrooms, sauté potatoes, grilled tomato, plum tomato and baked beans. For you beanists, they were served in a ramekin so fully separated from the eggs. To finish off, toast, butter, marmalade and lashings of coffee.
Then out on deck for a short wait for my tour. I found a comfy seat in the shade and was joined by one of my dining companions who was on one of three Gatwick flights. Then off for the tour of the island. Not a bad tour, certainly better than having to hang around on the ship. We saw the slum where Rhiannon was born and just down the road the beach side luxury apartment where she now lives. David Beckham is her neighbour in the other top floor apartment. A light lunch at a secluded hotel in a beautiful location on the other, less developed, side of the island.
A final stop at the obligatory scenic church, then on to the Airport.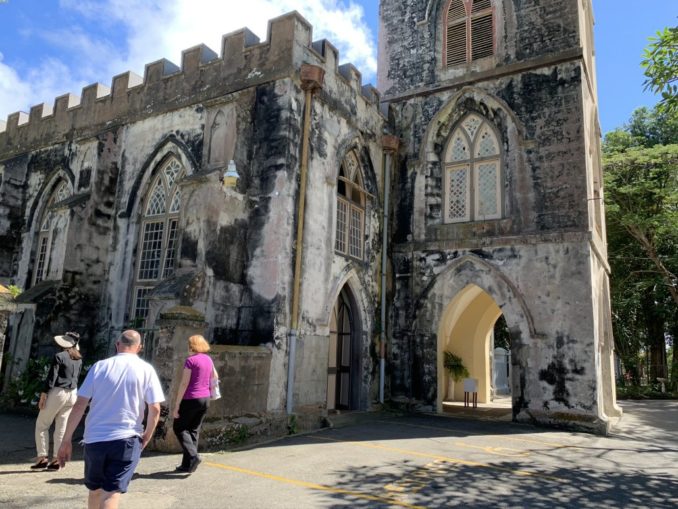 Arriving at the Airport, a P&O Rep got on the tour bus and asked if there was anyone on board who was travelling to Birmingham and two couples were hustled off. I, as I was later to discover, wrongly assumed they were being rushed through as their flight was the first scheduled to depart. On entering the departure lounge I checked the board for my flight and was delighted to see it was on time, as were all the other TUI flights that were showing. Having found a seat, I was shortly joined by the dining companion who I had been sitting with earlier. She said that just before she left the ship the Captain had announced that the Birmingham flight had not left England due to technical problems and would be 24 hours late! All those on the flight would be given cabins for the night, dinner and breakfast and bussed to the airport the following day. They were also given £12.50 to access the internet so they could tell people back home. The big problem for them was that all their Luggage was in Bond at the Airport. The Ship would sail that night, as scheduled and would wander around slowly before docking in Bridgetown again the next day for the Birmingham passengers. I do hope they were all OK. On getting home I discovered that the crew of the Birmingham plane had inadvertently set off one of the escape slides while preparing the aircraft.
My fight took off a few minutes later, but was bang on time landing in Manchester. A totally uneventful 8 hour flight and I even managed a couple of hours sleep! Of course. shortly after take off, we were served the same roast chicken meal as on the way out. But the hot breakfast of omelet, sausage, beans and potatoes was most welcome. Three quarters of an hour after landing I had cleared passport control, through an automatic passport reader, cleared customs, through a green channel gated arrangement, retrieved my car from another automated system and was on the road without seeing an official. Four and a half hours later I was home and needed to get my head down, but very happy after a wonderful Christmas Cruise.

© WorthingGooner 2020

The Goodnight Vienna Audio file