Following on from the excellent article by AWS the other Friday on a VW thing, I thought I would do one on the car I have just purchased.  Maybe some of you could write something, SB is always in need of more articles.
For background purposes, I have always said that when I retire, I would buy myself a really nice car.  I budgeted for 25K, cash. I have owned many cars over the years, some I am not proud of, many I really liked though, especially the Granada.  I would usually buy one about 3K to 4K, run it into the ground for 2 to 4 years then if roadworthy give it one of the many kids, or scrap it.  To me this made sense when you are doing 500+ miles a week.  Hence on retirement buying something nice, to last a decade or so, must also be relatively cheap to run, as when on a pension, you do not need high outgoings.  I expect to do 500 miles every 4 months or so from now.
I always knew I would not buy a brand-new car, cannot see the point when you lose so much money just driving it off the dealer's forecourt.
Now please bear in mind I have never owned a new or even newish car (the newest car I have driven is 2010), so much of the stuff on this was a first for me, some of you will already have some of it, some of you may not have, so bear with me.
I was very struck by some of the Lexus cars, and almost bought one at 24K, but then looking around all the dealers (in Maidstone there is one road with 14 dealers of all makes), I looked at one forecourt and saw this lovely car, incredible blue colour.  A Hybrid (I do not think pure electric are good enough yet), I had never heard of the Ioniq before.  I asked to look around it and then signed various forms to allow me and the boy to take it on a test drive (max one hour the dealer said).
You open the driver's door and the seat automatically goes back to allow easier access, when you sit down and shut the door it moves forward.  I had to ask for help to adjust the driver seat, it is all electric, but found the relevant buttons and I could then reach the peddles (I only have small legs).  Pressed a button (Memory 1) and that position is saved.  Memory 2 is if you let someone else drive it.  Do not think that button is required though.
It has a smart key; you just carry it or if in the car you can put it somewhere.  Without the key, it will not start, nor will the doors open, which they do as long as you are less than 28" away.  Press a button on the door to open or press the smart key open button.  The Smart key also has an actual key in it in case of battery failure.
Anyway, I was ready to set off, quick check as to the lights, the indicators the windscreen washer etc.  Press the start/stop button and nothing, apart from the dashboard and other lights come on. The engine was on, just cannot hear it. I see a red brake warning light still on.  Felt to my left for the handbrake and it is missing.  Get out, ask the dealer, he explained the handbrake is a pedal on the left of the drivers seat "just like a Mercedes he said", never driven one me though, however it is indeed a handbrake you press down with your foot to release and set.
So, just 12 minutes after getting in the car, I am ready for the off.  I have decided to drive though town, then up Bluebell Hill, which is a very long steep hill, then drive around the back of town down the motorway, and then return.
This really is a superb car, if, like me you are male, you will love all the toys this thing has, if a lady you will love all of them as well.  The other 74 species I am not sure about.
The actual drive is very smooth, the car will put itself into petrol (1.6 litre engine) or electric or both, depending on speed, as a hybrid no need to plug in, the battery charges itself from the engine or when you brake.  1.6 does not sound much, but when you combine with the battery it is 138 horses, I have no idea if that is good or not.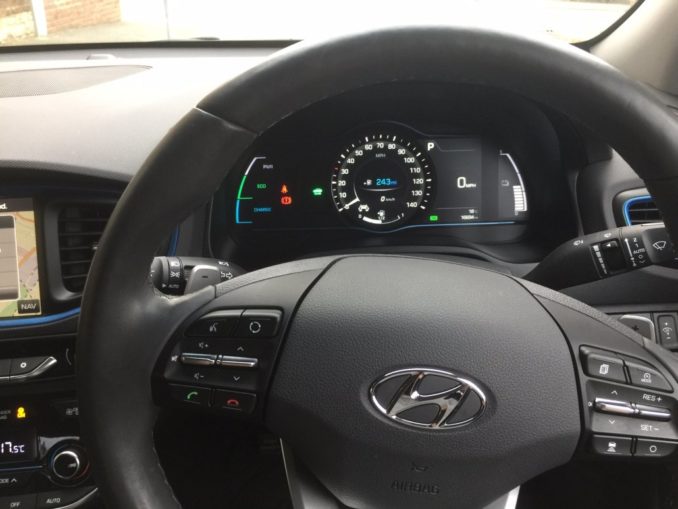 Incredibly quiet driving through town, up the steep hill the monitor told me, even though I was doing 70mph that I was doing 46mpg.  On joining the motorway, I risked changing it from automatic into automatic sport mode (I have still not tried the manual mode with flappy paddles), not driven a manual car in decades.  We are now talking shit off shovel time, you feel the car stiffen up, drop a gear and it goes rather fast.  Not performance car fast, but certainly fast enough.  Once I got to 70mph, put it back into normal auto-eco mode, smooth, quiet, depending upon the road surface.  I do not think I will ever press the button to take the traction control off whilst in sport mode though.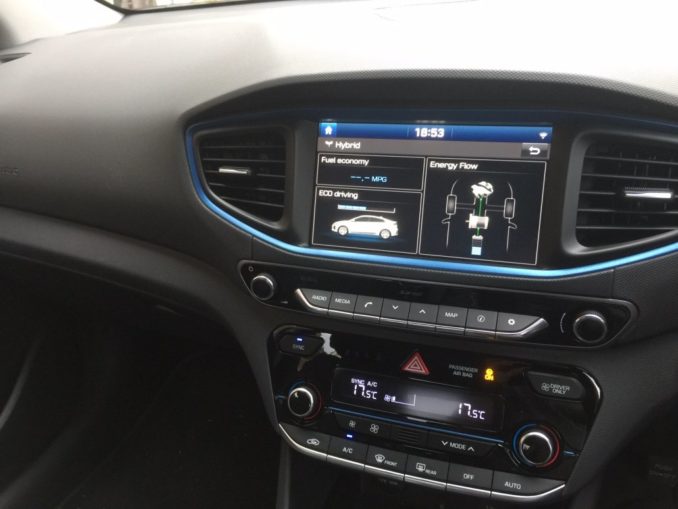 I drove it back to the dealer and I thought I must have this but wanted more info.  He explained that it also has the following:
Usual stuff like ABS, a superb climate control, system, set it to driver only, or have different temps between driver and front seat passenger.
Heated front AND rear seats.  Front seats also have climate control, so they go cool (I assure you on a hot day this is heaven, your gentleman sausage and accoutrements do not sweat).  I am sure members not identifying as male will also love it though.
A monitor, 10" diagonally. Combines Sat Nav (and particularly good to), graphic displays and charts of fuel consumption, DAB radio, Wi-Fi, Bluetooth and loads of other stuff like live weather, POI, and things.  I do like a big one, and this monitor is certainly big.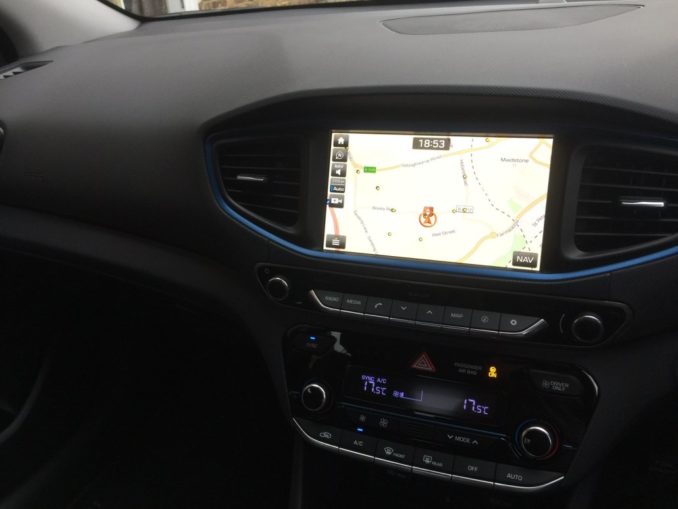 Normal cruise control but also smart cruise control.  You set your speed, the radar comes on, then if a vehicle in front (or behind) gets to close to one of four settings for how close you decide they can be, then the brakes are automatically applied or it speeds up to the max of your speed setting.  Bit weird at first but I now use it all the time.
Automatic lane control, again this is a bit weird at first, but the car has cameras front, back and each side and in the wing mirrors, it will detect the white lines each side.  If you veer too close to either white line, you feel the steering wheel move automatically.  Takes a bit of getting used to as if you deliberately change lane, without indicating, there is a distinct pressure forcing you back to your original lane, not hard enough to worry you though.  The car beeps at you as well.
I kid you not, if there are white lines each side, say a motorway or decent dual carriageway, the car can drive itself.  I tried it!  Set the smart cruise, ensure the lane protection mode is on, take your hand off the steering wheel (obviously only a fraction or two of an inch away, and the car drives itself around the lane you are in no matter how curved it is.  The books say's do not do this, but I defy anyone not to try. Sadly after 15 seconds the car beeps at you and a message tells you to put your hands back on the steering wheel!  You can keep them off, but the beep is annoying enough to let common sense prevail.
Sport mode will change the dashboard colours from a nice blue to a wicked red, the speedo becomes a rev counter.  You can keep it in sport and auto or touch a flappy paddle and drive it as a manual with those, as I said, not tried that, I will need someone to teach me.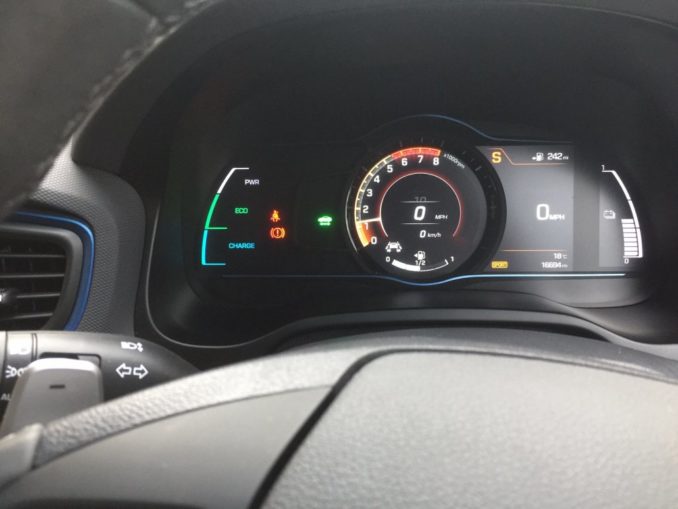 Lots of other nice features, many standard on most cars these days, electric and heated mirrors (which are also "remembered" as part of your seat setting, they fold in when the engine is stopped, they also have BDS (Blind Spot Detection), very useful when reversing, you may not see the person walking behind you, this sees them, car beeps, lights flash in the mirror.  They also do that when driving when someone sneaks up either side of you. Tyre pressure warning lights may prove useful as well.
There are many features you can set to your own preference, such as what happens to locking and unlocking doors, for example, when engine off, when above 6mph, once park is engaged etc.
It has a couple of USB ports and a couple of 12V ports, put a memory stick in and you can see pics on the monitor.  I tried this with some "specialist" pics and they still work, including a slideshow.
Wipers and lights can be set to auto of course.  Heated steering wheel is a nice touch.
There are a couple of things I would change, the top item being that there is a rear spoiler thingy on the rear window, so when you look through the drivers mirror, you have two halves, but I am getting used to it.  No rear wiper either, but once you get to about 20mph the rain drops off anyway and lastly, the boot, whilst very large, does not have an automatic opening system, you have to lift it and pull by hand, I am quite used to this method though.
I believe it is the most aerodynamically car in production, and, to me at least, it looks bloody good.  MPG for me will be around 65.  It is purchased a lot by taxi drivers as they do not like spending money on petrol.  I did read on a forum that one complaint is that the automatic fuel consumption monitor stops at 75mpg, but their actual fuel consumption is nearer 90mpg.  I have a bit of a heavy right foot though.
The batteries are guaranteed for 100,000 miles or 10 years, there is anecdotal stuff that some of these are already on 200,000 miles and that would not surprise me.  It also comes with a 5-year manufacturer's warranty, no matter if the owner changes hands.
This one really is fully loaded, a new one without many options will be about 23K, mine has about 5k worth of options.  I bought this 2018 plate, with less then 16k on the clock, immaculate condition for £17,250.
The pure electric version (Plug-in) has zero road tax, this hybrid is £140 per year.  It is ULEZ free of course.  My insurance, well it varies from person to person, but my insurance on my 2010 Zafira, diesel 1.9 turbo, was £420 per year, when I swapped insurance, I had to pay an additional £20, which was probably an admin charge.
From a safety, MPG, looks, road tax, insurance and toys, a truly top car, incredibly good value.  I am not convinced you get ROI if you buy a brand-new hybrid (or pure electric), so I would suggest buying a or 1 or 2-year-old car with low mileage.
Honestly, this car is nice.

© text & images Phil the ex test manager 2020

The Goodnight Vienna Audio file