Monday
Morning peeps. A little grey but warm this morning, the woman on the TV says it is going to be sunny and quite warm here in London this morning. Bozzie is off to Northern Ireland this morning, he whispered 'Ulster fry time' to me earlier with a big grin on his face.
I hear the Russians have a little more than the Ukraine to ponder on today. Years back the Russians started developing a new rocket to put satellites into space. The first launch of the Angara-1 rocket took place in 2014, but the latest launch last month was still considered a test launch. However, it carried a classified satellite payload. The problem now seems to be twofold, firstly the rocket doesn't appear to have delivered the satellite into the correct orbit and secondly the satellite is not responding to any commands. The military satellite's orbit is decaying and it looks like it will fall to earth unless control can be recovered. What made me laugh was that the Russian media made a fuss of this launch as the rocket had a huge 'Z' painted on it! Wouldn't it be embarrassing if this military satellite came down in the USA?
I have been reading that the Ukraine have been developing a new launcher for the MBDA Brimstone missile. The anti-tank missile was initially developed as an air to ground missile and has been in use by the RAF since 2005. It is a 'fire and forget' missile and is aimed at a target up to 19 kilometres away and then looks after itself onto the target even if it is moving. Over the years other versions have gone into service including air to ship and a naval version called Sea Spear. But this is the latest version, a surface to surface missile. The Ukrainians have mounted a multiple launcher on a Polish supplied tracked infantry fighting vehicles.
I see that for once the BBC are boasting about their Saturday night TV audience. It started off with a straight head to head with ITV with both of them showing the FA Cup final. ITV managed to get an average of 1.6 million viewers while the BBC booted their way to an average of 6 million viewers and another 4 million watching on iPlayer. The following programme on BBC was the Eurovision Song Contest which drew an average of 8.9 million viewers but peaking at 10.6 million. By recent standards this is a huge audience, few programmes hit over 10 million viewers these days unlike the days when 20 million regularly tuned in on Saturday evening for the like of Morecombe and Wise, but in those days there were only three TV channels to choose from.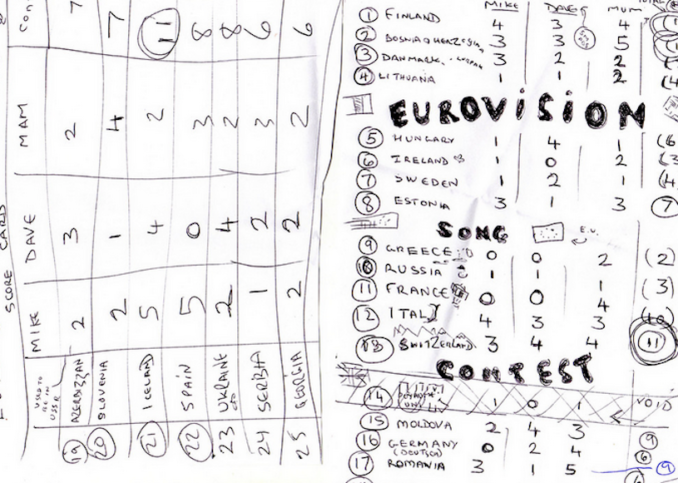 Two companies today announced the end of their businesses in Russia. McDonald's ceased trading in Russia some months ago, locking up its shops. It is now in discussions to sell off the business after 32 years since it opened its flagship restaurant in Moscow. I note the business will be what McDonald's describes as "De-arched". In other words, all the trappings of McDonald's will be removed from the restaurants, but the trademarks will be retained. The other company withdrawing is Renault who are selling their 70% holding in Avtovaz, the makers of the Lada, for two roubles! Renault will take a €2.2 billion write off over the withdrawal from the company that is estimated to have produced 10% of all Renault's cars.
It's a big day for trains today, with the new summer timetables being introduced across the network. In general, additional services are being introduced as people return to working in the office and commuting makes a come back. However in some places services have been cut. Why you ask? Well, I hear that Great Western Railways have removed its through service from Brighton to South Wales via Southampton, Salisbury and Bristol, because 'they need the trains elsewhere'. They argue that passengers can use alternative services from Brighton to Southampton and then change onto a Southampton to South Wales service. However this will increase journey times. In London, the Northern Line, City Branch, is back in business this morning and the new southbound platform at Bank station looks impressively wide. The old southbound platform has been changed into extra space for the northbound platform completing phase 1 of the station rebuild. Over the next few months, the next two phases will be brought in, including a new travelator, escalators, lifts, and entrance building.
You will remember that several times I have mentioned the problems that Boeing have been having with its 787 Dreamliner. There are over 100 x 787s, worth some $12.8 billion, that have been manufactured but cannot be delivered because of the hold on the FAA signing them off. Many of these jets are being reworked. I understand that as part of the process of getting FAA approval Boeing submitted an application to the FAA last month, but the FAA have had to return much of that paperwork as it was incorrect or incomplete. The FAA say they will not certify a 787 for flight until Boeing can demonstrate that it meets FAA standards. Boeing are said to believe that fixing the 787 is costing the company $5.5 Billion.
Tuesday
Oh what a lovely morning here in Downing Street, not a cloud in the sky and warm. I understand it is going to be the warmest day of the year so far. If that's the case it will be too hot for me, I will have to retire to that nice shady spot at the far corner of the garden and hope the gardener has filled up the birdbath so that I can have a drink when I want one.
The employment numbers are out this morning and I see that there are another 120,000 people in full-time work. This has obviously had an effect on the unemployment numbers which have dropped to 3.7%, the lowest number since 1974, nearly 50 years ago when there were a lot less people in the country. Oh and for good measure, the number of job vacancies has gone up to 1.3 million, the highest number on record meaning there are more job vacancies than there are unemployed!
I see a bit more information crept out yesterday about Beer and Partygate. For weeks Stoma has been dodging the question of how many people were at the Miner's Hall dinner, telling LBC's Nick Ferrari, "I usually travel with about 6 people." But he has now appeared on ITV's 'Loose Women' (?) and told them, "I think there might have been about 15 people there." Why 30 curries for 15 people, was Diane Abbotpotamus there? Well that's another strand unravelling. I wonder, does that 15 include his Metropolitan Police bodyguard who surely must have been there if they were carrying out their duty?
I read that there were attempts by hackers to interfere with the results of the Eurovision Song Contest. The organisers say there were several different attempts at a "Denial of Service" attack on the semifinal containing the Ukraine and on the final. In addition, the scores of 6 national juries were ignored and replaced by "average scores" calculated by Eurovision. On the night it was noticeable that, unusually, the presenter for 3 of the national jury scores was "uncontactable". Consequently, the scores from Azerbaijan, Romania and Georgia were read by a Eurovision executive. Were they 3 of the 6 questioned scores?
I see the Queen was out and about again today, she must be feeling a bit better. After clearly enjoying a night out at a spectacular put on at the Windsor horse show at the weekend, this morning she visited the Elizabeth Line (Crossrail). Radiant in canary yellow she was at Paddington to perform the official opening ceremony. The Queen wasn't expected to attend and the ceremony was to be conducted by Prince Edward, but the word was she felt good when she woke up this morning and decided she wanted to be there. The first sign that the Queen was coming was when an hour before the opening ceremony the official plaque saying it had been opened by Prince Edward was replaced by one saying it was opened by the Queen. So that the Queen could comfortably unveil the plaque it was lowered by 8 inches to reflect the difference in the height between Prince Edward and the Queen.
I read that Lockheed Martin has received two more contracts from the US Army to supply Javelin anti-tank missiles worth $309 million. The company didn't announce how many missiles these contracts are for but the US is believed to have shipped 5,500 to Ukraine so there are a lot to replace. The missiles are currently produced at a rate of 2,100 per annum and Lockheed have said they are to increase this rate to allow them to fulfil this order and other orders from international customers including Norway, Albania, Latvia and Thailand.
BAe has announced today that they have struck an agreement with Mitsubishi Heavy Industries to collaborate on the MHI sixth-generation jet fighter, the F-X. Rolls Royce are already collaborating with IHI for the jets engines. This is interesting because BAe and Rolls are already involved in the UK's sixth-generation jet consortium, Tempest. The Japanese had wanted to purchase the US F22 5th generation stealth jet fighter, but the Americans decided not to export the plane. Consequently, the Japanese decided to build their own plane. The two projects are very similar and on virtually identical timetables. Is this a first step in merging the two projects?
Wednesday
Another lovely morning, not quite the cloudless sky of yesterday but sunny and warm all the same. Bozzie has a good suit on again this morning that means it's PMQs. I wonder what Stoma will lead his questions on this lunchtime, I bet that he doesn't go with Partygate, it would be an open door for Bozzie. I suspect it will be inflation as new numbers are out this morning.
Another four cases of monkeypox have been found in the U.K., one in London and three in the Northwest of England. Once again these cases are said to have no known connection to the previous London cases and the doctors say they are stumped as to how it is spreading as it was thought to have been only possible to transmit by touch or coming into contact with an infected animal. I certainly wonder if the fact that four of the seven are gay or bi has anything to do with it. Is monkeypox the new AIDS?
Now I read that it's not just Britain that is suffering a surprise outbreak of monkeypox. Portugal have discovered five cases with another 15 suspected cases, all of which are in the Lisbon area. Interestingly all the Portuguese cases are men. Now I hear that health authorities in Spain believe they have an outbreak in Madrid. Once again it is in a group of eight men who are showing symptoms but it has not yet been confirmed. Once again the cases are all believed to be in gay men.
I see that the USAF has finally managed a successful launch of its AGM-183A ARRW hypersonic standoff missile. After 3 failures where the missile twice failed to detach from the launch aircraft and then when it did the engine failed to fire. This time the missile detached and the rocket engine fired for what is said to be 'a sustained period' boosting the missile to 5 times the speed of sound. The yanks are clearly not there yet as this missile is supposed to have a 1,000-mile range and fly at 20 times the speed of sound.
Another problem for Boeing, their biggest Chinese customer has flagged its frustration with 737 Max delivery and has announced that it will not be taking any more until 2025. Between now and 2025 they had been expecting to take some 181 new planes of various types, however they have revised that number to 78. I make that 103 less planes which presumably must be 737 Max's. Boeing must be getting worried.
So the U.K. has so much LNG at the 3 import ports that they don't know what to do with it. The two gas inter-connectors to mainland Europe are going flat out exporting gas to Europe where the price is 10 times the landed price in the U.K. What effect has being flooded with more gas than we can comfortably handle had on the retail price of U.K. gas? Absolutely nothing, the price we pay is based on the European retail price so it is being kept artificially high here, much to the gas wholesalers and retailers delight.
McDonald's have announced a revamp for over half its 1,465 U.K. restaurants in the next four years with around 200 happening before the end of this year. The traditional counter is to go, replaced by "specific areas for different sales channels" (whatever that means), as well as a large collection window and many more touch screen ordering machines. The space saved by removing the traditional counter is to be used to increase the kitchen area and to create special areas for deliveries. McDonald's claim all this will allow them to offer a better customer service. It sounds to me that it is a way of cutting down on counter staff and saving money.
Thursday
I only seemed to have been curled up in my cat basket with 'Blair' my squeaky mouse for a few seconds last night when I was woken by thunder and lightning and horrendous rain. I must say it didn't really worry me and after a few minutes I went back to sleep. No rain this morning but it is very grey and so soggy under paw I had to stick to the paths when going down the garden.
Did you know that despite railway passenger numbers heading back towards pre-Covid numbers, Eurostar trains are still not stopping at Ashford International and Ebbsfleet International stations? Ashford station was upgraded to serve the Channel Tunnel service when it first opened and £80 million was spent building the facilities for the international service. These included dedicated check-in, customs and passport checks, international lounges and long stay car parks, all separated from the domestic side of the station for security reasons. I wonder if they are still paying to heat, light and clean these unused facilities? In addition, a further £10 million was spent in 2018 upgrading the signalling system to allow the latest Eurostar e320 trains to stop there. Now it seems Eurostar trains might return in 2023.
The initial timetable for the Elizabeth Line has been published. Basically there will be a train in both directions between Paddington and Abbey Wood every 5 minutes from 06:30 to 23:00 six days a week (there is no initial service on Sundays). The gaps increase a bit after ten at night and the journey time is to be 29 minutes from Paddington to Abbey Wood. If you live in Abbey Wood and work in Canary Wharf you will be delighted to know that you will be able to get to work in just 11 minutes. I don't know if that would be enough to encourage me to live in Abbey Wood!
I hear some interesting numbers this morning in support of Bozzie wanting to slim the Civil Service by 91,000. The Cabinet Office HR department comprises 700 people. I am amazed at that number. I understand there are around 8,000 people in total employed in Whitehall so this means that nearly 10% are in Human Resources, and I bet they are nearly all working from home. Oh and while I'm on the subject it appears that there are still 80 civil serpents working on COP26. Wasn't that last year? I could understand it if they were planning an event but it has been over for six months!
So the Met has announced that they have finished their investigations into Downing Street parties and that they have issued a total of 126 fixed penalties. Bozzie will be relieved as he has only been issued with one fixed penalty notice and the pressure on him to resign has eased. Maybe Stoma's lot will now have to shut up about Bozzie being a multiple offender. Won't it be funny if Stoma get's fined and it is him who has to resign?
I see Peter Hitchens has written an article in one of today's papers advocating that England should leave the United Kingdom and let the other 3 nations go their own way. He suggests that any political party that campaigned on that basis would get a landslide of English seats. He says we already have much of the infrastructure is already in place. Policing, Army, Navy and Airforce hardly need changes, we have the Bank of England, the Queen of England and our English football and cricket teams. We would no longer have to subsidise, Scottishland, Wales and Northern Ireland so we would be financially better off and it would be easy to revamp Westminster by kicking out Welsh, Scottishland and Irish MPs. What's not to like, if I wasn't a cat I'd vote for that.
Do you remember me telling you about the Airbus A350-900 planes that had been ordered by the Russian airline Aeroflot and were being withheld due to sanctions? It seems Aeroflot have received just 7 of the 22 ordered leaving Airbus with 15 early delivery slots to market as all the remainder of the Aeroflot order which was due to be completed by the end of 2023. Today Turkish Airlines has announced that it has placed an order for 6 x A350-900s all of which will be delivered this year and next. Although it has not been said specifically, it certainly looks like Turkish has picked up some of this slack as it would be almost impossible to get deliveries this early in any other way.
Friday
Wow, it's wet this morning, I really had to run when I went down the garden and back. Bozzie was happy this morning, it was all about the Met Partygate enquiry being over, he even celebrated with a bacon sandwich! He went to stroke me but found my fur was wet and stopped quickly.
I didn't mention it when I reported on the Queen officially opening the Elizabeth Line, but Bozzie was also there and he gave a speech saying it was now time to build Crossrail 2. The plan for Crossrail 2, the route has never really been finalised but in general the plan is for it to run from Southwest London to Northeast London. It was originally supposed to be the 'Chelsea – Hackney' Line but has been extended at both ends. At the moment TfL has put a halt to it because they have spent all their money on crazy traffic scheme that have resulted in London being the most congested city in the world. The last map I saw had the line running from Clapham Junction to Alexandra Palace. But this would allow it to connect to loads of lines that run into London via Clapham to serve Hertfordshire and the North from Ally Pally that is on the mainline out of Kings Cross.
I hear that McDonald's have already found a buyer for its Russian business. Alexander Govor, who currently operates 25 McDonald's restaurants in Siberia has agreed to buy the whole business and will take on all the 850 restaurants and 62,000 staff. The restaurants will be rebranded but there is no news on a name yet. McDonald's are said to have taken a $1 billion hit on the deal which accounted for 8% of McDonald's worldwide business.
Another 11 monkeypox cases today, I wonder how many are Iron Hoofs? Apparently there are two versions the nasty one that kills 10% and the mild one that kills 1%. This outbreak is said to be the mild one so officially it has a lower fatality rate than Covid. I read that as it is very closely related to smallpox and if you have been vaccinated for that you should have antibodies capable of fighting it. There is a company, in Belgium, that makes a specific vaccine that has been approved in Europe and the US but not in the U.K. Mind you, I bet they are rubbing their hands together at the prospect of big orders coming their way.
The EU is not happy that since Brexit some European banks have retained many traders in the London financial market. Following an investigation, the European Central Bank believes they have identified 56 groups whom they claim should be working from one of the EU's financial centres either Frankfurt, Paris or Dublin. At the time of Brexit, Remainer's predictions were for 200,000 jobs to move from London to the EU. A recent survey indicated that as few as 7,000 have actually 'officially' moved. But it seems that many of these are in name only with the big financial institutions opening offices in the EU with traders officially being based in say Frankfurt but only flying over from there for one or two days a week as all the financial action is in London.
I have heard many complaints that the BBC interview so-called independent experts or 'members of the public' who turn out to be Labour supporters. I am sure you all remember the 'ordinary nurse' who turned out to be a Labour activist and the BBC having to apologise. Well, I have been reading about Torsten Bell, the chief executive of the Resolution Foundation who is a BBC favourite 'independent' and guest when discussing 'low-income families'. Well it seems he is not so independent after all. He has held senior positions under Gordon Brown, Alister Darling and Ed Millipede. In fact I hear he was the brains behind the late lamented 'EdStone'. This champion of the poor takes home £140,000 pa according to data filed with the charity commission.
Last year IAG, the parent company of British Airways, surprised the aviation industry by announcing their intention to order 250 x Boeing 737 Max aircraft while they were still grounded. Nothing was heard for a long time of this intention becoming a firm order until yesterday when IAG announced an order for 25 x B737 Max8 and 25 x B737 Max 10 planes, well short of the much-heralded 250. Still, I expect IAG have screwed Boeing into the ground to get this deal. Firstly the Max 10 is not in production yet and still has to be certified so might not join the fleet for a few years. It is the biggest 737 seating just about 240 and has the longest range, but the latest Airbus A320 is bigger (250 seats), has a longer range and a lower list price. As for the Max 8 it seems that IAG are picking up aircraft originally reserved for RyanAir as they are Max 8200. The 200 was especially modified for RyanAir with extra emergency exits so that they could cram in 200 seats (signified by the 200 after the 8). RyanAir wanted to buy more planes but couldn't come to a cost agreement with Boeing. The speculation is that Boeing had started building these planes on spec and IAG has picked them up cheap.
Saturday
Ah it's the weekend and the reserves are on Larry feeding duty. I suppose I am a bit of a loner as I like the peace and quiet in the flat when the family are away. I can always get some company if I want it by popping down to the office. The only problem is I never know in advance who is coming and at what time. If only they would post a rota on the wall. On second thoughts, it may look a bit odd if someone caught me reading it!
A sad day for the Royal Navy yesterday as they decommissioned two of their 'T' class attack submarines HMS Talent and HMS Trenchant. These nuclear-powered boats have served the nation for 30 years but are being replaced by Astute-class boats, four of which are already in service and the fifth of the seven on order, HMS Anson, should be joining them later this year having already passed its diving tests. The 'T' class boats had an excellent reputation but it seems that they new Astute boats are even better.
I have been reading a report on a Boeing 737 that suffered a very heavy landing at Exeter airport in January 2021. It's not uncommon for a plane to have a bit of a hard landing and the landing gear is built to absorb the stress. In fact gauges measured the stress on landing and if it exceeds a certain level the plane has to be withdrawn from service for a check. The plane, operated by Swedish company West Atlantic, became unstable on approach and was descending too fast at 4 x the limit. The co-pilot, who was flying the landing, admitted on reflection she was wrong in continuing the landing and should have gone around. However, she choose to land and hit the ground so hard that on the taxi in the plane was leaning to the left. On inspection the port landing gear was partially collapsed and the fuselage was twisted and cracked. The plane was so badly damaged that it had to be written off. I bet the insurance company were delighted.
I hear that the Ukrainian army have been sending out two-man teams on Delfast electric motorbikes armed with NLAW missiles to hunt Russian tanks. The Ukrainian motorbike is capable of 37mph and has a long-travel suspension and is designed to drive cross country.
Because the bike is virtually silent it allows them to get into position to fire and to withdraw quickly afterward. A second Ukrainian company, ELEEK, has been supplying sniper teams with their electric motorbike allowing them to get into position silently. It seems that Ukraine is not alone in using electric motorbikes, Norway, Australia and New Zealand have been trialling them for their armies, while most special forces are said to be using them.
It appears that Hinckley Point 'C' is getting even further behind schedule. The owners, EdF, announced yesterday that the project has fallen another year behind schedule. Not only that but they have announced that the project is another £3 billion over budget. The sooner we get on with the licensing the Roll Royce Small Modular Reactor the better.
It is exactly 20 years ago today that the then British Minister for Defence Procurement, Baron Bach, announced that we had chosen to award Saab Bofors a £400 million contract to manufacture and supply the country's new light anti-tank weapon. What a good decision this was has become apparent in the last few months as the NLAW, as it is now known, has been one of the big successes in the Ukraine. The missile is now built at what used to be the Shorts factory in Belfast and so far we have supplied 6,900 of them to Ukraine. The missiles are said to cost £24,000 each, which is very cheap for a modern advanced weapon, especially when one can destroy a £5 million tank after only 1 hours training.
Andrea Leadsom gave a warning on TV this morning that the Houses of Parliament are in such a desperate state of repair no one should be surprised if a disastrous fire broke out. The cost of repair work is estimated at between £7 and £13 billion. The wide range in the cost is because both the Lords and MPs are reluctant to move out while the work is completed. The lower figure is with them moved out and the higher with them remaining. There was a recent suggestion that the Lords should move to somewhere like Stoke or Wolverhampton for the duration, but despite lumps of plaster falling on them from the chamber ceiling, they rejected the idea. The building requires a lot of work, including restoration, removal of asbestos, fire safety work, a complete rewire, conservation work and the replacement of the sewage ejection system that was installed in 1888. It is estimated that the work could take up to 28 years to complete if the chambers are not vacated.
I'm done for another week and it's very pleasant out of doors, so I think it's my favourite windowsill for my afternoon snooze. I hope you all have a lovely weekend merry readers and I will be back on reporting duty on Monday.

© WorthingGooner 2022