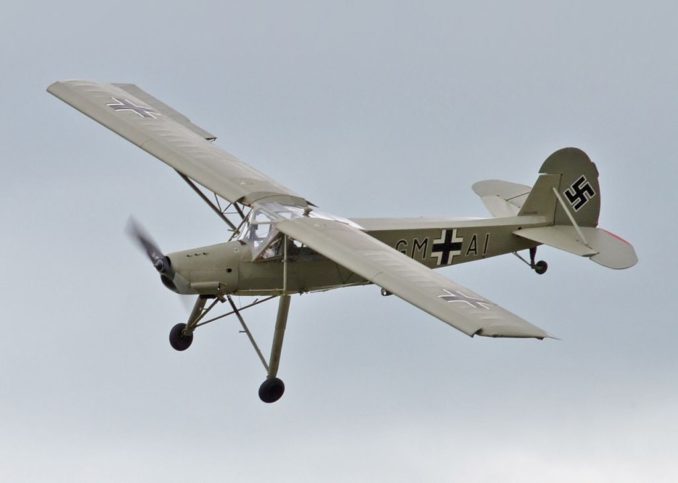 Introduction
In common with many boys who like me were fortunate enough to grow up in the 1950s and 1960s, I spent much of my spare time building and flying Keil Kraft balsawood & tissue paper, rubber and 'Jetex'-powered model aircraft most of which sadly came to sudden and ignominious ends on their first outings to our local park. One of the kits I recall seeing, although I don't think I ever built, was of a rather ungainly and fragile looking German WW2 observation/liaison plane, the Fieseler Fi156 'Storch', so called because with its long drooping undercarriage legs and large wings it resembled a stork when in flight. At the time I was more interested in modelling wartime fighter aircraft such as the Spitfire, Hurricane, Me109, Focke-Wulf 190 and the then current Cold War era jet fighters so it wasn't until comparatively recently that I came to realise what a triumph of aeronautical design and engineering the Fieseler Storch really was. Little did I know that 50 years after his untimely death in 1960, one of the Storch's designers would have a major influence on my retirement plans.
Dipl-Ing Erich Bachem
Erich Bachem was born on 12 August 1906 in Mülheim an der Ruhr. The son of a chemist, Bachem began studying engineering at Stuttgart University of Technology in 1925 where he became a pioneer of gliding co-founding the Akademischer Fliegergruppe (Academic Flying Group).  After graduating he trained as a master flight engineer in Berlin. In 1932 Bachem published 'Die Praxis des Leistungs-Segelfliegens' (The Practice of High-Performance Glider Flying) a second, revised edition of which appeared in 1936. He also designed the Aero-Sport lightweight touring caravan that was built of plywood by the Wolf Hirth glider company in Kirkheim unter Teck.
In 1933 Bachem published 'Das Problem des Schnellstfluges' (The Problem of the Fastest Flight) and that same year he joined the Fieseler aircraft company as head of the development department being appointed technical director in 1938. In  February 1942 Bachem left Fieseler to establish his own company Bachem Werke GmbH in Waldsee, Baden-Württemburg supplying spare parts for piston-engined aircraft.
The Fieseler Fi156 'Storch'
In 1935, against stiff competition from Messerschmitt, Focke-Wulf and Sieber, Fieseler's chief designer Reinhold Mewes and technical director Erich Bachem successfully submitted their joint design for a new aircraft to fulfil a reconnaissance, liaison and medical evacuation role specified by the Reich Aviation Ministry. Their design which would prove to be an outstanding success was unusual in that it featured wings that incorporated innovative slats and full-length ailerons and flaps that gave great lift at slow speed and which could be folded back along the fuselage enabling it to be easily towed either on a trailer or slowly on its own wheels. The long, hydraulically damped undercarriage legs with 40cm (15.75 inches) of free travel enabled the aircraft to land on rough surfaces and this, together with its extremely short take off and landing (STOL) characteristics, gave it a 'go-anywhere' capability. The aircraft was so successful in its role that it was only made obsolete by the development of the helicopter.
The engine was an inverted, 237hp air-cooled Argus AS 10C V8 and the fuselage was constructed of fabric-covered steel tubes with the wings being made of wood. The fixed slats fitted to the leading edges of the wings reduced the stall speed of the aircraft to 32 mph and the Storch was the first production aircraft to utilise this technology. German-produced Störche were provided with a single, rear-facing MG15 7.92mm machine gun for defensive use by the observer.
Performance (source: Wikipedia)
Maximum speed: 175 km/h (109 mph, 95 kn) at sea level
Cruising speed: 130 km/h (81 mph, 70 kn) (econ. cruise)
Range: 390 km (240 mi, 210 nmi) at 150 km/h (93 mph; 81 kn) and 1,000 m (3,280 ft)
Service ceiling: 4,600 m (15,090 ft)
Rate of climb: 4.60 m/s (905 ft/min)
For a detailed look around a Storch including pre-flight inspection, engine start and brief flight see Kermit Weeks' three-part YouTube video https://www.youtube.com/watch?v=8e8rwgm5sFs
Somewhere in the region of 2,900 Fi156s were made between 1937 and 1945 mainly at Fieseler Werke at Kassel in Germany but when the factory was needed for the production of FW190s, production was transferred to other locations including Morane-Saulnier at Puteaux in occupied France, the Soviet Union, Czechoslovakia and Romania.
Following the liberation of France in 1944, production of the Fi156 was continued at the Morane-Saulnier factory for the Armée de l'Air originally using Argus engines and when these ran out various inline and radial engines were fitted. These French variations were known as 'Criquets' and their production continued until 1965.
The 'Storch' at war
The Storch saw action in all European and North African theatres of WW2 and was used as a personal transport by Generals Kesselring and Rommel. Captured Störche were also popular with the Allied top brass including Field Marshal Montgomery, Air Vice Marshal Coningham and Air Vice Marshal Broadhurst.
In 1943 a Storch was used in Operation Eiche to rescue deposed dictator Benito Mussolini from a mountain top hotel in Italy where he was being held prisoner after a Focke-Achgelis FA223 'Drache' helicopter sent to collect him broke down en route. Pilot Heinrich Gerlach managed to land his Storch safely in 30m (100ft) on the mountain and although overloaded took off again with Mussolini and German General Otto Skorzeny on board in 80m (250 ft) despite damaging the undercarriage when the aircraft hit a boulder.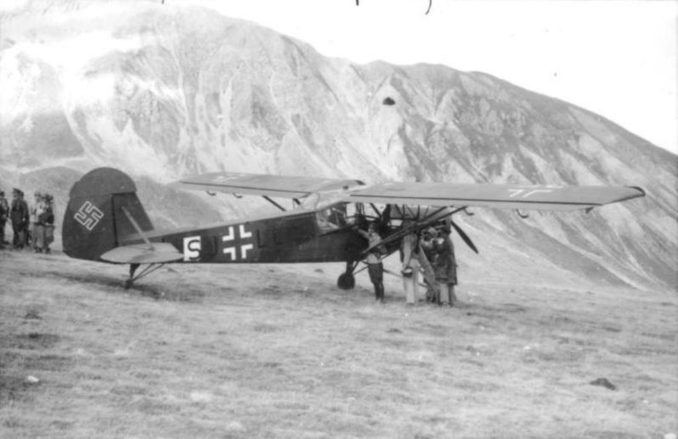 Test pilot Hanna Reitsch flew a Storch into Berlin on 26 April 1945 to deliver General von Greim who had been summoned to a meeting with Hitler. During the landing on a temporary landing strip in the Tiergarten near the Brandenburg Gate, the aircraft was hit and von Greim was injured in the foot. The daredevil couple made it to the Führerbunker where Hitler promoted him to Field Marshal and appointed him head of the Luftwaffe in place of Hermann Göring. Despite their wish to remain with their Führer, Hitler ordered them to leave on 28 April. This they accomplished under heavy Russian fire, the last flight out of Berlin before its surrender to the Red Army on 02 May.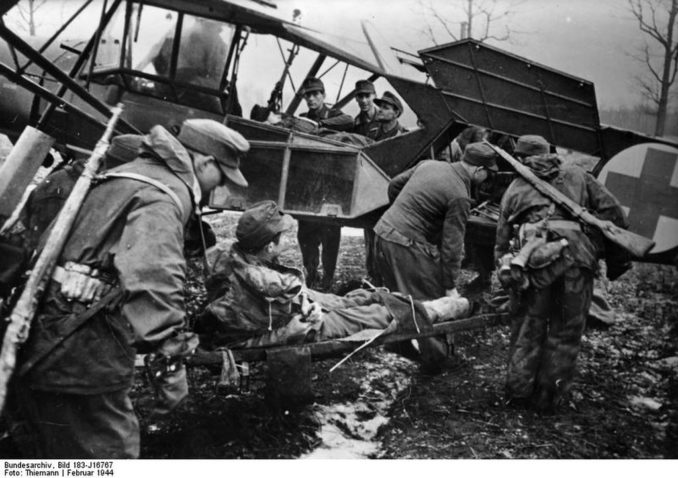 The Storch also has the dubious distinction of being the last German aircraft to be shot down by the Allies. This happened on 11 April 1945 when two American lieutenants on an artillery spotting mission near Berlin in a Piper Cub 'Grasshopper', the US equivalent of the Storch, saw the German plane a couple of thousand feet below them. Cocking their 1911 Colt .45 service pistols and in an action more reminiscent of the early years of the Great War, they swooped down on the Storch and to the astonishment of the unarmed German pilot riddled it with bullets forcing him to crash land in a field. Landing their Grasshopper near to the crashed Storch the American airmen captured the German pilot and his observer holding them at gunpoint until American troops arrived to take them into custody.
Post WWII
The French continued to use the Criquet until 1958 during which time it saw service in the Indochina and Algerian Wars. The Storch in its numerous variations continued to be used for mountain rescue. In 1946 a US C53 Skytrooper, a military version of the DC3 carrying eight passengers including an 11 year old girl and four crew became lost in fog and snow over the Bernese Oberland, crash landing on the Gauli Glacier. Fortunately, the aircraft did not break up and its occupants were able to survive in the fuselage for five days while a rescue was being organised. Two Swiss Störche fitted with skis to enable them to land and take off on snow made a total of eight flights to the glacier and rescued the 12 survivors.
A number of Störche are still airworthy and these can be seen flying at air displays around the world. Due to its excellent STOL abilities, a number of three-quarter scale interpretations of the design have been created for home building.
In Part 2, we will look at one of Erich Bachem's more ambitious but ultimately unsuccessful projects, the infamous Bachem Ba349 'Natter' rocket-powered interceptor.

© Tom Pudding 2022