(I decided to share this recipe as AI Junior is giving me nightmares)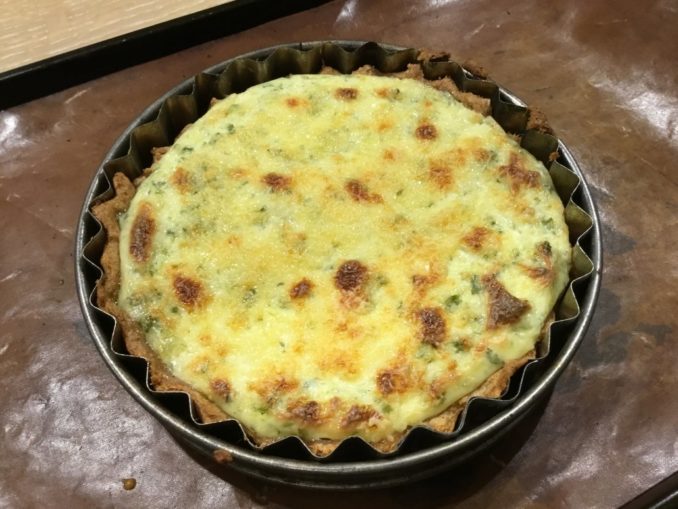 Ingredients:
For the cheese pastry:
6 oz white rye flour (spelt can be used)
3 oz butter
2 oz cheddar cheese grated
1/2 teaspoon mustard powder
Cold water to mix
For the Filling:
10oz cooked chicken thinly sliced
1 lb leeks washed and thinly sliced
1 1/2 oz butter ..plus an extra teaspoon of butter
15 fl oz creamy milk or half and half milk and cream
3 oz grated cheese
1 oz cornflour
A little grated nutmeg
1 large egg beaten
1 x 10 inch loose bottom flan tin
Set oven to Gas Mark 5/385F/190C/170 fan
Method:
Make pastry by rubbing flour into butter until you have a crumb mixture.
Add grated cheese, mustard and a little water to mix. Make sure dough leaves bowl clean.
Wrap dough in cling film and place in refrigerator to rest for 20 mins.
Melt teaspoon of butter in frying pan, add leeks and cook gently until soft and exuding a little juice. Around 6 mins. Drain off juices into a bowl and reserve.
Roll out pastry to around 11 inch circle and carefully line the flan tin. Prick all over with a fork. Line with parchment. I also add baking beans. Bake on centre shelf for 15 minutes.
Whilst pastry case is cooking put 1 1/2 oz butter in a saucepan with the milk and cream and the cor flour. Gently bring to the boil stirring constantly, until you have a smooth, thick sauce. Grate a little nutmeg into sauce if you wish then leave on lowest heat for 5 minutes.
Remove pastry case from oven and remove baking parchment carefully. Arrange leeks over bottom of flan case followed by the sliced chicken. Then pour the reserved leek juice into sauce and add 3/4 of the grated cheese plus the beaten egg. Mix well and pour into the flan case over the leeks and chicken. Sprinkle the remaining grated cheese over the top and bake in centre of oven for 25 – 30 minutes at same temperature as above.
This is delicious cold and also freezes well, although our flan rarely makes the freezer. 
I often buy one skinless chicken breast and poach it for 20 minutes in a little water. However, if you don't want to use chicken you can buy good quality ham and use that instead.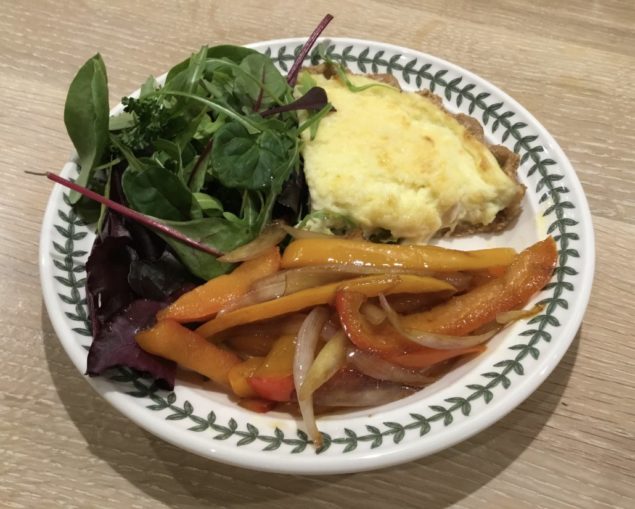 This is lunch the day after. Served cold with mixed leaves and roasted peppers and onion.

© Mojo 2022