I live in a tiny rural community on the London/Kent border. The social life revolves around the local pub which draws its loyal customers from a wider area.
In 2015 a couple of locals, Lester Barnes (composer of the Horrid Henry music) and Dave Griffiths formed the Belldrinkers to write and record a one-off Christmas single. Why? I hear you ask. They are both musicians, one a professional composer and arranger with his own studio and synthesiser and the other, my next door neighbour, a keyboard player and viola player still sporting the wild hair of his long lost youth.
The village sports a surprising number of musicians and friends who also get involved and my next door but one neighbour provides his drone flying skills for overhead shots. The singles have been produced every year and are locally, nationally and even internationally topical.
The first song, entitled This Christmas, featured a number of their musician friends from in and around the village plus a gang of other locals with a varying range of musical experience. Commercially, it was a dud, but the idea proved popular and it has endured ever since. In 2016, they appeared on BBC One's The One Show with that year's single Just Another Christmas Song. This was mixed at the famous Abbey Road Studios. Somebody must have been owed a favour.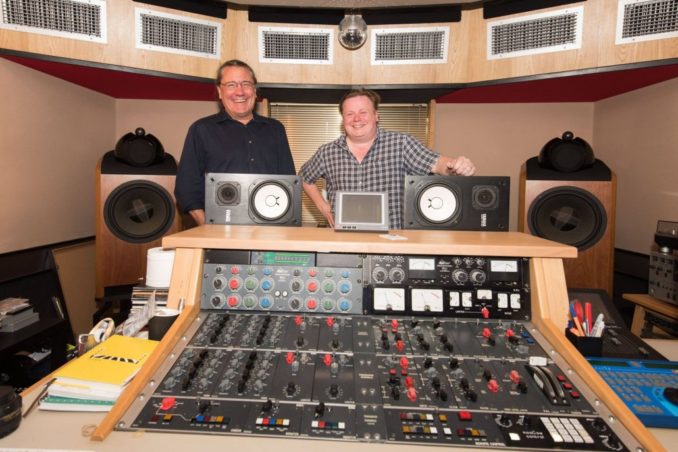 In 2017 they released Village Christmas, a full on big band swing number. This elicited a 30 minute slot on BBC Radio Kent. I am not a pub regular or singer but I was asked to take my baritone saxophone to Lester's studio and dub my part. It is a short walk but it is a heavy instrument to carry. It was an interesting experience wearing headphones and playing to the complete synthesiser track with my part removed. This was followed with a bit of miming along with a couple of other saxophonists for some action footage.
2018's song, featuring over 60 people participating, was imaginatively titled Back in the Pub Again. Once again, a huge wealth of musical talent offered their services and there were new contributors including, from the classical world, Dave's cousin Thelma Handy who leads the Royal Liverpool Philharmonic Orchestra and Andy Barclay, a local who also happens to be principal percussionist in the London Philharmonic Orchestra.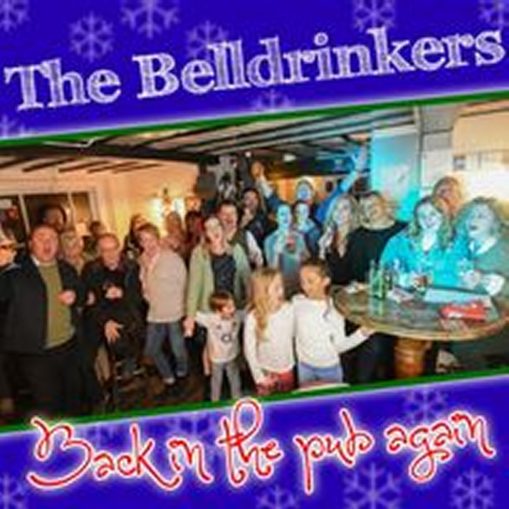 The 2019 Chelsfield Village Christmas Single, We're the Folk of Chelsfield, drew its lyrics from The Secret History of Chelsfield, a series of articles written in the Chelsfield Village Fair Programme each year. These articles contain a handful of historical accounts involving Chelsfield. All of them are entirely made up.
The annual single and the skills of the producers has developed over the years but this year presented a huge challenge. With a vast potential audience on You Tube it had to be seen to be COVID compliant. There was no mass sing-along in the pub but instead a Zoom choir in appropriate silly garb and even from holiday resorts and a hot tub.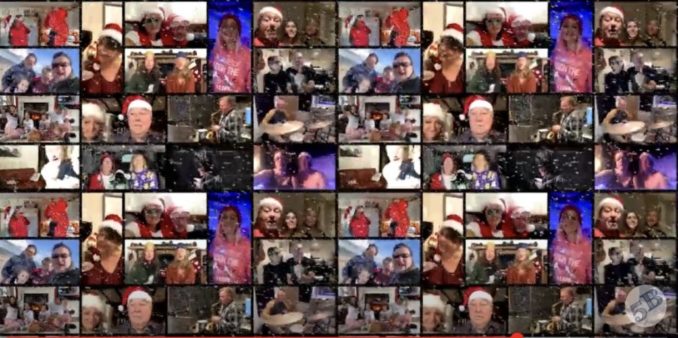 People recorded musical contributions in their own homes and sent them to be compiled into the final cut. It is amazing what you can do with software and a synthesiser and a tame mixer with mixing desk. Much outside recording took place and use was made of the COVID secure village hall with family groups social distancing, screens and open windows for recording the singers.
For your entertainment there is a Facebook page: www.facebook.com/belldrinkers  and you can also find The Belldrinkers on YouTube to see the videos, some of which are worthy of FF. https://www.youtube.com/channel/UCnRYgoWJb6tsiT-YKrLEdyA
All images are used with kind permission of Dave Griffiths

Audrey's daughter 2020

The Goodnight Vienna Audio file