As requested by a fellow deplorable I am listing below some wines that I will be drinking over the festive period. I am no expert on wine but I know what I like as the art critic would say but I hope that most would find my choices acceptable.
I will give prices where I have them and tasting notes for the ones that I have tried before and the notes from the seller or bottle for those that are new to me.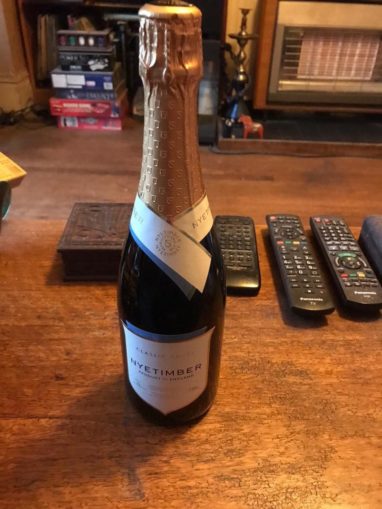 Nyetimber English sparkling wine – The signature wine of Nyetimber is a classic blend of Chardonnay, Pinot Noir, and Pinot Meunier and is a perfect balance of elegance and intensity. The blend includes wines from all our vineyards and also from several vintages.
I haven't tried this and as it was a gift from my new neighbours I won't look up the price.
Non Vintage 12%
Tahblik is one of Australia's historic wineries based in Nagambie Lakes in Victoria, specializing in Rhone varietals this museum release Marsanne demonstrates how well they do it. On the nose wax and honey with apricot and dried herbs. The palate is all candied orange, honey on toast and rosemary. This is a delicious wine that would pair beautifully with a gentle seafood-based curry – 2012 12.55 £15.95.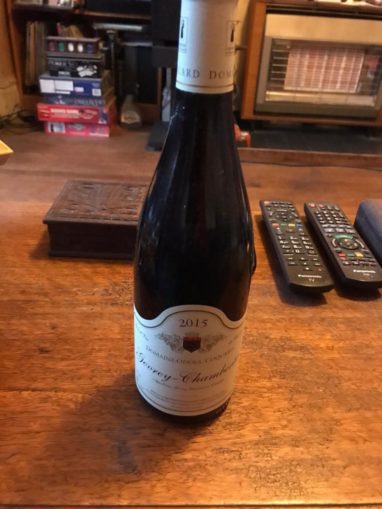 Gevrey Chambertin is a fine Bordeaux from the Côte de Nuits region. Black cherry fruit with a savoury note, there is plenty of weight here with power and concentration. Rich dark damson fruit character with a touch of dark chocolate, fine tannins and great length.  A fine Burgundy – I first heard this mentioned by Keith Floyd. 2015 12.5% £30.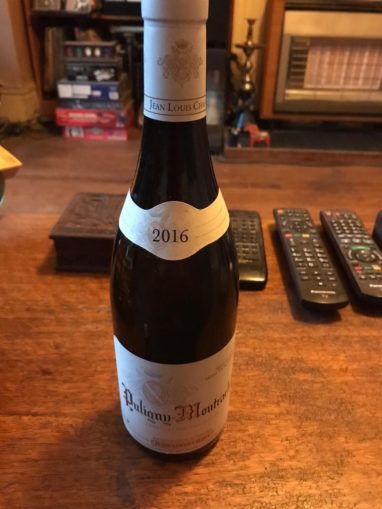 Puligny Montrachet was a favourite of Somerset Maugham. Blended from eight parcels of vines, this is a perfect example of what Puligny Montrachet's terroir offers. Exotic fruit aromas combined with classic toasty and mineral notes from the appellation. Rich on the palate and well balanced with a refreshing acidity. – 2016 13% £42.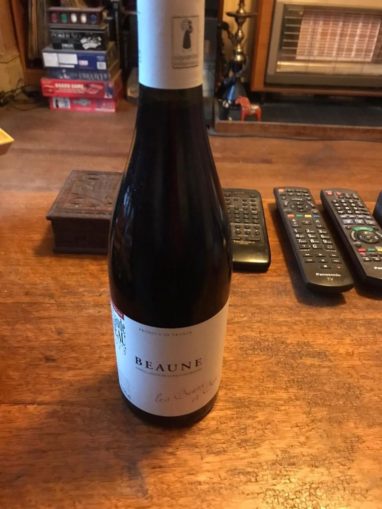 Beaune Beaux et Bons is one of the finer Beaune wines. There were only two barrels of this wine made, and each drop needs to be savoured. A fruity and floral wine, perfect for drinking with game birds and cheeses.
The palate opens up to give summer pudding, raspberry pavlova with a beautiful freshness. 2015 12.5% £40.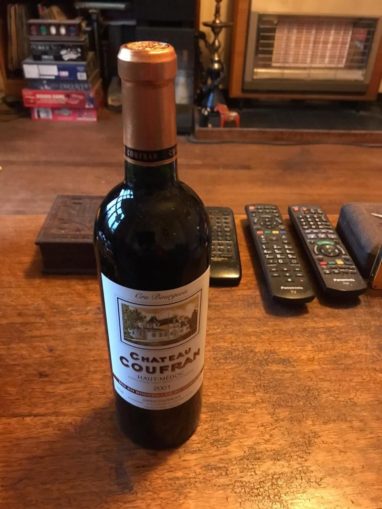 Chateau Coufran Haut Medoc. This is a fully mature 'old-school' claret displaying mellow complexity, medium-bodied fruit and a savoury finish. It's a wine that cries out for beef, game, a festive bird, roasted vegetables and all the traditionally hearty dishes that come into their own at this time of year. 2001 12.5% £25.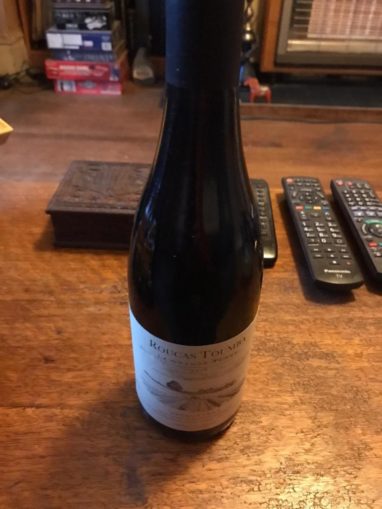 Roucas Toumba Vaqueras is a beautiful dark plum colour, with a fresh black cherry nose intermingled with violets, pine, ink, and smoke. On the palate there is vigour and depth balanced by a discreet minerality, with liquorice nuances, dark chocolate, spices, and menthol supported by savoury, old vine tannins. 2012 14% £25.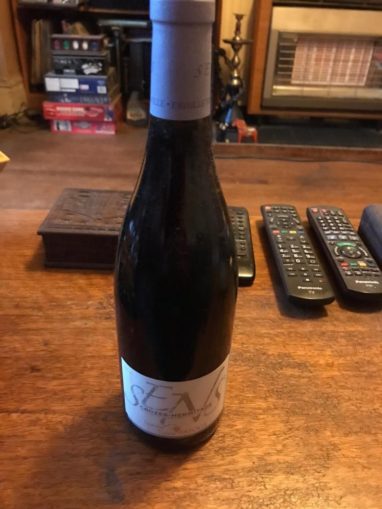 Sens Crozes Hermitage. This 10 hectare Domaine in the Rhone Valley is quickly becoming a leader in the appellation. On the nose this wine has plenty of blackcurrant, liquorice, damson and a hint of black cherry with rhubarb and vanilla fool. On the palate rich hedgerow fruit with hints of thyme. Try this with some lamb chops. 2018 145 £16.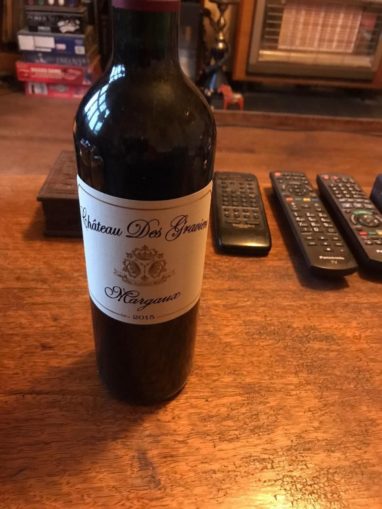 Margaux is a wine from Bordeaux that has a well-judged balance of oak and fruit, there is a delicate blueberry and blackcurrant perfume that has an almost floral note to it. This is a great Margaux that is crying out for confit duck or Comte cheese. It was Ernest Hemingway's favourite prompting him to name his daughter after the wine. 2015 13% £35.
Bourgueil is a classic Burgundy farmed organically and produced only in very small volumes, Bartrand Galbrun is producing something special here. Cherry, cinnamon, lime zest and blueberry come through on the nose. The blueberry comes through again on the palate and give the impression of fruit pastilles with it lovely juicy soft fruits, sage, rosemary and lemon thyme also appear with a twist of black pepper on the palate.2015 12.5% £19.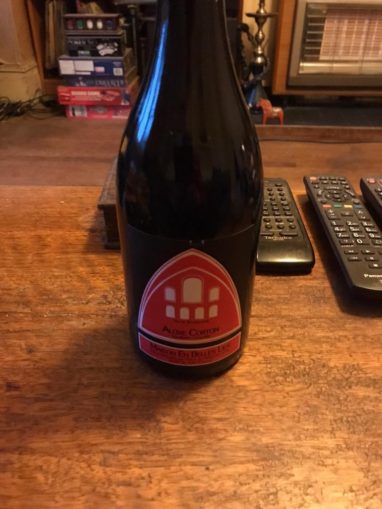 Aloxe Corton may well be remembered from the Fawlty Towers episode "The Hotel Inspectors". This old vine Burgundy grown on red soils in the Aloxe Corton, close to Beaune,  has no added sulphites to it, at Maison en Belle Lies they work as naturally as possible in the vineyard and in the cellar. The wine has a very pretty nose with soft plummy fruits, raspberry and jasmine with a hit of rose blossom. On the palate it is beautifully elegant with Griotte cherries and a delicious crunchy fresh tannin structure. 2017 12.5 % £47.
Ver Sacrum is Latin for Sacred Spring. This wine was a revelation and certainly a stand-out wine this year. This mix of Grenache, Shiraz and Mourvedre – or GSM as it is more commonly known in Australia – is typically big and rich with plenty of fruit. This one has the classic fruit profile of raspberry, cherry, loganberry with some soft spices. Behind this there are notes of pink grapefruit, red apple and a touch of wild herbs.
The palate is a revelation: so light and elegant showing such restraint, with plenty of pretty fruit, florals and just a hint of nutmeg. This is not a one-glass wine, this is a two-bottle delight. 2017 13% £20.
Featured image: "Wine" by Udo Schröter is licensed under CC BY-SA 2.0

©️ Upset 2020

The Goodnight Vienna Audio file


&nbsp