I have a good friend who lives in Essex, although we are very different people we've always got along well since we first met, we share a sense of humour that not everyone gets. We worked together for some years and we saw each other socially at least a couple of times a month before we moved to Cumbria from "Darn Sarf". I guess some people would consider Peter to be a bit of an eccentric, others would see him as an ordinary bloke, to me he's just my pal. Peter, originally from East Ham, is an inveterate collector of many things, he likes Motor Cycles and has two Harley Davidsons and a Post Office Despatch Riders Bike. He collects quirky limited edition art prints, music and film related memorabilia and has one of the most comprehensive music collections of anyone I know, he has lots of tattoos. He goes to concerts frequently and his collection of both vinyl and CD's is eclectic (to say the least) and often quite surprising.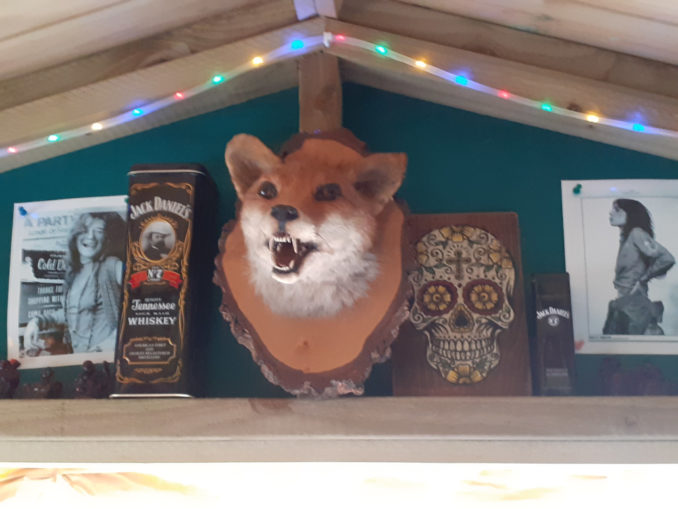 Earlier on this year he finished building a Pub in his back garden, it was officially opened in the Summer by a cardboard cut out of Her Majesty, complete with crown and West Ham scarf. We'd been invited but circumstances meant we weren't able to attend. Peter and his long suffering, lovely wife Linda visited us in August when he happened to mention that he was considering holding "Foxtoberfest" at the Firkin, an event which we were more than welcome to attend, should we be able to find room in our busy diaries. I didn't really need any second asking and we settled on Saturday 19th October as being a suitable date. I offered to have an 18 pinter of Hooky Gold shipped in, or, if that wasn't suitable a dozen mixed bottles. Peter was having none of it, he made it quite clear; his pub, his rules, his beer menu. As a Yorkshireman I couldn't bring myself to argue, although, as it turned out, I maybe should have. We travelled down on the Friday, staying with No.1 daughter in Stowmarket and arrived at Petes at 2pm on the Saturday.
After 5 minutes of pleasantries (West Ham were in the process of losing to Everton, much to his chagrin) we visited the excellent village local, just a short walk from his house, for a couple of pints to start the proceedings off. In his wisdom Pete had decided that it was going to be IPA day. Fine I thought, I like IPA and I was in the mood for a couple of beers, I had it in my mind that we'd be sampling beers from Adnams and other local breweries, but Pete had other ideas. He'd laid in 6 each of Harviestoun 5.8% ABV, Goose Island 5.9% ABV, Beavertown Lupuloid 6.7% ABV, Flying Dog Snake Dog 7.1% ABV and Hop Bullet 8% ABV. To round the evening off he had 3 bottles of Kasteel Tripel 11% ABV. I'd turned up with a couple of Faversham Brewery Pale Ales, which Pete took a disdainful look at before commencing proceedings. The Firkin, including the outside dining area fits 7 people cosily. The group was completed when Petes eldest son and a couple of other friends arrived. We'd all been looking forward to maybe acquiring a bit of Firkin merchandise but stocks were low. He did have sweatshirts in, but owing to an administrative error they'd been produced with the wrong date, so we didn't bother.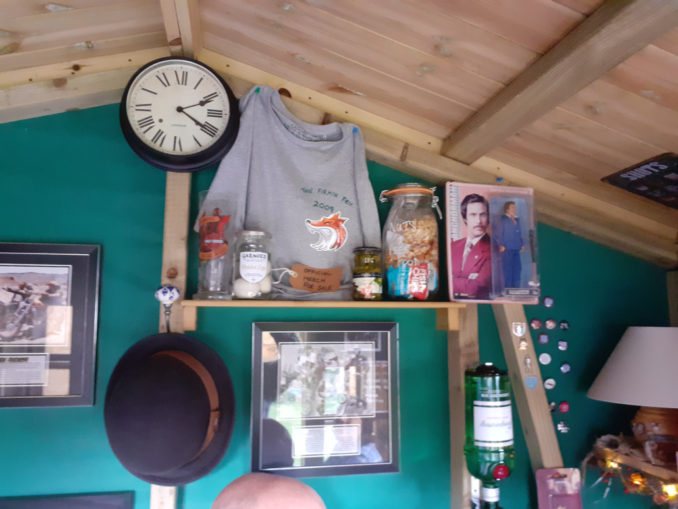 By 5pm we were starting to make some holes in the menu and by 8pm, when the curry was ordered, we were just starting in on the Flying Dog. Pete has a collection of hats and, by 8pm, I'd requisitioned his Heisenburg trilby and cleared myself a small area of floor for dancing. Mrs. C was keeping a weather eye on me by now, but she was into the Tanqueray and I had a bit of licence to let my little bit of hair down, which I duly did. I hold my hand up, I ate the curry, the first take away that wasn't fish & chips for many a year. Surprisingly I didn't get any of it down me, which is more than can be said for some of the other Firkin customers. I can't really comment too much on the beers, they were all very dry, very hoppy and very drinkable. When we opened the 3 Kasteel, at 11.15,  it was an almost triumphal if somewhat messy experience. Peter has a gavel, which he bangs on the bar in an effort to keep order and a bell which he rings when new beer is to be sampled. As you may imagine, both gavel and bell get through a deal of work.
Pete and I were the last to leave at around 12.30am, he didn't want to risk a lock in as he said that the village bobby was a stickler for proper hours . He also said, though he had to repeat it several times, it would have been churlish not to finish, in part, what we'd started. We did just that by paying one last visit to the beer fridge, where, funnily enough, we found a 500ml of Hooky Gold 170, which we shared. A lovely beer, totally in keeping with the evening's festivities and, at 7% ABV,  more that capable of holding its own. A fitting end to an excellent evening of music, drinking, eating, talking absolute nonsense, wearing hats, banging gavels, dinging bells and laughing like drains. I really ought to do it more often, or not, as the case may be. Here's to "Foxtoberfest" 2020.

© Colin Cross 2019

The Goodnight Vienna Audio file