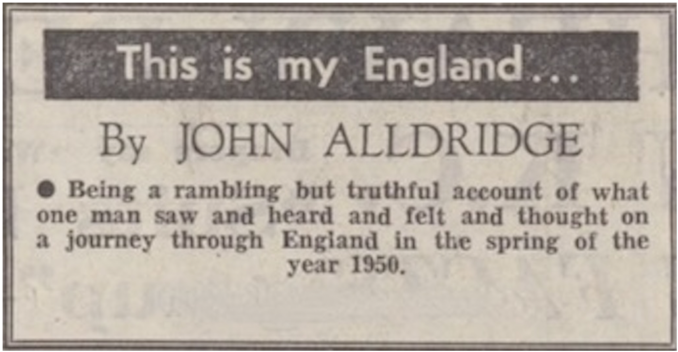 Kent used to be called "the Garden of England." Perhaps it still is.
The garden itself is still there — a mass of snowy blossom just now; but since I last saw it the great arterial roads have cut deep into it like a knife through ripe cheese.
Useful things these great trunk roads, no doubt. They pass you on from point to point without allowing you once to get mixed up in the muddle of a small town on market day. But you have to pay for such convenience.
And now the old Dover road has become as unromantic as a main-line railway; the dark little corners of it, where at dusk you could always hope to find a highwayman lurking or Mr. Pickwick searching for a lost piece of luggage, have been smoothed out.
The rambling old inns have been swept away, and instead you have filling stations and art-and-crafty tea gardens and road houses with cosy English names like "Traveller's Rest" and "Pilgrim's Way," which seem to be kept for the most part by people who, judging by their accents, were born a lot nearer to the Danube than the Medway.
It is not until you reach Rochester that you completely escape the octopus grip of London. And there, at Rochester, the great bearded shade of Charles Dickens stands between you and the twentieth century.
For Rochester is the very heart of the Dickens country. That restless spirit found his last home at Gadshill, which is only an hour's easy walk away. And Rochester and the country round about is peopled with the creatures of his imagination.
There is the Bull Inn, which looks as if it is still waiting for the old "Tally-ho" to come clattering through the arch, with Mr. Pickwick and Mr. Snodgrass well muffled up inside and Sam Weller lounging on the box.
There is the Nun's House of "Edwin Drood," and Satis House, where lived that poor deluded old maid, Miss Havisham.
And from the keep of the grim old castle built by that warlike Archbishop, William of Corbeil, you may stare across those same "lone shivering marshes" to the very churchyard where Pip met the convict Magwitch for the first time.
We had a look at Satis House — which, if it never in fact gave a home to Miss Havisham certainly offered bed and breakfast to Charles II on his way home to London and Restoration. We found it not, thank goodness, a neatly-ticketed museum but a pleasant well-lived-in country residence.
But to find the best-loved place in all Dickens you have to travel on a few miles towards Maidstone. And there is Cobtree Manor, which the world will always know as Dingley Dell.
The old place itself has hardly changed since Dickens knew it. True, it now has a television aerial lashed to one of its tall Tudor chimneys.
But old Pickwick would have a shock if he wandered out into the paddock and saw what appear to be Victorian landladies disguised as llamas parading the lawns.
For Dingley Dell is now a private zoo.
On the site where that immortal cricket match was played a small girl was feeding buns to a couple of elephants called "Gert" and "Daisy" and a bored lioness dozed in the sun.
From Rochester on, the road seems to shake off its prim modern inhibitions and becomes one of those drunken, rolling English roads that the late Mr. G. K. Chesterton was so fond of.
And if anyone knows of a lovelier stretch of English road than that which runs between Tenterden and Rye I hope he will tell me.
It has never looked lovelier than it does just now because, for the first time in ten years, man has been able to cooperate with nature in the great annual spring clean.
Around Peasmarsh alone (and what a name that is to try on the tongue! If Shakespeare never used it it was only because he had never heard of it) a couple of hundred gallons of whitewash must have been splashed with gusto on the walls of cottage, inn, and oast-house.
The great virtue of splashing fresh paint about is that your neighbour must copy you or be shamed for ever.
And thus it is that every English village from here to Land's End this springtime looks as if it has just come ready-packed from some giant toy shop marked "For Export Only."
I have wanted to stay at "The Mermaid" at Rye ever since, as a boy, I idled away one very boring Boxing Day copying it from a Christmas card.
So we wired ahead in good time to say we were coming and could we have a room, please, looking out on Mermaid Street, which in its time has rung with the boot heels of half the pirates who ended up dancing on air at Execution Dock.
But when we arrived we found the old place dark and deserted. Like many other famous rendezvous it is a war casualty — not to bomb or blitz but to taxation.
So we put up instead at one of the many delightful little guesthouses, no two quite alike, with which the old town abounds. They gave us a neat, cheerful room with newly-painted walls and fed us, anxiously, as if we were starving vagabonds, on enormous helpings of roast beef and new potatoes and quite the largest blackcurrant pie I have ever had the good fortune to massacre.
Rye is a shivery sort of place to walk around after dark: for a town of its size there has probably been more violent blood spilled here than any other place in these islands. Its whole history — and it can trace its beginnings back to Roman times, when it was a transit camp for time-expired legionaries going home — has been one hard-luck story.
When, in 1942, German bombs knocked out the local cinema and blew a hole in "The Mermaid," hard-bitten Rye folk, picking themselves up afterwards, said after all it was only a case of history repeating itself and things could be a lot worse.
They were only speaking sober truth. Three times between 1339 and 1377 Rye was sacked by the French. On the third occasion it was completely burnt to the ground.
A favourite pastime in those robust days seems to have consisted of stealing the church bells of any town you sacked. It was like bringing the Cup back from Wembley.
In 1377 the victorious French carried the Rye bells home with them, but a few years later the bells were back again. I like to think of those stubborn Sussex men quietly planning the counter-raid and then setting out one moonless night to retrieve the town's honour.
When the Men of Rye were not repairing their ravaged town they were fighting off the plague or digging furiously to save it from flood.
Small wonder that in the course of time they became more than a little anti-social.
The final blow came towards the end of the eighteenth century, when enterprising folk began to drain the surrounding Romney Marsh; the inevitable result was that Rye's busy shipyard, which had launched the Queen's ships to fight the Armada, no longer had direct access to the sea and a flourishing seaport town found itself marooned high and dry.
In one sense that dramatic death was its salvation — which is Irish again. For more than a century and a half it has remained what it is now, an unspoiled, eighteenth-century town.
Baedeker, in his thorough, Teutonic way, describes it as "decayed and highly picturesque." I have a horror of that word "picturesque" as a rule, but it is the only adjective which does adequate justice to Rye.
Of course, the eighteenth-century citizens of Rye didn't see it that way — any more than the citizens of twentieth-century Jarrow will take consolation from the fact that a couple of hundred years from now it, too, may appear in the guide-books as "decayed and picturesque."
They took the line of least resistance: they went in for smuggling on a wholesale scale. The whole town was up to its eyes in it. There is hardly a house that hasn't its secret hide-out, where some hundreds of tons of duty-free silk and tobacco and brandy have been hidden.
Only a year or two ago workmen repairing an inner wall came across a smuggler's hole with the hoard still intact. There's an idea for a short Christmas story there.
I had no idea that old-time smuggling was such a highly organised business. In fact it appears to have been run on strictly modern black market lines.
There was an ingenious chain of supply which stretched from the captain, the owner of a fast boat who did the actual "shopping" in France or the Channel Islands, to the lander, who took over the goods on the beach and man-handled them inland to their secret hideout in some convenient church vault.
Hovering in the background with a bag of guineas, of course, was the big boss, or, as they called him then, the venturer. He was usually a wealthy shop keeper, merchant, or even the wicked squire himself.
Ranged against this formidable organisation was the Excise Officer, who had usually some 20 miles of coast to watch and a wife and family to provide for and two horses to keep out of his princely salary of £20 a year.
Of course, he got his small percentage of any contraband taken. But the remarkable thing is that in most cases he proved to be such a stern and implacable opponent.
What with billeting Wellington's anti-invasion forces on the one hand and smuggling on the other Rye somehow managed to make both ends meet. (No wonder John Wesley, who came here in 1783, found them "willing to hear the good word at Rye, but they will not part with the accursed smuggling.")
There were good pickings, too, for an enterprising privateer — which was a politer way of referring to a pirate on active service. One stout old privateer showed his gratitude — or was it a guilty conscience? — by presenting his parish church with a new altar of Spanish mahogany which had previously graced the captain's cabin of some peaceful Spanish merchantman.
This lovely old church, which some say is the finest in all Sussex, could do with a few more similar contributions. Like so many other exquisite monuments in England today it must go begging cap in hand for the £1,000 it needs to keep its beauty intact for another 100 years.
Then there is the Town Ghost — the only ghost I've heard of that haunts a public thoroughfare. According to the story, which you will have heard before you have drunk your second pint in any one of a dozen delightful inns, centuries ago a brother in the nearby monastery fell in love with the local beauty.
They decided to elope, but were captured. The unhappy monk was condemned to be bricked up in a wall alive. His ghost it is that haunts the place, for some strange reason gobbling like a turkey cock.
For that reason the scene of the hauntings has been appropriately called Turkey Cock Lane.
We never heard from him, though we gave him every opportunity.
But one day I intend to return and investigate the whole business in detail. It's as good an excuse as any for getting back to Rye …
Reproduced with permission
© 2022 Newspapers.com

Jerry F 2023