I tried this the other day following a recipe I found but tweaked it a bit.  The chicken needs to marinate in the fridge for at least one hour, and there is some preparation, requiring about 20 ingredients, plus beer, salt, and pepper.
To feed four to even six people (you can also freeze it)
You will need the following, nothing that exotic, and all available from your preferred supermarket:
Equipment:
Unless you happen to have a proper Tagine, a large casserole dish with lid is fine.
Ingredients:
Couple of chicken breasts
Couple of chicken thighs
Chicken wings if you want.

Spices:

Generous dollop of harissa paste
2 crushed and chopped garlic cloves
1 tsp ground cinnamon
1 tsp ground cumin
1 tsp ground ginger
1 tsp ground turmeric
1 tsp chilli flakes (Use half if you do not want a ring stinger)

Basics:

4 bottles of your favourite Old Hooky beer.  (Wine if you identify as female, or for the uncouth, 4 cans of Europiss.)
450ml/16fl oz chicken stock, (use your own or supermarket one)
100g/3½oz dried apricots, quartered (these melt to give a nice flavour)
Half a lemon
Some olives, any kind will do, even those nice stuffed ones.
1 normal tin of chopped tomatoes
1 normal tin of chickpeas, rinsed and drained
Bit of vegetable oil
1 large or 2 medium sized onions, sliced

Garnish:

salt and freshly ground black pepper
some freshly chopped parsley
some freshly chopped mint
To serve:
Couscous (if male and ghey), cooked according to packet instructions, perhaps some Greek-style yoghurt with some fresh mint in. Or simply plain boiled rice, add some lemon juice to the water, to give a nice flavour.
Method:
Open a bottle of cold Old Hooky and pour into a pint glass.   You will need to drink about quarter of a pint before commencing the preparation.
Mix the chicken breast and thighs (or wings) with the harissa paste in a bowl until well combined. For hygiene reasons, plus not stinking the fridge out, cover tightly with aluminium foil or cling film and leave in the fridge for at least one hour.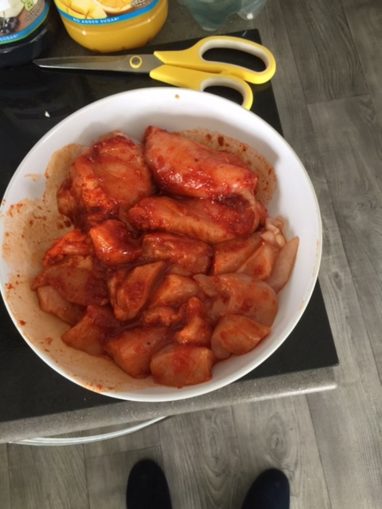 Finish off the first bottle of beer.
Mix the dry spices in a clean glass and cover with a beer mat or similar.  Chop up the dried apricots and garlic.
Open the second bottle and pour into the glass, taking care not to spill any.
Finish the second bottle off.  By the time this beer has gone down, you are now ready to remove the chicken from the fridge.
Heat the vegetable oil in the base of a tagine dish, or heavy-based casserole dish. Fry the chicken for about 4 minutes, turning regularly.  Remove from the dish using those tong things to leave the maximum amount of juice in the dish.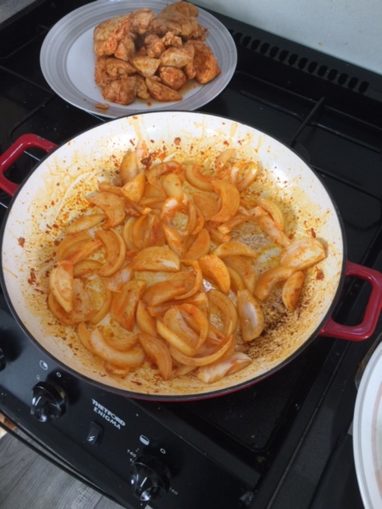 Fry the onion until a bit soft, takes about five minutes. Stir in the garlic and all the spices.  Grate some lemon peel into it as well.  Then a couple of thick slices of lemon cut in half.
Put the chicken back into the dish, along with the stock, apricots, and tomatoes. Season with salt and freshly ground black pepper. Needs a good stir.  Bring to the boil, cover with the lid and simmer for one hour. (Add the chickpeas and olives after 45 minutes and stir until well combined.)
Open the third bottle and pour into the glass, taking care not to spill any.
Stir every 10 minutes or so to stop it sticking to the dish.
Just before serving finish off the third bottle of Old Hooky, add the mint and parsley on top.
Serve alongside your rice or whatever side dish you like and the last bottle of Old Hooky.
Delicious!

© Phil the ex test manager 2022