Previously we have had Part 1 (Planning), Part 2 (Days 1-5), Part 3 (Days 6-9).
Welcome to the final instalment.
Day 10 — Careg-y-Big to Llandegla (20 miles)
The day started easily enough with some rolling countryside, up and over the shoulder of Selattyn Hill, before a steep little drop (100m) to Craignant and an equally steep rise up the other side followed immediately by a 250m plummet to Castle Mill. As it was summer I took the permissive footpath through the grounds on Chirk Castle.
This was just an excuse to go up another hill, but owned by someone posh, I didn't get to see much of the castle as I was passing through, I did see lots of signs for different walks, ticket offices, car parks etc; but nobody was about at the time I passed through. Looking back on the track out I did see the castle…just.
It was a gentle downhill stroll for the next 3 miles through more lovely countryside before I reached the Llangollen canal. I like canals they are flat, unless there are locks, flat is good on a long day. The ODP doesn't actually cross the Pontcysyllte Aqueduct, however it is well signposted so I think just about every walker (with a head for heights) crosses it and heads back to the path. I did! Been there, done it, bought the T-shirt and it is not that fantastic. I would like to cross it in a narrow boat as there isn't a guard rail on that side.
Just on the other side is Trevor, not a bloke, a village where I stocked up on food for the rest of the day and a bit extra for tomorrow, not sure why except my notes said to buy food.
Once out of the village it's back to climbing, up and up and up through Trevor Hall Woods, it's only a rise of 200m but it seems to go on forever. Once you stop climbing you get to a quiet road known as the Panorama Walk, it has great views over the valley and also up to the rocks high above on which you can see groups of people roped together trying not to fall off.
To be honest I was hot, knackered and being only halfway through still had 10 miles to go. I pushed on, resting when needed, to the end of the road where a right turn started me on the next climb. Serious sit down on a grassy bank, shoes and socks off and east the two pasties I had bought in Trevor, then started on the hobnobs, good job there is a pub at the end of the day. My peace was being continually disturbed by packs of about 8-10 youths of mixed gender doing what I can only presume was a Duke of Edinburgh event, the males appeared to be leading and talking football, whilst the young ladies were a good few yards behind talking reality shows.
Time to put the shoes on for the last push to Worlds End, along what I thought was the most enjoyable terrain of the whole trip.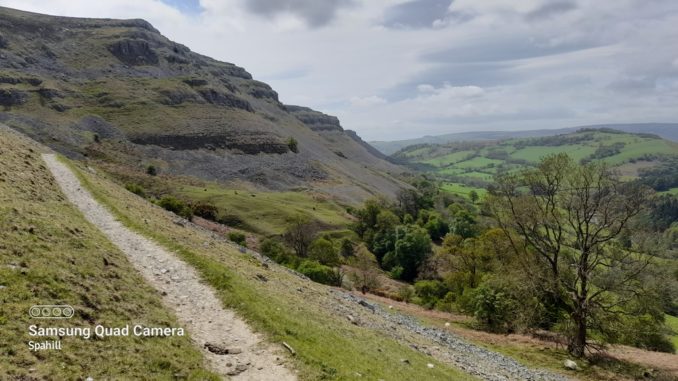 Followed by a delightful ford with stepping stones to one side. Just enough to raise the spirits before Hell arrives.
The road now rises very steeply through an area of conifer plantation, then it just rises steeply, flattens and goes up again before crossing a cattle grid and coming out onto open fell. The road continues to rise gently and is very exposed to the wind, luckily it was mainly from behind. After 30 to 40 minutes there is a left turn onto a path across the boggy moorland which has been laid with large flagstones. The crosswind now was playing havoc with my walking poles trying to trip me up and gaps between the flags kept catching the tips and wrenching my shoulders. Soon, but not soon enough I was back in a forest and heading the 2 miles downhill to the finish exhausted.
It was now I remembered Llandegla stores, I needed to visit them for more food for tomorrow and I had a bad feeling about the pub. Only an extra 1km there and back. I visited before going to the campsite as I knew I wouldn't feel like it later. The bottle of wine, blue cheese, more hobnobs, wine gums and a slice of bara brith made the backpack heavier, but it was worth it.
On arriving at the campsite, my fears about the pub were confirmed. Shut! It's a long story apparently.
The longest and hardest day so far dealt with, at least the campsite was nice. I didn't check the state of my blisters that evening, figuring if anything was amiss I was going to ignore it until after the last hard day tomorrow. I was walking to the end whatever.
Day 10 — Llandegla to Bodfari (18.5 miles)
A nice start to the day, my legs didn't feel too bad. A few less miles than yesterday, but with 8 significant climbs to get over. The last 3.5 miles being downhill.
The first 3 climbs were a pleasure through grassy fields with views down to Ruthin. The steep bits hurt a bit, 50 steps then rest, 50 steps then rest got me over them slowly, 20 steps in some sections.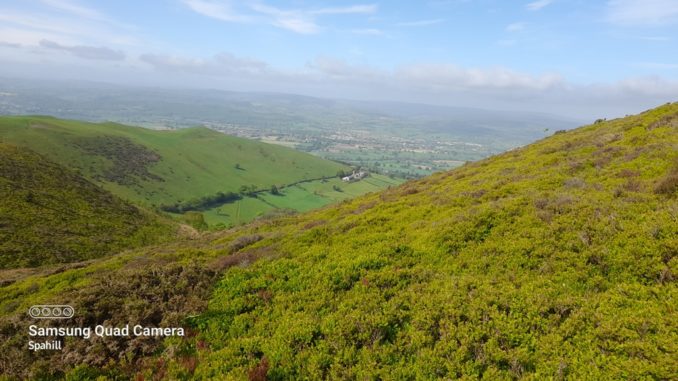 Hills piggin hills, though these are all Moels (mountains) with Bwlchs (passes) between them.
On top of the tallest is the Jubilee tower built in 1810 to mark the jubilee of George 3rd, it's fallen down and been rebuilt many times since. Here's a view, back the way I came, from it.
Y Plas, Llanfair, Gyw, Fenlli, Famau, Dywyll, Arthur and finally Pen-y-Cloddiau, names that will forever haunt my legs..
The emergency rations of Kendal Mint cake were called into action on the last hill. I was very surprised by the difference it made to my legs and how quickly it worked, guessing I had not been firing enough calories in and a whole day's calorific ration in a matter of minutes was like flicking on the nitrous oxide in the car.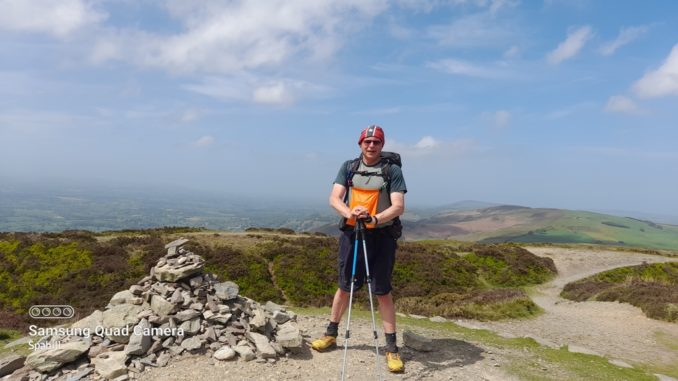 On arrival at the campsite I put the tent up for the last time, hit the shower block, then made a beeline for the pub 2 minutes away. Cod and chips, triple chocolate brownie and 3 pints of real ale.
I deserved that.
Day 11 — Bodfari to Prestatyn (13 miles)
Last day, not many miles to go, just 2 serious climbs and a couple of extra steep bits for the hell of it.
The campsite owners said 3-4 hours tops, but they don't follow the ODP which adds in hills for fun.
Rain showers forecast and the first hits just as I'm leaving the campsite, but I'm dressed for it again.
My train wasn't due until 4pm, but when I checked last night it had been cancelled, so it was going to be a dash to the station to see which I would be put on.
The weather soon brightened and I was back walking in my sleep gear, lycra is so much more comfortable and the ground passed quickly underfoot.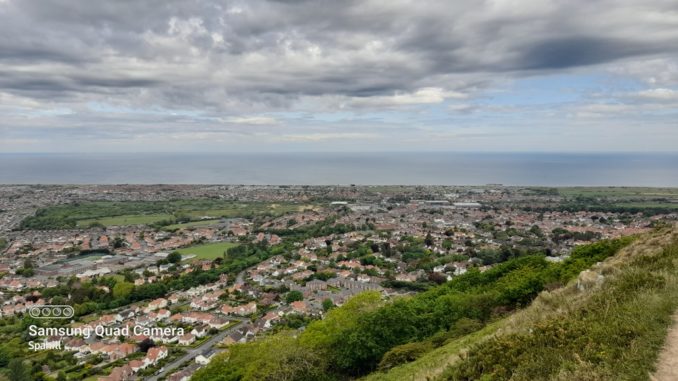 Stopping about a mile outside of Prestatyn I changed into something more modest for the journey home amongst civilization and steamed straight through to the finish. A little tear welled up as I got to the last 100 yards and another as I retrieved the small stone I had picked up at Sedbury Cliffs and tossed it gently into the sea.
Time for a photo before heading back to the train station.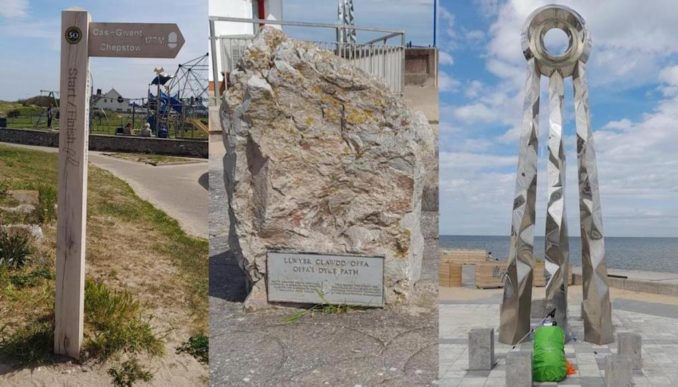 The journey home
I arrived at the train station at 11:20.
Explained at the ticket office that my train had been cancelled, they checked what trains were running and put me on the 11:47. Result.
Change at Chester – on time. Result.
Calling at every station between Chester & Port Talbot, I recognise some of these hills.
I have a comfy seat and plenty of space as train is quiet & I'm a bit smelly.
Wifi not working but I have plenty of data & can charge the phone in a socket.
Air conditioning not working, I don't care, swap long sleeved T for a compression vest, I'm cool.
Planet Rock on the headphones.
Train gets to Bridgend (last stop) and is terminated. A freight train has flicked up a stone & cracked the drivers windscreen big style.
BiL & SiL are waiting in Port Talbot to pick me up, so they drive to Bridgend to fetch me as it will be quicker.
Home just after 5pm.
Make a pizza, unpack bags and collapse.
The following week write a bit of this each evening.
All said and done the walk was easier than writing the article.
Hat tipped to all those who regularly put up articles.
Thanks for reading and I hope it wasn't too boring.

© Spa on the hill 2022