Previously we have had Part 1 (Planning) and Part 2 (Days 1-5)
Day 6 — Kington to Knighton (14.5 miles)
It was a cold night at Fleece Meadow, I was awake at 03:00 putting on more layers before catching another couple of hours kip. Breakfast from now on would consist of a couple of effervescent vitamin pills (Lidl) in a cup of cold water and any oaty biscuits I could find in my food bag. The vitamin drink was surprisingly nice and gave me a little kick start.
The path out of Kington is quite hard to find, but it was covered on the YT videos so I knew it off by heart. Straight away from leaving the town the ground rises rapidly and you pass through Kington Golf Course (the highest 18 holes in England). A little further along, a shady dell with a carpet of bluebells.
Up a bit higher and the land is given over to sheep with a view back to the misty Brecon Beacons which we crossed on Day 3. There is also some cracking walking actually on top of the Dyke today.
Three lumps on today's walk with golf courses to navigate at start and finish and a steep little descent into Knighton. Being a Monday only one of the pubs is doing food (others do Sunday lunches) so into the Horse and Jockey I ride for a couple of pints and a Hot Filly Pizza, whilst the locals are playing cribbage, that's my sort of pub. A quick stop in the small Premier Stores for some Hobnobs, cheese and wine, I'm umming and arring about popping back for a kebab later, but just in case…
Wobbling back onto the pavement I'm accosted by Pete who has been all day breakfasting in the Black Sheep Cafe and is giving it rave reviews, before returning to finish his mug of tea. I stop at the ODP Visitor's Centre, but it is closed, so continue on for a kilometre across the border/river and a train line before arriving at Panpwnton Farm Campsite. This place has a shed set aside for the happy campers and it has a 3 seater leather(ette?) sofa in it and a light, fridge, kettle, microwave. 5-star luxury. Later a chap from the bottom end of my valley walked past, he had basically walked from Port Talbot to Chepstow, was doing the ODP to Prestatyn, catching a bus/train to Chester then was going to walk the Welsh Coast Path back to Port Talbot (past Prestatyn). WOW.
Day 7 — Knighton to Mellington Hall (15 miles)
This section starts with a very steep climb as soon as you leave the campsite, once you have reached the top of the ridge you contour along for a couple of miles with great views down into the Teme valley. In fact there are a lot of steep climbs on this section without much rest between, especially towards the end of the day when 3 come at you, Churchtown has the worst of the lot. But before you get there is a treat, the halfway mark. It was fortuitous that I stopped where I did for foot repair and a rest as Pete caught me up and we were able to take photos of each other (filth).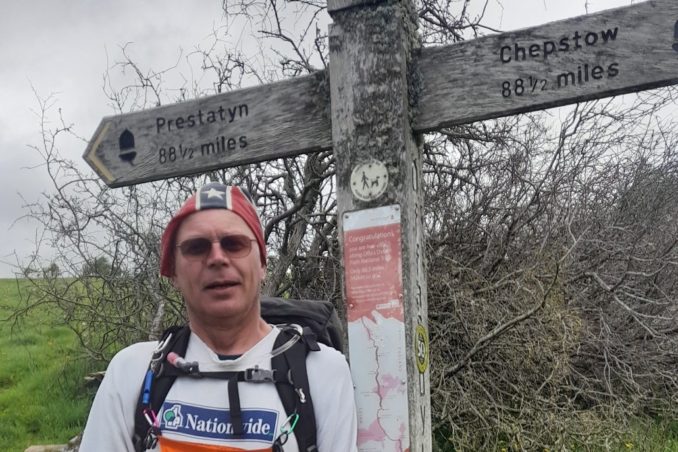 I pulled away again over Churchtown Hill and the following descent before making a wrong turning and having a lovely walk in the bottom of a valley through fields of sheep. My GPS and mapping came to the rescue and put me onto a bridleway through a wood back to the path, except the trees had been felled and the bridleway was no more. I persevered and added plenty of claret to my shins courtesy of the brambles. As I rejoined the path I met Pete again and we climbed the last hill together before sitting down on the grass at the top for a long rest. Two other walkers passed us and stopped for a chat, it's a very small world. One of them was probably my father's GP before he retired and the other lived less than a mile away.
It was only a couple of miles to the campsite at Mellington Hall, so we tootled down eventually after a tough old day and checked in. Claire and Alexander who run the place were really nice. Alexander talked about the hills and mentioned his uncle owns the Churchtown one and is tough enough on a motorbike. Claire made us some sandwiches, possibly the best roast beef and horseradish sandwich I have ever eaten, Pete had tuna mayo, she apologised for having to charge full price for my bottle of Merlot. It went down very well.
This was to be my last day with Pete as a companion as our schedules differed from here with Pete being able to take an extra day.
Day 8 — Mellington Hall to Llanymenech (21 miles)
Today was a wet day, in as much that it rained and rained and rained a bit harder, then threatened to rain. Subsequently the phone stayed in the dry bag (orange pouch) all day whilst I got wet.
As I knew it was going to be wet I was wearing my lycra sleep system and my sweatshirt under my waterproofs as they would dry faster than any of my other clothes. I didn't just get wet, I helped to get wet by wearing my waterproof trousers below the waist at the back. I must have lost a bit of girth since I last wore them a year ago. Rearrangements were made after a couple of miles, but I was damp.
In order to cut the days down, today was about 21 miles and basically all flat, I was missing out Beacon Ring to save 270m of ascent into the clouds for no view whatsoever and a similar descent.
It meant a long hike along a B road which got busier and busier as morning pushed on, however I arrived at Buttington for 11 am (too early for the pub) where Pete would be staying the night and crossed the dangerous bridge over the Severn, making my way to a Tuffins supermarket/petrol station for some takeaway lunch. It hosed it down as I approached and the staff looked on aghast as the swamp creature came through the doors and made puddles on their nice clean floor. A hot hotdog in a crusty roll went down a treat in the lee of the building, the double Mars/Marathon and Double Decker stored in the rucksack side pockets.
With 10 miles still to go I waded through knee-length grass alongside the Severn, before joining the Montgomery Canal where the rain subsided. I passed groups of school kids in Canadian canoes, the last group had 2 rafted together and were struggling badly. I called out for them to sing a song so they would all paddle at the same time, they seemed to take the suggestion well, but rapidly drifted out of earshot. Back to following the Severn again through fields of cows and the sun came out, it became warm. I stripped off to my underclothes; the Capri pants could really do with a codpiece, but hey ho who will be staring out here. I marched on in the glorious sunshine to Four Crosses to where I was buying food for the night, got to the end of the village and realised I should have turned left half a mile back to get to the shop.
Bother! Retracing my steps I found the garage/Costcutter (Morrisons under refurbishment) and purchased the necessities (wine included) before heading back to the Montgomery Canal and a 500m detour to the campsite. Although there were lots of touring caravans on the site all but two were only used on weekends, so pitched out of the wind beside one and collapsed exhausted.
Day 9 — Llanymenech to Careg-y-Big (11.5 miles)
Today is the shortest day of the walk, not counting the 1st day which was only a half-day with travelling. The following two days will be pushing towards 20 miles each and I wanted as much rest as possible into my legs. Having said that, there are still two stiff climbs to get over.
I set off quite late aiming to hit Trefonen at 12:00 for opening time at the Barley Mow, I would of made it if I hadn't marched straight past a well-camouflaged signpost on a stiff uphill road section. Luckily an elderly resident of that parish asked if I was doing the ODP and told me how far to go back down the hill to find the stile, I got the impression I wasn't the first.
Anyway, I found the Barley Mow and it didn't open till 5pm. Rowlocks! Back to Trefonen Post Office & store to purchase lunch, evening meal and more hobnobs. I knew the campsite had a kettle so I got a pot noodle, it was worse than I remember. On past/along Oswestry Racecourse, there's not much left of the grandstand as the last race was in 1848. I think Jesus had his last winner here.
A short flat section to Carreg-y-Big, or the "Oswestry Equestrian Centre", described as very relaxed. Relaxed, it was fast asleep and nobody home. After a couple of hours when I eventually found someone to pay, I was pointed to the large hut/shed that was unimpressive from the outside, but very homely, yet functional ablution wise inside. I sat at the breakfast bar for the evening, reading a book by Sandy Toksvig and John Mccarthy (Island Race) about sailing around the UK, better than the ingredients on the back of the pot noodle.
Nightey night campers
To be continued.

© Spa on the hill 2022