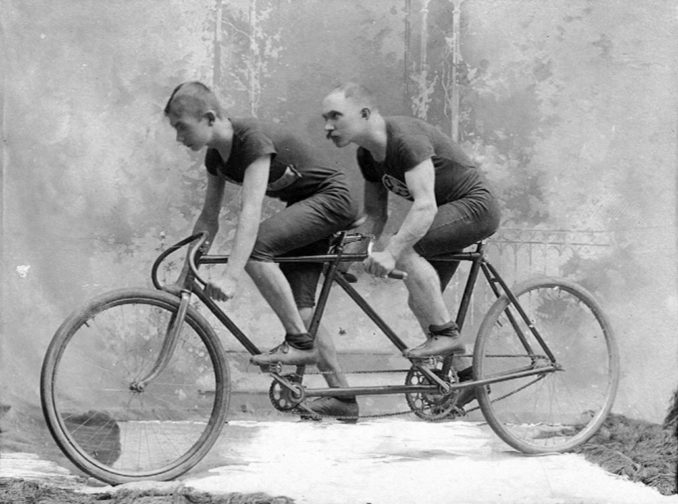 I suppose it must have been during the 1965 Easter break from the Sixth Form that Bogs, Cough, Pat and myself decided that during the summer months between the AS level exams and the start of our final A level year in September that we would head off to the South of France for fun and frolics. And we were going to do it on bicycles – or more precisely on two tandems.
The logistics of this cunning plan – like most things to 17 year-olds then and now – were entirely overlooked in the enthusiasm for the idea. We all lived in and around Croydon at this time so we planned to take a "short cut" by cycling to Tilbury and then taking a ferry to Calais. Why we never thought of getting a train from East Croydon down to Newhaven and starting from Dieppe I'm not too sure but I suspect we never looked at a map to ascertain the mileage involved or the time it could possibly take to venture as far south as St. Tropez but the lure of les jeunes filles a la Brigitte Bardot rather blindfolded us to the amount of effort involved in getting there.
First up, we had to find two tandems. Secondhand of course. We duly located them, handed over £40 and began to make plans. It was at this point that Bogs dropped out leaving we three blokes, two tandems and four seats. Unknown to myself and Cough, Pat had a quiet word with a fellow sixth former who went by the highly appropriate nickname of Dreamer. Dreamer was the form druggie, popping purple hearts and stuffing the fatest birds he could find at parties. His choice of venue d'amour was always the toilet and it has been a mystery to me for the last 55 years that he ever found willing partners. But he did. Cough and I weren't overly enthusiastic that Dreamer would be our fourth venturer and it was with some relief that a couple of weeks before the off his mother put her foot down and put him under virtual house arrest. She – and we – had visions of the mayhem that Dreamer could get himself into on the loose in France. (It was not totally surprising to learn many years later that Dreamer had more or less frazzled his brains on a variety of drugs and was living half-way up a hill in a remote part of Ireland, cultivating potatoes).
So we were left high and dry with two tandems and three riders. Cough decided that Pat and I would use the one tandem and that he would use his own racing cycle. Whilst the tandem was a robust affair and, as you will learn, stood the rigorous journey pretty well a racing cycle is not built for long journeys carrying heavy panniers on both front and rear wheels. The ping of cycle spokes overloaded with the weight combined with the rough roads was to become a regular occurrence and a day where one or more hadn't popped was marked as a success. We became very familiar with cycle repair shops on our tour.
So we set out very late one night in mid-July and headed through Bromley, Bexley and on towards Dartford. Bear in mind that the M25 had not been built at this time and the two bore Dartford Tunnel had only been open a couple of years by the time we three pedalled up to the specially adopted bus that would transport us and our bikes to the other side. A short 5 minute ride and we were through and on towards Tilbury to catch the early morning ferry to Calais. The sea crossing completed we finally touched down on French soil early afternoon clutching our thin card one-year visitor's passports and off we set. And it started to rain.
By the time we hit the hinterland behind Boulogne it was getting dark and the rain had intensified. Time to park up and break out the tents. It was at this moment that we learnt that Pat had brought along a tent that hadn't been used for over 10 years and had been slowly rotting away in his parent's garage. Having erected it, we discovered that the rain had very little problem in going straight through the canvas and on to the ground sheet and sleeping bags. We had no option but to all bunk down in Cough's one man tent which had, at least, some semblance of interior dryness. Cries of "don't touch the fucking sides!" resounded throughout the night. The next morning we broke out the meths fuelled camp cooking stove and set about attempting to cook some breakfast but we quickly learnt that the size and strength of the flame produced by the stove would mean that a road tanker sized quantity of meths would be needed to get any kind of heat transferred to the saucepan of water. Fortunately some fellow campers looked at our pathetic stove, laughed at us and invited us over to have breakfast with them. As we left the campsite that morning we dumped the redundant tent and cooking stove into the bins and vowed that wherever we could we would stay in Youth Hostels and do the cooking in a proper kitchen.
Heading south we reached Abbeville by lunch time and checking the map we realised, for the first time, that we had no chance of ever reaching the south of France in the two weeks we had allocated (2 weeks down, 2 week's shagging, 2 weeks back). In addition Cough's front wheel had just pinged it's first spoke we had to locate a cycle repair shop before going any further and our arses were beginning to fray at the edges, unused as they were to long bicycle journeys. We remedied the latter by tying towels around the saddles which softened the battering on the buttocks, especially on Cough's racing saddle which had never been designed for this kind of road, distance or arse (Cough was a little on the large size). While waiting for the repair we took another look at the map and considered the options. We definitely wanted to end up on a beach somewhere and looked at the Bordeaux region. " Let's try for La Rochelle", said Pat, "nudies there". If you thought "The Inbetweeners" was a modern phenomenon you'd be seriously mistaken. With the magic word "nudies" our new destination was fixed. La Rochelle it was. New spoke fitted, we set off for our overnight destination Blangy-sur-Bresle where we were to meet our first tres jolies filles, an irate father wielding a sharp instrument and the imbibing of way too much Muscadet wine. You will find out how we escaped with our lives intact – just about – in the next thrilling episode.

© Roger Ackroyd 2022 (republished from 2019)

Roger's book.
The Goodnight Vienna Audio file