You don't need me to tell you that the last two years have been unprecedented. Our normal routines disrupted, jobs destroyed, way of life and freedoms removed all in the name of a bug.
While that side of things has been discussed endlessly, I thought I'd give you an insight into one of the complications of the new regime – the drive to stop us plebs travelling for holidays (in the name of Covid/Zero Carbon etc.)
In the aftermath of Christmas 2019, I usually look to brighten up the long dark January month by booking the family summer holiday.  You're showing your age if you can remember the adverts for a telephone to ring to have brochures posted out to you – they always started on the 27th December and ran for a month or so endlessly.
The kids are getting to the age where they need to go away with their friends rather than us, but this last one should do – a week in PortBlue resort just between Alcudia and Port Pollenca in the north east of Majorca. We had been to Port Pollenca two or three years before, to a hotel in the town, loved the location but having driven past this resort saw the tennis courts and other facilities that looked interesting – Mrs. SD is a tennis nut, so getting her onto the courts would mean I could hire a very nice road cycle and tour the area.
The island is very accessible from the regional airport, with often two or three flights a day from different carriers meaning competition keeping the prices low. I booked direct with the hotel for five of us in two rooms (a 'suite' where the youngest would be on the lounge sofabed and a normal room), all inclusive for the week and separate flights with Jet2 who had better flight times than Tui or Easyjet (all similar prices). Hotel – 3500 Euros for a non refundable ticket but joining the loyalty scheme gave 1.5 hours in the spa each day for free. Flights around £1510 for July 2020. Not cheap but what do you expect with three fully grown kids. The middle one would drink more than that if he got the choice, so all inclusive was a way to keep the costs from going wild.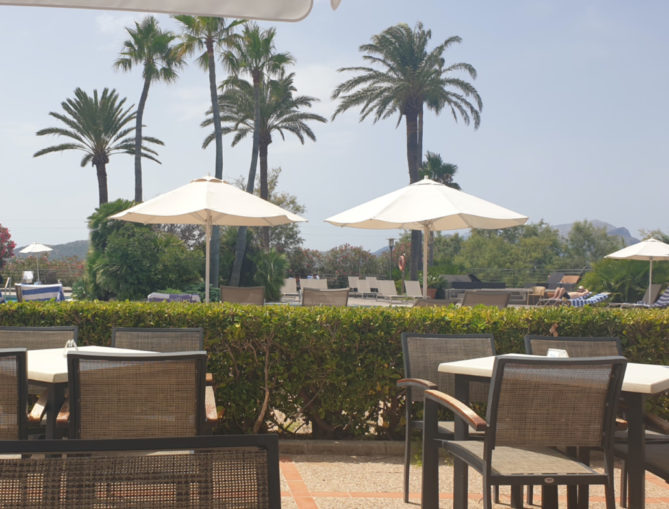 Covid struck – all bets were off and as with everyone else I had the trial of looking to recover the money. As the situation was uncertain it wasn't until nearer the time that it was certain we could not go. Jet 2 refunded the money without any complaints, the hotel pointed out that was a non-refundable reservation (uh-oh) but in the circumstances would honour it at a future date. (phew). The insurers naturally found a way of wriggling out of paying up anything (what do you expect for a policy costing £20) so we were left with a future booking credit note, paid in advance.
This year came around, I thought we'd give it another go – but having debate with the kids decided the oldest two (22 and 20) really need to strike out by themselves and holiday by other means – only three of us would go. I amended the booking to be two  good quality rooms, leaving a small amount of positive balance to cover things such as tourist tax and any purchases. The hotel were helpful throughout, emailing back quickly and setting things up without problem. Having been treated well by Jet2, and having heard the horror stories of people trying to get refunds from Easyjet, Jet2 were the simple choice for flights once more, booking Sunday out and back in August for three (with 2 suitcases) – £1065 including their covid insurance.
As the year progressed Mrs. SD kept watching the news wondering if we'd ever get out – as the destination moved from Green to Amber to etc. etc. well you know the gaslighting that was going on. The daughter had persuaded her Spanish boyfriend and his parents to visit the island when we were there – she'd met him pre-covid when he'd visited the UK on an exchange and they'd kept in frequent touch – an ideal boyfriend from a parent's point of view, better they were on facetime than hanging around the house/streets that a local one would have involved. She was stressing if we'd not be able to go. Mrs. SD and daughter were both vaccinated, I of course am not – so they were trying to pressure me to have the jab 'in case they change the rules and you can't go' – no I'm not getting poisoned for a holiday was the reply.
To show they were jabbed, they had to go onto gov.uk to get a vaccination proof document (the card on the day won't do) and I had to have the test proof. All need linking to passport numbers to stop you getting anyone to do the test – your number is entered just about everywhere so expect to learn it off by heart!
As time went on, Jet2 frequently updated and reassured us of the situation and eventually confirmed the flights were going ahead. Spain remaining on Amber status meant we could go if I passed a PCR test 72 hours before flying and there was an additional 'passenger locator form' to fill in for the Spanish authorities – tip – make sure you print those off, as the 3D barcode (QR code) is needed for entry. We also had to pre-book tests for when we returned and have those references available. In all they're trying to make international travel as uncomfortable and hassled as possible to put people off. Diehards will still travel, waverers will go to Cornwall until they get a year or two of washouts and look to warmer places once more.
One last change – Jet2 moved us to the earlier flight of the day (most likely consolidating two into one on light bookings) – no bother, it was a more expensive option at no extra cost, giving us half a day extra for free.
For the tests there are plenty of options – the airport do them and Jet 2 gave a list of possible options. For going out unvaxed it has to be a PCR test – the type that is sent away and costs £85 – £120. The airport option was £100 plus parking (another tenner?), Boots did them for £85 and free parking, so went with that. You book online, their website links to a test provider page which has unsurprisingly been cobbled together in a hurry and needs patience to work through, and care to pick the right tests.
The test meant 10 minutes in a back room with a nurse who tickled tonsils and halfway up the nose with a swab (not right into your skull as the horror videos show) then sent it off. In less than a day it came back negative – we were free to go.
Jet2 have an app – it is fantastic, not only do you pick your seats long in advance, get boarding cards etc. but you can also store any documents you may need on there as pdfs or images – so pictures of all the locator forms and proof of tests were stored direct on my phone using the app – even if you had no signal, they were still accessible, just don't run your phone flat playing games. As a frequent/cautious traveller I'd printed all the forms off and had a folder of them as well.
The airport didn't have the usual buzz of previous years, but at least it was open. A number of flights were leaving, so it had probably 2/3rds of its usual melee, the queues to security just as long as normal.  Check-in waived through luggage that was overweight without charge (only a couple of kilos each case) and had a flick through vaccination status/ test proofs.
The flight was quiet – maybe just over half full, so disappointing for them, though the crew were obviously delighted to be back at work and did a fantastic job of making the 2 ½ hours pass quickly. You have to wear a mask from the moment you enter the airport, on the flight, transfer bus into hotel so buying a cup of tea onboard and making it last gives you an hour or two maskless.
Palma airport was fine, not as busy as in the past, but plenty there. Their passport control has lots of auto-machines and booths, so you don't queue for very long. They did have an additional step after passport where you had to show the barcode I was talking about earlier from the locator form, so having that printed out worked well. I'd hate to get to that point and have to start to fill something in online in the airport corridor.
The hotel itself was also about 60% full, pleased to see everyone though with slightly reduced offering – one of the restaurants being closed for the season. You had to wear masks when indoors but they were doing the usual buffet service and staff were very friendly though firm on the mask rules – no bandanas, proper or cotton masks only.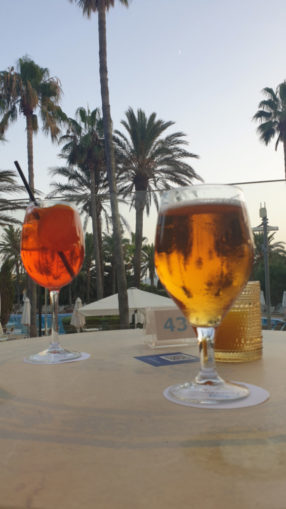 Hot? Too right it was hot – hitting 38C on one day. That curtailed my cycling (40 euros for a carbon fibre £2500 bike for the day!)  but I did get out in the early morning to explore the lanes away from the main roads – a world of difference only a few yards from the hotspots. The evening also gave me the chance to get out, but heat emanating from the cliffs and rocks meant climbing some hairpin hills was at risk of heat exhaustion and cut short. I had taken my own helmet, pedals and shoes and the hire firm (on the resort) were used to that sort of thing and found me a bike big enough, letting me pick it up the evening before to get an extra run out – the breeze from movement helping to keep things bearable. Most of the roads are in excellent condition and most of the main ones have either cycle lanes or a white line to keep the traffic away. I also found a handy waterproof map of the island just for cyclists that showed the best routes – the quietest roads parallel to the main ones.
Mrs. SD had her tennis lesson – one morning at 8am but even then the heat was stifling with no wind, around 31C and she was puce for a couple of hours afterwards, spending some of the lesson just trying not to faint.  Most days the daughter would head off to see the boyfriend – we met him. At 16 he was slightly younger than her, he was very nice excellent English, polite and obviously besotted, just following her around like a puppy. She was definitely in charge there, so no alarm bells ringing as a dad. We'd get a taxi into town after evening meal and pick her up – as they'd be eating out late.  Mrs SD met his mother at one point and they got on well – so all good. As anyone with kids knows much of a holiday usually centres around the kids, in this case it was simply plans fitting with pickup/drop offs.
Two days before our return we had to get tested again – this time all three of us, but only needing a lateral flow test carried out by a nurse. The hotel had laid on sessions every morning for people, and a queue quickly built up – we were early, but some will have had to wait for a couple of hours to be seen. One done, fill in the UK passenger locator forms – typical UK.gov civil service doublespeak. They needed all the usual details of where you'd stay, vaccination status, but also references for the booking made for 2 days after return and day 8 for myself. Interestingly it looked as if the 17 year old didn't need to have the day 2 test as it had her as a 'minor' linked to my form – well there's £75 wasted. All the guidance is vague, the penalties of not doing stuff unexplained. What happens if I fail the day 2 test? I'm home quarantining for 10 days anyway? How do I post the day 2 test when I'm not allowed to leave the house (no there was no courier option with it). Other than soaking travellers for cash those tests seem to have very little use. They wanted  to know not just flight number and time, but which seat you were going to sit in – so any change to seat and it meant resubmitting for a new form – around 20 pages of questions on the awful gov website, obviously trying to cover every possible eventuality people could do. I'd hate to work for the ones having to create that stuff – no wonder they're constantly advertising or IT contractors.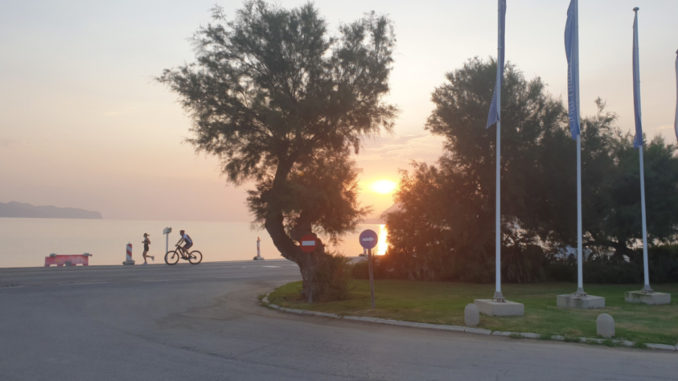 Palma airport on the way back was excellent – lots of X-ray machines so no queues and once the check-in had seen the various docs there was no further hassle. This flight was busier, with 139 on a 737 so not far off normal numbers.
I expected the UK airport passport control to be difficult, but they didn't need to see anything – as the locator form was linked to the passport – for once government big brother tech linked things up and the swipe of the passport was all that was needed to get through to the baggage hall and traditional 45 minute wait for the cases. The airport was empty – we were the only flight, the short stay car park could have had tumbleweed blowing through it – not a good sign in the middle of August for a holiday airport.
Now we're home, it's the usual run of washing, but also of 'self isolation' for me. The others can go about their lives as normal. For me I could pay yet for another test at day 5 that gives 'early release' but to be honest, I've nowhere in particular to be – work is done from home and it means someone else gets to do the shopping, so no great hardship. I had heard that some unscrupulous people only put their home phone numbers on the locator form – why anything else when you're at home all the time – maybe you've no signal at home? It may be at GQ's bidding or others, but those unscrupulous people then put the phone off the hook, leave the mobile and any gps watch at home while nipping out. He has a lot to answer for.
No calls or visits from those helpful government employees this far. We'll see how long that lasts.

© Sweaty Dave 2021

The Goodnight Vienna Audio file