Part Three of the Postcard from Romania covered our visits to the indoor and outdoor sections of the terrific Transylvanian Museum of Ethnography (Muzeul Etnografic al Transilvaniei), a jaunt to Satu Mare on the wild (north) west frontier, and a fabulous night at the not quite opera! Right at the end, I mentioned that we'd been recommended somewhere special to go for a meal on our last night in Cluj.
The following day would see us boarding the train for the almost ten-hour journey to the capital, Bucharest. But, tired, footsore, and a tad despondent at the prospect of leaving Cluj, our priority was dinner. After a refreshing shower (we'd taken it far from easy, and it had been a long day at the museum) off we ambled towards the district of Mănăștur, on the outskirts of the city's centre, to this unique venue—a brewery!
The National Archives show that there has been a brewery on this site since the early eighteenth century. The roots of brewing in Cluj began long before, with the production of 'small beer' here, in the Saxon tradition, from the 13th century. The first brewery, in the modern sense of the word, was founded in 1878, when Jesuit (Society of Jesus) monks established a brewhouse and beer house, to serve both the abbey and the lay population of Cluj. This was not uncommon—many medieval religious orders across Europe had founded and maintained breweries within the walls of their sanctuary.
However, the fact that it was the Jesuit order (founded by St. Ignatius of Loyola and noted for educational, missionary, and charitable works) who founded the brewery is quite interesting, as the abbey at Mănăștur is the Calvaria Church, and was established by the Benedictine order during the 9th-10th centuries. Would they have brewed there, even if only for their own consumption? It seems quite likely.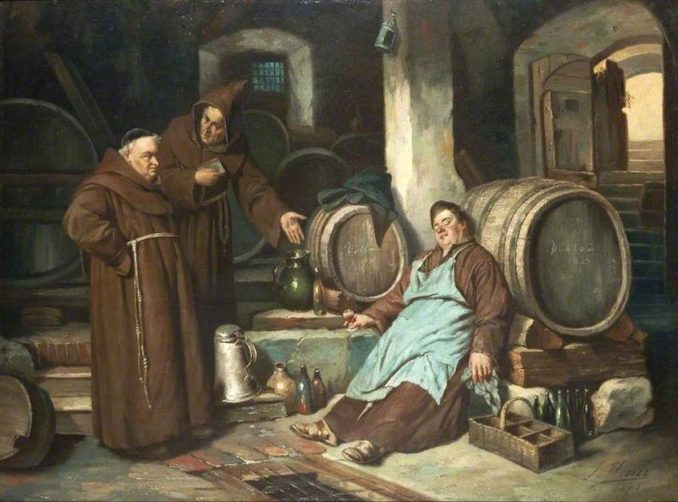 Figure 1: 'Monks in a Cellar'
Joseph Haier, Public domain
During the Middle Ages, members of religious orders became master brewers (both brothers and sisters, since it wasn't until the 16th and 17th centuries that the dominance of brewing in Europe shifted from a women's profession to a man's trade). Some say that the religious orders actually perfected modern brewing techniques. Indeed, in 1627, the Jesuits in Brussels recommended a standard recipe for 'good beer' to be brewed at their monasteries. This was a strong, three-grain amber beer, brewed from wheat, barley, and oats (or spelt).
A similar recipe is used in the present-day production of Brouwerij Bosteels 'Tripel Karmeliet', with barley contributing the beer's colour, body, and distinctive flavour, wheat affording the beer a light and delicate aroma, and the oats delivering a creamy mouthfeel and silky finish.
However, the political shenanigans which paved the way for Pope Clement XIV's 1773 papal bull, Dominus ac Redemptor (Clement XIV was a Franciscan) led to the abolition of the order and the expulsion of the Jesuits. All of their property, including the Cluj-Mănăștur brewery, was reassigned to other religious orders or to the state, or simply shut down.
The history of the current brew house began with Friedrich and Wilhelm Czell, wealthy industrialist brothers, in 1878. Production had continued after the expulsion of the Jesuits and it was simply called 'the brewery' ('Fabrica de Bere Cluj). Documents of the time mention the special quality of amber beer, produced by the Cluj brewers' guild. A few years after the First World War, it was drastically modernised by the last tenant, Friedrich Czell, and the brewery operated for a while under the name 'Czell Brewery'.),
In 1927 the company, owned at that time by Dr. Wilhelm Czell, merged with (some say was sold out to) the Fabrică de Bere din Turda (Turda Brewery), and became part of 'United Brewery from Cluj and Turda Ursus SA', which it remained until 1948, when it changed its name to 'Fabrica de Bere Înainte–Cluj' (an odd name, meaning 'Brewery Before – Cluj'). With investment and improvements in production lines, the first pasteurised beer in Romania was produced here, in 1958, and by the 1960s and 70s, 'Fabrica de Bere Înainte–Cluj' produced several varieties of beer at the site: Bizon, Napoca, Someșul, and Ursus.
Tragic events affected the brewery in December 1989, as Cluj became a focus of rebellion during the Romanian Revolution. Twenty-six non-violent protesters, demonstrating after the Timișoara massacre, were shot and killed, with around one hundred and seventy others injured, gunned down by the military or Securitate officers. Of the dead, four were killed at the Beer Factory, eleven in Piata Unirii, others shot at Calea Moților, a further four in front of the Astoria Hotel, and more at different locations across the city. A bronze 'Monument of the Revolutionaries' (also known as the 'Shot pillars') now stands at the edge of Piata Unirii to honour the memory of the victims, near the intersection where Razvan Rotta's photographs from the time show the streets littered with the dead and dying.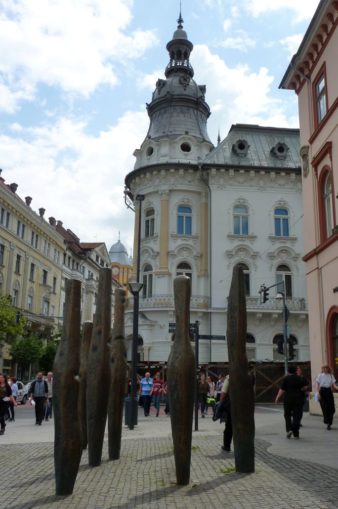 Figure 2: Monument of the Revolutionaries
© SharpieType301 2018
But the brewery slowly recovered in the post-Revolution years, until Ursus beer had the highest consumption figures of any in the country. From 1993, Ursus Pils, the first Romanian beer following the Pils recipe was produced at Cluj. This was followed in 1994 by Ursus Premium Pils, targeting the upper segment of the market (the first Romanian beer called 'Premium'). This was also the first Romanian beer supported by TV commercials.
Beer big boys, South African Breweries of Johannesburg (SAB) bought the company in the mid-1990s with an eye to a healthy profit. Although brewing continued at their other brewery sites in Romania, they decided to cease production at Cluj, with the loss of 150 jobs. In the meantime, the millenium saw the launch of Ursus Black, and in 2002, the Ursus and Timișoreana breweries merged, to become Comapnia de Bere România S.A. In 2010, the old brewery buildings were demolished (to the disgruntlement of local residents), to be replaced in July 2011 with a more modern production facility built on the ruins of the old site.
Beer had become popular in Romania during the 19th and early 20th centuries, and a significant quantity of beer produced in Transylvania (from over thirty breweries, in 1898) was enjoyed countrywide. Nowadays, one in every three beers sold in Romania is a Transylvanian beer, in fact an Ursus brew—their slogan, of which they are justly proud, is 'Ursus, regele berii in Romania!' (Ursus, the king of beer in Romania!).
No longer a local brewery, in 2017, Ursus were acquired by and are now owned by Asahi Group Holdings, Ltd., and as a major player, they sponsor such events as the Transylvania TIFF Film Festival and the biggest music festival in Romania, UNTOLD, which I guess gives a flavour of the brews on offer.
Today, an explosion of microbreweries has launched across Romania as craft beers have become fashionable. The old monastic brewery site is now the craft Mini-Brewery arm of The Ursus Brewery (appropriately named Fabrica de Bere Ursus) and the brewery retains the delightfully charming Carpathian Brown Bear (Ursus arctos) as its emblem, as it has from the beginning.
To be fair, their Ursus Premium doesn't get bad reviews. It is described as a clear yellow-gold brew with a fizzy white head, having a mildly pungent, sweet aroma with malty overtones, a light-to-medium, grassy hop bitterness with hint of lemon, and many of the herbal characteristics and buttery notes that characterise the better Czech and German beers. Oh, and a nice lingering bitterness in the aftertaste, finishing crisp, refreshing, and delicious. Mr S chose this and said it was 'OK', but not Landlord.
I'd decided I'd try the Ursus nefiltrată (as it is similar to the beers once brewed at this location many years ago). Brewed from simple, traditional ingredients (water, malt, hops and yeast), it is only served on draft as it is an unpasteurised, fresh beer with only a 7-day 'shelf-life'. The nefiltrată is straw-golden in colour with a misty-opaque look, and a nice white foam. Not being heat treated, it preserves an attractive yeasty-bready smell. Slightly sweet and nicely malty, I rather liked it. They also brew a schwarzbier, a dark lager called Ursus Black which I would have liked to try, but the thought of a ten-hour train journey with a sore head made me reconsider.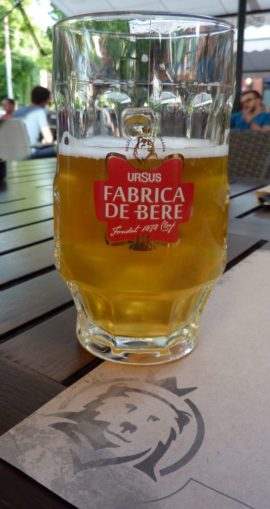 Figure 3: Ursus nefiltrata
© SharpieType301 2018
Whilst the principal attraction of Fabrica de Bere is, of course, the beer, it also hosts one of the most popular eateries in town. An attention-grabbing feature are huge glass walls inside the brew house, so customers can see some parts of the brewing process (the containers in which the malt is boiled, the yeast ferments, and the hops are added) while they eat and drink. The menu was primarily steak, burgers, ribs, and similar, with the almost-ubiquitous fries, so we were a bit taken aback and not a little disappointed, having expected rather more robust, traditional Transylvanian fare.
But thankfully, I spotted that they offered Pljeskavica, the national dish of Serbia, a grilled spiced meat patty made from a mixture of pork, beef and lamb. Think of it as burger with attitude but no bun. It was served with Serbian bread (pogača, the traditional bread found on tables across the Balkans), and Srpska salata, a deliciously spicy pepper, tomato, cucumber, and onion salad. I hadn't eaten Pljeskavica for nigh on thirty-five years so we both chose it, and it was delicious.
Happy and replete, we walked away as the sun was beginning to go down. The red-gold light was spectacular, gleaming on the green-glazed tiles and ochre walls of the beautiful Cock Church (now renamed in these days of woke madness as 'The Church with the Rooster').
Figure 4: The Cock Church
© SharpieType301 2018
The church is the work of architect Károly Kós, leading architect of the Hungarian National Romantic school. The positioning of the bird on the tower of this Reformed church is significant, as the cock (or rooster!) is a symbol of vigilance, and also of light because he declares the dawn of a new day. He is a beneficial influence who watches over the area, safeguarding against dark deeds which are almost always done under cover of night. According to legend, Satan can only execute his devilish activities until the first 'cock-a-doodle-doo' of the day.
As we wandered roughly in the direction of 'home', we passed a man washing down the pavement outside Heltai House (the Printing House), on the small street we'd turned down to get away from traffic. We nodded 'hello' and smiled, and he gestured for us to step inside. The 15th century building is where Gáspár Heltai established the first printing house in Cluj, the most important printing press in Transylvania.
A religious reformer (along with Ferenc Dávid, founder of the Unitarian Church of Transylvania), Heltai was a pastor, translator, printer, publisher, writer and businessman owning, amongst other things, his own paper-mill. Despite being a native German speaker, he produced an almost complete translation of the New Testament in Hungarian as, with the spread of Protestantism, there was a growing need for books to read in the Hungarian language. His books, for the new-found reading public, were richly ornamented with wood-cut illustrations.
Upon Gáspár's death in 1574, his widow carried on the printing press. One of the most significant books to come from her press was the 1578 Herbarium by Péter Melius Juhász, the first botanical and medicinal European 'herbal' in the Hungarian language. This preserved the names, name variants, nature, and benefits of more than 1200 plants.
Figure 5: The 1578 Herbarium
Péter Melius Juhász, Public domain
Now acting as a Hungarian cultural centre, at Heltai House there's a hostel, a folk-pub, a conference centre, and restaurant—the daily special looked really good (pea soup, chicken paprikash with pasta and bread, all for 13 lei, around £2.50!). We sat in their tree-lined courtyard, enjoying a welcome coffee, surrounded by enthusiastic young people laughing and drinking beer, one playing a guitar as others sang a (Hungarian?) folk song, accompanied by the twittering birds in the trees above them. A delicate mix of cigarette smoke and the smoke from an herbaceous plant that Juhász would doubtless have recognised, floated on the still air.
We ambled back towards the Déjà Vu Guesthouse (where we were staying), packed our last few bits and bobs, set the alarm and settled down for our last night in Cluj. The morning's alarm came all too quickly, but down we went to reception to check out and book a taxi to the railway station. We had a pleasant surprise as the lovely girls at the hotel (Floriana and Laura) had prepared us each a beautifully brown-bagged 'breakfast to go' as they knew we were leaving so early to catch our train.
The taxi duly turned up, but the driver must have been a distant relative of Juan Fangio—we reached the imposing railway station exceedingly early! Plenty of time for coffee though, so we settled down in the café-cum-bakery to watch the morning's travellers.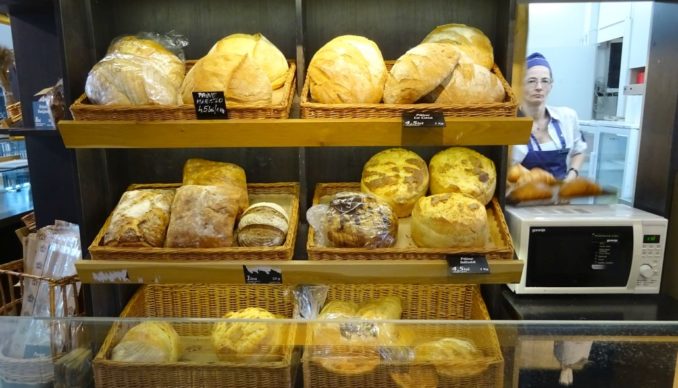 Figure 7: Bakery at Cluj Railway Station
© SharpieType301 2018
The rail network in Romania is operated by the state railway company, Compania Naţională de Căi Ferate Române (CFR). Although you can buy tickets easily enough from rail stations in big towns, tickets can also be purchased up to 30 days in advance. We had done so online, from the comfort of our own home with the willing assistance of one of my Romanian friends and were quite glad we had.
We'd chosen to travel first class as our friend assured us that, although by no means luxurious, the compartments would be a bit roomier, marginally more comfortable, and cleaner. She'd also strongly recommended that we book an InterRegio (IR) train, not the cheaper Regio (R) type trains, and she'd actually shuddered when she realised that we were contemplating travelling R. We later discovered that the R trains are often ancient, so prone to breaking down, uncomfortable, and slow as they have the lowest ranking on the tracks, stopping at every village and sometimes in the middle of nowhere for an indeterminate time if a faster train needs to pass.
Figure 8: Luxurious First Class Travel
© SharpieType301 2018
At Cluj station the train-times boards were nice and clear, so we duly headed for Platform 3 when instructed, to look for wagon 3 (first class, no less) and seats 12 and 14. We'd been mildly uneasy at these numbers, wondering if we'd be sat together. Not to worry, they were side by side in a compartment off the side corridor. Sharing this with us was a single elderly gentleman who smiled and half-bowed as we stepped into the compartment. We set off right on time, so we were happy. Seamless.
The journey was to take us along the route marked in red on the map. Some of the way we were to follow the path taken by Jonathan Harker, the young lawyer in Bram Stoker's 'Dracula' novel. Like us, travelling in May, Harker spends the night in Klausenburgh (now Cluj-Napoca), staying at the Hotel Royale, where he dines on 'paprika hendl', a dish of 'chicken done up some way with red pepper'. This is the thick, tasty, rich stew of Hungarian origin, chicken paprikash, that we'd missed out on at Heltai the previous night. The next morning, he too had to hurry his breakfast to be on time for his train journey south towards Braşov.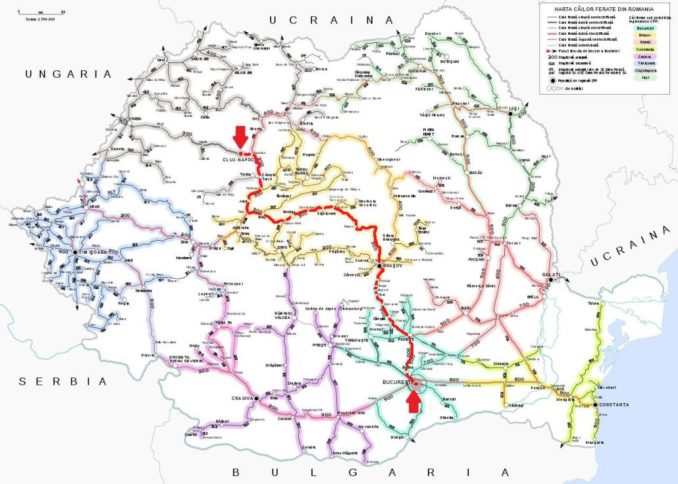 Figure 9: Rail routes of Romania
© Andrei Nacu, licensed under CC BY-SA 3.0
Stoker rather nicely describes the first stage of our journey, with his character Harker reflecting that:
"All day long we seemed to dawdle through a country which was full of beauty of every kind. Sometimes we saw little towns or castles on the top of steep hills such as we see in old missals; sometimes we ran by rivers and streams which seemed from the wide stony side of them to be subject to great floods. It takes a lot of water, and running strong, to sweep the outside edge of a river clear."
The notes I made were fairly similar, and I mentioned rattling along through spectacular countryside. Rolling hills initially, with lots of carefully herded sheep and their shepherds, some in heavy sheepskin cloaks, accompanied by their large, powerful-looking Ciobănesc Românesc Carpatin dogs.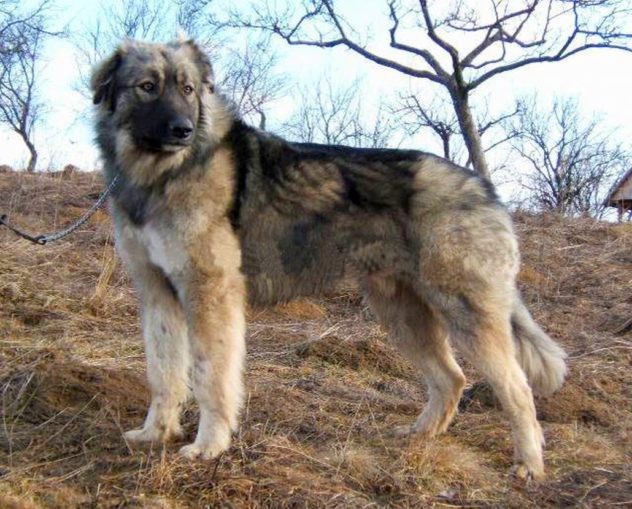 Figure 10: Romanian Carpathian Shepherd dog
Ionete, Public domain
There were farmsteads, and churches, green and fertile land, across seemingly endless plains with the smudge of distant mountains glimpsed now and again on the horizon. Horse-drawn carts and the odd donkey, dogs, beehives, birds and may types of plant life. We didn't pass through many villages so saw few people. The stops we made were fascinating, well-managed by our train guards.
There were two train guards, both of whom meticulously checked our tickets and passports and deemed us fit to travel. The man was a cheery avuncular chap, no spring chicken, but all smiles and a pat on the shoulder for having correct papers. The female guard was cut from different cloth. Unsmiling, stern and Slavic, she didn't have a physique to pick a fight with, filling the doorway with ease. Mr S immediately christened her after Ian Fleming's SMERSH and SPECTRE villainess, Colonel Rosa Klebb!
Figure 11: Rosa
© SharpieType301 2018
Observing Rosa in action came when a young couple boarded the train after our elderly companion had left. They joined us in the compartment, but there was obviously a problem of some kind as Rosa kept coming back, beckoning the lad out into the corridor where he appeared to be getting a bit of a dressing down. He'd come back into our compartment, speak to his girlfriend, and they'd rummage around for a few extra coins. This repeated several times, until when only the girl and I were in the compartment I asked if we could help.
She said they needed 10 lei to complete payment for their ticket (a tiny sum to us) and I offered to cover it for them. She gracefully declined, as it was only a lack of change, not of funds that was causing the problem, but it started a conversation. Recent graduates, they were both working for travel firms, and their train journey was to his hometown of Mediaș (about halfway between Sibiu and Sighișoara) to stay with his family for a few days. A nice couple (we never did find out their names), they told us about some of the countryside as we passed through, but also about the escalating political problems in Romania which were really troubling them.
We had been completely unaware of country-wide protests and strikes protesting the levels of corruption and rising taxation, affecting almost the whole population. Oh boy, it looked like we were heading for Bucharest at a time when another revolution was not out of the question. Strangely, the one and only time Mr S had visited the country before, was just days after the fall of Ceaușescu in December 1989.
The 1989 revolution was inevitable, in retrospect. Once genuinely popular at home and lauded abroad for his refusal to toe the Kremlin's party line, over two decades, megalomaniac dictator Nicolae Ceaușescu had fostered an all-encompassing personality cult around himself (giving himself such titles 'Geniul din Carpați', The Genius of the Carpathians!), which extended to his wife Elena, and their families. This, together with brutal communist tyranny and repression and ever-increasing privations intensified unrest. We were aware that, leading up to the revolution, the situation for Romania populace had been ruinous. Austerity measures had been introduced to pay off colossal foreign debt following woefully mismanaged industrial projects in the 1970s.
The economic impact was exacerbated as the tyrant squandered money on schemes such as the construction of his People's Palace, Palatul Parlamentului, even today one of the largest buildings in the world. Dissent built as Ceaușescu lived in opulent luxury while the people suffered (just take a look at some of the dazzling photographs of his home, the Spring Palace, 'Palatul Primaverii', online).
The Securitate, secret police, maintained rigid control, with zero tolerance of internal dissent or opposition, over free speech, and the media. As many as one in four people were thought to be informers, and the Securitate tortured and murdered of thousands of dissenters.
In 1982 Ceaușescu ordered the export of the majority of the country's agricultural and industrial production. This resulted in severe shortages of food, fuel, energy, medicines, and other basic necessities, drastically lowering living standards. Traian Rabagia, one of the demonstrators who was then a 19-year-old geology student in December 1989 remembers: "the poverty of the '80s, I remember in Bucharest, the breweries, restaurants, everything was dark"
Unsurprisingly, this created an atmosphere ripe for change. Change, for the Ceaușescus (the last people to be executed in Romania before the abolition of capital punishment), came in the form of a firing squad.
We wished our young friends well, as they stepped from the train at Mediaș, and now had the compartment to ourselves. The journey from here was lovely, and as we continued past the well-preserved small medieval fortified city of Sighișoara, a UNESCO World Heritage Site, we vowed to return for a visit. Now we moved through fields of hay being cut, low to the ground with handmade sickles. In places, there were lines of wooden poles—not power poles, these were hay poles ready for supporting the dried hay into leggy handmade stacks. In one of the fields, we caught a glimpse of a pair of foxes playing, tumbling like kittens in the stubble left from haymaking.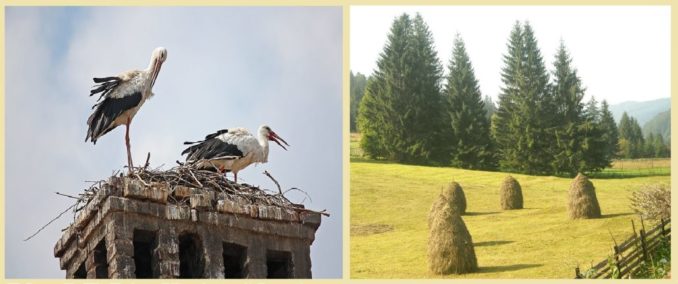 Figure 12: Storks and Hay stacks
© Nest Alex Bikfalvi and Hay mounds Florin Gorgan, both licensed under CC BY-SA 2.0
In other fields, following the men turning the drying vegetation with their wooden pitchforks were storks! The white stork (Ciconia ciconia) is a special bird in Romanian folklore and these beautiful creatures have been considered sacred since Roman times. The gregarious birds have long red legs and are not small, standing up to a metre and a half tall, with a wingspan of over 3m, and weight of up to 4.5 kg. The sacred bird of the goddess Venus in Roman mythology, Greek philosopher Aristotle believed that killing a stork was equivalent to murder. Storks mate for life, so if a pair made a nest on the roof of a Romanian house, it was believed that the house would be protected from fire and the family would enjoy good luck and prosperity for the rest of the year. It was also considered that those who lived there were blessed by Venus with endless love.
As our journey continued, we moved closer to the distant mountains, and it was clear that some of them are still snow-capped (this section of the Carpathians is the number one ski destination in Romania). What a treat this journey was, especially when we reached Braşov the largest city in a mountain resorts area. The Hollywood-esque 'Brașov' sign was easily spotted from the railway line, and is from all over the old town, located as it is at the top of mount Tâmpa. Even without the plethora of vampire films linked with Transylvania, the area has been the location for a number of big-budget American films, including the 2003 'Cold Mountain'.
Birthplace of Deșteaptă-te, române!, the Romanian National Anthem, and home to the first school on the territory of present-day Romania where, in 1583, the Romanian language was used in teaching, the old city is very well preserved. It is best seen by taking the cable-car to the top of Tâmpa Mountain, a nature reserve, with a number of rare animal and plant species found only here.
Braşov is surrounded by the Southern Carpathians, and it becomes noticeably clear that we will have to go up to go through the mountains. This supposition is confirmed when our train picks up an extra engine for the climb across the scenic Carpathian Mountains! It is unequivocally beautiful, vertiginously Alpine with tall trees, daunting drop-offs, and crystal-clear streams.
The railway line passing through this fabulous landscape is shown by the red line on the map (actually, that's the road, the railway line is black & white checked, but they run parallel). It gives you some idea of the sheer scale of these mountains to know that, in the valley, Sinaia sits at 813m and Bușteni at 962m above sea level. We climbed closer to the snowy caps, but they remained a long way above us, even at Predeal, 20km from Braşov and, at over 1,000m above sea level, the highest town in Romania.
Figure 13: Marked routes from the Bucegi Mountains
© Terraflorin, licensed under CC BY-SA 3.0
Predeal train station was a reminder of days gone by, displaying a Standard Gauge (1435 mm) CFR Class 50steam locomotive, number CFR 50,497 (KPEV)50,497 built by Malaxa (Bucharest) in 1930. A little gem for all to see, though sadly no longer operational.
Figure 14: CFR Class 50 steam loco
© SharpieType301 2018
The station at Predeal was remarkably busy, with hikers, ramblers, photographers, and tourists of all sorts. Unfortunately, that meant our solo compartment was no more. Three rather taciturn Germans, a woman and two men, joined us, peering suspiciously at their tickets, the seat numbers, and us, which meant us giving up the forward-facing seats we'd enjoyed. No great hardship though, as the view was wonderful as we dropped down towards the final plain, whichever way you looked. I had to giggle as their peace was shattered in turn when we reached Sinaia, and a large group of schoolchildren (about 9 or 10-years of age) got on with their keepers…or do I mean teachers. That's a little unfair to the kids as, although boisterous and not what you'd call quiet, were a nice bunch.
Sinaia, which we got to visit on our second Romanian Odyssey, is home to the Peleș and Pelisor Castles, built between 1873 and 1914 by the first King of Romania, Carol I of Hohenzollern–Sigmaringen, and of the Sinaia Monastery, founded by Prince Mihail Cantacuzino in 1695.
A little aside, related to an article you may have read recently, by our very own 1642 again. The Cantacuzino or Cantacuzène family were Romanian aristocrats, descendants of the Byzantine Emperor John VI Kantakouzenos (who reigned in Constantinople between 1347 and 1354). One of the Emperor's descendants, the beautiful Romanian princess Balaşa Cantacuzino, is the woman with whom Patrick (Paddy) Leigh Fermor fell in love, having met her in Athens. Paddy's diary from the last stage of his trek (the first parts of which are detailed in 'A Time of Gifts' and 'Between the Woods and the Water') was saved from destruction by Balaşa, who threw it into her suitcase in the brief minutes allowed her by communist officials when she was ejected from her estate in 1949.
The final section of the train journey to Bucharest (and the station, Gara București Nord) was less exciting once we'd left the mountains behind, travelling through the flatlands. By now, we'd also got quite tired, and were itching to get to Bucharest, our AirBnB, and bed. We pulled into Gara București Nord bang on time (what's this about Romanian trains always running late?) and said a fond farewell to our beloved train. Now we needed a taxi. Hmmm, the station is huge, with three large entrances so we had no idea which way to go, so asked at the information point.
We found a taxi rank outside the entrance the information lady had indicated, and a group of people milling about, but the two didn't appear to be interacting. We stood around waiting for a while, then found out why when we approached a taxi (one with prices at 1.69 lei per km emblazoned on the door). He instantly informed us he'd charge us 40 lei for the trip! We had already confirmed with our AirBnB host that the maximum would be around 10-15 lei, so we told him the address again, and mentioned this price. That, apparently, was adding a flame to blue touch paper. He went off on an arm-waving rant about a bottle of coke costing 10 lei and this, gesticulating to his vehicle, was a taxi! Nasty rat-faced bloke, he continued to harangue us as we walked away—it was a pretty crappy ill-kept taxi too.
We walked determinedly away from the station and soon spotted an Ibis Hotel. Mr S suggested we ask them to book a taxi for us. This they cheerfully did, confirming a likely 10-15 lei cost to our destination. When it arrived, it was from the same cab company as the 40 lei bloke, and we anticipated problems. But, popping the meter on straight away, the driver was a real gent, politely apologising that the journey would take a little longer than usual because of the protests.
Er, did you say protests?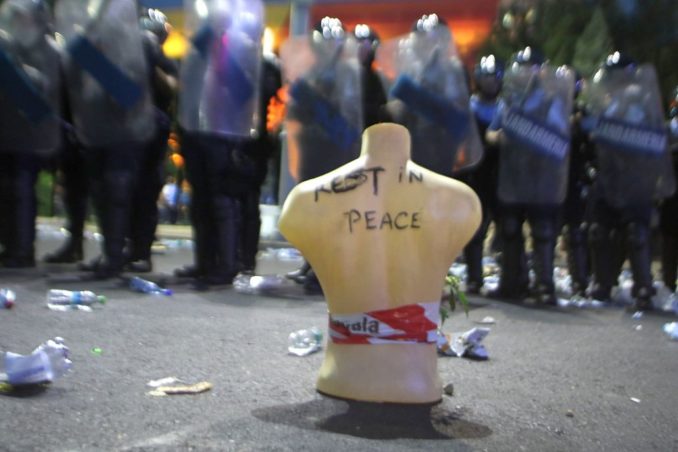 Figure 15: Bucharest protest
© Cristian Iohan Ştefănescu, licensed under CC BY 2.0
Yep, there was a huge banner-waving, slogan-chanting crowd filling the Piața Constituției (Constitution Square), surrounded by serried ranks of intensely serious police, including a row of forbidding, dark-uniformed Jandarmeria Română, the shit-kicker types. Revolution looked to be brewing, and Mr S really had done it again—we were glad to move past and leave them behind.
We reached our accommodation on Strada Vasile Lucaciu in what remains of Bucharest's old Jewish Quarter without any problem (most of the Quarter was destroyed in the 1980s, during Ceausescu's regime). Despite the delays, diversions and disruption, the taxi fare still only came to 18 lei, so our lovely driver got a sizeable tip. We were made welcome and shown up to the flat by our charming host.
My goodness, the pictures we'd seen before we booked it didn't do it justice. The apartment was gorgeous, and had obviously been splendid in its time, with high ceilings, polished parquet wood-block floors and opaque glass-panelled doors. Much larger than we'd expected and spotlessly clean, although it had seen better days—it had a genteel faded charm we both fell in love with.
Figure 16 Bucharest home from home
© SharpieType301 2018
It was all we needed, and more, but for tonight what we wanted was a big glass of water, a small snack and to hit the sack. It had been an awfully long and tiring day, and plans could wait until the morning. And you, my dear Puffins, will have to wait too, for the next episode to discover the diverse delights of the Romanian capital city.

© SharpieType301 2021

The Goodnight Vienna Audio file