I wrote recently about the perfect weekend I enjoyed with my son when he had to get up North to join the rest of his band to play at the 2017 Workington Festival. Writing it stirred many pleasant memories for me, including some of the time a year later when he and I had a similar break.
It was 2018 and the World Cup was just about to start. My son, being a fan, was very keen to see England's opening match against Tunisia but didn't fancy watching it at home alone or in a crowded Bath city centre pub. Our first thought was to do what we do whenever we can – go to the Lake District. We soon realised that our usual destination, Keswick, would be even more crowded than Bath.  We therefore cooked up a plan to watch it in a pub somewhere out of the way in Cumbria and make a weekend of it by taking in some of the less well-known bits of the outer Lakes.
We approached from the South West and began to skirt the Lakes in a clockwise direction, revisiting some old haunts and exploring other areas that we weren't so familiar with.
Irton
We spent our first night on a farm near Irton which had a number of very well equipped mobile homes with views looking across to the fells of the central Lakes. In this picture, my famous Mazda Bongo can be seen blending with the surroundings.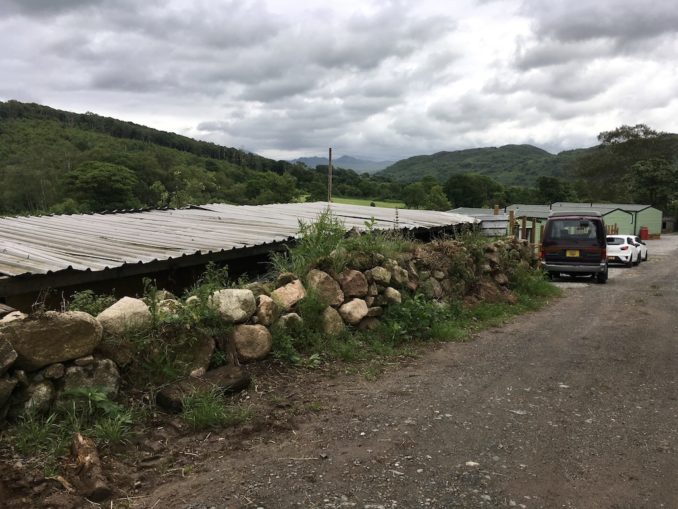 The farm residents had arranged a welcoming ceremony,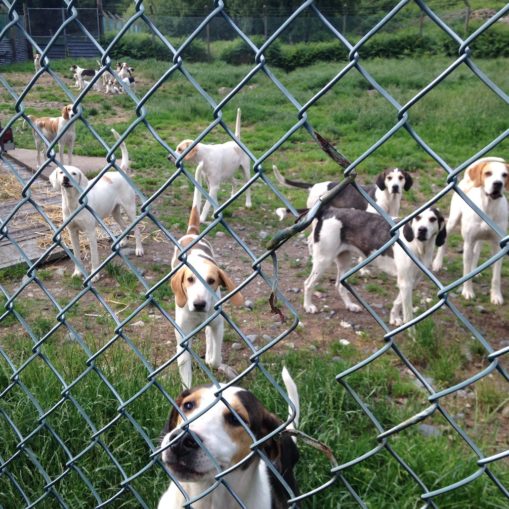 but unfortunately the leader was too bashful to make the welcoming speech.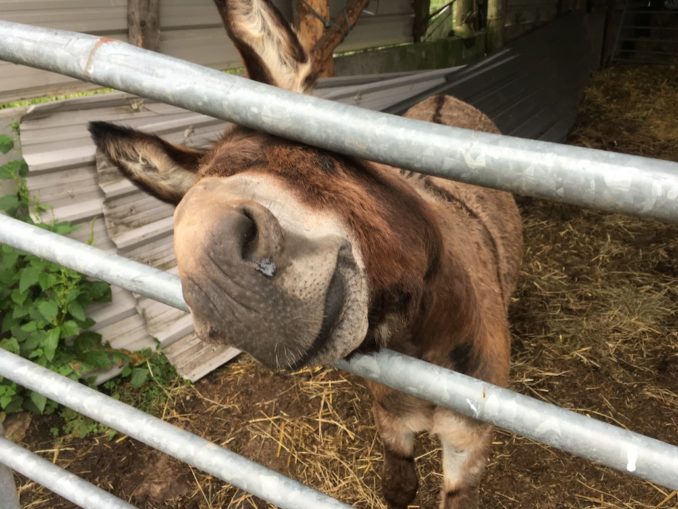 After a pleasant evening courtesy of the Bower House Inn in Eskdale, we set off the next morning for our next destination.
Wastwater
Wastwater is one of my favourite Lakes but as it is a bit out of the way I don't get to visit as often as I'd like. As well as a reputation for being the final resting place of a number of murder victims, it has some glorious views looking down the length of the lake towards Great Gable, the first fell I conquered many years ago.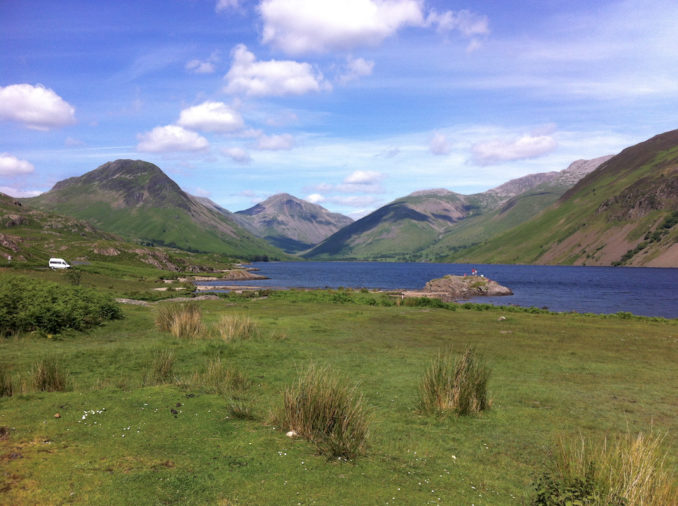 It also has the added attraction of the nearby Wasdale Head Inn. Sadly, it was too early in the day for a proper drink so we contented ourselves with a coffee and a quick time check with all three of the clocks that the hotel's Reception felt were necessary and moved on.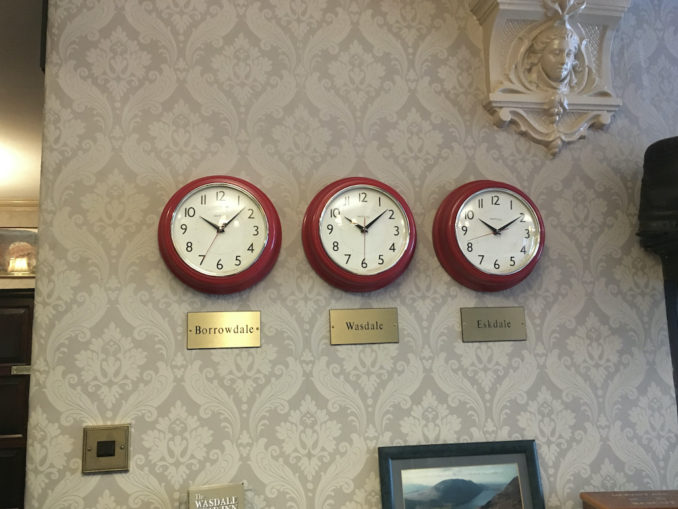 Bassenthwaite Lake
I have passed Bassenthwaite Lake on the way to and from Keswick on the A66 countless times over the years but have never stopped; this time we did. It's a good example of an unspoilt lake (in fact the only Lake in the Lake District – the others are Meres or Waters), but that means there is little else to do except take in the view. There are Ospreys there but they're best seen from the viewpoint at nearby Dodd Wood.

We mooched around the water's edge for a bit and then hit the road again.
Aira Force
Our stop for that night was to be in the village of Greystokes (of Tarzan fame) but we first made a short detour to take in Aira Force on the banks of Ullswater. I hadn't been before and was enchanted.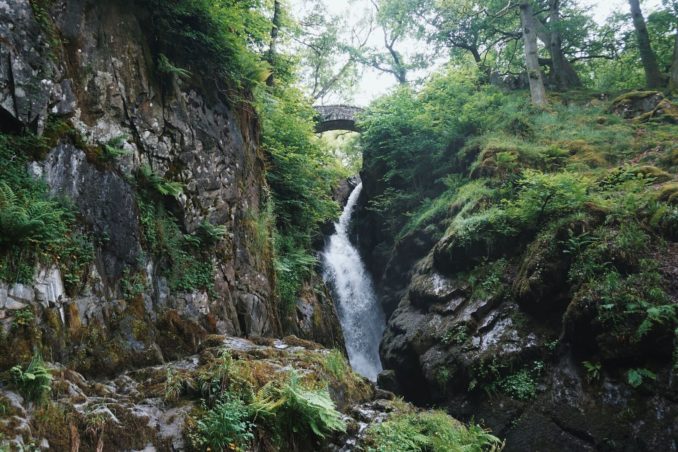 On the approach to the waterfall from the carpark we came across the "money tree", the remains of a tree that was felled about fifteen years previously and which visitors had taken to hammering coins into. The National Trust, "fearful of the chances of rust caused by the coins", have since removed them, sawn the trunk up and taken it away. They have, as might be expected, replaced it with a much more "interactive" coin run.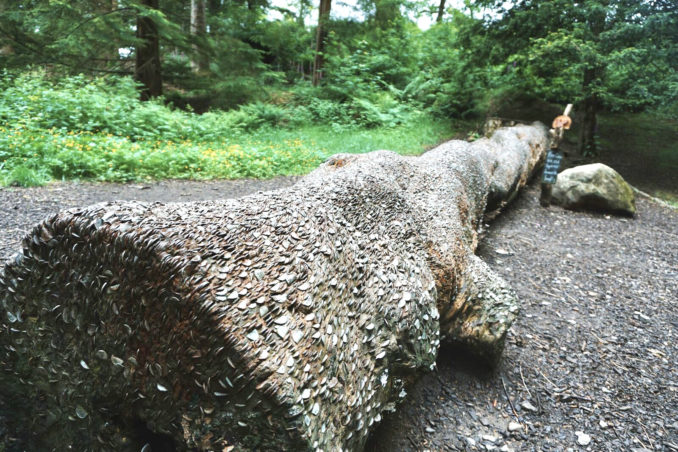 A nearby tree is obviously afraid that it's next for the chop and seems to have started collapsing in fear.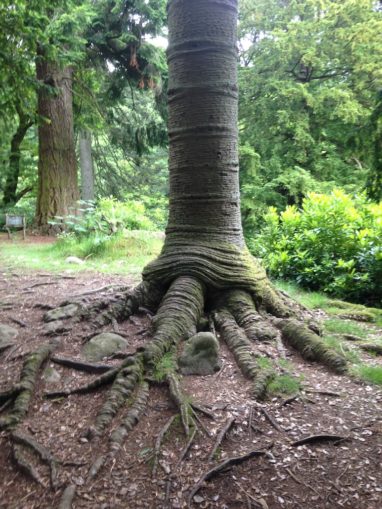 We left it to it's fate and headed to Greystokes and England's titanic struggle against Tunisia in the very large TV room set up in the garden of the Boot and Shoe Inn accompanied by a few pints of excellent Black Sheep Best Bitter. To put the finishing touch to the evening, England won in the 91st minute. We slept well.
Haweswater
The next day we headed for Haweswater in the Mardale valley that was flooded in 1935 to provide water for Manchester. Two villages, a church and a pub were dismantled before the flooding started and the remains of some of the village of Mardale were visible as the water levels in the reservoir were low. It was quite moving to see.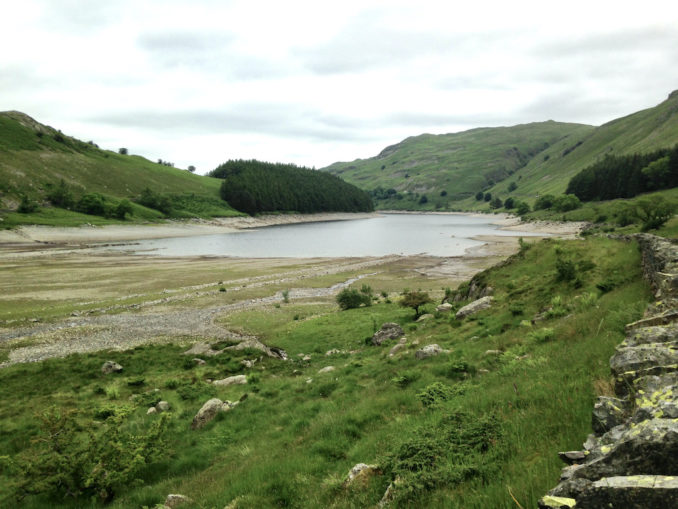 To lighten the mood we decided to leave the Lake District for a bit and visit somewhere I had not been to for a long time – the Tan Hill Inn. On the way we happened to pass some accommodation that I had briefly considered when I was searching AirBnB for our trip – a shepherd's bothy beside the A6 a little south of Shap. Once I saw it and where it was situated I knew I had been right to discount it – it was isolated to say the least.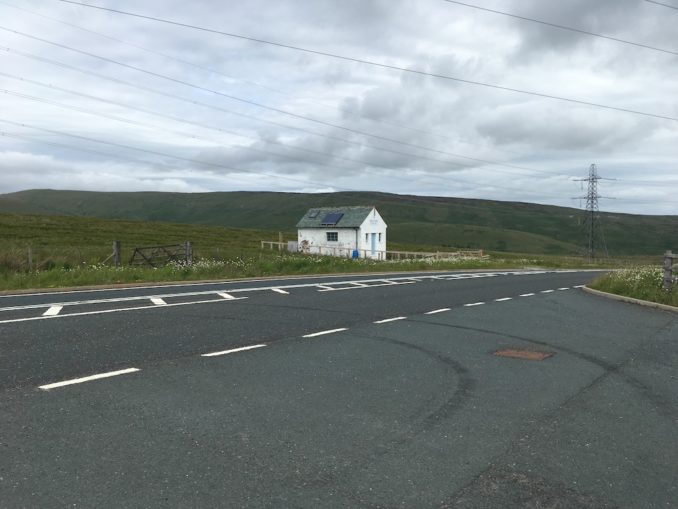 The Tan Hill Inn
The Tan Hill Inn in Swaledale is, at 1732 feet above sea level, Britains highest pub. I'd last been there in March 1989 when, with two friends, I climbed Yorkshire's Three Peaks of Ingleborough, Pen-y-Ghent and Whernside over the course of three bitterly cold and snowy days. By the time we had finished the last one we were so miserable that we immediately set off for the Tan Hill Inn in the hope of getting snowed in for a few days, which is quite a common occurrence apparently but, sadly, not for us. After a couple of pints of Theakston Best Bitter and a bowl of soup by the roaring fire we set of for home but I promised myself I would be back.
This time there was no chance of being marooned so we contented ourselves with a quick pint and a cheese toastie and were soon on our way back to Greystokes for the night.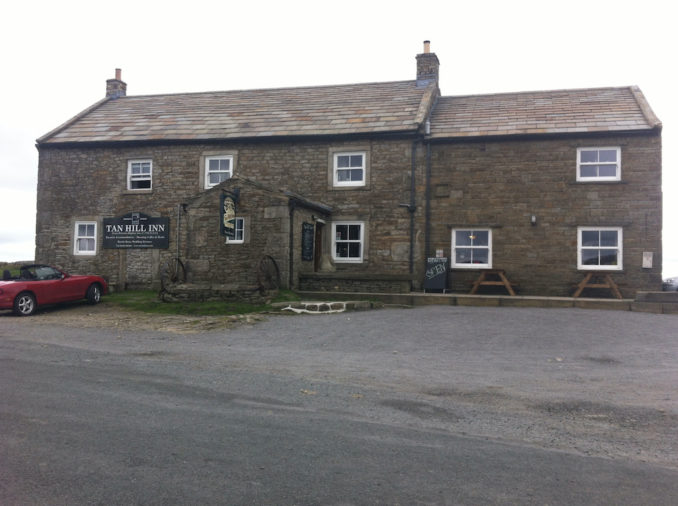 Lakeland Motor Museum
The next day was our last so we set off early for our final destination – the Lakeland Motor Museum at Backbarrow. On the way we took a quick detour at Coniston and were rewarded with a rare opportunity to take a photograph of a major mountain with a pool full of tadpoles in the foreground. It was, for me, one of the highlights of the trip.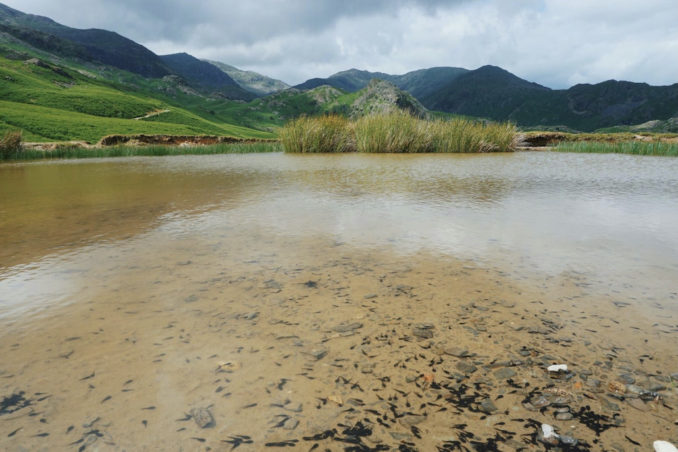 I had not heard of the Lakeland Motor Museum before and was keen to see what it had to offer. It turned out to be superb – full of British and Continental cars of "my" era displayed in a pleasing clutter, a real trip down memory lane. This article doesn't allow me to do justice to all the exhibits, but these are some of the highlights….
….a good selection of cars that have been around nearly as long as I have….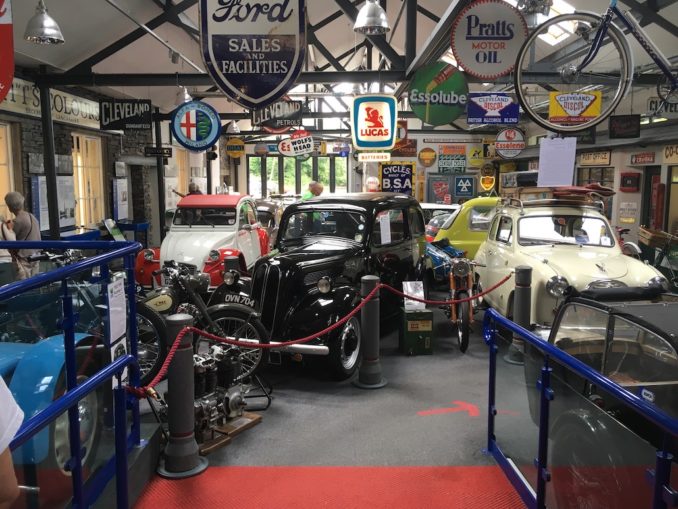 ….the only known garage operated by one of Monty Python's Gumbys….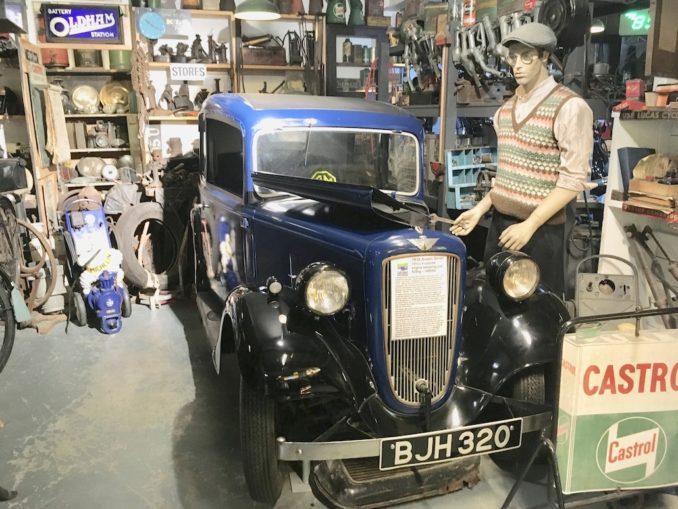 ….be honest, we've all had a garage as well laid out as this….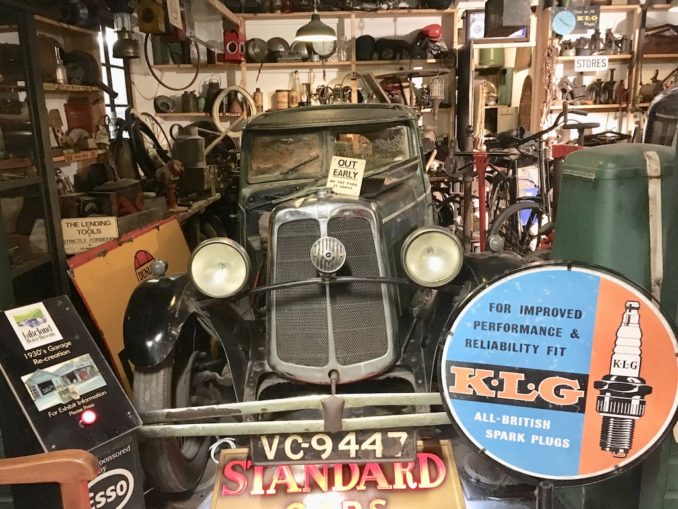 ….one of the most gorgeous cars ever made – a Citroen Light 15. My older brother bought one for £25 in 1964 and a year later I helped him cut it up with hacksaws for scrap over the course of a weekend because he couldn't afford the £40 it would cost to repair the diff. (I still lose sleep over that)….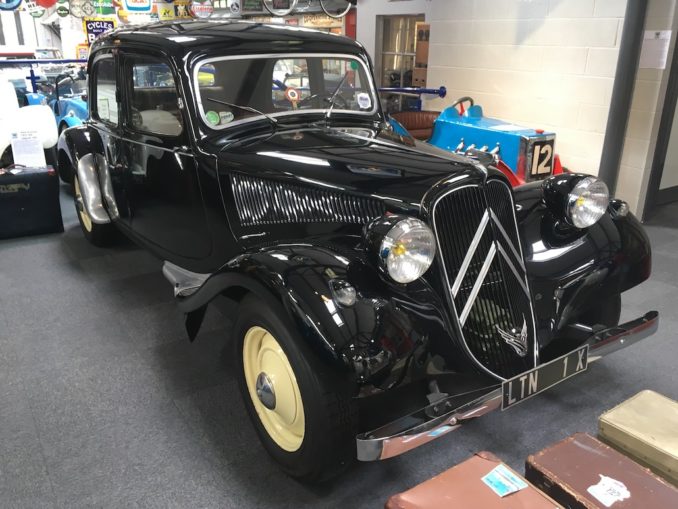 ….the original Ford Consul Capri….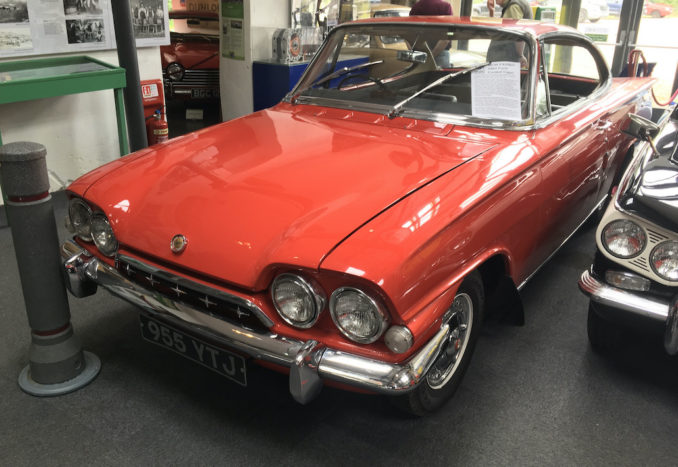 ….another mouthwatering Citroen….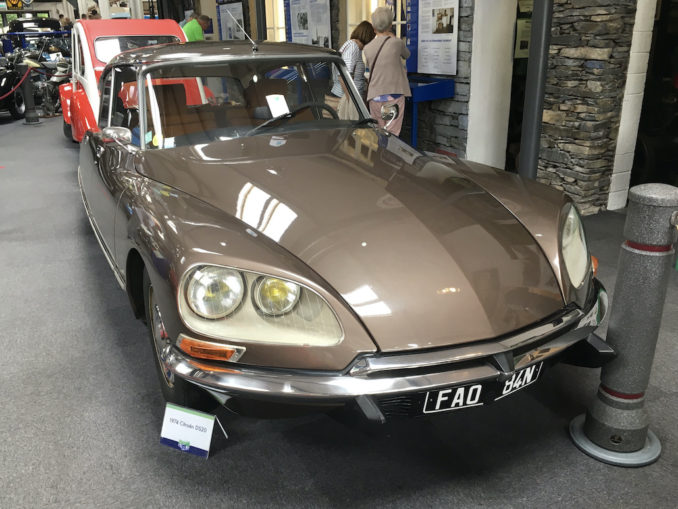 ….a rare photograph of Dame Cressida trying out for a new role in case the  Commissioner of the Met gig doesn't work out….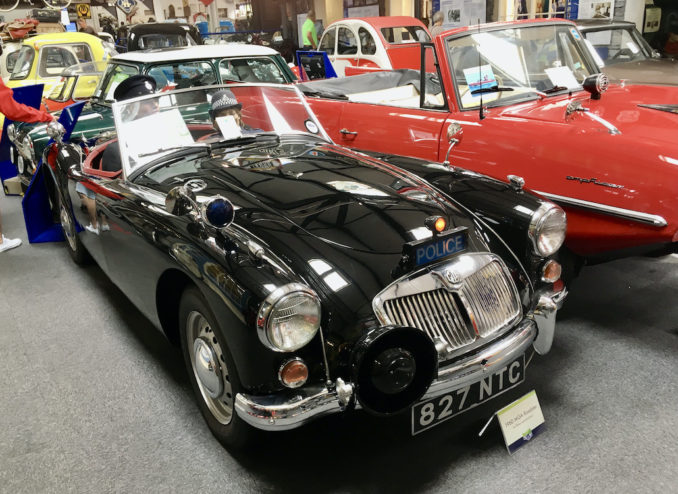 ….some nice bikes but, as an ex-mod, I'd rather they were Lambrettas or Vespas….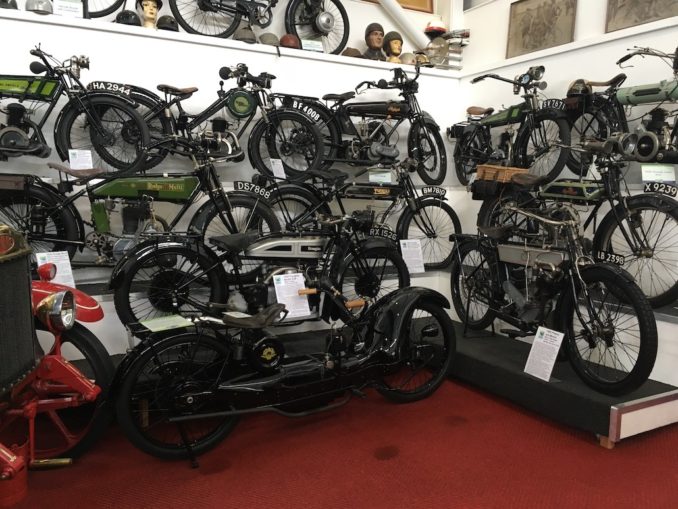 ….the ultimate for those of us that yearn for a mobile lifestyle….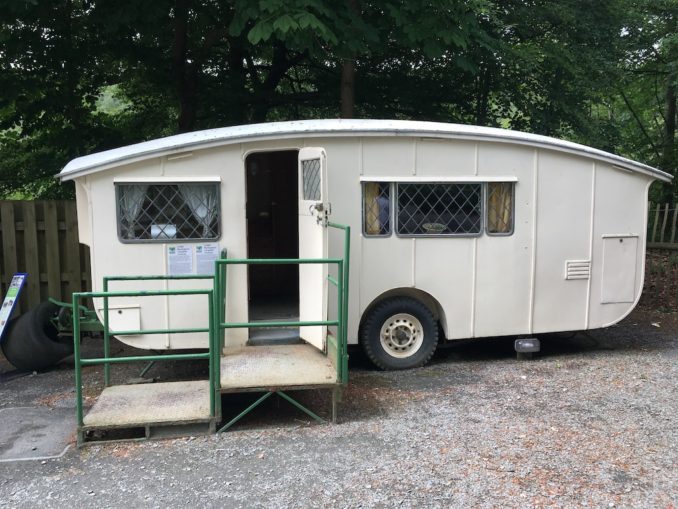 There's also a very good display of some of Donald Campbell's vehicles
It really is a fabulous museum and we would have stayed much longer but we had one more sight to see on our way home.
The Singing Ringing Tree
My son suggested this as a stop on our way back and it sounded intriguing. According to Wikipedia, it's a "wind powered sound sculpture resembling a tree set in the landscape of the Pennine hill range overlooking Burnley, Lancashire", which makes it sound pretty charming. Having now been there in a howling gale and torrential downpour, I can say with confidence that it's almost as grim as the 1960s kids television series of the same name.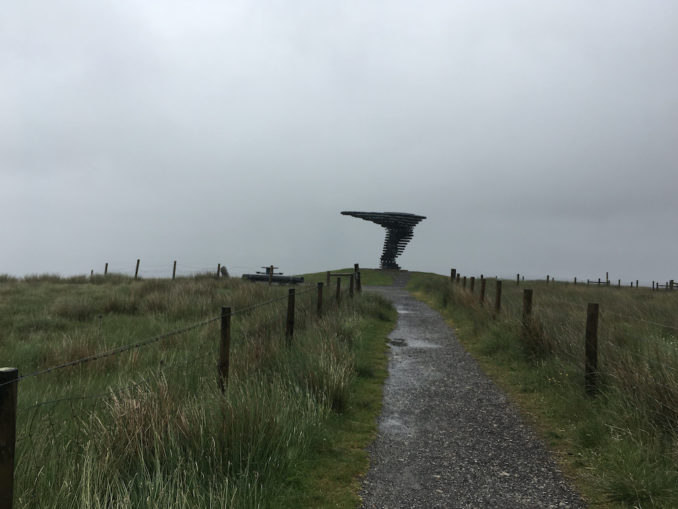 It's a series of pipes of different lengths fixed together to be an aeloian harp making pleasing sounds as the gentle breeze plays whimsically across them for the delight of the residents of Burnley.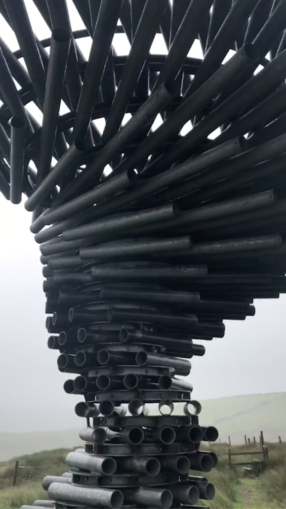 The state of the information board provides a hint of how dearly the residents of Burnley have taken The Singing Ringing Tree to their hearts.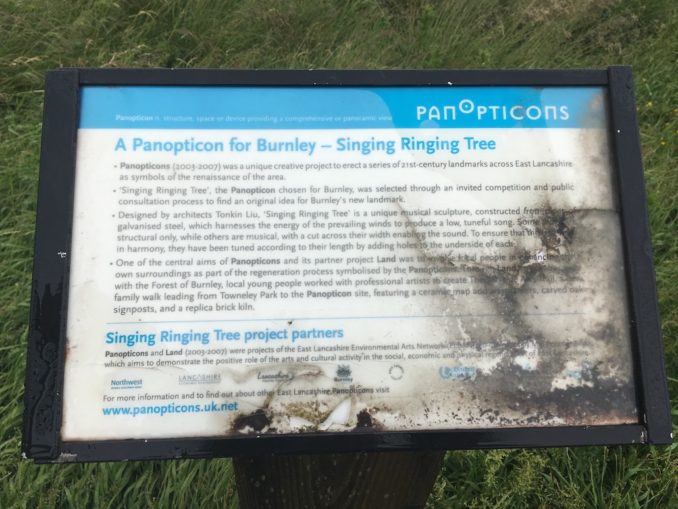 Having had our fill of wind powered sound sculpture, we set off for home with the intention of stopping for lunch somewhere on Snake Pass on the way.
Snake Pass
We enjoyed the thrills and spills of negotiating Snake Pass in a Mazda Bongo very  much and decided on the Snake Pass Inn for lunch. As it happened, they were experiencing a quiet period and we were the only ones there. We didn't fancy the Chicken Kevi on the menu so we just had a quick pint and left for home.
Once back, and having dropped my son off at home in Bath, I headed for my favourite local for a bowl of chilli cheesy chips and some rather fine beer. The perfect end to another perfect weekend.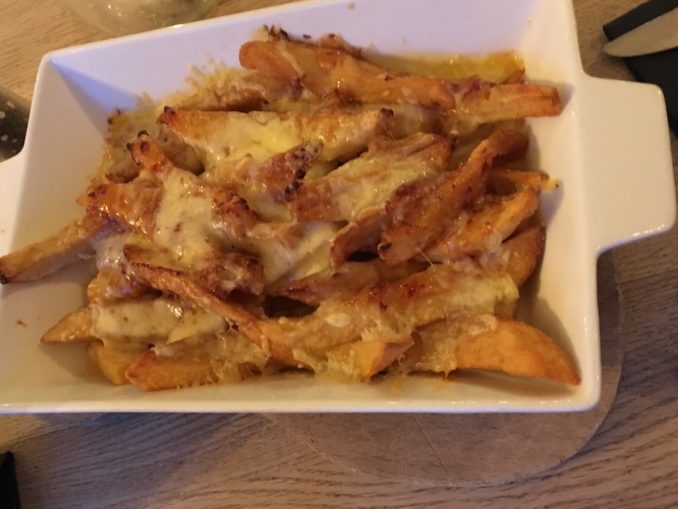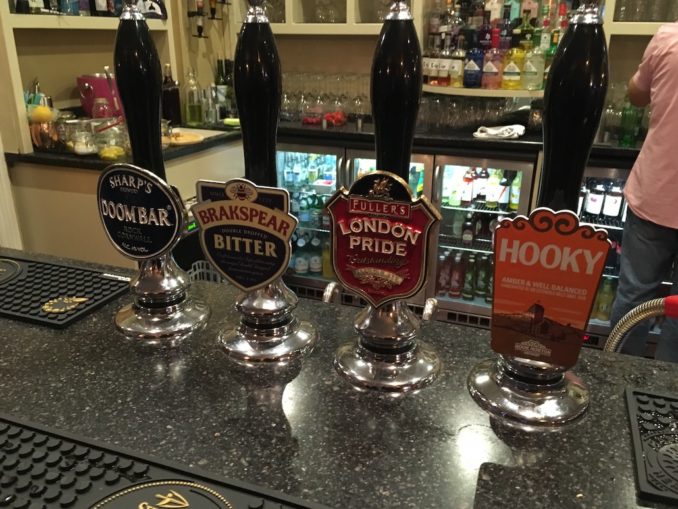 © Jerry F 2021

The Goodnight Vienna Audio file