O, wad some Power the giftie gie us

To see oursels as others see us!
Thus wrote grumpy bad speller of a Scottish poet, doonhamer Rabbie Burns. To be blunt, dear Puffins, I wish that earlier in the year I'd enjoyed the gift of seeing myself as Santa was seeing me. I might have changed my ways as, I fear, quite unknowingly, I must have been a very naughty boy.
Laughing at the corporatism behind Saint Marcus of Rashford? Being more than mildly irritated by Black Lives Matter? I did pray for The Donald to win that election and confess that I crossed my fingers for a No Deal Brexit. Not only that, I wore my Make America Great Again hat during my daily suburban lockdown exercise stroll. How many boxes does a naughty boy have to tick? And don't be fooled by the Romanian donkey meat sellers at Tesco's. Despite what their Christmas adverts pretend, there is a naughty list, and I fear, if it's in rough alphabetical order, it begins, Adolf, Attila, Always Worth Saying, Boris.
Might it be that Santa wears red because he's a socialist? Wears a scruffy white beard from empathy with Jeremy Corbyn? Does Father Christmas chose to live in Lapland (rather than a more practical giga-shed next to the toy factories in Yiwu) because he's committed to nutty, multiculti Scandinavian social democracy? And, if St Nicholas lives in the Swedish half of Lapland, I don't suppose he'll have been impressed by this humble author's (side splitting?) Greta Thunberg Christmas carol erotica.
Perhaps Santa is easily offended and has a long memory? Maybe, during a previous life more interesting for both of us, he felt the floor move? Or, worse still, had to neglect toy production and direct the busy elves to pick up his log cabin and shift it somewhere else, while the ground beneath him threatened to collapse into a rapidly expanding mine?
Obviously, Lapland is famous for more than just elves and a thin-skinned Santa Claus. There's ice, snow, frozen lakes, Laps, dog sleds (avoid the front seat), forests, iron ore mining, spying on the Soviet Union and 99.999% of the world's mosquito population during an inconvenient four-month-long summer beneath the midnight sun.
Iron ore mining? A tall tale for another day. Suffice it to say that as the great-great-grandson of a fool who gambled the family farm on an over-optimistic Victorian railway bonanza line from nowhere to nowhere, and accidentally found iron ore in the process, one felt obliged to dabble. And if you've heard that the Luossavaara Kiirunavaara Aktiebolag mining corporation's helicopter born bedstead array, capable of spotting iron ore beneath conifers, might be able to detect a Russian submarine passing through the useful Svalbard to Nordkapp pinch-point, then I couldn't possibly comment.
I did try very hard to fit in. I learned the native tongue from my bunk-side Bible, the left-hand leaf of which was in English, its facing page in a Swedish dialect. If you were ever in a nordic mining company's 1980s canteen and overhead a badly pronounced order for three loaves and five fishes, we might have met. I never mocked the Northern Lights, as a result of which none of my children was subsequently born cross-eyed. Likewise, as the winter's eternal night sky was lit by a million shades of aurora green, I always made sure to throw dog dirt into the air.
Speaking of which, although I was content to plod along in my 'fool in the High Arctic' fell walking boots and my father's passed down Wolfskin coat, another ex-pat colleague was overcome by a need to travel native. He went everywhere as a passenger at the front of a dog sled. Sure enough, he would roar past me, but was I jealous? Bear in mind, he was always soaked in urine and his face always covered in Husky muck. He traversed the most remarkable of landscapes, seeing absolutely nothing other than a regularly emptying dog's arse between a pair of reins. Please allow me to prefer a long cold wander, as if across a big Lake District on an extremely quiet day.
Back in modern times, for whatever reason, I suspect my letter up the chimney asking to be thirty-five again, went right up another chimney having been ripped into pieces by elves and thrown onto Santa's very own relocated log cabin log fire. The end result being, a tiny pile of presents reminiscent of a blind Generation Game conveyor belt contestant after Anthea Redfern and Isla St Clair had applied ear muffs and pointed him in the wrong direction. If Brucey had been on hand in our front room on Christmas morning, it would have been a case of "Not your game, dear" rather than "Didn't he do well?"
As for being thirty-five again, I did get the badges but referring to a full-length mirror showed the same, wrinkled, bald-headed chap hanging about the place underemployed. Which brings me to the street map of Bangkok. It still has somebody else's Blu Tak on the back and some very strange crossings out and phone numbers scribbled on the front. And before you ask, despite being fortified by yuletide wine and a magnifying glass, I still don't know where Soi Cowboy is (whatever that might be).
On the other hand, my map may make another well-loved and long-running BBC gameshow much more playable. Throw away your dad's old national serviceman's A to Z and open up your Bangkok street map. Usefully, those overhead railway stations are abbreviated to three-character codes; Hui, Cul, Ram, Pet, Suk, Mornington Crescent. Absolute doddle.
Speaking of 'suck', I hope you're impressed by the blue Tomix track cleaning model railway carriage (which I bought for myself). For the entertainment of the people, the Takara Tomy Corporation of Katsushika, Tokyo, have wonderfully misspelt and mistranslated the instructions. 'Fan' becomes 'fun'. A round hole containing rapidly rotating concealed sharp blades therefore reads as the "suction fun disc". Be careful what you wish for out loud on a trip to Japan.
Regarding what looks like a second-hand catheter bag and filter, I have an elderly relative in a care home. It's the thought that counts. Deep in my stocking, there was an air freshener for the car, most welcome. As was the hot water bottle. Much needed to keep my feet warm in bed, it also serves to remind me that I remain stubbornly well north of 35. Ink cartridges, not in their boxes, surely they're not empty? The best I can hope for is that they're half full, robbed from a distressed city centre high street store? Out of a skip round the back at Debenhams?
And a non-canonical, non-house beer, not of this parish. Fortunately, a bottle of Hooky was on hand to obscure it. Have no fear, the imposter will be poured onto the compost heap as soon as the weather improves.
Not on the photo, because it's become a permanent addition to my left wrist, is a 'Fitbit'. At this moment, despite reminiscing a vengefully Santa's Christmas mockery, it reports a reassuring and calm 65 beats per minute. Christmas can't have been all that bad after all. More important than what we get and give, is the company of family and friends, happy memories of which will last longer than any air freshener. The Hookey and the chocolates have already gone, though the fiendish Japanese may well have made that track cleaner indestructible.
Perhaps the happy memory of this Christmas will be the drinking competition? Beta types might sink beer from a captured Taliban terrorist's codpiece, or fine wines from one of Napoleon's pilfered drums, or even schnapps out of an upturned ship's bell from the Bismarck. They may be able to down a yard of ale in a second. Amateurs. The Alpha types in our house spent Christmas Day playing 'guess the drink' while blindfolded and sucking like fury through a second-hand catheter filter.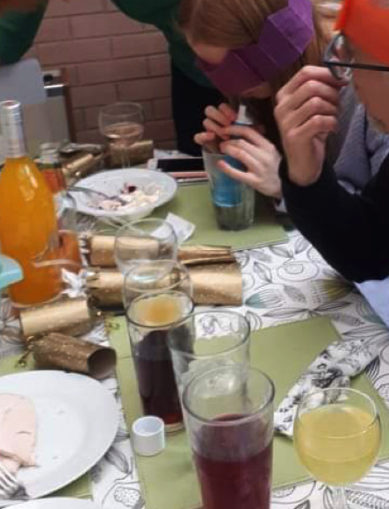 Reference to that wonderful thing called the internet suggested the pastime harmless, reminding us that such devices can purify 99 million gallons of anything and remove 99.9999% of everything that isn't H2O. What ended up in our mouths was purer than our very own Debatable Land's sea-washed Solway tap water from a North Pennine spring. Unfortunately, it didn't remove the alcohol, so I've no idea who won, but great fun seemed to be had by all. If anybody needs to know, blackcurrant juice molecules appear to be the 12,000 Roentgen per second all-penetrating gamma rays of the drink flavouring world.
As Bruce Forsyth might have said during Christmases past, "Good game! Good game!"

The Goodnight Vienna Audio file