When you think of the north of England, you think of fells and moors and hill farmers, of ruined abbeys and windswept Wolds, of gaunt mill chimneys, of terracing lurching crazily up bare hillsides, of slagheaps and clogs on cobbles. That's the old stereotype, and, for better or worse, it has stuck.
Nowhere exemplifies it less than Nottinghamshire. It has none of these things, except the slagheaps (and a scrap of Wolds). Nottinghamshire is the northern county that doesn't really look or feel northern. (For my purposes, the north begins somewhere between Leicester and Market Harborough and overlaps much of the Midlands, which always sides with the north anyway).
Most people would be hard pressed to name one place in the county other than Nottingham and Sherwood Forest. It only has one major tourist drawcard, a legendary figure out in the woods who robbed the rich (and who probably actually lived in South Yorkshire, if he lived at all, in the rather less romantic environs of the Mexborough coal country). There is only one county in all England that has less to offer the tourist, Bedfordshire, which has to make do with John Bunyan and The Pilgrim's Progress, not an attraction guaranteed to fire up the inner-city BAMEs we all want to see more of in the countryside. (I'm not counting Middlesex, as that no longer has any existence outside London suburbia).
So this is an appreciation of neglected Nottinghamshire, a county I have crisscrossed on a bike more times than I can remember and have come to appreciate for its understated Englishness, for want of a better term. First, a caveat. There will be no reference here to the bloke in the forest who robbed the rich, etc., whose name adorns every second public amenity in or near the county — airport, railway, pubs, shopping centres, even a half-marathon. This is going to be about some lesser-known places, and Nottinghamshire's true heart and finest asset in my opinion, the beautiful old Trent port of Newark, one of a handful of truly "undiscovered" towns remaining in the country.  As Nottingham itself was done comprehensively and eloquently two weeks back by somebody else here, I'm missing it out altogether. And Mansfield.
Notts contains a good deal of Viking settlement — the Trent was a main artery of conquest. The accent seems to vary from a variant of South Yorkshire, in Worksop, to a nasal Lincs-y drawl along the side of the Trent.  The landscape is mainly lowland farmland broken up by sylvan glades for robbing the rich—sorry—and coalmining. There was a lot of mining in Notts, and it still shows. It survived there much longer than in neighbouring South Yorkshire, which may be connected with Nottinghamshire sitting out the miners' strike, leaving Scargill's army high and dry. I don't know the ins and outs of that, but to this day, people with a strong Notts accent are advised to stay away from Barnsley pubs.
Despite this gritty history, the heart of the county is the largest single area of aristocratic parkland in lowland England, an agglomeration of four large estates, Clumber, Welbeck, Thoresby and Rufford, together known as the Dukeries. They are on the edge of Sherwood Forest. Before I got to know Notts, I had assumed that Sherwood Forest today was little more than an old name on the map, a place where once a merry band who robbed the rich—sorry, damn.  In fact, quite a lot of trees remain, acres of stout oak cloaking a rocky soil that makes the trails hard to ride. The forest covers quite a lot of the Dukeries.
It is unusual for great estates to be contiguous like this, and one reason is that, like many aristocratic fiefdoms, they were tied up with coal. Usually the nob who built the mines, leased out the land and exploited the miners took care to live well away from the grime. But not here. Eventually, though, these great estates all became too expensive to maintain, and at least one of the Dukes went somewhat off the rails. Step forward Marquis of Titchfield (William John Cavendish-Scott-Bentinck) of Welbeck. No, on second thoughts, step back, Marquis. His story is well-known, and can be hunted down using his name with search terms like "underground ballroom," "obsession with tunnels," "enormously wealthy," "misanthrope" and "stark raving bonkers."
What other praises can I sing of this unloved county? Southwell (s'thull to locals) is a beautiful old market town with a superb twin-towered Norman minster. Worksop is, um, a workaday market-stroke-industrial town and a good place to practice your Polish or Latvian if you happen to be studying those interesting tongues. Its station was designed in the style of the aforementioned Welbeck house, and supposedly had a secret "tunnel" allowing the demented duke to get to his train without meeting any locals (sadly a myth).
The town sits astride the rural Chesterfield Canal, one of the earliest navigations and a pleasant lowland hiking trail to the Trent today. Its industrial twin, the Erewash Canal, is not so attractive, but gives you a tour of the county's Victorian industrial areas and takes you past DH Lawrence's youthful stomping grounds. The pretentious Notts windbag is one of the most overrated writers in English, if you ask me, but his breezy hilltop home of Eastwood is worth a quick look as a typical old pit town. Notts also has a number of still-standing mine headgear towers, of which Clipstone is perhaps the most impressive.  May be gone now.
If you have heard of Annesley, you either live in Hucknall or are a Great Central Railway buff. Sat in the middle of the untidy and half-restored mining landscape, this village and wilderness of lost sidings served for decades as the de facto "home" of the most romantic and least useful mainline railway in Britain. The pottiest of all railway endeavours, the Great Central was built in the late nineteenth century as part of a scheme to link Manchester and Sheffield with Paris—you read right, Paris—via a "Channel tunnel." It never got further south than London, and made the whole journey from the grim satanic mills to Marylebone station without passing uniquely through a single town. In fact, for half its length it did not pass through anywhere of note except Rugby. Beeching was probably right to knock it on the head. Now of course, with the Channel Tunnel dream actually realised, it would be ideal for HS2, if we have to have this white elephant.
And so to Newark. Newark is famous for its ruined castle on the banks of the Trent and its pivotal role in the Civil War. Less appreciated — for some inexplicable reason — is what must be a contender the finest market place in the country, a great square with buildings from every age, venue for a large and lively market that continues to this day, all in the shadow of one of the finest Early English church towers. The knot of central streets preserves the look and atmosphere of a large old English market town as well as anywhere of its size that I know of. It also has the relics of an inland port, for the Trent was a major trade artery once, and a few old coaching inns, for this was also a Great North Road town. Historically, this has made it a bit of a mecca for the travelling people too, and you see quite a lot of horses tethered up around town. Newark folk with old fridges and washing machines to dispose of just leave them at the end of the garden by the pavement. Gone overnight.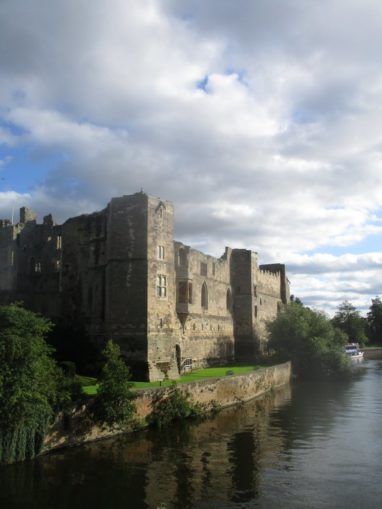 The thing I like best about Nottinghamshire is something that is hard to capture words. It's that feeling of being at the very heart of rural England, a feeling that comes upon me in the quiet lanes alongside the unseen Trent — a retiring river for much of its length — among the great ruddy brick farmyards of the fat country around Retford, and in the lovely Vale of Belvoir, through which the defunct Grantham Canal has uselessly but pleasingly coiled for nearly a century. I hope one or two of the photos does these scenes justice.
For my free downloadable pdf travel books on Europe and East Asia, please visit this website: https://www.itabibito.com/.

© text & photography Joe Slater 2021

The Goodnight Vienna Audio file