Happy Birthday to Me
My birthday is November 4th and as a child my main memory of it was always of my parents laying on a party for my friends who all turned up bearing gifts of fireworks. After the party, we'd all troop out into the garden and set fire to my birthday presents. I could never work out why this was supposed to be a good thing and matters were always made worse the following day when we all went to the Young Farmers' Association Bonfire and Firework Party in the village where everybody would happily remark how much bigger than my display it was.
I vowed that when I was older I would celebrate my birthday in a rather less destructive and pointless way. The decades rolled by until, when I retired, I was able to make good on my vow and booked a short break in Tromso, taking my son with me. My first Postcard From November covered that trip in 2015. It turned out to be a considerable success and I repeated the plan in the following years.
In 2016 I wanted to keep the arctic theme so decided on Iceland and booked a couple of days in Reykjavik, another place about which I knew very little other than, like Tromso, it was cold, dark and snowy. As before, I took my son with me.
Reykjavik centre
Sightseeing was delayed as I spent an hour or so on the phone to my bank having discovered on arrival in town that my wallet containing cash for the trip and credit and debit cards was missing. I managed to cancel all the cards and transfer enough money to my son's account to cover the next few days and was able to stop panicking. I assumed that I had either left it on the plane or dropped it in Arrivals so I rang the airport and was told that Lost Property was closed until the next day. I put it to the back of my mind and we set off to see the sights.
Reykjavik gets only a few hours of daylight in November and seems to be in a perpetual gloom.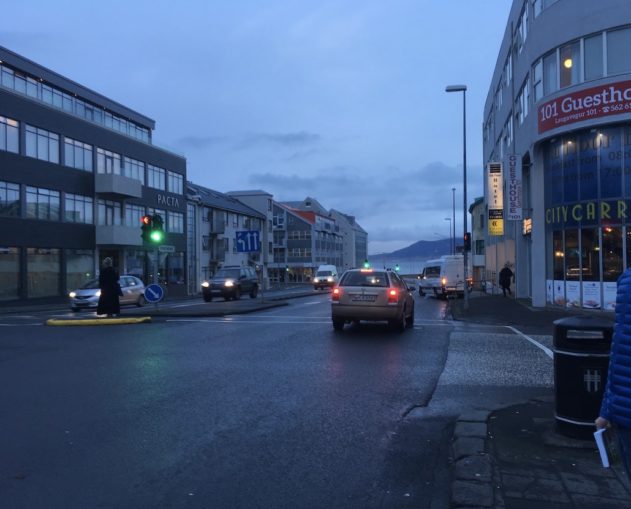 To try to cheer the place up a bit, the locals paint their houses in bright colours, but this really only serves to emphasise the gloom.
It quickly got properly dark so we returned to our house and settled in for the night. The most memorable feature of our house was the sophisticated electrical installation in the hallway. I was grateful that I didn't need to touch it during our stay but I did quite like the idea of a switch marked "NO".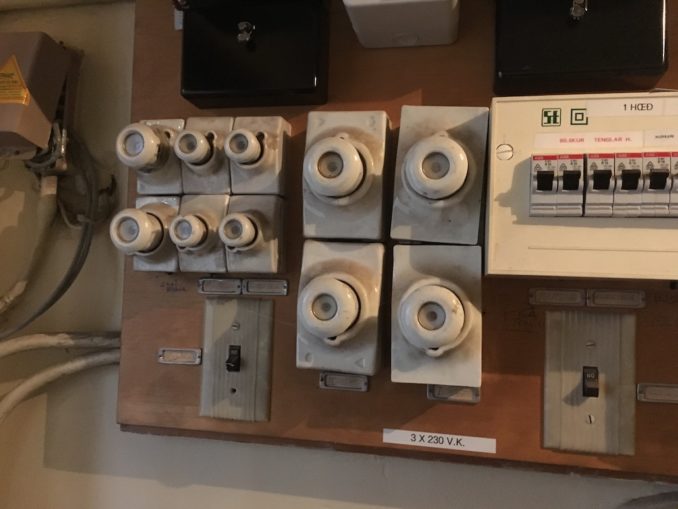 The following day we continued our sightseeing and were surprised that it had been felt necessary to give us a lesson in how to tie a tie in eighteen easy stages. This didn't really fit with our impression of Iceland as a rugged place full of rugged people, but we were grateful for the lesson nevertheless.
Suitably educated we joined a tour doing the Golden Circle which took in most of the spectacular scenery of this part of Iceland that we would otherwise have been unable to get to.
Haukadalur geothermal area
Our first stop was at the Hotel Geysir, just across the road from the Geysir Hot Spring Area at Haukadalur. As we got off the coach we couldn't help noticing that the Icelandic obsession with clothing seemed to extend to ad hoc underwear inspections, although I believe this is actually a reference to Glima, the Icelandic form of wrestling.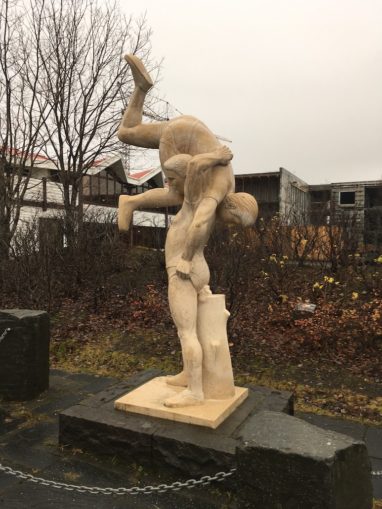 The Geysir Hot Spring Area is highly active, with boiling mud pits, exploding geysers and the Strokkur geysir which shoots water 100 feet into the air every few minutes.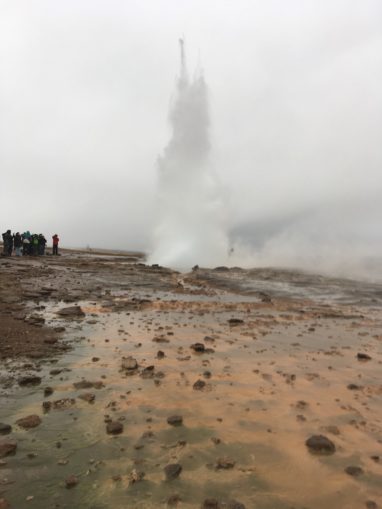 We climbed to a viewpoint at the top of the hill at the edge of the Area and were rewarded with a fine view of a river valley and the mountain beyond.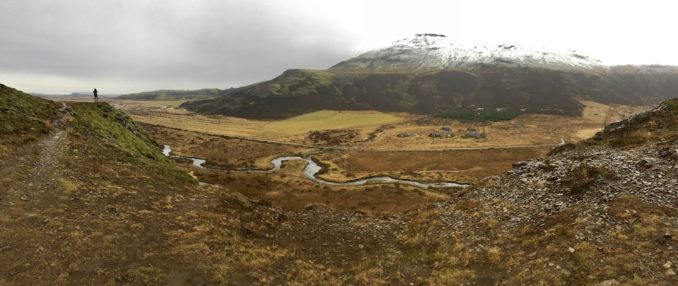 Our next stop was Gullfoss, a massive waterfall on the Hvitá River that took my breath away. I had seen photos of it but they didn't really do justice to its sheer scale and obvious power. I could have watched it for hours but it was bitterly cold and the coach was waiting to take us back to Reykyjavik.
A Free Evening
Back in Reykjavik we found out that the trip to see the Northern Lights was cancelled due to rain and very low cloud. While this was disappointing, the upside was that it gave me a chance to try and get in touch with Lost Property at the Airport. This I did and was relieved to discover that I had indeed left my wallet on the plane and it was safe and still had a full complement of cards and cash. The one remaining problem was that the only time I could get there to collect it was on our last day and on that day the Lost Property Office closed at midday. A round trip to Lost Property and back would take most of the morning and leave insufficient time to do anything else before returning to the airport again for our evening flight. We felt this was a problem best discussed over a pint.
We found a very promising looking bar in the centre – the Svarta Kaffið which means Black Coffee although, fortunately, other drinks were available. The main attraction for us, apart from the local Gull beer, which turned out to be a very pleasant crisp lager which certainly hit the spot, was their speciality snack which we judged to be the best food we had that trip – a very large crusty cob with the top cut off and the middle scooped out and filled with vegetable soup. Superb.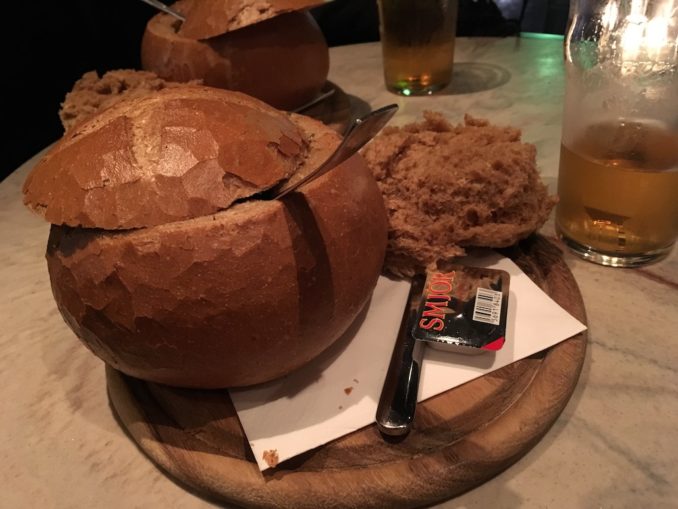 We finished the evening at the Icelandic Craft Bar, a bar very similar to a London Craft Bar, with similar small samples of the beers on offer, but with even higher prices, before turning in in readiness for the next day's whale watching trip.
Whale Watching
This was booked for the afternoon so we decided to spend the morning exploring Reykjavik further, particularly the Hallgrímskirkja, the largest church in Iceland and, at 244 feet high, among the tallest structures in the country. The view from the top, looking out over the town and out to sea is spectacular.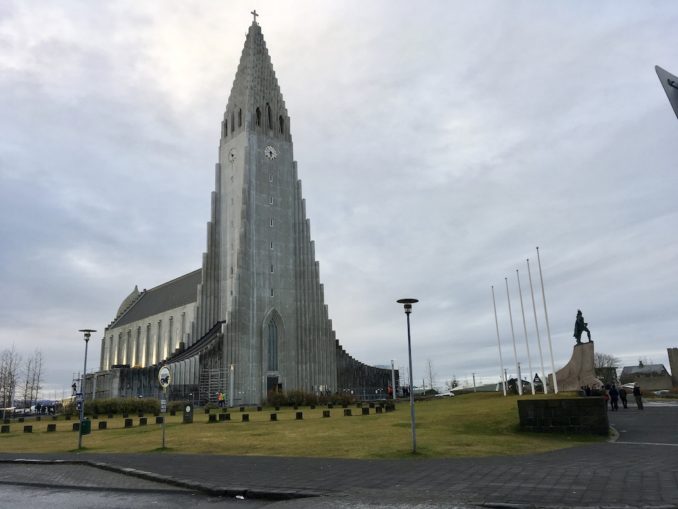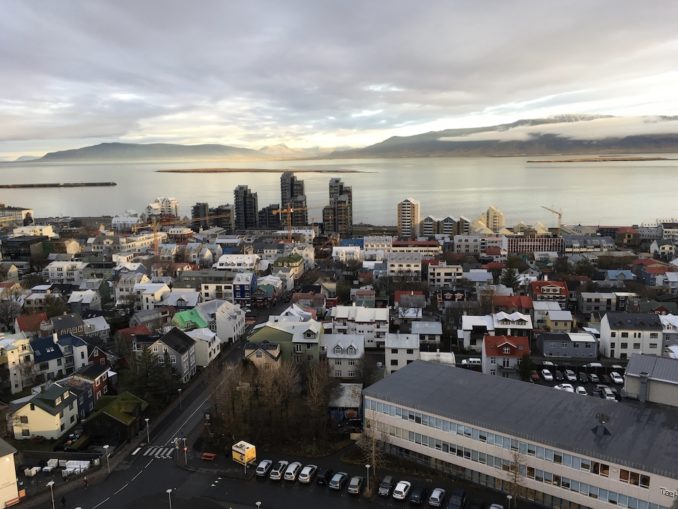 The whale watching turned out to be a non-event – wherever they were, they were not anywhere near Reykjavik Harbour. It was still a pleasant, if cold, trip with a mirror-like sea and and a wonderful sunset.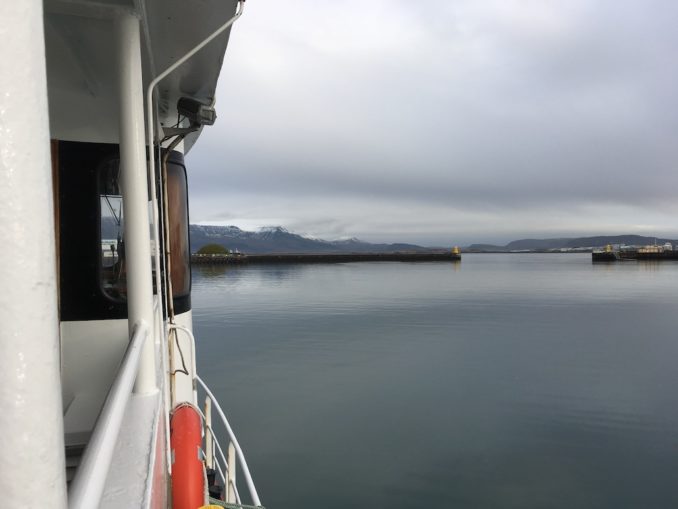 Back on land we continued our exploration of the town, valiantly resisting the juvenile temptation to visit the Reykjavik Penis Museum and settling instead for a statue of a man with a large rock on his head.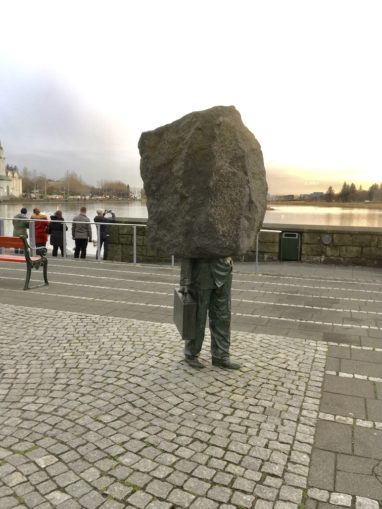 An Unexpected Bonus
The plan that we had hatched in the Svarta Kaffið for our last day was to catch the earliest possible coach to the airport, pick up my wallet and then hire a car for half a day to see as much more of Iceland as we could. It turned out to be a very wise decision as in those few hours we saw some of the highlights of the whole trip.
We drove through some incredible lunar landscape to pick up the coast road to the Bridge Between the Continents – the meeting of the North American and the Eurasian Tectonic Plates at Sandvik.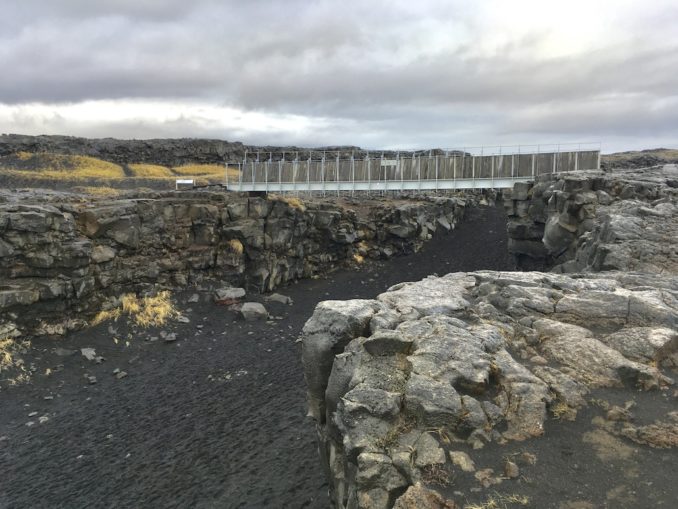 From there we went through some Martian landscape before arriving at a vision of Hell where the whole landscape was steaming and bubbling and the only way through was on carefully marked walkways. It was actually part of an area serving a geothermal plant rather than Hell itself, but it was the most alarming landscape I have seen.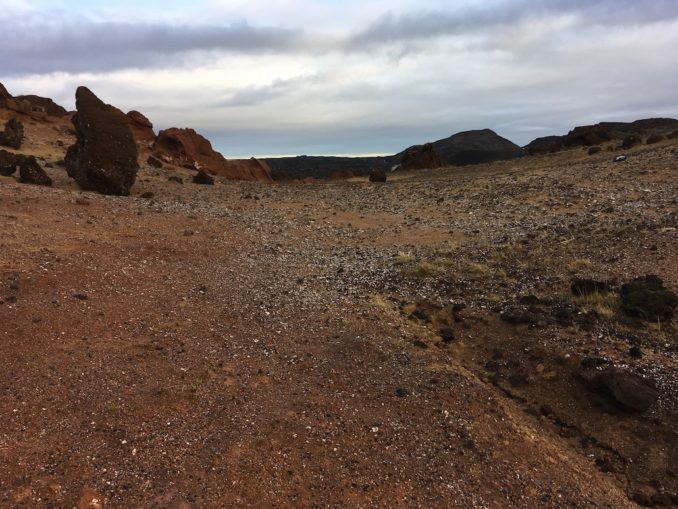 From there we went on to the Blue Lagoon, a geothermal spa, to take in more unearthly scenes before returning to the airport and home.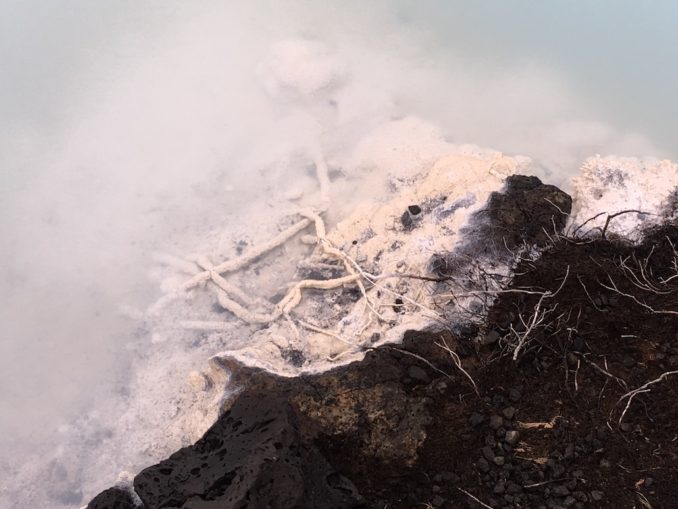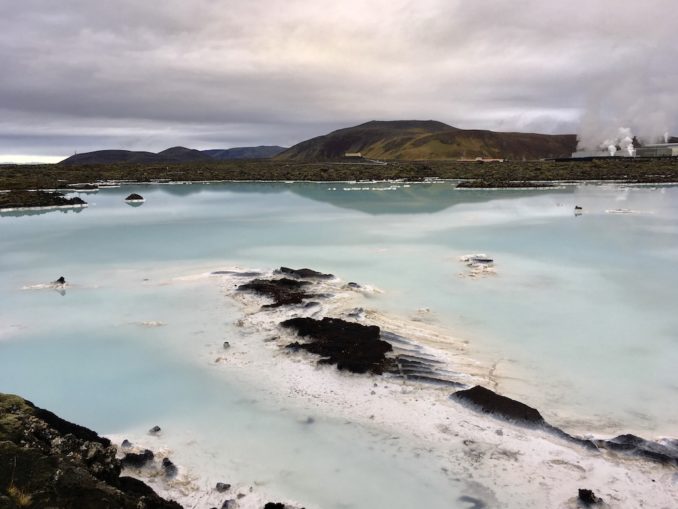 © Jerry F 2021

The Goodnight Vienna Audio file