Britannia has a long and established presence on our nation's coins; first appearing on coins from the Roman era.  In AD119 Emperor Hadrian introduced a number of coins that depicted a female figure who personified Britain, 'BRITANNIA'.  When the Romans left Britain, Britannia disappeared from coins, being introduced again during Elizabeth I's reign in the 1600s. At that time Britannia symbolised the maritime empire of the Tudor Queen and in 1636 the legal scholar John Selden argued the Britannia proved Britain's claim to the seas around her.  In 1672 during Charles II reign Britannia was reintroduced onto coins, at a time when Britain's maritime strength was under threat and the king hoped that Britannia would inspire the nation once more.
Since her reappearance in 1672, Britannia has been ever present on the nation's coins, becoming more and more associated with the sea.  On the 'cartwheel' pennies and two-pences of 1797 she was shown seated on rocks in the sea, with a ship in the background and her spear replaced by a trident.
Britannia has continued to appear copper and bronze coins of every monarch and when the UK switched to decimal coinage in 1971, Britannia appeared on the definitive 50p coin.
Instantly recognisable, the Royal Mint chose Britannia to appear on coins for the international bullion markets in 1987 and the modern Britannia was born.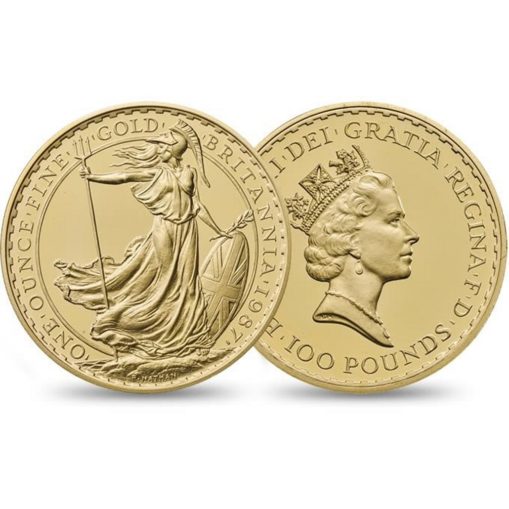 Compared to the modern Sovereign, modern Britannia coins have been around for a relatively short period of time.  However, the designs used and choice of fractions or multiples of an ounce, make them a great choice for collectors and stackers of precious metals.
Originally produced by the Royal Mint in gold only in 1987, silver from 1997 and platinum since 2018, these coins depict Britannia in a new design each year, making them more of a collector's coin than just for those interested in owning gold.  Personally, I prefer Britannia to Sovereigns, partly because of the higher gold content and also because they are beautiful coins in their own right.
When first launched the gold content of Britannia coin was 22k, rising to 24k from 2013. It is claimed the increase was due to demand from Chinese and Asian markets, which prefer the purest form of gold possible.  Silver Britannia were initially produced with a silver content of 95.8%, rising to 99.9% from 2013.  Platinum Britannia have a purity of 99.95%.
Gold, silver and platinum Britannia are available in a number of different weights and denominations in bullion and proof standards:
| | | |
| --- | --- | --- |
| Metal | Weights available (troy ounce) | Denomination |
| Gold | 1 kilo *, 5oz *, 2oz *, 1oz, ½ oz, ¼ oz, 1/10th oz, 1/20th oz *, 1/40th oz * | £1000, £500, £200, £100, £50, £25, £10, £1, 50p |
| Silver | 2 kilo *, 1 kilo *, 5oz *, 1oz, ½ oz *, 1/10th oz *, 1/20th oz *, 1/40th oz * | £1000, £500, £10, £2, £1, 20p, 10p, 5p |
| Platinum | 1oz, ¼ oz * | £100, £25 |
* available in 'proof' sets only
As with the Sovereign, The Royal Mint has taken the opportunity to produce many versions of the Britannia for the collector's market, with the highest quality 'proof' standard coins being sold for many times the precious metal content of these coins.
The latest 2021 version of Britannia coins are marketed by The Royal Mint as "The world's most secure coin", with the introduction of some new security features, including a "Latent Image", where a small image on the coin changes from a trident to a padlock as the coin is tilted towards or away from your eye.  "Surface Animation" brings the waves behind Britannia to life, The Union Flag is accented by "Tincture Lines" and finally the coin is protected by "Micro Text".  A short video produced by the Royal Mint demonstrating these features can be seen here: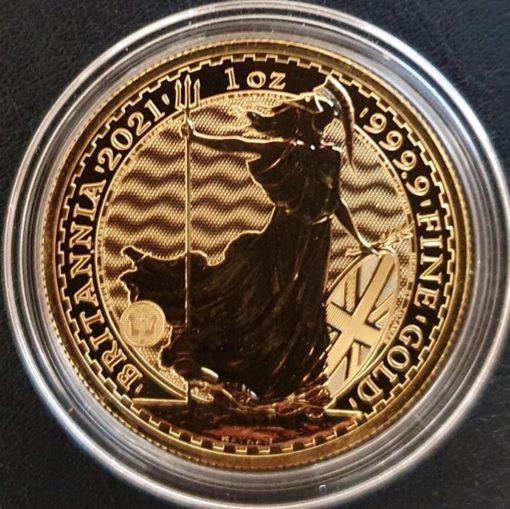 The next article in this series discusses the difference between the various standards to which coins are produced.
Featured image: "Crowne-Gold-Silver-Bullion" by digitalmoneyworld is licensed under CC BY 2.0

© Reggie's Mind Of Evil 2021

The Goodnight Vienna Audio file