Having had six months of lockdown, our annual holiday cancelled and finally one or two kids heading back to Uni, I decided that it was time for a long weekend away with Mrs SD.
Usually that involves visiting a city within an hour or two of us – say Edinburgh, York or Leeds. This time with all the Coronavirus rage, a trip to the countryside was more appealing.
We'd holidayed for a week in Western Scotland, Weymss Bay on the Firth of Clyde and enjoyed great weather, no midgies and plenty to do. Despite having been born and brought up in the North East, I'd done very little travel in the Scottish Borders other than pass through on the way to Edinburgh etc.
The plan was set – three nights, each in a different place, covering the area between the A1 and the M6/M74 to celebrate our birthdays and wedding anniversary.
First day was a drive up the A1 to Berwick – the single file section of the road that has so many accidents. We just reached the single lane section north of Morpeth, to see a combine harvester trundling south – one of the ones so large it needs tracks rather than wheels to support its bulk. The farmer must have been on the road for a while as even though our road was quiet, the southbound tailback stretched over 10 miles up to Felton. You'd think the selfish bastard would pull over once or twice to let people through rather than stick to his 25mph course on a Friday morning. I doubt if there is a law to prevent him being such a git.
We headed for Chainbridge Honey farm for lunch – a border enterprise with good food served on an old routemaster bus. The farmer has more than the usual collection of vintage tractors/lorries etc to wander around. Unfortunately it was closed for the duration, so a quick look at the Union Bridge nearby – a wrought iron chain suspension bridge built in 1820 crossing the Tweed.
It is due to close for repair but was open on the day and cars that were able to squeeze between the blocks could cross.
We had a walk across, the gale off the sea blowing the bridge around a bit.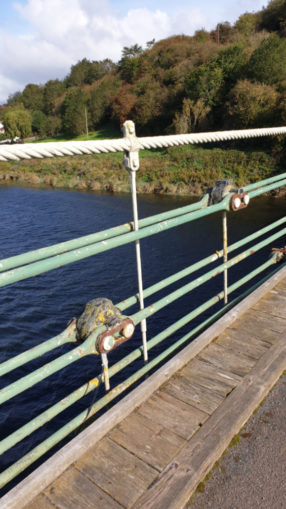 You could see the wood of the deck showing through holes in the tar covering the road surface and lots of rust, so the contractor will be busy during its year out of action.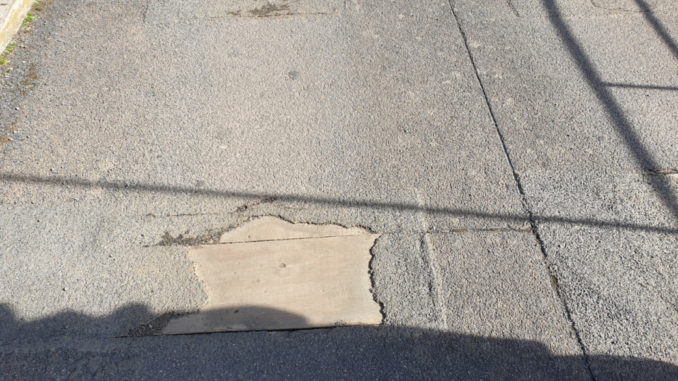 Getting hungry now, we continued on along the Tweed valley, through Coldstream (not much to report) to Kelso. Kelso is a really lovely small town, with a broad Georgian town square that looks straight out of a period drama, above the shop level at least. Disney would spend millions to recreate such a hotchpotch of buildings and never get it right. It caters for the fishing/shooting tourists with a number of old gentleman's outfitters offering country attire. A local café provided a light lunch without too many restrictions other than the usual farce of a mask to walk to your table.
After a quick wander around the town, spotting the beat on the Tweed that Mortimer and Whitehouse had fished for salmon (series 3, ep.1), we headed up to the local castle – Floors castle in this case. A stunning confection of turrets built in 1721. The castle itself was closed, naturally, but the extensive gardens and greenhouses were open. As it was just the two of us, no teenage kids to consider or listen to, a wander around was a peaceful change. Half of the enjoyment of this sort of trip is doing what you want to do, not what you think will keep the rest of the party happy.
On to our lodgings for the night, a small privately owned hotel on the edge of Galashiels, The Kingsknowles Hotel.
The place is a hidden gem, formerly an Edwardian manor house for a local bigwig, it is not at all expensive and just about managing to cope with the current situation. The food rightly wins awards, both evening meal and the full Scottish breakfast being excellent.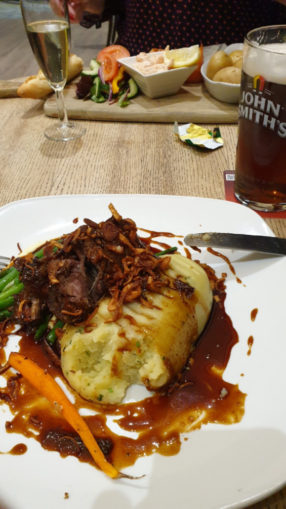 It's similar to English but with added haggis and potato scone. Qualms? Do go for the better rooms, but don't pick room 16 – beautifully appointed and recently refurbished, it is directly above the kitchen, so it sounded as if someone was chopping wood inside an oil drum before having a game of beerkeg skittles before quietening down.
Day 2 started dry and chilly, so we set off to our northernmost element – a trip to Roslyn Chapel, just south of Edinburgh. You book a timeslot so it is not to busy, though it appears all 30 permitted within the two hours turned up at the same time. A curious place, less than half the intended size (the sponsor passing away as they were 40 years into the build). Lots to see, with boards and guides available. You can see why Dan Brown chose to include it in his novel.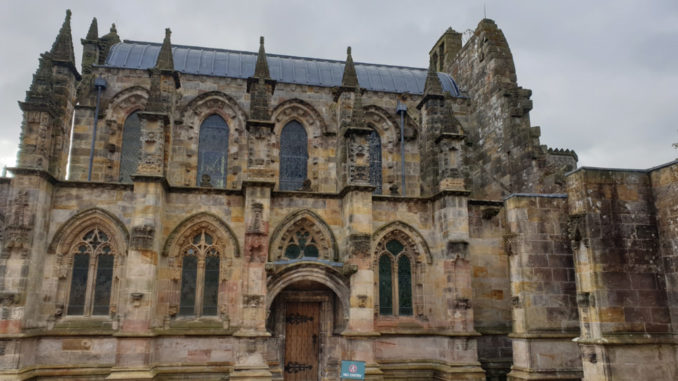 We then headed south, stopping in a village for lunch and on to the most western venue of the trip – the world heritage site, New Lanark Mills. All the A roads in the area are in fairly good condition with little traffic at this time of year, with hilltop and moorland views.
New Lanark Mills consists of a number of former spinning mills, now fully refurbished into shops, apartments, café, a youth hostel, and hotel. It is at the foot of a walk 'the Falls of Clyde' – an interesting hike up the upper Clyde valley, with quite a lot of climbing, reminding me of smaller version of walking up some of the trails in Yosemite.
The New Lanark Mills Hotel is an excellent conversion of one of the mills – despite being what looks like a huge building, some seven floors, it only has about 18 bedrooms, the rest of the place taken up by restaurant, bars, spa, conference facilities.
It can't have been open long as the place was like new. Food as good as the first night (though double the price), we slept very well with only the sound of the river rushing by outside.
Day 3 and starting to turn for home. Sunday in the Borders is still a very quiet day – few places are open other than the many churches that still appear to be thriving in the area.  After another full Scottish breakfast, headed to Peebles.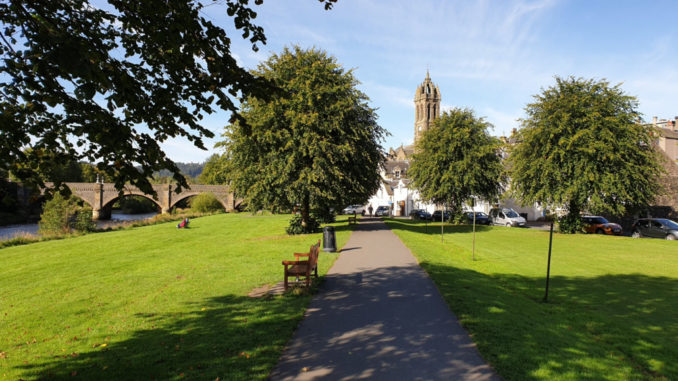 It seems to have lots of independent shops, fortunately only open 12-4pm. We had a wander along the river – a park stretches along both sides for a mile or two. Walking through it back towards town reminded me of the town I grew up in, which also had river walks. Families were coming out, most likely from the morning church service, to enjoy the warmth of the sun. While being the same weekend as the Trafalgar Square protest, it felt a million miles away.
Lunch in town, then on to our final destination, Hawick. I'd stayed there as a child, but couldn't recall anything about the place. It is dominated by the cashmere milling industry, there still being at least half a dozen working mills in the town. We visited the factory shop of the only one open on a Sunday, but no bargains to be had – a normal looking sweater reduced from £150 to £130 – not exactly Peacock's prices.
Here's a cashmere dressing gown that even Sarah Lousie might think twice about – a bargain at £1,495.00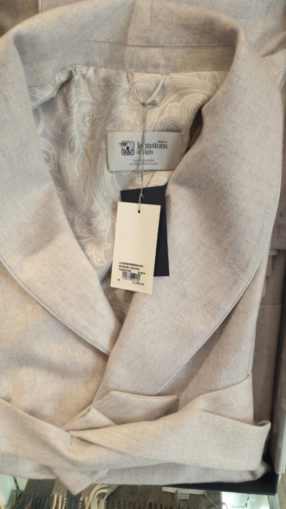 On to our evening lodgings, another small hotel, this time a Victorian merchant's house – originally built for the owner of the local auction mart. Beautifully renovated, around a mile from the town centre.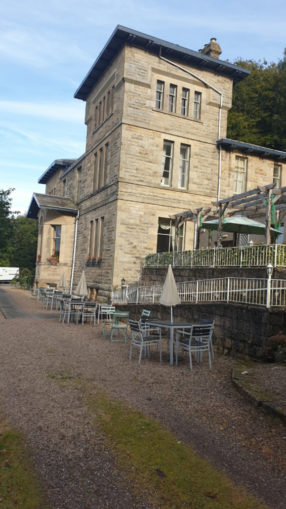 As with the first one, some of the grounds had been sold off to keep the place going, but this one was lavishly furnished with period furniture and even a four poster bed albeit a bit of an Ikea type modern one judging by the sort of fittings you get on flatpack furniture. It had seen some activity, we noticed a couple of extra brackets holding up one of the upper beams.
No food this time, it being Sunday night, so off into town for a recommended pizza place, obviously the place for a first date in Hawick with one or two nervous looking couples alongside groups of friends, families etc – it was fairly popular for a Sunday night under the current rules.
Monday and time for home. The drive from Hawick takes us along the northern edge of Kielder/Redesdale forest before joining the A68 at the border. It is a stunning road over the tops. On a clear day, such as the one we had, you can see valley after valley with very little or no human habitation. The run south was quiet enough, no great jams or inconvenience and home for lunch!
Highlight of the trip? All of it I think. We considered which of the places visited would you move to – and Peebles came out top. Favourite hotel? Kingsknowles for food and value, New Lanark for comfort and modern luxury, though all three were strong contenders.
To be recommended – definitely. Always good to turn off the MSM for a few days and sample what this country can offer even in these challenging times.

© text & images Sweaty Dave 2020

The Goodnight Vienna Audio file