Happy Birthday to Me
My birthday is November 4th and as a child my main memory of it was always of my parents laying on a party for my friends who all turned up bearing gifts of fireworks. After the party, we'd all troop out into the garden and set fire to my birthday presents. I could never work out why this was supposed to be a good thing and matters were always made worse the following day when we all went to the Young Farmers' Association Bonfire and Firework Party in the village where everybody would happily remark how much bigger than my display it was.
I vowed that when I was older I would celebrate my birthday in a rather less destructive and pointless way. The decades rolled by until, when I retired, I was able to make good on my vow and booked a short break in Tromso, taking my son with me. It turned out to be a considerable success and I repeated the plan in the following years.
My first two Postcards From November covered that trip in 2015 and the trip to Reykjavik in 2016. In 2017, I fancied keeping the "cold" theme going and decided on visiting Pic du Midi, set at an altitude of 2877 metres near La Mongie in the Pyrenees. As before, I took my son with me.
La Mongie
La Mongie is a winter resort set at an altitude of 1800 metres and is the largest skiable area in the Pyrenees. I thought it would be an ideal place to base myself for a couple of days, my experience of ski resorts and apres-ski evenings being mainly gleaned from David Niven role in The Pink Panther. It was also the obvious choice as it has the only cable car to our destination, the Pic du Midi Observatory. It turned out that the ski season doesn't start in early November as I assumed and, without the skiing, it has to be admitted that it doesn't have much going for it.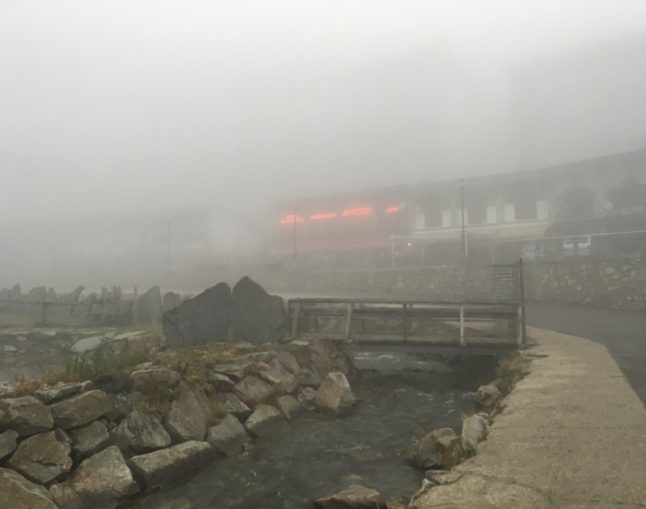 To get over our disappointment that the village was not quite as charming as we had expected we decided to do what any Englishman would do in the circumstances – go on a pub crawl. Sadly, this wasn't to be for two reasons. Firstly there was only one bar open and secondly it was an Irish bar going by the name of La Killarney and, even worse, it was due to shut in about an hour's time at 9pm. As it happened, we were pleasantly surprised. Being the only customers we got very good service which ran to a couple of pints of the local beer and a bowl of frites each. That seemed to be the extent of La Mongie's hospitality for the day so we had an early night.
Pic du Midi
Pic du Midi de Bigorre is an astronomical observatory dating back to 1878 which has been added to over the years and was used by NASA to take detailed photos of the Moon's surface in preparation for the Apollo missions. It is set on top of the mountain and looks exactly like the secret hideout of an Bond villain.
Visitors are welcome and there is a museum, a cafe and bar and, of course, spectacular views looking out over the Pyrenees. We took the cable car from La Mongie which offers fantastic views all the way up, especially as the buildings start to come into view over the peaks. We even had a chance to look down on a rainbow.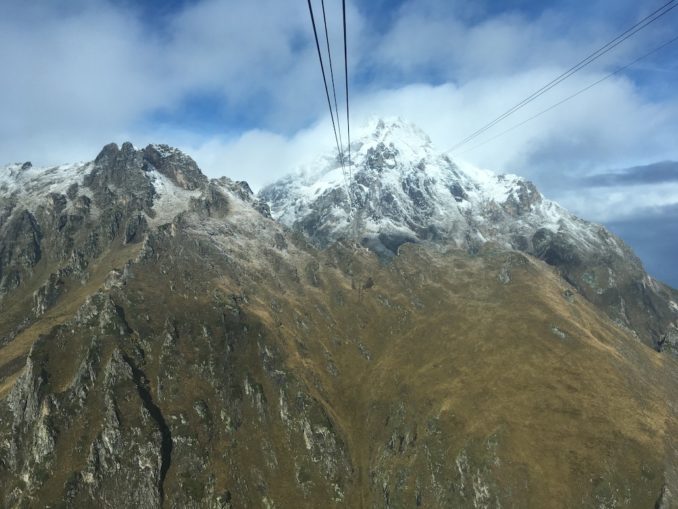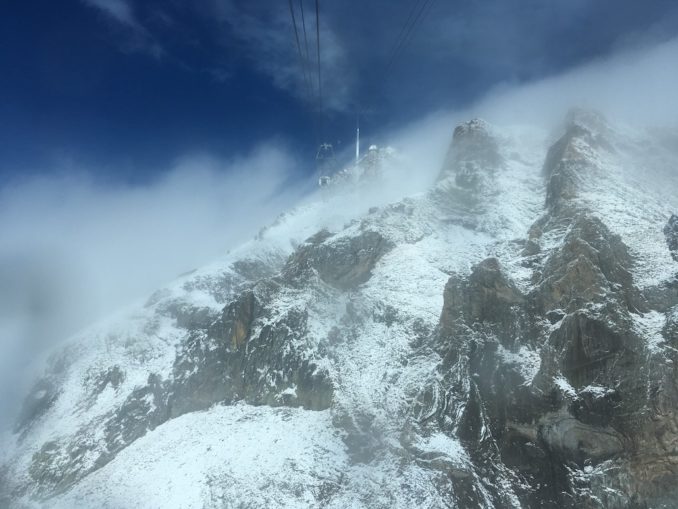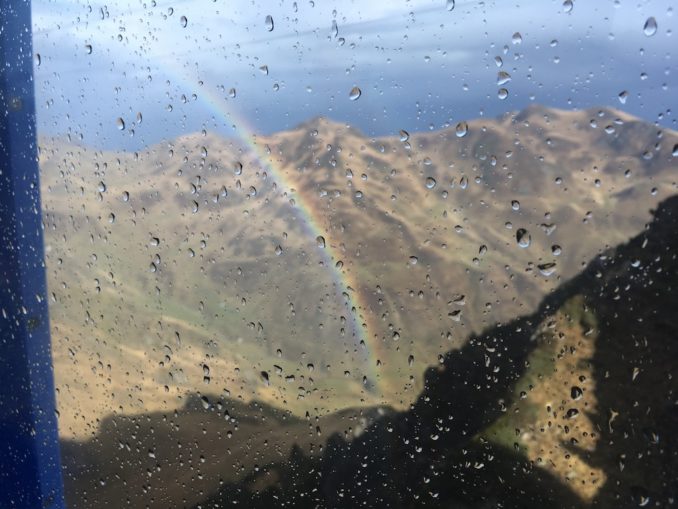 Once out of the cable car we got our first full view of what looked like a cross between Blofeld's lair and Colditz Castle.
We were lucky that snow wasn't too deep and the weather was sufficiently clear for us to find our way around the visitors' area and take in the breathtaking views from the viewing platforms.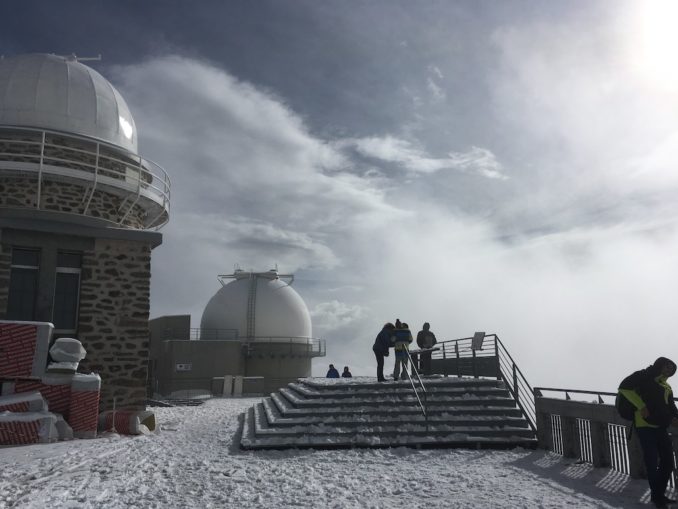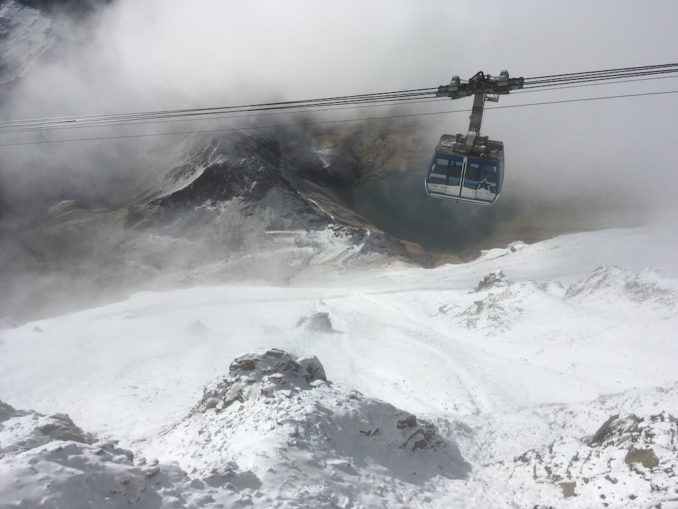 A particular delight for me was seeing an ermine in its natural habitat, something I'd not seen before. It looked to me like it led a pretty harsh life up there as there were no signs of what it ate but it seemed happier in its surroundings than I would have been.
The actual observatory is off-limits so we looked around the museum and sat in on an audio-visual presentation on the construction and history of the observatory which, sadly, was beyond the scope of my schoolboy French, although I did get a bit more of an understanding of the place. Much more within my competence was the cafe and bar, offering us the chance of a quick beer before taking a final view of the Pyrenees from altitude before catching the cable car down.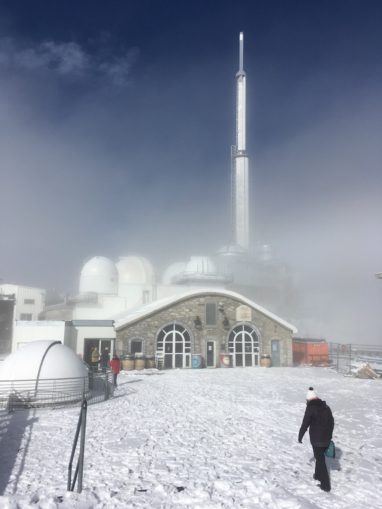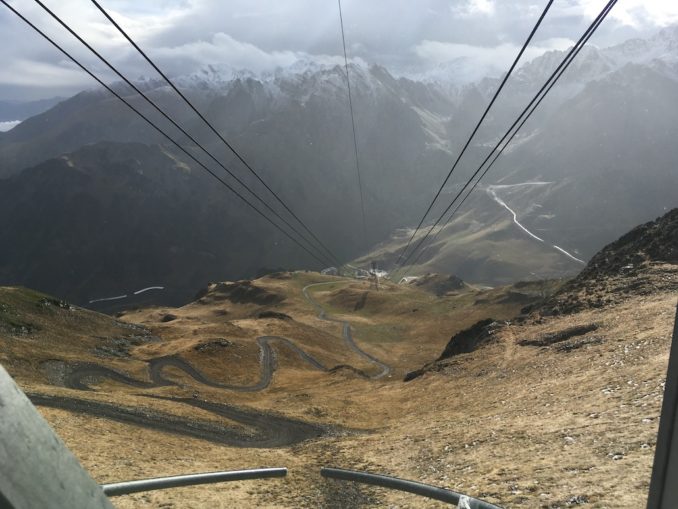 Once we were back, it was time to sample the delights of La Mongie again. We managed to find a cafe/bar that was open and I spent my birthday evening there. I was amazed to see that one of their specialities was cheese fondue, something I had not encountered since the 1970s. I could not resist the temptation to relive those days of culinary exoticism so I ordered one and washed it down with the perfect complementary drink. It was very nice.
Ed. No, no, no. White wine with fondue, never beer unless you want to feel ill!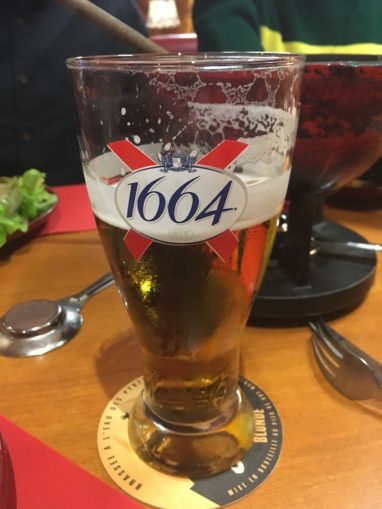 When we awoke the next morning there had been a fall of snow overnight so we set off early down the mountain roads on our return journey.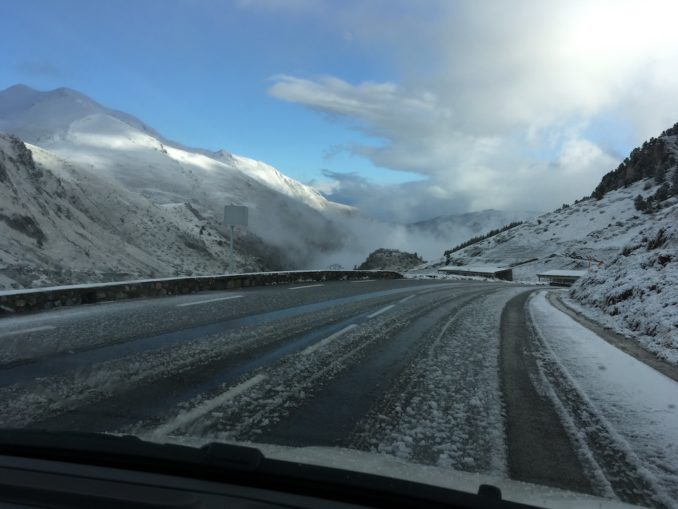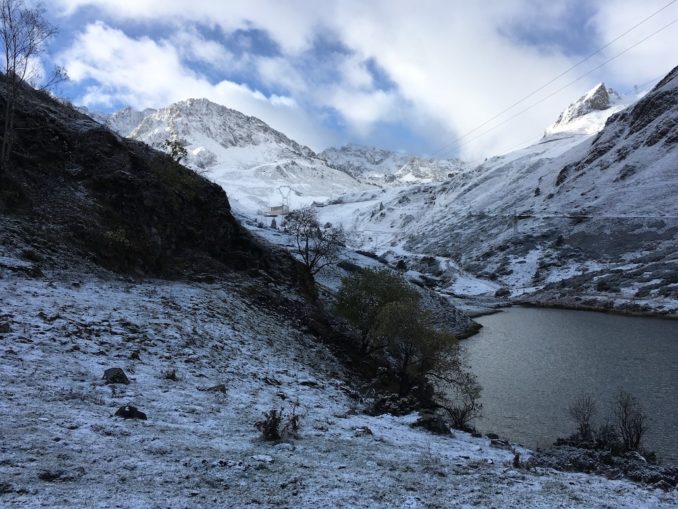 With time to spare we took a detour into Lourdes, another one of those places I had heard about but about which I knew very little.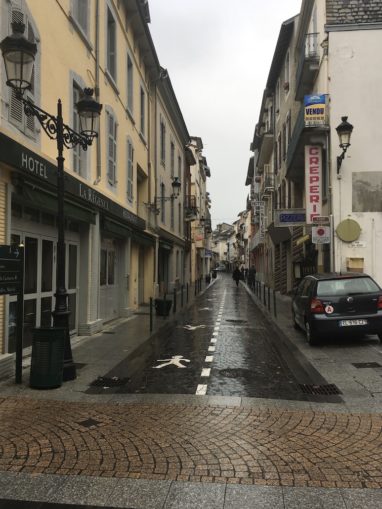 Somehow I imagined it to look rather more "spiritual" than it did on that damp Sunday morning but we stopped anyway for a coffee and a pastry before heading for Toulouse Airport and the flight home.

© Jerry F 2021

The Goodnight Vienna Audio file