It is obvious from many of the articles that appear on this website that history and mechanical things are of interest. So here is one that combines the two, the history of a railroad and why a small town's founding is a bit of a love story.
Many Puffins will know the name Augusta Georgia, either as the home of the Augusta National Golf Club or the home of (not birthplace)  the "Godfather of Soul" James Brown, although in his later years he lived in Beach Island, just across the Savannah River in South Carolina, his home State. I only include this information as I find it a useful reference point for people unfamiliar with this part of the USA.
!5 miles further East into South Carolina is the City of Aiken, voted by the magazine Southern Living in 2018 as the number one small town in the South. The paternal side of my wife's family have lived there since the 1930's and our (wife and me) connection with it goes back to 1963.
As a caution I must point out that these events happened in the South, before the Civil War, it involved, in part, the use of slave labour and is one reason why it is not more widely known. If that is enough to put someone off from reading further then so be it.
"I have just returned to Liverpool, having been at Newcastle, visited the railroads in its vicinity and examined the operation of the locomotives with the closest attention. I have been completely convinced of their utility and superiority to horsepower…"
– Horatio Allen, designer and builder of the Charleston-Hamburg Railroad, 1828
Charleston, South Carolina, United States
to Hamburg
Completed 1833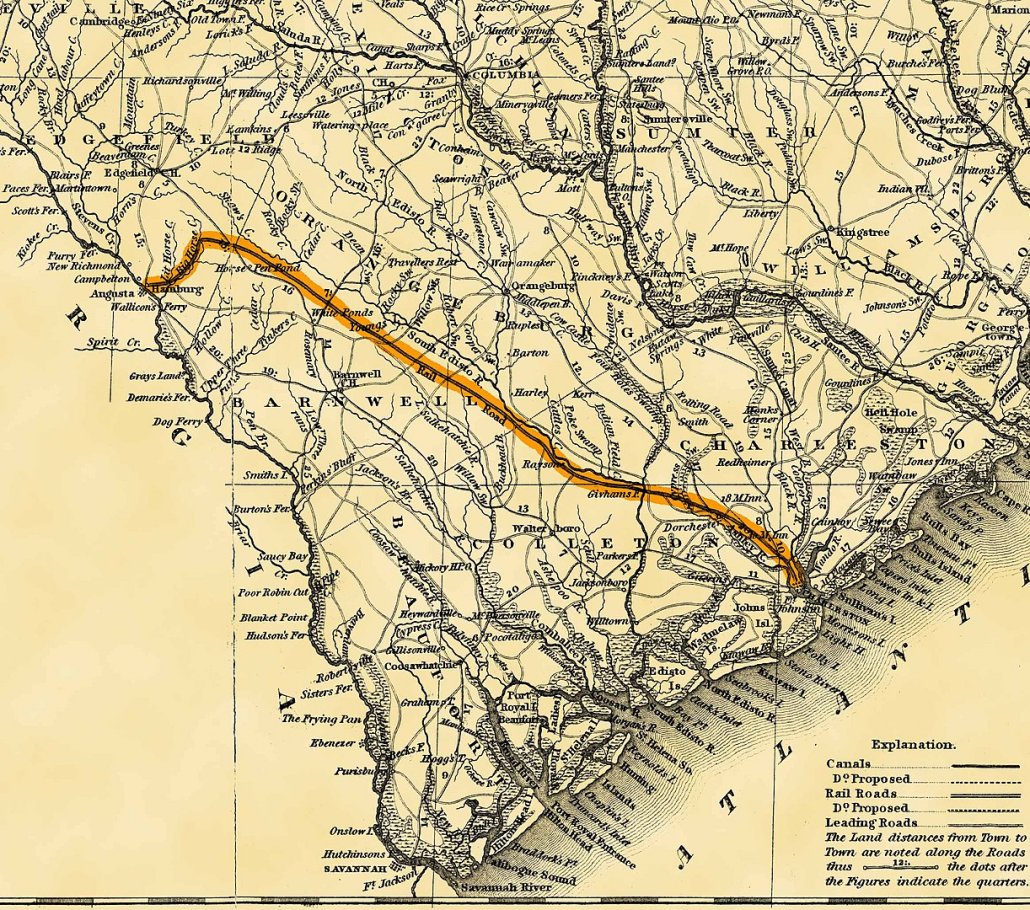 With the advent of cotton cultivation in the early 19th century, the relatively remote South Carolina upcountry enjoyed a vast expansion in the value of its agricultural produce. Overland transport by wagon was slow and expensive, so this produce tended to go to Augusta, Georgia, then down the Savannah River to the seaport at Savannah, Georgia. The SCC&RR Company was chartered on December 19, 1827 (amended January 30, 1828) [3] to divert this commerce to Charleston by means of connections to Columbia, Camden and Hamburg. Despite its novelty the project was pursued by its Charleston leaders with aggressive method, public demonstrations encouraging support for the daring concept of a steam-driven railroad. Under William Aiken as the first president, six miles (10 km) of line were completed at Charleston in 1830. The company leased enslaved African Americans from plantation owners when free white laborers refused to work in the swamps. The company eventually purchased 89 people to work as slaves.[1] The first run over the entire 136-mile (219 km) line was celebrated in October 1833.
The South Carolina Canal and Rail Road Company was chartered under act of the South Carolina General Assembly of December 19, 1827. The company operated its first 6-mile (9.7 km) line west from Charleston, South Carolina in 1830. The railroad ran scheduled steam service over its 136-mile (219 km) line from Charleston, South Carolina, to Hamburg, South Carolina, beginning in 1833.[1] Some sources referred to the railroad informally as the Charleston and Hamburg Railroad, a reference to its end points, but that was never its legal name
The SCC&RR holds several historical distinctions such as being one of the first railroads in North America to be chartered and constructed. The railroad also featured the first steam powered, scheduled passenger train to run in America, pulled by their first locomotive the Best Friend of Charleston
Prior to directing work on the Charleston-Hamburg Railroad, chief engineer Horatio Allen had visited England to study railroads for his employers at the Delaware and Hudson Canal Company. There, he met with noted British engineer George Stephenson (father of noted civil engineer Robert Stephenson) and toured the Stockton and Darlington Railway, the first railroad in the world to offer regularly scheduled passenger service. Allen went on to a celebrated career in civil engineering and in 1871 was named the fifth president of the American Society of Civil Engineers.
The first steam engine on the Charleston-Hamburg line, built in December, 1830, for $4,000, was affectionately named "Best Friend of Charleston." Less than six months after its purchase, a worker, objecting to the machinery's loud hissing as it travelled on a revolving platform, closed a safety valve to quiet the noise and caused an explosion that killed the worker and destroyed the engine.
The Charleston-Hamburg Railroad was opened for limited service on Christmas Day 1830, when it carried 140 passengers on a line six miles long. By November 1833, the railroad line was fully operable and was maintaining three steam engines, eight passenger cars, 11 lumber cars, 14 tender cars, and 56 freight cars in regular service.
In 1835, a ticket from Charleston to Hamburg cost $6.75, with a baggage allowance of 75 pounds. Children under 12 and "coloured persons" were carried at half fare. Regulations prohibited servants not caring for children, the carrying of guns unless examined by a conductor, and the placing of feet on the passenger-car cushions.
The railroad built a branch line in 1842 to Columbia, S.C., another in 1848 to Camden, S.C., and in 1853 a bridge to Augusta, Georgia, just across the Savannah River from Hamburg, S.C. Almost completely destroyed by General Sherman in his historic 1865 Civil War march, the railroad was rebuilt by new owners in the 1870s and 1880s. It was sold in 1899 to the Southern Railway and incorporated into a nationwide system stretching from Charleston to Los Angeles.
Few traces of the original railroad remain today. A small portion of the original track runs through the National Historic Landmark District in Charleston that celebrates the U.S. birth of steam-locomotive service. Included in the district are the William Aiken House, home of the Charleston-Hamburg line's first president, Camden Depot, and four other railroad buildings predating the Civil War. A separate, recently built structure houses a replica of the Best Friend of Charleston
Early Engineering
The SCC&RR was fortunate in its chief engineer, Horatio Allen, who had already toured English railroads, and drove the Stourbridge Lion on its first and only run in America. Allen argued successfully before the SCC&RR directors for immediate adoption of steam locomotion, stating that the power of horses was known and would never increase, but the future power of locomotives was beyond imagination. The first locomotive was the Best Friend of Charleston of 1830; by 1834 the line had purchased a total of 15 locomotives and scheduled one daily run in each direction.
The way consisted of flat strap iron fastened to continuous timber sills. Much of the way passed easily through South Carolina's monotonously flat Pine Barrens. Elsewhere, the track was elevated – frequently over long distances – on timber pilings. A drop of 180 ft (55 m) over a 3,800 ft (1,200 m) run into Horse Creek Valley required an inclined plane, with a steam-powered winch later replaced by a locomotive used as a counterweight. Delays at this archaic bottleneck brought about the railroad town of Aiken, South Carolina, as a stopover place.
The line was built with 16 equally spaced turnouts each with a water pump and timber shed. A maintenance station responsible for perhaps eight miles (13 km) of track was based at each turnout. The station overseer surveyed half of that track daily, and effected minor repairs such as making secure loose bars of iron, punching down protruding spikeheads, chamfering wheel flange rubs off the rails, ramming earth around the piles, and so on. The overseer was also responsible for maintaining adequate supplies of water and timber at the station, and for calling on the Superintending Engineer for nonroutine derangements.
Timber pilings had allowed the SCC&RR to build their line quickly and cheaply, especially in comparison with northern lines such as the Baltimore and Ohio that tended to overbuild. Nevertheless, by 1834 the pilings began to rot at the ground line, and were supplanted by earthen embankments made by dumping dirt over the side (encasing and preserving some of the longleaf pine structures to this day). Beginning in 1836 the flat strap rails were replaced with "T" rails.
Wood rot was an early maintenance evil. By 1841 a surface treatment called Kyanizing was found to be helpful, but used a toxic mercury compound for wood preservation — shortly thereafter the cheaper (and less toxic) Earlizing with copper and iron sulphates was adopted. When new longer routes made night travel necessary, passenger faced risks from collisions. South Carolina Canal and Rail Road Company experimented with a pine log fire on a flatcar covered in sand to provide light before inexpensive kerosene for lamps was invented.[6]
Novel and clumsily designed locomotives were a great expense with generally half of the large fleet laid up for repairs, modification or breaking up. These early machines suffered from slightness in the drive wheels, axles and valve gear, and from unequal distribution of weight, a serious problem given the questionable track they ran on. Inside actions were eventually converted to outside. The early eight-wheeled locomotives shared these problems along with overly weak frames, but otherwise were appreciated for greater power and less injury to the road. With limited facilities in an agricultural economy, all of these shortcomings resulted in long outages. Through 1834, locomotives had been purchased from six different suppliers.
The original line generally paralleled U.S. Route 78 and remained in service until the 1980s. The downtowns of many railroad towns such as Warrenton, Williston and Blackville are still marked by railroad esplanades frequently with elevated causeways.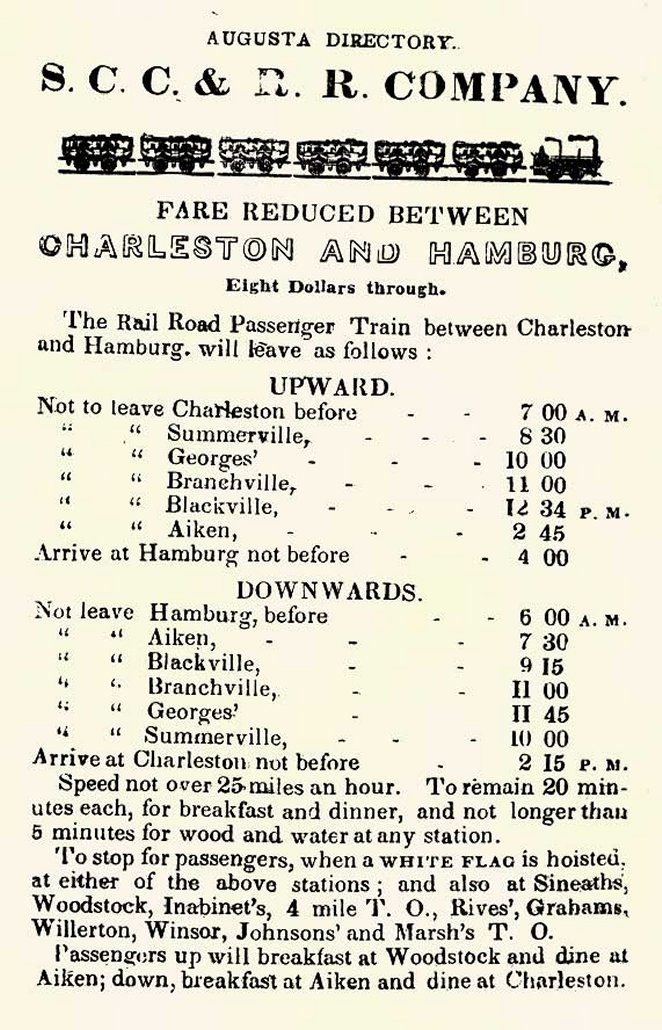 Aiken
The existence of Aiken, South Carolina could be called a romantic accident.
The love story begins with Captain William White Williams, a cotton merchant from Charleston. In 1820, he built a house in what would eventually be Aiken. The first frame house of its kind constructed in this part of the country, it still stands on the corner of Ray Lane and York Street. The Captain had a lovely young daughter named Sara, who became an important part of the equation that created Aiken.
A Railroad is Born
Captain Williams was desperate for a fast and inexpensive way to transport cotton from his fields to Charleston. In 1828 he and some of his business associates, including William Aiken, created the South Carolina Railway and Canal Company. Williams and others interested in seeing their little crossroads become a town donated large blocks of land to the railroad.
The line would begin in the hamlet of Hamburg on the banks of the Savannah River, where his cotton would be loaded into boxcars and arrive within a day at the seaport of Charleston to be shipped to Europe.
How, the captain wondered, could he get the train close enough to his fields so he could avoid the additional expense of hauling the cotton long distances by wagon?
Captain Williams: Out of Luck
Enter the other major player in this love story: Alfred Andrew Dexter, a young, Harvard-educated surveyor who worked for the Captain's railroad company. He spent weeks investigating where the railroad track should be positioned and concluded that it would be in the rail company's best interest to lay the track about 15 miles south of the Captain's cotton fields. Despite Dexter's best calculations to steer the rail bed toward the Captain's fields, it would be impossible for the train to negotiate the 500-foot, steep grade between Warrenville and his land.
Alfred Met Sara
Then Dexter met Miss Sara Williams, the captain's daughter. Smitten, he begged the captain for her hand in marriage. According to local legend, Captain Williams replied, "No railroad for me, young man, no wife for you!"
Dexter re-thought his "impossible" calculations. He and his assistant, C.O. Pascalis, designed a stationary engine with a winch that was situated on the crest of the hill where Park Avenue curves into Hayne Avenue today. This engineering genius allowed trains to negotiate the "impossible" grade. The stationary engine pulled trains up and down the slope on a cable over a windlass so they could make their way safely between the Warrenville and Aiken stops.
Dexter and Miss Williams were betrothed, and the roadbed for the train was run within 100 yards of the Captain's home.
The 136-mile journey from Charleston (through Aiken) and on to Hamburg was the first successful scheduled railroad service in America. It was also the world's longest railroad at the time it was completed in 1833.
Dexter and Miss Williams were married in January of 1834. With his new wife and his powerful father-in-law to anchor him, Dexter decided to stay. He and his partner Pascalis set about creating a town where there had been only cotton fields and a train stop. They created a geometric street map and plotted the way the town would be laid out directly over the site where the old railroad construction camp had stood. The two also planned for expansive, 150-foot-wide boulevards. This width, they knew, would allow wagons pulled by as many as six horses to turn around without difficulty. They envisioned parkways planted with seasonal flowers and shrubs at the centres of the boulevards.
Aiken became a chartered town in 1835 and was named in honour of the president of the railroad, William Aiken, who had been killed in an accident in Charleston before the project was completed. Today, Aiken's boulevards help distinguish it from many other quaint southern towns. Horse enthusiasts, who still traverse the boulevards with their carriages, certainly find the ample width appealing.
Today: Gorgeous Flowers (And Confused Visitors)
The city meticulously maintains the centre parkways, which have been planted over the last 175 years with camellias, azaleas, lorepedlum, gardenias, Japanese maple and magnolias. Their varied colours match their blooming seasons so that colourful flowers always catch the eyes of travellers.
Downtown, several roundabouts have been installed to transition the one-way traffic across the broad boulevards. Aikenites are used to this tricky manoeuvring, but visitors—while they appreciate the beauty of the parkways—often are confused.
Footnote: Hamburg no longer exists, what little bits of it that are still there have been incorporated into North Augusta. Its claim to fame was being an inland port on the Savannah River but it is better known as the scene of a bloody race riot "The Hamburg Massacre" carried out by Southern Democrats in 1876 during the Reconstruction Era.
It was events like this that led to the same party eventually disenfranchising Blacks, establishing a single party whites only rule, segregation and Jim Crow laws. This exclusion of Blacks from the political system was effectively maintained until the 1960's.
As previously mentioned, my connection with Aiken/ South Carolina goes back to 1963 so I was witness to the upheavals that ending this system brought about. Fortunately, those days are long gone, that's not to say that there aren't still racists amongst us but in my street, I think we, as Brits, stand out more than my Black neighbours and the other Black families who live here do.

© davids42 2020

The Goodnight Vienna Audio file