My niece tapped on the home office door. When she was smaller I would babysit and sell her pieces of paper as her need to draw and write would keep her occupied. Yes, sell. We go through the old routine.
"Two-sided or one?"
"Two-sided, please."
"White or see-through?"
"White, please. With the see-through, I sometimes draw on the carpet."
Who's making fun of who?
I sell her a sheet of paper. She pretends to give me five Copecs by slapping my hand five times. I pretend to convert them into Forint and pass her an imaginary 500 note as change.
"What you up to?" She asks.
My screen is busy with open windows. I am researching a Bloodbath investigative piece. Previously, a light has been shone upon such things as a bad-tempered Batley by-election and Bengali Apspana Begum's housing benefits 'barassment. This time the screen is crowded with searches for a subject. I am struggling for inspiration. Without a topic to obsess over I'm reduced to a tall tale, telling her I'm the only member of the Bloodbath journalistic stable left alive.
Two colleagues disappeared over Iran. One never came back from an interview with Colonel Gadaffi. Oh, leafing through my desktop notebook, appearing to find the right page, I feign surprise that another, this very day last year, was poisoned by Putin.
She creased her face.
"Perhaps I could join?"
She certainly could and on her next birthday she received a friendship wristband spelling out Bloodbath Investigative Team in lettered beads. Little stars separate the words. Excuse me. We're getting ahead of ourselves. Back to the office.
"What shall we investigate?" I asked her.
"The JFK assassination."
Don't they grow up quickly? I asked why. She'd seen an unsatisfactory documentary on streaming. I turned to a clean page in my notebook pretending the game was on and the sniff of a good story had wafted into the room.
"But it's been exhausted, Sophie. Is there a new angle? What do they tell you at school?"
"At school they tell us nothing," she replied, shaking her head with the sombre certainly of the early teen.
"Everything's filtered, political, woke, an optic, a narrative," I remind her. "What's to be done?"
"We need an eyewitness."
Not as unlikely as it sounds.
"It's funny you should say so, Little One. Many years previously, many miles away, during an earlier life more interesting, a strange thing happened to me in the waiting room of a Massachusetts railroad station."
***
Over three decades ago your humble investigator had hair, teeth, near 20/20 vision and was wont to wait at Boston South Station for the sleeper train to New York City. This one time, I was sitting beside a total stranger, my pack resting beside his Bakelite case. It is rude to read over another gentleman's shoulder but Ronald Reagan's America obliged an infectious optimism that encouraged such risk-taking indiscretion.
My companion was devouring the telephone directory. Besides Reagan, this was also the America of the Bell Telephone Company where Ma Bell ensured every payphone in the Union worked first time, every time, all the time, even when riddled with bullet holes. Numbers were easy to remember. Three letters were allocated to each number on the ten-digit (don't forget zero) alphanumeric keypad or dial. If I needed a train reservation I typed 0800-UsaRail. To fly, type 0800-Airways. To contact those who can't afford an easy-to-remember number, leaf the crisp pages of an immaculate phone book sitting on every spotless shelf under every working payphone in the Republic.
"You must be bored," I proffered, offering my companion a well-leafed Boston Globe for relief. Popular children's entertainer Mr Pee-wee Herman was on the front page. Photographed in handcuffs and being led out of triple X gay pornography theatre, his trousers were still not quite back to where they should have been.
"Not bored at all, thank you all the same, Sir," was the reply.
So not bored that the eyes didn't even glance away from column after column of the Emerald City's Murphys and O'Reillys. Yes, every American used to address me as 'Sir' and after doing so would proceed to over-explain.
"When I'm in a strange town, I look up my family name in the phonebook."
Each to his own. As an aside, never say 'surname' on the other side of the pond, they may not know what you mean. Likewise, 'Christian' name is referred to as 'first name' or 'forename'.
"Look." He pointed to a line of John Does; one a dentist, three with letters after their names, one who'd paid an extra five dollars to be immortalised in bold print. I would never admit this to a stranger, but I had suffered the same curiosity back home in England and had drawn a blank. There are a few 'Worth-Sayings' in the Debatable Lands, about half of them farmers, but outside of the county of my birth, we are unheard of.
"You won't find mine in there," I told him smugly in my most precise English (as if a Saxe-Coburg-Gotha).
I spelt out my real and unusual north country farmery surname.
"Oh, I've heard that before, Sir. Many a time."
"No, you haven't," I assured him.
"Yes, I have."
"No, you haven't," I repeated, now mildly irritated.
Meanwhile, able to flick pages and contradict simultaneously, my companion was pointing at a more than modest column of what could only be described as an impressive list of Greater Boston Area American relatives I didn't know I had.
"Well, I never," I wondered aloud, genuinely surprised. The cutglass English accent slipped in astonishment, "What we gonna do, Bud?"
"Ring 'em up," he ordered with an effortless brass-necked affrontery the Americans specialise in.
We hit the pay phone and received a rather mixed response. Mostly nobody answered – it was the middle of the night – or assumed we were trying to sell my family genealogy encyclopedia. It turned out such a thing did exist, a true tale for another time. By the time train Number 66, The Night Owl, was reversing into the platform (bells ringing, lights flashing, cries of 'All aboard'), I did have a few names and addresses of those willing to correspond. Over the next few years, as time allowed, great fun was had crisscrossing the continent in correspondence and occasionally in person.
Despite the passage of time, many still lived on the pioneer routes and were descended from a certain Thomas Worth-Saying who had staked a claim and named a tobacco plantation 'Cumberland ' in a swamp in Maryland over three centuries ago. Besides colonialism, fighting with Indians and encouraging smoking, his other bad habits included keeping slaves and selling their babies at auction. You can take the boy out of Carlisle, but you can't take Carlisle out of the boy.
His progeny were quick off the mark and had fanned across the infant states over those pioneer trails. There is a township carrying the name in Kentucky. 85% of them vote Trump. Snowflakes. In Worth-Saying, Illinois, 90% cast their ballot for The Donald. I have my own Liberty Ship. I share both my real first and real family names with an American comedian. It's a shame she's a girl, but, there you go. One of my sons has the exact same uncommon first and family names as a seven-foot-tall black American US Marine Corps General. Shouldn't we all?
I digress.
Years later and back in England, by now at the other side of the travelling gentleman of adventure's Year Zero that is marriage, an unsolicited air mail dropped through the letter box. An elegant but apologetic hand had 'gotten' my address from a cousin of a cousin of a cousin. As the writer was to visit Edinburgh (no doubt pronounced Ed-in-bro) on a genealogy tour, he politely wondered if he might trouble me to meet. He most certainly might. The hand belonged to a notable stateside man of words, present in Dealey Plaza on the day President Kennedy was shot, none other than the legendary Associated Press newspaperman, my cousin's cousin's cousin, a Mr Bo Byers of Austin, Texas.
***
William Bowling "Bo" Byers was born in Miami, Missouri on 24th April 1920. He moved to Austin, Texas, as a child and was raised there by relatives. At the time Austin was a township of 50,000. The oil industry would swell that to the present day million. During which time, amongst other things, Bo graduated from the University of Texas with a degree in journalism and got to know local businessmen turned politicians, the George Bushes, on first name terms. His first job, with the Tyler Morning Telegraph, was interrupted by war. In 1941 Bo enlisted in the Army Air Corps and, having been posted overseas in 1944, at one point flew 30 missions in 90 days as a B-17 navigator with the 351st Bomb Group. The 351st flew strategic bombing missions from their base at Polebrook, Northamptonshire from April 1943 to June 1945. The Group's most famous member was Hollywood actor Clark Gable, who flew four or five missions as an observer gunner while making a recruitment film.
Bo had a good war. After being awarded the Distinguished Flying Cross and the Air Medal with three Oak Leaf clusters he continued to serve for an additional 27 years with the Texas National Guard and the US Army Reserve, rising to the rank of Major. Simultaneously, Bo's journalistic career progressed to writing for the Associated Press Texas State Capitol Bureau as a sports correspondent between 1945 and 1956. From '57 until his retirement in 1983 he was with the Houston Chronicle, rising to be Bureau Chief in the State Capital Press Room in Austin.
In 1993 the double Headliner journalism award winner returned to the University of Texas and earned a master's degree in journalism at the Lyndon B Johnson School of Public Affairs. As we shall see, Bo was not a stranger to LBJ, both when a Texas politician and when a newly sworn-in President of the United States.
Bo Byers passed on May 23, 2010 in the fourth week of his ninety-first year having been predeceased by his beloved wife of 68 years, Mary, in October 2006.
It was in January 1942 that Bo married Mary Catherine Cowan of Waco, Texas. They met when Mary worked in the classified advertising department of the Tyler Morning Telegraph. Thirteen years and six children later (three boys and three girls) Mary enrolled in the University of Texas and became a Bachelor of Science in Elementary Education. She worked as an elementary school teacher for the following 20 years before being a supply teacher for a further 12.
Her hobbies included reading, dancing and, of course, genealogy. The Byers travelled the world meeting distant relatives (Mary's grandparents had lived in Czechoslovakia before emigrating to the States in 1862). On the other side of the family, Bo's maternal grandmother was a Debatable Lands Worth-Saying. Ed-in-bro beckoned and, Sophie, the chance to meet was too good to resist.
***
On the kind of brisk and changeable August day only the east coast of Scotland can provide, I drove to Edinburgh with my wife, my two oldest children and an uncle who had heard the tale and insisted upon coming along.
The drive to the Scottish capital was non-descript. The genealogy tour's university accommodation was easily found and in the lounge sat Bo Byers, recognisable as he was the image of my late father. Introductions were made and small talk with the quietest of quiet Americans ensued before we set off to dine outside an overcast South Queensferry eatery within touching distance of the Forth Rail Bridge. Despite being Texan, Bo was impressed. During a light lunch, the Red Arrows flew over. It was the final day of the final British Open of the millennium, held at Carnoustie – which lies only 40 miles north northeast by Hawk T1 from this pinch in the Firth of Forth.
If winner Paul Lawrie and his play-off opponents Justin Leonard and Jean van de Velde (he of the nightmare visit to the burn on the 72nd hole of the competition) were to have interesting afternoons, so were we.
Over dessert, my uncle produced a faded yellow paper to show to Mr Byers, regarding his own connection to events thirty-six years previous and four thousand five hundred miles distant. Everybody can remember where they were when Kennedy was assassinated. I must have been in my pushchair. An employee of the Ministry of Works, my uncle had been receiving telegrams instructing him to lower the Union Flag flying from the keep at our local castle. Bo was impressed again, everything's bigger and better in Texas – except Norman castles.
Here was my opportunity to broach the subject. Bo Byers had been in Dealey Plaza on the day of the assassination. Not only that, he had been part of the presidential motorcade and was an eye-witness to a terrible page of history he simultaneously helped to write.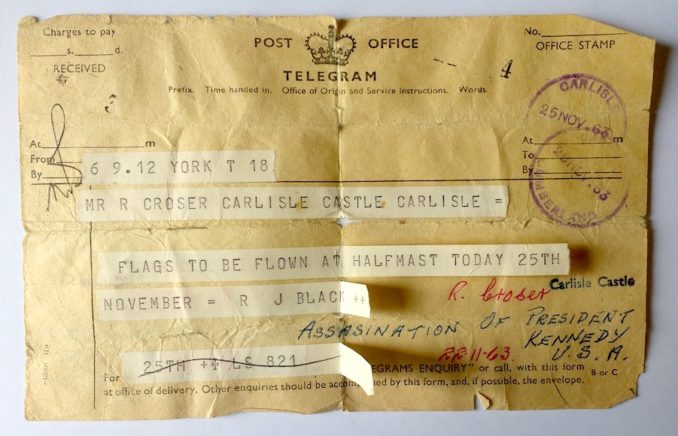 As for the events of the day, he had little to say other than, yes, he had been there and, no, he didn't think there was more than one shooter. But Bo would keep an open mind and adjust his view upon sufficient evidence. Unbeknown to the rest of us, to his dying day our guest had nightmares about the killing. Too polite to say so, he changed the subject. We set off for Leith where the Royal Yacht Britannia impressed the Texan some more.
Ealier Bo had been more forthcoming. On the 26th of November 1993, to commemorate the 30th anniversary of the assassination, Washington DC's Cable-Satellite Public Affairs Network broadcast a panel discussion between eyewitness journalists. Held at Southern Methodist University, Dallas, and entitled Reporters Remember 11-22-63, Bo Byers contributed the following; Dallas, Texas, 12:30 on the 22 November 1963,
We were on the White House press bus, I was looking across the plaza when we heard the shots. I remember three shots, I've always had a memory, as a matter of fact, I've always had nightmares about it, of the sunlight on Kennedy and the explosion. The car almost coming to a stop, almost to a dead stop, and then accelerating at tremendous speed, so I knew with instinct, I knew that he had been shot, at least shot at. We went to the Trade Mart. We didn't know definitely what had happened.
The first eleven vehicles in President's motorcade consisted of;
Piot car: Dallas Police
Lead car: Dallas Police
President Kennedy's car
First Secret Service car
Vice-president Johnson's car
Second Secret Service car
Local dignitaries car
National press journalists car
Camera car number 1: national film camera
Camera car number 2: national press photographers
Camera car number 3: local press photographers
Vehicles 1 to 7 were on Elm Street at the time of the fatal shot with the rest of the motorcade, which included Bo Byers, travelling along Houston Street allowing a right-angle view across Dealey Plaza to the President's car. The explosion Bo Byers describes will have been the headshot killing Kennedy.
One press bus continued direct to Parkland Hospital but Bo's went to the Dallas Trade Mart, the cavalcade's intended destination where the President was due to speak to a sellout luncheon audience of 2,600. There the press corps discovered the President had been hit. Bo phoned in his eyewitness account, proceeded to Parkland with colleague Mary Rice Brogan, and found and held open a phone line until able to forward to his news room a doctor's statement stating the President was dead. The official announcement was made at 1 pm.
Outside the hospital, Bo spotted an acquaintance on their way to Love Field Airport. Bo hitched a ride and crouched down behind the rear seat of a station wagon containing Dallas Mayor Earle Cabell and several other politicians. It had been Mayor and Mrs Cabell who had officially welcomed the Kennedys to Dallas as they stepped off Air Force One at Love Field that morning.
At the airport, the newspaperman wasn't allowed on the Presidential Boeing 707 but was able to address Judge Sarah T Hughes as she walked down the plane's steps. Did she just swear in Lyndon B Johnson as the 36th President of the United States of America? "Yes boy, I did," came the reply. Another call to the press room followed, reporting another first-hand account of history. By now it was 2:38 pm.
Bo and Mary Rice remained in Dallas and continued to file. Thirty-six hours later, a Sunday morning edition of the Houston Chronicle carried their interviews with citizens expressing shame, deep remorse and a longing for a more moderate climate for political debate. Some blamed their entire community. A taxi driver confided, "There is a lot of hate in this city, it has been encouraged, it makes me almost ashamed I was born." Others denied the Texan city should be held culpable. Robert Callum of the Dallas Chamber of Commerce told Bo, "A murderous fanatic has brought tragedy to the world."
Mary Rice and Bo's vox pop sat beside a headline corroborating Mr Callum's view. Oswald killed JFK, Police Say ran a Houston Chronicle banner above a large photograph of the new president, Texan Lyndon B Johnson. Reporting recent developments, the Dallas Police claimed they had an 'airtight case against pro-Castro Marxist' Lee Harvey Oswald. Their evidence included what was to become Oswald's wife's famous photograph of her suspect husband holding a rifle.
The Chronicle continued, "Police showed the photos to the sullen ex-Marine from suburban Irving, who has steadfastly maintained his innocence and who has also denied slaying a Dallas policeman. He is charged with murder in both cases." Police claimed the photograph showed Oswald with the rifle used to kill Kennedy. "The case is cinched," a confident Dallas homicide chief Capt. Will Fritz told the Chronicle. "That man killed Kennedy, we are convinced without doubt." The front page lead continued, "When taken to see the photo, Oswald was the picture of confidence. When he was taken back up to his cell he look frightened.
As well the 24-year-old Texas School Book Depository employee might.
Also on the front page was the announcement of a day of mourning for Monday 25th November which had necessitated one of the telegrams to my uncle. Later on the Sunday morning, Bo Byers and Mary Rice Brogan made their way to the Parkland Memorial Hospital where President Kennedy had been declared dead two days previously. Texas Governor John Connelly, who sat beside Kennedy in the open-top Presidential limousine and who was injured in the shooting, was recovering from his injuries there.
Bo takes up the story,
"When we were at Parkland, Connolly had his first press conference that morning and we had gone out there for that. As we left the press conference, I saw some press reporters running down the hall. I said what's happening? They said Oswald's been shot and they're bringing him in here. I ran down to the doorway at the entrance where they were bringing him in on a stretcher. I looked down at him and I said to myself, he's dead. He was very grey.
"I started calling the Chronicle, got hold of someone there on Sunday afternoon, I suppose it was still morning, but anyway, and said look, Oswald's been shot, we've got to get out an extra. The guy who had supposedly assassinated the President had been assassinated."
"I stayed there ten days, I still have nightmares occasionally, where I see that car coming almost to a stop, and then accelerating and I wake up screaming."
Lee Harvey Oswald had been shot at 11:15 am while being transferred between jails. He was declared dead at 1:07 pm. Bo's front page report on that day's extra was headlined Accused JFK Assassin is Dead, Gunned down at Dallas City Jail.
The piece continued,
"His assassin, Jack Ruby, bachelor owner of a downtown Dallas striptease joint, emerged from a group of bystanders, broke through a heavy police guard and shot Oswald at close range with a pistol. The bullet struck him just below the heart and ranged downwards into his body."
Therefore, Sophie, within roughly 48 hours of the shooting of President Kennedy our eyewitness family member had established a sequence of events still held to be official truth to this day. Lee Harvey Oswald was the lone shooter. There were three shots. Oswald was motivated by his Marxist politics and was himself subsequently shot and killed before the evidence against him could be tested in court.
All else, Little One, is not on-the-spot reporting from a well respected professional eye witnes one degree of separation from ourselves, but that strange, changeable thing known as history.

© Always Worth Saying 2022