Ms Geeks and I do love a great escape to warmer climes. The Algarve ticks all the boxes for us: lovely freshly caught seafood, friendly people, plenty of spaces to park anywhere and a population density once considered excessive in the UK back in the 1940's.
Sun. Yes the sun, wonderful thing when combined with the lovely beaches of Senhora da Rocha. It makes me smile and it makes the lovely Ms Geek's arthritis disappear for a brief moment in time.
This time we set off from Gatwick to Faro in September, flying British Airways which turned out to be as cheap as the low-cost carriers. I have a certain affinity with BA. All airlines are diving down to the model of a common carrier bus, and BA is no exception. But for some nostalgic reason, I end up justifying even a slight cost increase and fly with BA, but I miss the complimentary booze and end up having to pay for Rhubarb Gin and Fever Tree tonic.
I flew with Ryan Air once. Never again. Boarding the plane was like entering a nightclub with one blonde dancer in the middle of the stage displaying her barely clothed pubis and every single fat, tattooed Douglas Trendle lookalike assaulted the plane like Jonah Tali Lomu on the home stretch. And as naive and reserved as we were, we unfortunately were separated seat wise and the real icing on the A320, we were delayed by 2 hours.
Picked up our rental car from Avis, checked the bodywork and took photos but they were cool with everything saying we don't need to be so particular, but we were, because we have been stung before when we chose local or cheap. When we handed the rental back, no problems, we didn't even have to wipe down the remains of the hobo we cowcatchered one night.
So, it was back to our lovely apartment, a quick bit of nosh in our local Italian, served by the lovely Anastasia and the next morning we were off to the local Wednesday market in Municipal de Armação de Pêra where we picked up some freshly caught clams and the biggest Tiger Prawns you've ever seen. And I mean the biggest: 12 inches in length. I felt very inadequate until I started deveining them. And then I felt really inadequate, but in a Mengele type way.
Ms Geeks immediately began preparing the delightful meal of garlic buttered prawns. After half an hour they were ready and looked sublime. She asked me to take them out to the balcony table, which I did, and then I went back inside to get some cutlery. By the time I'd got back outside, the seagulls had eaten all the buttered prawns. We were in shock and we never spoke for about 30 minutes.
Still, you would have assumed our friendly local cats had defended our meal as a token to the copious amounts of kibble we had given them. Sadly no, they were too full of kibble to give a damn, the lazy, ungrateful bastards. Actions. Consequences.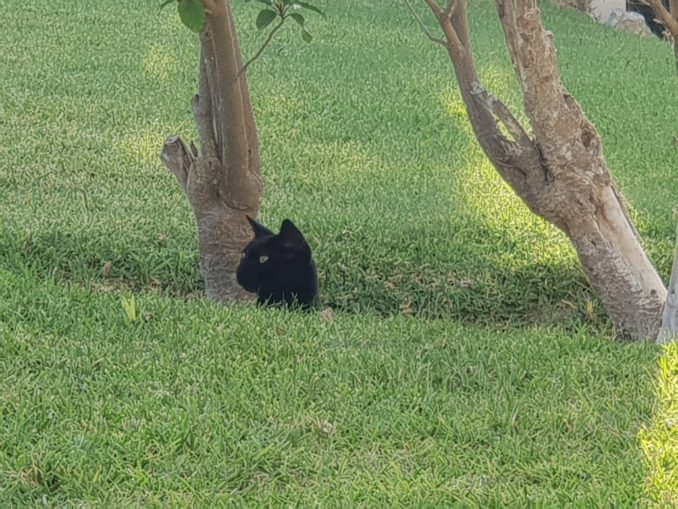 The next day we were off on our travels. First port of call was the castle of Silves, which is a delightful fortified town, which was once the ancient capital of the Algarve. Today Silves has a calm and peaceful ambience, but during the Moors era, it was a major defensive stronghold and important trading town. Remnants of this illustrious past can be seen while exploring Silves, from the huge red brick castle, the impregnable town walls, through to the Gothic cathedral which was built on the site of a grand mosque.
Along with its extensive history and numerous sights, Silves is found in a scenic location, set amidst the rolling hills of the Algarve countryside and lining the banks of the slow-flowing Rio Arade river. Silves is a joy to explore and has a distinctly Portuguese ambience, with open-air cafes, cobbled streets and an infectious relaxed pace of life.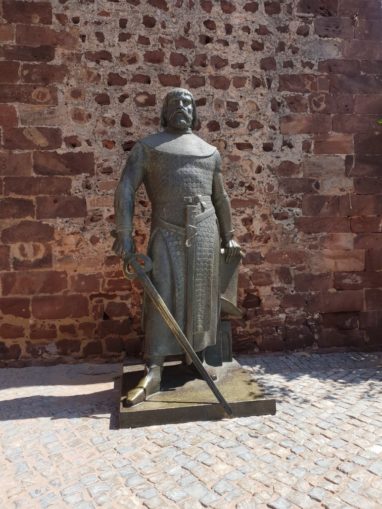 After an evening meal of clams, we rested and then ventured out to our next destination, Portimão. We took a bus to Museu de Portimão and walked south to the Praia da Rocha Harbor as it was a beautiful day.
Then we went to the F-Food & Wine restaurant, as recommended by some friends, in Portimão near the biggest stretch of beach in the Algarve, Praia da Rocha. We started the evening off with an Espresso Martini for myself and a Piña Colada for Ms Geeks. We had seared scallops to start followed by the traditional Algarve dish of Cataplana: a seafood dish of prawns, clams and potatoes steamed in a cataplana, which is traditional Portuguese cookware traditionally made of copper and shaped like two clamshells hinged at one end and able to be sealed using a clamp on either side of the assembly. This was all washed down with a lovely chilled bottle of Lacrau 2016, Douro, Vinhas Velhas.
The next day it was back to the Armação de Pêra market where we picked up some freshly caught sardines and some corn-fed chickens. We decided to barbeque the whole lot and they tasted wonderful!
This was followed by an afternoon of sunbathing and Thai massages in the September 30°C temperatures on the Praia da Senhora da Rocha.
We spent a couple of days in the lovely village of Porches and dined out in some traditional Portuguese restaurants sampling some reasonably priced local wines and traditional food.
We started to move over to the west coast to Lagos and noticed a change in pace as the towns felt more relaxed and "seasidey" than the busy, touristy places of Portimão. Lagos seemed smaller than the other towns but by this stage we were running out of time and had to be satisfied with a few hours of aimless walking around to explore. We came across the statue of the Infante Dom Henrique who was better known as Prince Henry the Navigator and was a central figure in the early days of the Portuguese Empire and in the 15th-century European maritime discoveries and maritime expansion.
Our next place to visit was Fortaleza de Sagres, the Sagres Fortress which was a partially reconstructed and unusual sea fort with a single fortified wall and three natural cliffs providing protection for defenders, back in the old days.
You could tour the area in a few hours and they had English translations for the various parts of the ruins. Most had collapsed from the great earthquake of 1755 and charitable donations and EU funds are being used to reconstruct the great Sagres fortress.
Finally, to the final western point of not just Portugal, but Europe itself, we ended up in Cabo de Sao Vicente where we had the Letze Bratwurst vor Amerika (The Last Sausage Before America) and a certificate to prove we had bought it! It is the most southwestern point of Europe and if you do take a boat and row west, you will get to America. Eventually.
And that is probably a fitting end to our culinary themed holiday in Portugal!

© text & images Geeks and Ms Geeks 2018

Audio file