In 1954, the Manchester Evening News launched a "Special Investigation" and tasked my uncle, John Alldridge, with answering the question –
Holidaymakers, do you get value for your MONEY?
What follows is his report on Morecambe. It gives a good idea of what holidays were like 65 years ago. Jerry F
Morecambe: Here's a resort that's "waterproof"
I travelled part of the way from Southport to Morecambe in what must surely be one of the oldest railway carriages still on active service. Not only one of the oldest but one of the dirtiest. Why do they do it?
It's true this was a holiday "special" pressed into service to cope with overflow traffic. But the beginning and the end of a holiday are the moments you remember longest. If I had been a tired, holiday-weary mother coping with three or four holiday-weary children in the depressing dirt of that compartment, I should never have wanted to see Southport again.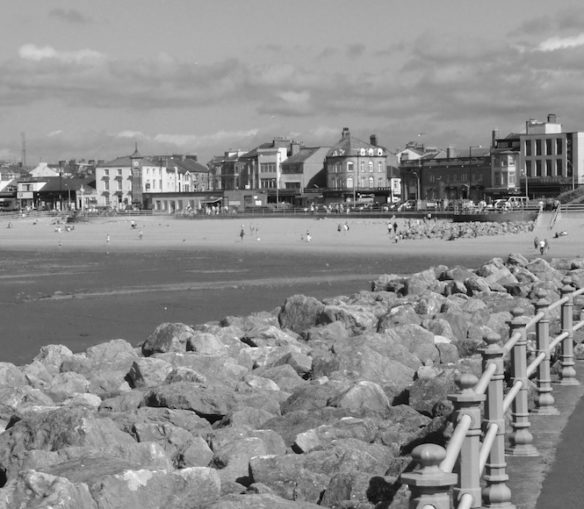 Morecambe is one of our smaller resorts. Its population of 36,000 puts it well below Eastbourne and Torquay and Harrogate. But it has two natural advantages. It can show you a bay which for sheer scenic beauty can hold its own with Naples. And being small and still comparatively young – it dates its beginnings from 1901 – it can bring a vigorous and realistic approach to the ever-changing problem of catering for an open-handed but fickle holiday clientele.
For instance it was Morecambe which first hit on the happy and profitable idea of illuminations. That was way back in the early 20's, when hundreds of small boys turned themselves into human fireflies by parading the promenade after dark carrying candles flickering in jam jars.
Just as it was the first resort in this country to stage a competitive music festival.
"Something new every year" would seem to be the working slogan of the men and women who run Morecambe. So this year for the first time you can take off from the beach at low tide and take a look at Morecambe from the air; and, for the first summer since the war, you can sail from Morecambe to the Isle of Man and back in a day.
But what impresses me far more than these novelties is the way Morecambe has set about making sure that having got its visitors to the town, they come back for more.
Everywhere I go I hear the same complaint from entertainment managers and sideshow proprietors alike: "They're not spending the way they did". Of course they're not. If you want to find the answer examine the Holidays With Pay Act of 1938, which by providing millions of workers with a fortnight's holiday on full pay killed the old Wakes Week tradition stone dead.
As one student of holiday economics put it to me: "In the old days a working-class family saved for a year then spent the lot on one happy-go-lucky week by the sea. Now they must budget for a fortnight. That means one of two things: either they spend the first week at home, and fritter away much at their holiday money on home town amusements, or they go away for the first week and spend cautiously because they know they have a week at home still to get through."
The answer to this was the "all-in" holiday.
The holiday camps were the first to exploit the new idea (which wasn't really so new: the travel agencies had been using it for years). The results speak for themselves: in 1951 about 3 per cent of all British holidaymakers went to holiday camps and a further 4 per cent went camping and to youth hostels.
Now at long last it has spread to the holiday towns. I have seen it in practice for the first time here at Morecambe.
Take a typical example. A Nottingham coach company offers potential holidaymakers in that city an all-in-week at Morecambe. The terms include travel tickets, hotel accommodation, day trips, and theatre shows.
What happens in practice is that the coach company contacts the hotelier, who books the day trips and the theatre seats. The holidaymakers arrive knowing they are bound to be well taken care of during their precious week.
What you are getting, in effect, is a co-operative holiday scheme in which everybody – transport, landladies, theatre managements, and local authority – has a part to play.
It is the only way British holiday resorts – particularly those serving the industrial North and Midlands – can hope to compete with the tantalising attractions offered from abroad. It certainly explains why, in proportion to its size, Morecambe can boast as many visitors this blighted summer as any holiday town in the country.
Again, because it is small and reasonably compact, Morecambe is able to keep a watchful eye on the hotels and boarding houses in its area. It can't stop over-charging, but it can check up on extravagant claims.
Of the 500 recognised hotels and houses offering accommodation in Morecambe, 320 advertise in the official guide. Every one of these 300-odd insertions is carefully vetted to ensure that beds are in fact "spring interior"; that "two mins. sea" means just that; that "supper" is indeed a meal and not just cocoa and biscuits.
At Morecambe, as everywhere else this summer, the weather has been the great imponderable. You can't do much against a day-long drizzle that drops a dripping curtain over that incomparable bay. In many resorts they seem to have already given up hope. Morecambe battles gamely on. If any seaside town with a floating population of 80,000 could be said to be "waterproof" this is it.
Its seven theatres, two piers, four ballrooms, and six cinemas can supply indoor entertainment for 22,000 people at one sitting. That in itself would hardly be enough. When you are on holiday it is the long wet interval between breakfast and lunch that weighs heaviest. Private enterprise answers that challenge with a 10:30 "coffee dance" with morning matinees, with informal indoor sports. One cinema is even offering special cartoon shows for children.
At the other end of the scale Morecambe, greatly daring, is experimenting with twice-weekly dances that go on until one in the morning.
Will it succeed? Certainly it deserves to. One perennial grouse about the Englishman on holiday is that while in Paris he won't go home till morning, in Paignton he is in bed and asleep by 11.
Don't blame him. Blame the British seaside landlady. In Morecambe, as everywhere else, that old "lights-out-at-eleven" tradition dies hard.
Credits:
Text:
The British Newspaper Archive (www.britishnewspaperarchive.co.uk)
The British Library Board
© Reach PLC

© Jerry F 2021