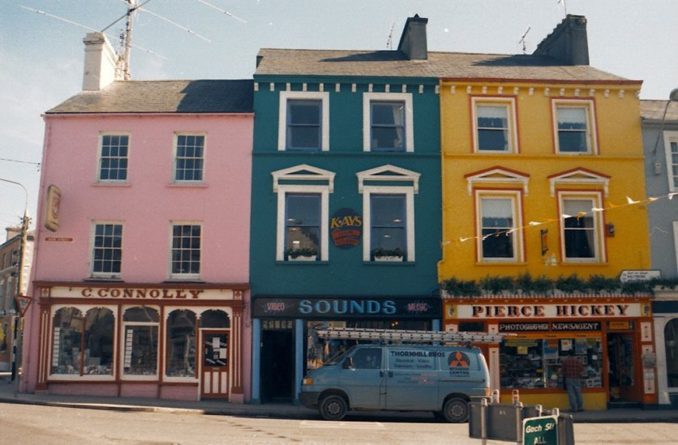 The lovely description of his normal family life by our Flying Hippo (Humdrum and proud!) inspired me to put fingers to keyboard (no, The Princess does not put her paws to keyboard, that's beneath her!) and share memories of what were our normal summer holidays with the kids.
Now you all know (or ought to) that I'm a granny, so these normal holiday memories do go back a bit – about 35 years in fact. Things were different then, there were no smartphones or Nintendos and hair dryers were not deemed to be an item necessary for survival.
Our best holidays, over several summers, were spent in Ireland – camping. That is 'wild camping', on pastures or meadows belonging to farmers whom we asked for permission, which was always gracefully given, or in places which didn't belong to anyone in the wider vicinity. We did ask …
I can tell you straightaway that 2 kids + 2 adults need less stuff than holidays involving 2 adults + 2 collies, and in those long-ago days, we had a rather derelict VW Beetle, but everything fitted in. Somehow. One of my fondest memories is of a lonely place in Co Mayo. My late husband talked with the farmer about permitting us to camp, and the farmer's collie was engaged in untying the strings with which the running boards were fastened to the VW body. When I got out to undo his effort, he just walked round to the other side of the car to do the same … round and round we went. I date my love for collies to that day …!
Camping in farmers' fields had other joys as well, like being offered milk or freshly harvested peas by the farmer's wife, also having the cows, whose milk we'd had, getting from one field during the night into the one we were camping in – wandering round and round the tents and making the most extraordinary moaning noises. They sure did not sound like normal cows. No, none of us got trampled!
The tents in yon days were the good old canvas ones, with inner tents, groundsheets and lots of poles and guy ropes. The kids had of course got to put up their own tent. One very stormy night on Clare Island (check it out), with howling winds and sheeting rain, we heard pitiful cries 'daddy, daddy, help!'. Getting out of our wet tent, torch in hand, we found the kids' tent was a wriggling mass of canvas on the floor, from which the cries emanated. Well, our small tent got much smaller, with two wet kids added to us now also wet adults …
It was fine the next morning. We all enjoyed the crack in the pub – kids were allowed – and once they'd been sent 'to bed', we were amazed to note that, amongst the pipes, the drinking, singing and dancing an old man came in, around two in the morning, and asked the landlord for some item from the store. That store wasn't attached to the pub but across the road. Fascinating!
But then, in Ireland shops in those days were always attached to the pub, and new-fangled cash registers hadn't made it to Co Mayo yet: the addition was done on a piece of paper, by hand, with a pencil.
What could have been more romantic than camping on a small island in a river in Co Galway … or camping in what looked to be a most wonderful wild patch of soft ground in Connemara! We had just put up our tents, and it was yours truly's turn to do the dinner (always on an open fire – we all became very good at that!) when the skies opened. It started chucking it down. So kids and husband retreated into their tents while I made the dinner ('twas pretty good: mince, tomatoes, green peppers and onions, in one big pan), served separately on well-covered plates. No rain contaminated the dinner, I can assure you!
Next morning, getting up in sunshine, we all suddenly stood over our ankles in water. The soft ground was actually sphagnum moss, soaking up the rain and releasing it onto our feet, sleeping bags, tents …
Still, that was better than the holiday where we ended up in Co Mayo (again). It was dry and nice – but suddenly we were overwhelmed by midges – the tiny sort which one could breathe in if not careful. A fire made of green gorse didn't keep them away, and next morning our tents were totally covered with those pests. We beat a fast and furious retreat to Achill Island which is not an island but lovely nevertheless.
Ah – those were the days – from visiting the Pony Show in Connemara to going to Inisheer, the smallest of the Aran islands, with a beautiful wreck on its coast immortalised in the title sequence of 'Father Ted'. Which reminds me: much later in life we revisited Ireland with Big Dog in tow. Having aged by then, 'twas self-catering in lovely farm cottages. I can tell you here and now that Father Ted's House does exist! It's close by Corofin in Co Galway, and when I asked one of the lovely ladies in the main grocery store about it she said "we don't speak about that" …!
These were our normal holidays with kids: swim in the cold Atlantic, clamber around, get dirty in the peat bogs, get frightened by bad weather and mad cows – you can't beat it!
The 'normal holidays' with our collies though: that would be a story for another day.

© Colliemum 2017