Monday
Good morning folks these Monday mornings seem to come around faster and faster. Bozzie doesn't seem to have suffered any ill effects from his vaccination he has been bouncing around like Heffalump over the weekend. This morning he was off to a British Aerospace factory for a visit, I'm sure that if had been suffering any after-effects of the jab he would have stayed at home.
Yesterday was another weekend with a load of lefties attacking the police, this time in Bristol. After a peaceful march, most of the protesters went home and a few hundred hardcore decided to set police vehicles on fire, with police officers inside one, and pelt others, from a roof, with stones and a fire extinguisher. I even saw, on the internet, one woman drop her trousers and poo on the pavement in front of the police. I hear the police believe these thugs were from all over the country and only turned up to cause trouble. The police have hours of video to go through and I expect a lot of people will be getting a knock on their doors soon.
Good news for AstraZeneca this morning. The results of the big Phase 3 trial were announced this morning and showed that their Coronavirus vaccine was nearly 80% effective at preventing Covid and 100% successful in preventing hospital admission. In addition, it was found that it did not cause blood clots. The tests used 32,500 volunteers in the US, Chile and Peru and not a single one land up in Hospital. This should help AstraZeneca get a license in the US very soon.
I see that work started this morning on the Colne Valley viaduct for HS2. At 3.4 Kilometres it will be the longest viaduct in the UK. The civil engineers will drive 292 piles up to 55 metres into the ground before putting pile caps in for 56 piers. When finished the concrete viaduct will weigh 6,000 tonnes. The concrete bridge sections with be cast in a temporary factory at the north end of the viaduct and it will be built from north to south.
So I see that TfL are to get another £500 million from central Government to bail them out until after the local elections in May. That means that in one year TfL will have got over £3 billion from the government to stop them from going bust. Mind you this seems an awful lot of money when compared with the bailout of the national railways which cost £10 billion for the whole country.
As usual, the vaccination numbers were down on Saturday's numbers yesterday but were well up compared to last Sunday with over 400,000 jabs being given. I know Sunday deaths are always low but only 17 were recorded yesterday compared to 64 the previous Sunday.
I read in the Daily Telegraph a suggestion that if at Thursday's EU meeting they decide to ban the export of vaccine from EU to the UK we should retaliate. It could be by banning the export to the EU of the components the Pfizer vaccine that are made in the UK and exported to Belgium where the vaccine is made. But the DT suggests that before Thursday we should publish a list of 'Smart Tariffs' that we will impose in retaliation if they impose a ban. They suggest we threaten their cars, wine, food, clothing and machinery exports to the UK. The interesting thing is that we haven't imported a single dose of the AstraZeneca vaccine from the EU. In fact the EU hasn't given the AZ manufacturing plant in Belgium a licence to produce the vaccine yet!
It seems that a load of people in Dorset, Somerset and Devon had a shock yesterday when they were shaken by a sonic boom. However, this time it wasn't the usual RAF fast jet racing off after being scrambled because a Russian plane was testing our defences. It was actually caused by a meteor crashing to earth. It was a rare event because it happened in daytime. People living in those three countries have been asked to look out for fragments from the meteor.
Tuesday
Well, when I got up this morning it was a little grey but mild when I took my trip outside, however the sun came out weakly as I ate my Felix. Now it is beautifully sunny with a clear blue sky and I think a snooze on my favourite window sill is beckoning for later.
Bozzie confused me this morning, he had a good suit on. If he's going to be doing a press conference it's usually on a Monday and that was yesterday or it's PMQs and that's tomorrow. In the end, I heard the Little Otter talking about his dinner going to be on the table at 7:00 tonight so as not to drag out his presser. Then I heard Nick Ferrari talking about it being 1 year since Bozzie announced the first lockdown. Well of course I put 2 & 2 together and realised why he was going on TV tonight.
What is the matter with Ginge and Winge? Why can't they keep staff? I see another senior member of their staff has quit less than a year after being poached from the Bill and Malinda Gates Foundation amid a huge fanfare as a wonderful new employee. I don't remember Ginge having these problems with staff before he got married so is it her? I guess we will never know for sure but we can only speculate.
This morning the Government announced that as of Monday, when the current travel rules expire, they will be bringing in new rules with will include fines of up to £5,000 for unauthorised foreign travel. This is all part of keeping the risk of new variants of coronavirus at bay. It has already upset British Airways who have already cancelled many of the extra flights they recently put on for the summer.
James Dyson, the serial inventor, has launched a new product that is going on sale in Marks and Spencer from today. Although I normally associate Dyson with electronics like vacuum cleaners, hand dryers and hair dryers, this time it is something totally different, fresh strawberries. Dyson Farming have been working for seven years to develop an early strawberry grown in a 15-acre glasshouse in Lincolnshire. Normally at this time of year strawberries are all imported from warmer climates, but Dyson Framing is using waste heat from anaerobic digesters, fuelled by farm waste, to grow the 700,000 plants that are under glass. Rainwater is harvested from the glass to feed the plants in the computer-controlled environment. Dyson expects to get around 750 tonnes of fruit this year. But this is only a small part of the vast 1475 acre farm. Dyson has already supplied Waitrose with 21,550 tonnes of Wheat, 15,500 tonnes of potatoes and 26,000 tonnes of sugar beet; plus the equivalent of 4 million bags of frozen peas which have done into Waitrose products. The strawberries are the first product to be sold under the Dyson Farms brand, but I bet they won't be the last.
Last week I was telling you how P&O and Princess Cruises were both launching summer cruises in British waters. Later in the week they were joined by MSC and Cunard. Then Viking Cruises joined in and this morning Marella Cruises joined them although they have yet to announce any details. P&O cruises went on sail yesterday and demand is said to have been so heavy that the companies computer booking system was struggling very badly. Bookings were said to be particularly heavy for the maiden voyage of P&O's new huge ship Iona.
I see that Tesco are to bring back a product to their shelves that they haven't sold for 50 years. The returning product is unwashed potatoes. These days the potatoes sold in greengrocers and Supermarkets all have the earth they are grown in washed off, but in those days they weren't. The measure is designed to be better for the environment and save water, but interestingly it has been found that muddy potatoes stay fresh longer.
Wednesday
I was woken up by the Mutt this morning wanting to go out. I am certain dogs are not as bright as cats. I wouldn't have had to wake the house if I needed to go outside, I could have used the cat flap or the litter tray. However, the Mutt is too thick to have leant to use either of them. He is only small so he could fit through the cat flap if he tried but I think he must only have a small brain to go with his small body.
I read that a big container ship has got itself stuck in the Suez Canal. The Evergreen ship, Ever Given, is said to have been caught in high wind and turned around at right angle across the canal burying its bow into the bank and grounding itself. The 220,000-tonne mega-ship has completely blocked the canal that is used as a short cut by an average of over 50 ships a day. The Egyptians hope to pull the ship off using tugs, but should that fail they may have to lighten the load and float it off. That might sound easy but the ship is loaded with over 1,000 containers.
Today we have a variety of Covid related stories. An Italian newspaper has reported that an Italian company has 29,000,000 doses of the AstraZeneca vaccine in store ready to ship. The vaccine was made in a factory in Holland and shipped in bulk to Italy to be put into vials. The vaccine cannot be used yet as the manufacturing factory hasn't yet been licensed by the EU. But the newspaper claimed the vaccine was to be exported to the UK, however it seems that 13 million doses are for the WHO's COVAX program and the rest of the shipment is actually is for the EU! Mrs Merkin has had to cancel the proposed national lockdown over Easter as it seems to be illegal under German law. As Germany has a federal government all 15 German states should have agreed and they had been consulted. I also hear that the vaccine rollout in Germany is being slowed by data protection laws. The Germans need to get advanced written permission to vaccinate people and under data protection, their doctors can't give people's details out to the health service to write to them.
More fun in Scottishland where I hear that Alex Salmond is to take to the courts once again. This time he is to sue Leslie Evans the Scottishland Government's permanent secretary who he says failed to take responsibility for the botched handling of the sexual harassment complaints against him. The SNP seems to be eating itself.
I read that the new Dacia Sandero is, unlike most new cars, not going to have a multimedia screen. Instead, under a flip will be a docking port for your mobile phone. It will make it link to the car systems and will display all the normal functions that appear on a multimedia screen like radio, Sat Nav and integrated hands-free telephone. It will even have all the "car play" functions, but will save the cost of a multimedia screen. There will be a reminder to take your phone out of the docking port when you park and it will also put a reminder of where you have parked on your phone.
Thursday
Felix chicken in my bowl this morning, just what I want to brighten up a grey morning. After I went to my basket it seems that a truce could have broken out in the Covid vaccine war between the EU and us. They have put out a joint conciliatory statement so it will be interesting what happens at their meeting today. I read something that I found intriguing this morning. It's not just the EU who have suffered short delivery of vaccine. AstraZeneca promised to deliver the UK 40 million dose by last Christmas but only actually delivered 4 million. Then they have promised 100 by the end of April but have only delivered 20 million to date. But have you heard us moaning about them cheating on their contract like the EU? No, we have accepted that the contract has a "best endeavours" clause and AZ are trying their hardest, unlike someone I could name.
You will remember that last year Johnny Depp lost his libel case against the Sun who called him a wife-beater after he assaulted Amber Heard. The judge at the time refused him leave to appeal. But Depp wouldn't take that as final so he went to the High Court to ask to be granted leave to appeal. This morning the High Court refused him leave to appeal saying that the original judge had not made any mistakes in law so there were no grounds for appeal. I must say I wonder how much this has cost him.
I have been reading about a new 2000m shooting range in Eskdalemuir that has upset the Abbott of the Kagyu Samye Ling Buddhist monastery located in the next valley. It seems he is upset by the noise of gunfire as it reminds him of fleeing Tibet and being shot at by the Chinese. He also claims that it is scaring the wildlife in the grounds of the monastery. The owner of the gun range says he doesn't know about the animals in the monastery, but the cows in the field next to the range just ignore the noise.
An odd bit of news today. It appears that the Queen's latest great-grandchild, the son of Zara Tindell, was born on the floor of their bathroom. The baby boy, called Lucas, arrived all of a sudden and there wasn't time to get Queen's granddaughter to hospital before the child arrived. Her husband, ex England rugby player Mike Tindell revealed the story as part of this rugby podcast. The Queen put out a message saying that she was delighted with the news and was looking forward to meeting Lucas as soon as it was permitted. I wonder if that was a dig at Ginge and Whinge.
Earlier this week the government announced that it was going to reduce the size of the Army and to withdraw some of the older equipment including some tanks and aircraft. The Royal Navy helped them out a bit today by crashing one of its Hawk trainers in Cornwall. The two crew ejected safely and were seen to walk away. Martin-Baker, who made the ejection seats say they are the first RN pilots to eject for 18 years.
As predicted the number of people getting their first Covid vaccination yesterday was quite low by some weeks at 337,000. However, it is the number of second doses that is going up quite steeply at 242,600 over 100,000 more than yesterday. It seems that the system is now gearing up to give people their second doses.
A man who worked in an auto repairs shop in Peachtree City left his job, but was still owed $915 in final wages by the owner. Months later after kicking up a fuss and threatening legal action he went out of his house and found a pile of, what the Americans can pennies, on this drive. The 1 cent coins had been covered in oil and grease. The coins added up to the money owed and there was a final payslip. The owner of the auto repair shop was asked by a reporter if it was his work. But he said he couldn't remember, it might have been him, but it might not. The man who got the coins is spending around an hour and a half cleaning coins every evening resulting in about $3 a day!
Friday
Morning everyone, colder again this morning, some days I am delighted to be covered in fur! You humans have to mess around putting on clothes, the only advantage you have is that you can put them in the washing machine when they are dirty, I can't take my fur off!
The first thing I read this morning was that the EU have effectively banned AstraZeneca from exporting their vaccine from the EU until they have caught up on the delivery schedule. Firstly it might help if the EU approved the AZ manufacturing plant in the EU. Then they should stop harassing them, by continually talking the vaccine down. Will this mean that the doses that were in store in Italy cannot be exported. It seems that this vaccine was imported in bulk by AZ to be put in Vials in the plant before 13 million of the doses going to COVAX for use in the developing world with the rest going to Belgium. If this is true then the EU will be guilty of theft.
I also read that the actions of the EU have been making AZ think twice about having decided to supply up to 10 billion doses at cost and they have decided that without a profit it is not worth the hassle. The article I read said AZ have been selling for an average of £3.60p a dose, against Pfizer's £15 and Moderna's £28. If AZ were to triple their selling price they could be making £21 Billion in profit and still be the cheapest vaccine out there.
Ginge has got a couple of new jobs. One of them is as "Commissioner on Information" for the Aspen Institute. Two things of interest here, one is that the institute is run by Melinda Gates and is as woke as you can get. Second is that his job is basically to decide what is and isn't fake news. What a perfect job for someone who was pumping out fake news in the interview with Oprah Winfrey, claiming that they were married 2 days before they actually were and faking all those headlines from newspapers to try to show how racist the British papers were.
I wonder who is organising the protesters outside Batley Grammer School, where Muslims are gathering to moan about an RI teacher who had the audacity to show a class a picture of Muhammad when teaching a lesson on religious intolerance. I wouldn't mind betting that the police have got their kid gloves on and not a single protester gets arrested and nobody gets a £10,000 fine for organising the protest.
I hear that when Honda shut down their 370-acre car production plant in Swindon in July when they cease production of the Civic the site is to be sold for £700 million to US firm Pannatoni. The US company specialises in building giant warehouses and distribution centres for the likes of Amazon, Hermes, Co-op, UPS, Kellogg's, Eddie Stobart and Black & Decker. I doubt the wages will be as good working in an Amazon warehouse as on a car production line.
If you live in Maple Cross in Hertfordshire the police have put out a warning about several rhea running wild in the town. The rhea is like a small ostrich and comes from South America. They stand about 5' tall and weigh around 50kgs. No one yet knows how many there are or where they came from but they appear to be wild. They have been known to attack dogs and other animals and if cornered, people.
Saturday
It was quite nice and sunny when I ventured into the garden this morning, it was very pleasant in the sun but not quite so warm in the shade. Now I hear that it is not going to be warm tomorrow, but then we are going to have three warm days before it gets cold again. I suppose that is what happens in spring. Talking of spring, Bozzie has been going around muttering "Spring forward, fall back." I thought he had gone mad, then I realised he was just talking about the clocks tonight!
I have been reading that Ireland has finally replayed the last instalment of the bailout loan we made to them in 2013. They have also repaid loans from Denmark, Sweden and the IMF. However, they still owe the EU £35 billion, which might explain why they are so subservient to the EU.
I hear that only 5 days after they went on sale P&O has cancelled six of their 3 and 4-day cruises and replaced them with 3 seven day cruises. There has been a big demand for seven day holidays on the new P&O ship Iona while the demand for the 3 & 4 day holidays on the Britannia have not been as popular. Hence the effort to cash in on the demand for 7 day holidays. But what, I hear you ask, about the people who have already had booked on the short holidays. Well, they have been lucky, their short bookings have been transferred onto one of the week-long trips at no extra cost. The new seven day holidays will sail from Southampton and make one stop at Greenock where a range of excursions will be available.
Bozzie has put out a video this morning saying that all the signs are good for sticking to the roadmap for coming out of lockdown. He says he is looking forward to going to the barbers for a haircut and to the pub for a pint. Well since he had Covid the Little Otter has had him on a diet so he'll be lucky if she lets him have half a pint! Mind from my observations she will be more than happy if he gets a haircut.
There is an article in the Daily Mirror this morning about a scientist who has spent ages researching into cats and if they could recognise their owner's voice. He has concluded that we can, but usually don't care enough to respond. Well, he is partially right, but he has started off with the wrong premise. In reality, we cats don't have owners, we have human slaves and we understand everything they say. But unless they are calling us for food we have no reason to respond.
It appears that a French monastery in the Burgundy region has a bit of a problem. They have 75 cows which the 19 resident Trappist monks milk and turn the product into artisan cheese. They have contracts to supply the cheese to restaurants all over France and sell the remainder from a farm shop. The restaurants have been closed down since October because of Covid and for the same reason, far fewer than normal number of customers have been coming to the shop. Despite opening up a webshop the monks currently have a stockpile of 4000 cheese weighing some 2.8 tonnes. However, the problem is growing fast as while the cows keep producing milk, the monks keep turning into cheese and they can only sell about have their production. If you want to help them out you can buy a minimum order of 2 wheels of their cheese on the Devine Box web site for £20 each plus shipping.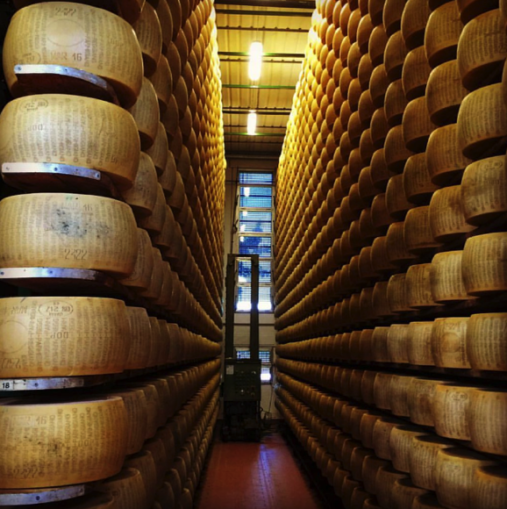 That's it for this week, I'm off for my dinner. I understand that I am going to lose an hours sleep tonight because you lot "put the clocks on an hour" whatever that means. Chat to you all again on Monday.

The Goodnight Vienna Audio file